Updated: November 16, 2020
SoFi Bank has been running some fantastic signup promotions over the last few months. If you haven't opened a SoFi Money account yet; the $50 signup bonus offer is still alive and well! In addition to running all of these promotions, the SoFi money account is fee free-including ATMs worldwide (only for members who opened an account prior to June 8th, 2020) and earns 0.25% APY when direct depositing at least $500 per month. We covered the SoFi Money account and SoFi Money Referral Process extensively through our blog and Insiders group.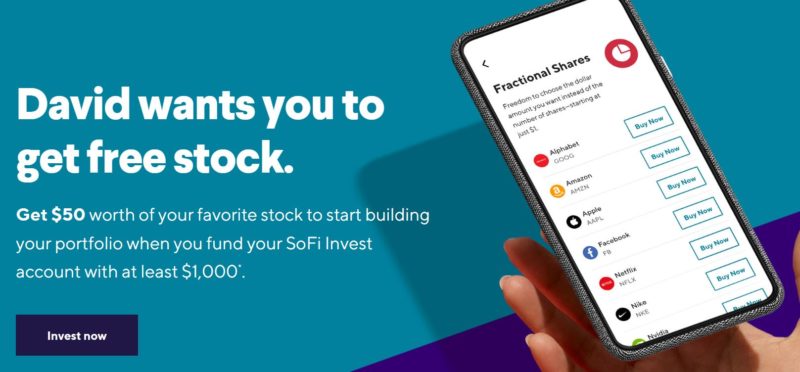 The Sofi Invest Promotion
For a limited time, SoFi users can use a referral link to earn a free $50 stock. It's quite simple. After clicking through a Referral Link and signing into your SoFi account, you have to fund your Invest account with $1,000. There are a ton of stock options that include everything from Apple to Disney to Beyond Meat. Choose whichever one you'd like. In order to actually earn the stock, you will need to transfer $1,000 into your SoFi invest account. It's important to know that you do not need to invest the $1,000 but merely transfer it over. I transferred mine directly over from my SoFi Money account and completed the promotion in a few minutes!
Basic Breakdown

1 – Use a SoFi Referral (Our Link) to access the Free $50 Stock Promotion
2 – Log in or Create a SoFi Account
3 – Pick your Favorite Stock
4 – Transfer or Fund your SoFi Invest Account with $1,000

The bonus of $50 Stock of your choice will be credited within 1-2 Days!

Warning Warning Warning
This is important which is why I have 3 warning signs! Per the SoFi bank referral rules, the same person cannot refer someone for multiple bonuses across ALL SoFi accounts. For example, if you used Dave's SoFi money referral link to earn $50 then you cannot use Dave's SoFi Invest link to earn the $50 Stock. Due to this, all of the SoFi Money referral links above are Dave's. If you used Dave's link to sign up for the SoFi Money account, please use Lisa's link to Sign up for the SoFi Invest Account. Both links are provided below for your reference!
Thank you in advance for using our referral links!! We try to provide as much value to our readers and keep our content free. These small bonuses help keep us afloat and we love sharing our finds with you. 🙂 
BONUS!!
This morning I opened my email (November 16th) and saw that SoFi is offering a limited-time extra $500 bonus for referring 10 friends. You still get the $50 bonus after investing $1,000, but now you can get an extra $500 on top of it! When referring someone to SoFi invest, once they deposit $1,000 to the account (note you do not have to invest it, just have it in the account), you each get $50. That is $500 for 10 friends. If you get 10 friends, you get an extra $500 on top of it. Since Dave already has SoFi, this time I'm reaching out to my parents and anyone we've talked to before about SoFi. With an upcoming wedding (June 2021) that we had to reschedule, any extra money helps!
This promotion is ONLY lasting for 10 days and will end on November 25th. So you HAVE to be quick. Sign up now if you haven't. We very much appreciate it if you use our links to sign up! Again I will post the links below.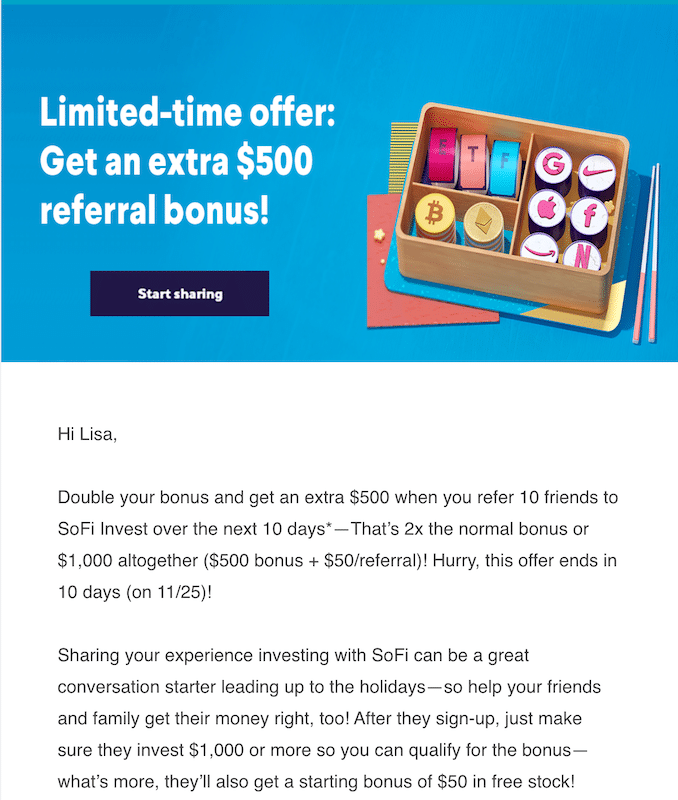 Basic Review
We have been loving on SoFi since last year when we opened these accounts. It has been a staple in both of our accounts as the account is fee free for SoFi Money. They also often have amazing bonus opportunities that are honestly super hard to turn down as how easy they are to get.
Do you have a SoFi Account? What has been your favorite bonus?
More Basic Reading