I wrote about the SoFi Money Account last week as part of my weekly Travel Tip Tuesday series in the Basic Travel 101 Facebook Group. Since my original post, the SoFi Money account has decreased the referral bonus for anyone that opens an account. It was $100, then $50, and now $25.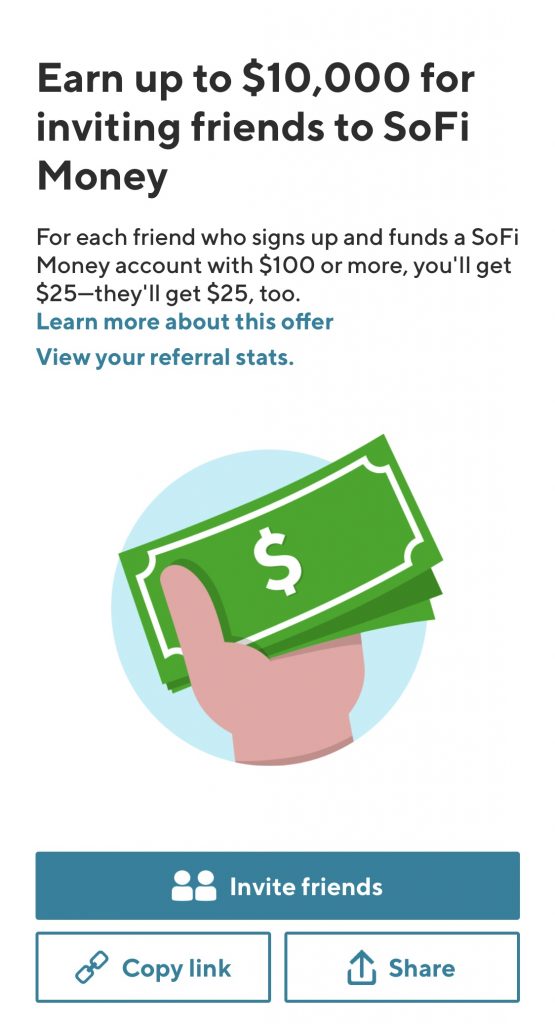 Basic Breakdown to Earn $25 from Signing Up

Step One

Open a New SoFi Money Account using a referral link (Here is ours).

Step Two

Transfer or Deposit $100 within 14 days of opening the account
Bonus
The Bonus should arrive within a few days of the money being deposited. Lisa's appeared the same exact day while mine took a few days.

Basic Breakdown to earn $100 $50 (11-5-2019) $25 11-26-2019 from Referring Friends and Family

Step One

Open a SoFi Money Account

Step Two

Download the SoFi App to your smartphone

Step Three

Log in and click on invite friends

Step Four

Send your unique referral link to friends and family

Bonus

For every friend and family member that opens a SoFi account and deposits $100, you will receive a referral commission of $25.
Terms and Conditions

The max amount of money a person can earn in one calendar year is $10,000. It's important to recognize that this is considered taxable income and you'll receive an IRS 1099-Form.

Final Thoughts
This is a great account even without the sign-up offers and referral bonus opportunities. Given that there are no account fees, no ATM fees, and 1.6 APY on my balance, I'll be keeping this account open as a great addition to my Basic travel strategy portfolio.
If you decide to open an account, we appreciate you using our link.
Other great SoFi Articles: