Leading into a new year; Marriott Hotels typically sends out a nice little email recapping your travels with the company and it's always a great refresher to be reminded of all the trips we've traveled cheap over the last 12 months! This year was no different, but there was a huge TWIST with the recent Marriott and SPG merger that led to status downgrades a few months ago.
If you're asking yourself, what the heck is hotel status and why does it even matter?
Having "Status" means that you are a loyal customer with a particular hotel brand, which can lead to perks like:

Complimentary Wifi Access
Discounted room rates
Bonus points when booking a room
Welcome gifts when checking in
Room Upgrades
Lounge Access which includes Free Breakfast, Free Happy Hour with drinks/food included
Many other rewards which are dependent on the Hotel brand
So as you can see from above, having hotel status can certainly save you some serious cash-money which is why it is one of our best and favorite travel tricks. When we heard about the merger and potential loss of status we knew that in life all good things do at some point come to an end…..or do they?!
Essentially, with the New Marriott Status Chart, we were downgraded to a Gold Elite status which DOESN'T offer the free breakfast, comped nightly drinks, hors-d'oeuvres, and suite upgrades. In order to get back into our favorite lounge and utilize one of our favorite travel tricks, we would need to reach 50 Nights before December 31st to reach Platinum Elite. After the merger, we had accumulated 42 nights, which meant we had 8 more nights to reach the next level.

So if I were to ask you how a reasonable person might go about reaching those 8 nights you'd probably say book 8 nights at the cheapest Marriott closest to your home. Sounds reasonable enough, however, after a thorough search using Marriott's reservation system, the cheapest I could find was $68/Night which works out to be $741.60 with taxes and fees.
Running the numbers in my head and considering some upcoming trips we have planned it would be cutting it close to break even with all of the perks. So far we have two trips booked for 2019 with the Marriott property; 5 nights in Aruba and 3 nights in Chicago. Breakfast and Happy Hours I estimate at a couple of hundred dollars on the high end for those two trips which still leaves us way short of that breakeven mark. In Aruba, to upgrade to an Ocean Suite is over $400 cash and it is an amazing looking room! So with that in mind, I thought it might be worth the $741.60. As I was leaning in to confirm the offer I had a last-minute epiphany, two words: BUSINESS MEETING.

I once heard about an easy way to earn 10 Elite Nights without actually stepping foot in a hotel room. According to Marriott's website, you can book a meeting through their website in 1 of 26 hotel brands that are participating in the promotion and receive 10 Nights credited to your account. This promotion has since expired.
I decided to give it a shot and submitted the form which took only a few minutes in total. The following day I received an email from a representative at the Marriott Fairfield Inn with a contract for my "Basic Travel Meeting" on December 13th from 6-8pm for $150! Because I'm working on meeting a minimum spend for the Capital One Savor Cash Rewards Credit Card, I decided to use the Savor to cover this expense with my intention to use the $500 bonus offer to cover scuba diving in Aruba. With Basic Travel Strategies, thinking ahead is critical to saving the most amount of money!
Now, this might be too good to be true, right?! I just found a Basic Travel Strategy that essentially cut my cost from $741.60 to $150.00!!! I could already smell that salty ocean air from my balcony in Aruba. 🙂

On December 13th, I showed up at the Fairfield Inn and checked into my meeting. The Marriott associate who checked me in was very accomodating and showed me to my conference room. To my surprise, she even offered me complimentary Ice Cream, which apparently they offer every weeknight evening!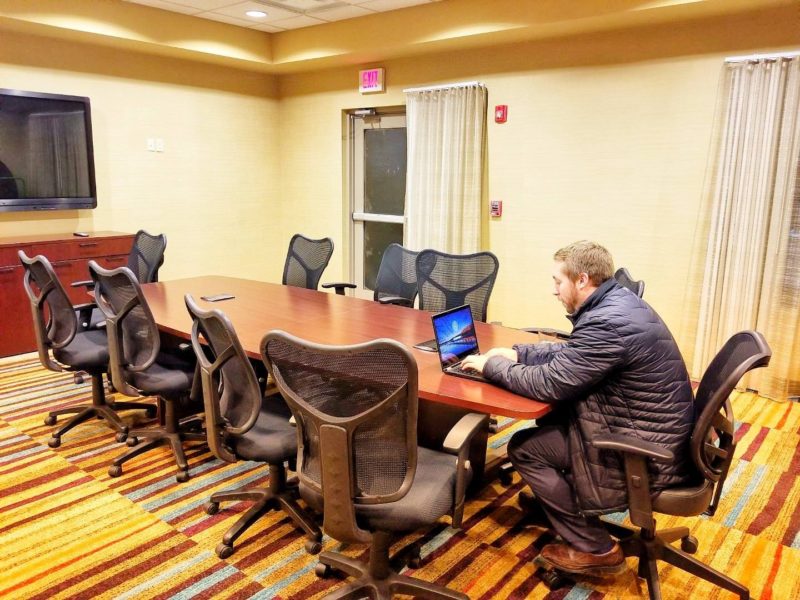 So I spent two hours getting some work done and eating all of the ice cream my stomach could handle for $150! The lengths that I go to for a fantastic travel strategy. 🙂 As of now, the clock is ticking, per the contract, it states that "Approximately 10 Business Days after the conclusion of the event' I will receive my coveted award nights.
UPDATE: Six short days after completing my meeting, I received the below email from Mariott.
I had achieved my goal to complete my stay with Marriott to keep my staus! Another #BasicTraveTip for the win!
Drop us a comment below on your best travel strategy!
New to Credit Card Rewards Points? Check out the BASICS Below!