Just in time for the holiday season of travel (Get some inspiration here!) Chase has offered a 30% bonus on Avios transfer through December 9th. Usually, you can transfer these points at a rate of 1:1 and under this promotion that increases to 1:1.3
Historically, Chase hasn't offered great transfer bonuses such as these, but fear not Chase has been the champion bank of the year as far as COVID benefits are concerned. Not only did they offer an assortment of great card benefits like Pay Yourself Back but now they are here to help you get to your holiday destinations for cheaper.
With a 30% transfer bonus, these sweet spots are even better. That makes now a great time to use your Chase Ultimate Rewards points to plan a last minute trip either for the holidays or in 2021 when we get back to "normal" Don't forget that Chase is also running category bonuses that can help you "double dip" and earn extra points, like the grocery store bonuses.
30% bonus on Avios transfers
Chase is offering a 30% bonus when you transfer Ultimate Rewards points to British Airways Executive Club, Iberia Plus, or Aer Lingus AerClub, by Wednesday, December 9, 2020.

If you are not familiar with Avios, they are a currency used to purchase miles on British Airways but also have a number of transfer partners. If you love AAdvantage miles for instance, you can't directly transfer these with UR points, but you CAN transfer to Avios and then purchase a partner ticket on AA.
Although there are three transfer options, we will just focus on the benefits of using the British Airways Executive Club miles. Within these award charts, there are a few sweet spots help make the BA and Iberia Plus programs worth a closer look, even with the standard 1:1 transfer ratio.
Zone // Flight Distance
Economy
Premium Economy
Business
First
Zone 1
1-650 miles*
*Not available in North America
6,000
9,000
12,500
24,000
Zone 2
651-1150 miles
9,000
12,500
16,500
33,000
Zone 3
1151-2000 miles
11,000
16,500
22,000
44,000
Zone 4
2001-3000 miles
13,000
25,750
38,750
51,500
Zone 5
3001-4000 miles
20,750
41,250
62,000
82,500
Zone 6
4001-5500 miles
25,750
51,500
77,250
103,000
Zone 7
5501-6500 miles
31,000
62,000
92,750
123,750
Zone 8
6501-7000 miles
36,250
72,250
108,250
144,250
Zone 9
7001+ miles
51,500
103,000
154,500
206,000
Chart courtesy of One Mile at a Time
British Airways utilizes a distance-based award chart that at first seems like not a great deal for domestic travel. If you look closer, the sweet spots lie within the relatively short distance domestic trips that can sometimes add up fast, especially last minute! Given the fact that it is difficult to travel internationally at the moment without restrictions this can be a great opportunity to take advantage of a domestic option.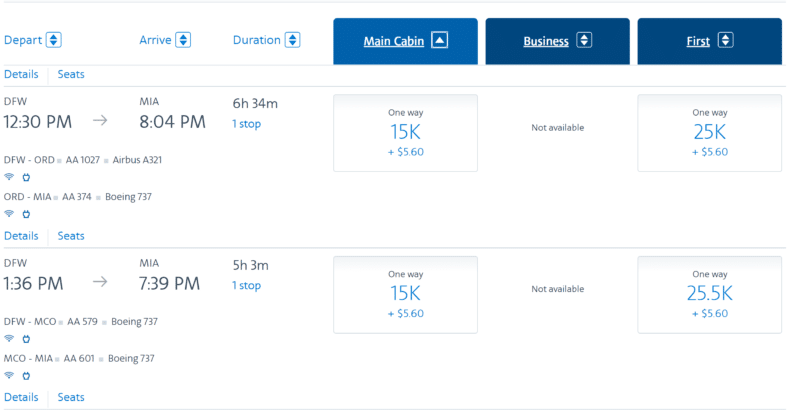 American offers award flights based on dynamic pricing, so at any given point, even basic flights can skyrocket around demand or time of year. Here we see an offering on December 14, for 15k AAdvantage miles.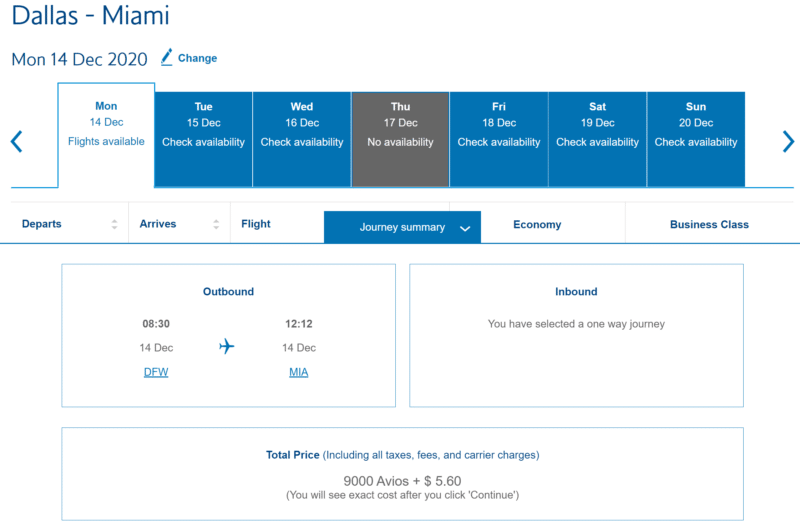 The same flight booked on British Airways website, using AA as a partner, is available for only 9,000 Avios, which can you currently transfer from Chase for only 6,300 with the bonus! With this simple flight to Miami, you can actually buy a round trip ticket with Avios for the same price as a one way.

As a third checkpoint, you can also check the Chase Travel Portal, for some of the same flights, and you see that it's over 9,000 UR points to make a similar flight purchase! We always recommend checking all angles to get the best deal.
Admittedly, you will notice the cash price isn't too bad either, but if you are looking to save as much as possible and you have plenty of points laying around this is basically getting over 0.23 cents per UR point in value if you take the Avios transfer option (Well over the 1.5 cent stock value of a UR point)
Basic Breakdown
Hopefully this example shows you the power of not only the promotion that Chase is offering, but also how to get cheaper domestic flights even when the bonus is not being offered.
Do you think this Avios bonus is enticing enough to jump on some last minute holiday travel or pull the trigger on a trip for next year? Let us know in the comments below, or over in the 4,000+ Member Basic Travel Facebook Group!
More Basic Reading