I received an email from Delta Airline's CEO, Ed Bastian this morning with some program updates. These updates include changes for Elite Status Members, a New level of cleanliness when flying with Delta, and an update to the Change/Cancellation Policy. I've always Loved the Delta Experience and Not Just Because they Surprised me with this Box outside my house last year. The update from Delta and all of the customer friendly extensions for SkyMiles Members & More are below!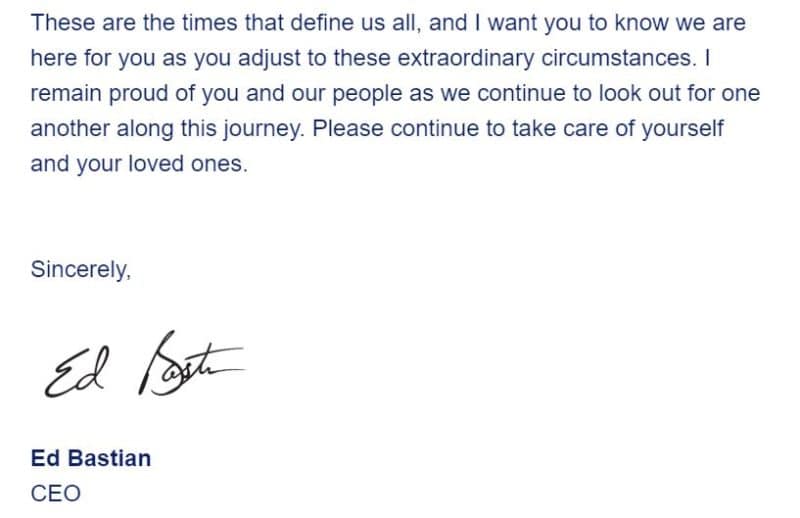 Join Our Basic Travel Facebook Group to Stay in the Loop on the Latest Travel & Finance News!
SkyMiles Members & Status
Medallion Status will automatically be Extended Through 2021 whether or not you requalify. In addition, all of your 2020 Medallion Qualification Miles (MQMs) will be rolled over in 2021. Earning status with Delta can be difficult and this move can certainly go a long way in retaining customer loyalty.
Credit Card & Certificate Holders
Eligible Delta SkyMiles American Express Card Members will get more time to enjoy benefits, including Companion Certificates and the $100 Delta flight credits. SkyMiles Members with Upgrade Certificates or $200 Travel Vouchers will also have additional time to enjoy those benefits.
Delta Sky Club® Access
If you are a Delta Sky Club Member, you'll receive an additional six months of club membership free of charge.
Change & Cancellation Policy
Delta has Extended the ability to plan, re-book and travel for up to two years. Change Fees are now waived for trips through May 31, 2022. This Change includes travel booked in April and May, or canceled travel/eCredits from flights in March, April or May 2020. You can also change new tickets purchased between March 1 and May 31, 2020, without a change fee for up to a year from the date of purchase! This change places Delta at the top of Airlines in terms of their change & cancellation policies flexibility.
We actually have to made adjustments to our own Delta Flights that we had booked a few weeks from now to and from Peru. It was supposed to be our first time flying in Delta One. I'm glad to see this positive change to the policy and look forward to flying with Delta in the future.
How Delta is Cleaning up
Delta is temporarily streamlining onboard food and beverage services domestically and internationally to lessen physical touchpoints between customers and crew members. Some of the big changes are listed below:
All domestic aircraft will undergo the same interior fogging to disinfect aircraft in the U.S. that the international aircrafts have been using since February.
Before every flight, aircraft will be cleaned using the same extensive checklist used during overnight cleanings. This industry-leading work disinfects high-touch areas customers care most about being clean, like tray tables, seat-back entertainment screens, arm rests and seat-back pockets.  
Spot checks will take place before each flight by a Customer Service Agent and a Flight Leader to ensure the aircraft is up to the DeltaClean standard. The team can resolve any issues immediately, and are empowered to request a cleaning crew return to the aircraft for additional cleaning.
Delta will be continuing to offer hand sanitizer at various touchpoints, while disinfecting surfaces across the airport experience. The same level of attention and care is given to employee work spaces like lounges and break rooms. 
You can find the Delta Clean Update by clicking HERE
Basic Breakdown
I really like these changes by Delta and believe that many other airlines will follow suit. In a challenging time in history for the aviation industry, Delta is taking steps to cultivate customer loyalty and retainment. I'm truly looking forward to flying with Delta in the Future. Have you had a positive experience with Delta Airlines over the last few weeks? I'd love to hear about it below in the comments or in the 3,500+ Member Facebook Group!
More Basic Reading