I truly believe that Belize may be one of the most underrated countries on the map. I don't know why. For travelers looking for a tropical vacation, San Pedro in Ambergris Caye has it all. Crystal clear blue water, beautiful beaches, and plenty of activities to keep you busy if you are looking for adventure & fun. Below you'll find my top 10 things to do in San Pedro Belize!
San Pedro Versus Ambergris Caye
Before I dive into the top things to do in San Pedro Belize, I'd like to clarify where I'm talking about. When I was researching our trip down to Belize, I realized that San Pedro and Ambergris Caye are used often interchangeably when talking about the same place. Technically, San Pedro is the second-largest town in Belize, which is found on the Caye of Ambergris Caye. The island is the largest in Belize at 25 miles long and 1 mile wide. This should help clarify why San Pedro is often used to describe the whole island.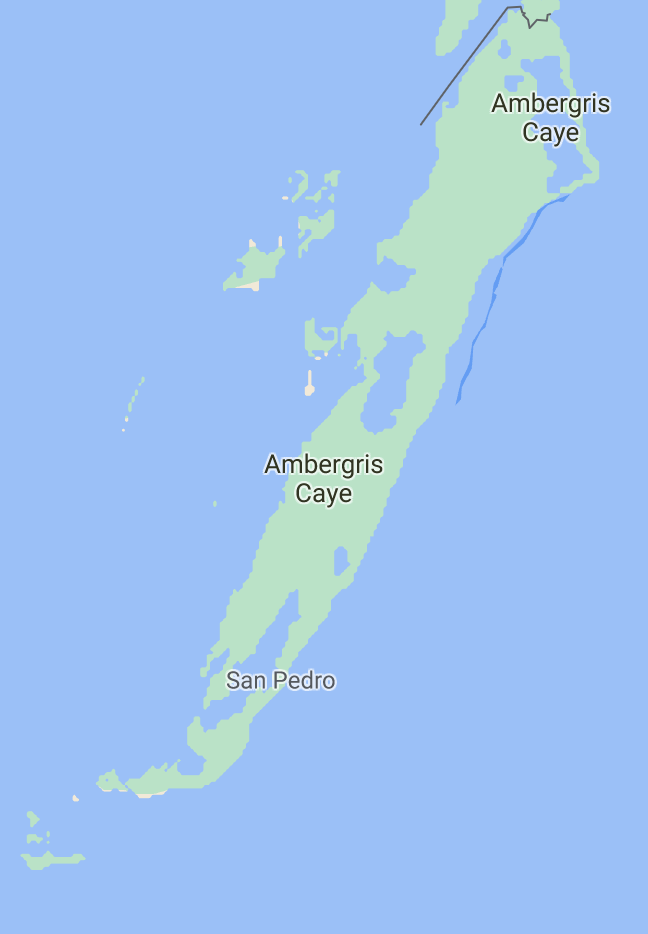 Top things to do in San Pedro Belize
1 – Blue Hole
Without a doubt, the blue hole is a must-see when visiting San Pedro Belize. Depending on what you're into, there are three ways to experience it. Most people that visit San Pedro choose to Snorkel or Dive the Blue Hole. The third option is taking a small plane and flying over the hole. This is a great choice for everyone, particularly folks who are not experienced snorkelers or divers. Full disclosure, the Dive/Snorkel trip takes an entire day. The boat ride out is 2 and 1/2 hours alone each way. In addition, I would only recommend experienced divers to consider taking on the Blue Hole. Most companies take divers to around 130 feet.
2 – Hol Chan Marine Reserve & Shark Ray Alley
These are technically two distinct places but are typically paired together in half and full-day tours. Similar to the Blue Hole, this is a popular excursion for divers and snorkelers. The Hol Chan Marine Reserve is great for spotting a variety of marine life underwater including sea turtles, moray eels, barracudas, rays, and blowfish. As you may have guessed by its name, Shark Ray Alley is home to a community of friendly nurse sharks!
3 – Secret Beach
Secret Beach in San Pedro Belize is definitely a fun place to visit. From Mahogany Bay, it takes about 30-45 minutes to get there via golf cart which is located on the opposite side of the island. When they say Secret Beach, they really mean it as there is pretty much nothing around besides the slew of bars and restaurants set up out there. It's literally the perfect spot for a beach day equipped with all sorts of lounge chairs both on the beach and in the water! Plus can you say you really visited San Pedro without posting a photo to the gram of you standing with the Secret Beach Sign?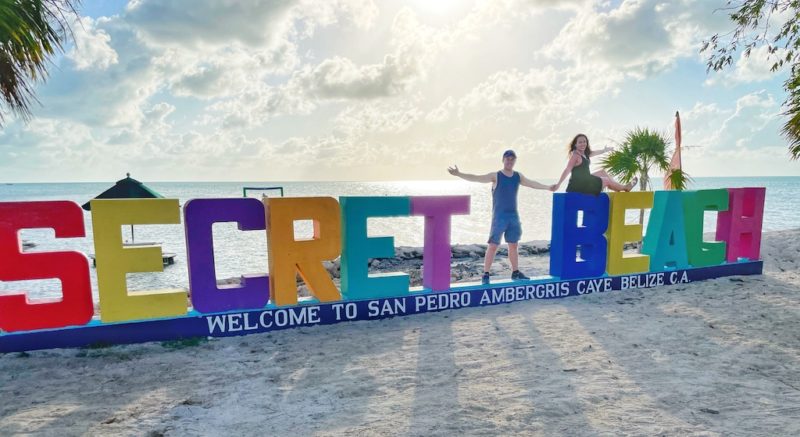 4 – Fishing (Spear & Fly)
I'm not a huge fishing enthusiast but I met a handful of folks while in Belize who traveled all the way there with the intention of only fishing. Both traditional fly fishing and underwater spearfishing are both popular things to do in San Pedro Belize. The grand slam of fly fishing (catching a bonefish, tarpon, and permit throughout the course of a day) is something that folks try to accomplish when visiting. Next time I visit, I will definitely be trying out the Lionfish Spearfish excursion which is right up my alley!
5 – Catamaran Sail
Tropical vacations and catamaran sailing go hand-in-hand. One of the top things to do in San Pedro Belize is to take a catamaran out for the day and island-hop or enjoy the sunset. What's great is that there are many Catamaran excursions which include Hol Chan Marine Reserve & Shark Ray Alley as part of the itinerary. I personally LOVE taking in the sunset from the water, especially when I have a cup of rum punch to go along with the tropical vibes.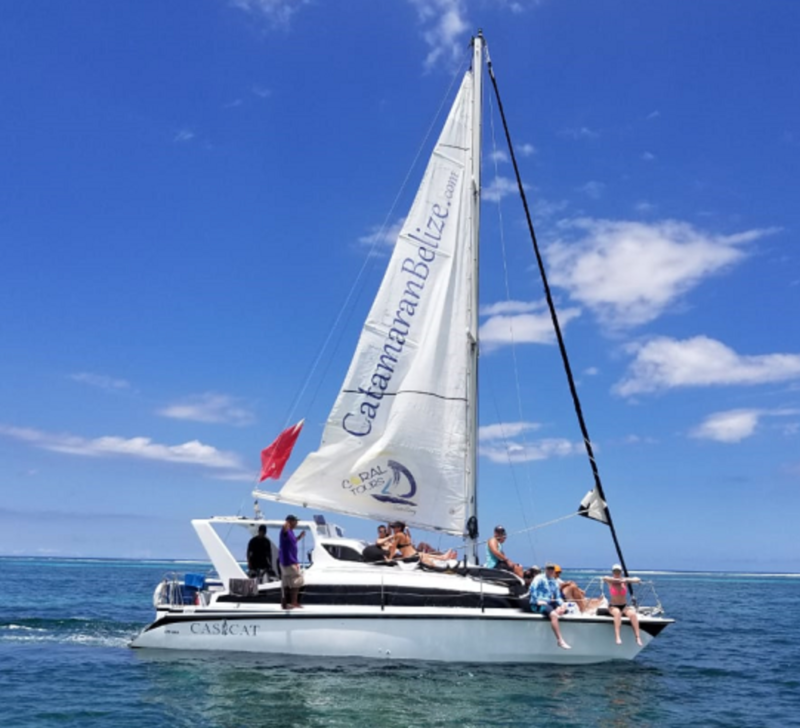 6 – Enjoy Fresh Seafood
One of my favorite aspects of visiting a tropical island is enjoying some fresh seafood and San Pedro Belize did not let me down. There are a ton of restaurants that offer a wide range of fresh seafood that is typically caught the same day. I really enjoyed Caramba which lays out all of the fresh fish caught that day and allows you to choose. A few runners-up are Crocs and Pineapples on the Beach which both were fantastic!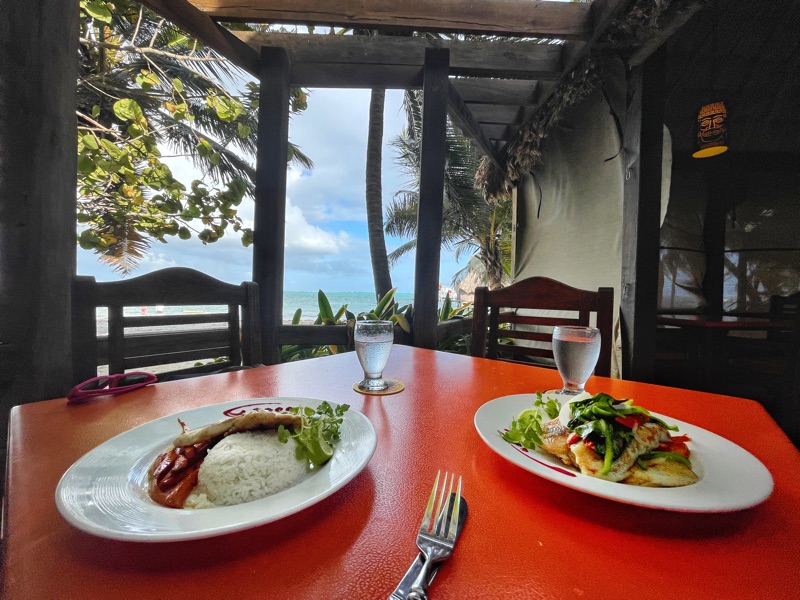 7 – Visit Boca Del Rio for some great vibes
Sometimes when you're traveling you come across an area that just sticks out to you as being the perfect image of tropical relaxation. In San Pedro Belize, we were recommended to drive our golf cart down the beach at Boca Del Rio and I'm sure glad we did. The bars & restaurants down this strip are filled with locals, ex-pats, and tourists all hanging out enjoying each other's company. We dropped in on an open-mic event taking place one afternoon where they were just passing the mic around and taking turns singing songs. It was fun to see everyone being so down to earth and the music was pretty amazing too!
8 – Cooldown at Paradice Cream
There are not very many (zero if you're keeping track) trips I go on without making it a point to stop somewhere for ice cream. When visiting San Pedro Belize, don't leave without trying one (or more) of Paradice Cream's 30 different flavors. Blueberry Cheesecake was my favorite!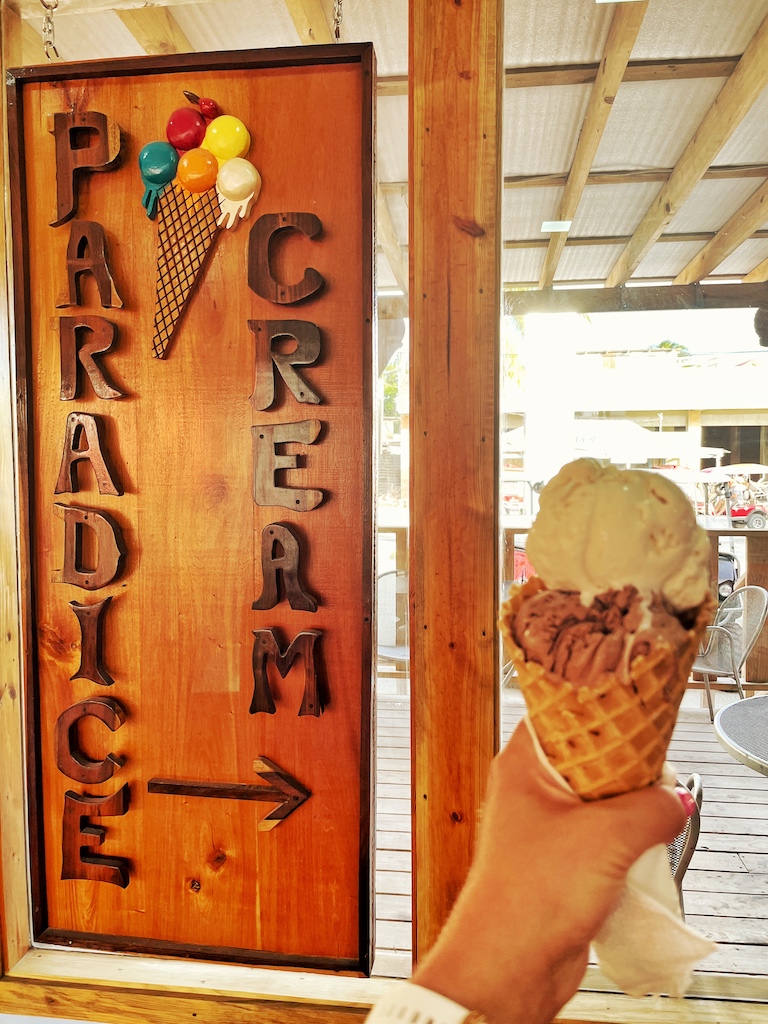 9 – Spend a Night at the Truck Stop
This place is cool! It's basically set up as a circle of different food trucks with open seating in the middle. Plus they have live music there regularly which makes for a fun night out. The Truck Stop has a variety of food options including Rasa (Malaysian/Southeast Asian), Arepa (Latin American), and Cool Cone (Ice cream shop). There is also a cocktail/bar truck and if you get hot, there is a giant swimming pool behind the trucks. Stopping by the Truck Stop is definitely one of the top things to do in San Pedro Belize!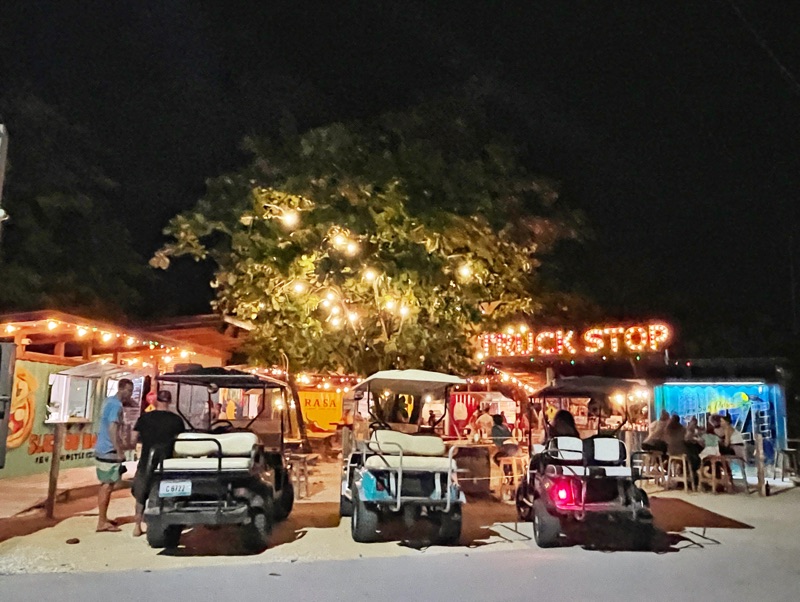 10.- Stop at Belize Chocolate Company
Belize Chocolate Company has a unique story in which the shop owner's mission is to utilize local resources of cacao and sugar to help elevate and promote locals from Belize. The chocolate is sourced and sold locally and is delicious. If we weren't traveling around for a while I would have stocked up to take some home. The views from the back doors are pretty spectacular too.
11 – One stop shop at Mahogany Bay
I cannot compile top things to do in San Pedro Belize list without including Mahogany Bay. From start to finish, Mahogany Bay was fantastic. There is something for everyone there, including all of the different dining options like the delicious Jyoto Japanese and Sushi restaurant. You can find my full review of Mahogany Bay here as this paragraph cannot do it justice.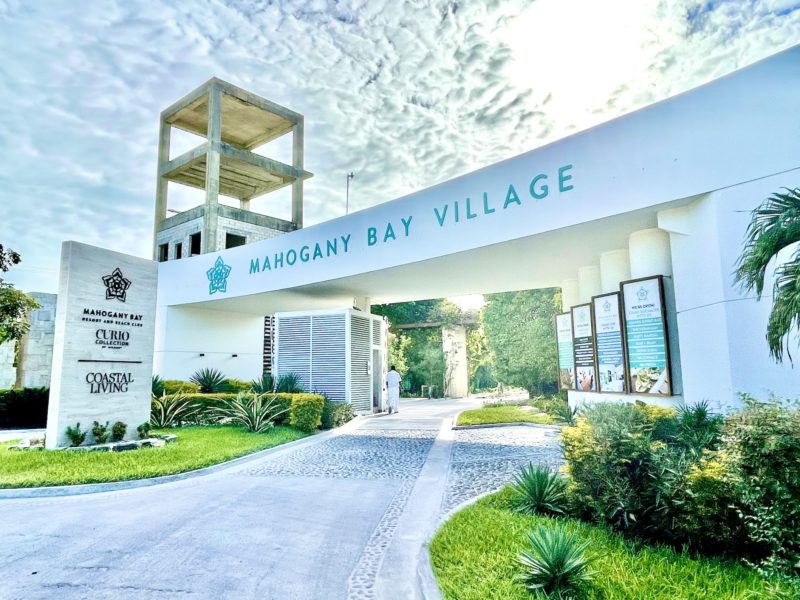 Bonus Round – Mainland Belize
I would be remiss if I didn't mention that there is a whole other variety of unique things to do outside of San Pedro Belize. On the mainland, you'll find awesome jungle tours. Some of the top Belize jungle tours include Cave Tubing and exploring Xunantunich Ruins, the full-day ATM Cave Hike, and the black hole rappeling drop through a sinkhole. For these tours, I'd recommend booking a hotel closer to the jungle to cut down on transport time in the Cayo District.
Basic Breakdown
There you have it, all of the top things to do in San Pedro Belize compiled here for you! I hope that this list helps to provide some inspiration to visit Belize if you've been on the fence. For folks reading and currently planning a trip, I hope that this list helps you compile the best itinerary. Feel free to reach out to us with any questions!
Let us know!
Have you visited San Pedro Belize?!
More Basic Reading