Before the pandemic hit the United States I was the definition of the true "road warrior." With this came a true sense of loyalty to the hotel brand I stayed in weekly. My friends often joked that I lived in Marriott Bonvoy hotels more often than I slept in my own bed, and this was practically true.
Loyalty Programs
We live in a world where silver livings have in a true short supply over the last year. Sadly, the hospitality industry has not done any favors. It is certainly not hard to believe as hotels operate best in an economy of healthy movement from point A to point B. Then the world changed as we know it.
In the most general sense, loyalty programs exist to assist with customer retention and to drop customer acquisition costs, which in terms helps cut down on advertising. As a loyalty traveler, your general move is to stay where you are most incentivized. It's a tried and true concept that has worked well since American Airlines launched the modern-day frequent flyer program in 1981. All hotel loyalty programs know this, and when you deal with higher-end chains and properties such as the ones that Marriott Bonvoy offers, you are paying a premium on purpose, especially as an elite member.
Loyalty Stays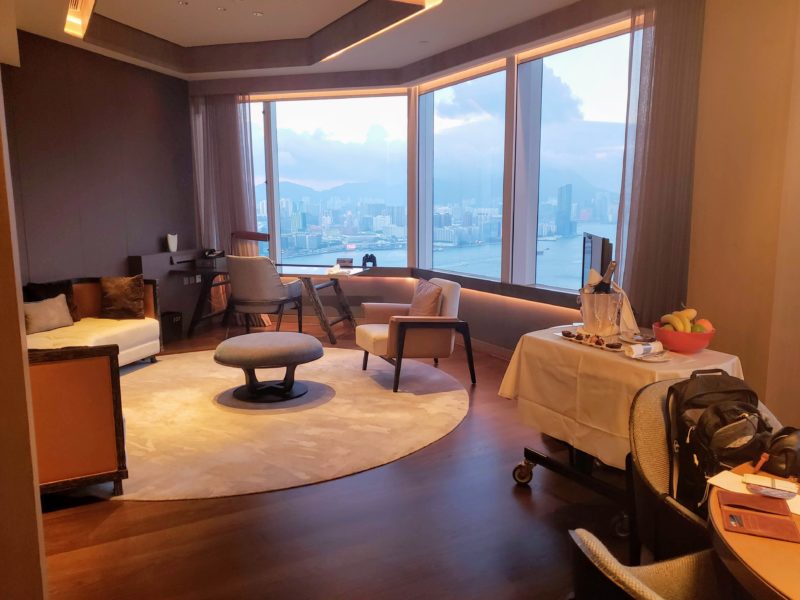 When I book a property, I don't just weigh the prices but also the amenities and services each property would offer. For example, a $200 a night at the JW Marriott when comparable property nearby is only $150. With my Marriot Bonvoy Titanium Elite Status, I would receive complimentary breakfast, afternoon drinks, and possibly even dinner. Sometimes at the mid-tier properties, they will offer complimentary breakfast but not the other benefits. At the most conservative of estimates, I'd say I'm getting $60+ value out of this. Overall, I actually came out ahead than If I had booked nearby. This is where my strategy on hotel loyalty really works out.
Let's Talk About What Happened
Early in 2020, Marriott stated that they would not fine properties any longer for "Brand Standards." In short, this could mean that a full-service such as JW Marriott, had the authority to operate like a Springhill suite without fear of being removed from the brand. In Mid-2020, Marriott sent out an email announcing a suspension extension of the "loyalty benefits guarantee." This means that all the benefits I had known to come in love including breakfast, coffee, lounge access, suite upgrades were now gone. If you thought about complaining, you might have received an email like this:
"The evolving situation caused by COVID-19 is creating a very challenging business environment. Therefore the request for compensation for our Elite Guarantees (Ultimate Reservation Guarantee, Lounge access, Guaranteed Room type, and Elite Welcome gift) are currently being waived… "
The problem didn't lie in the announcement, it lied in the before and after. The announcement felt like a proactive fix to the many warranted complaints pouring in from elites. When a property is allowed to charge 100,000 points per night, inconsistent brand standards taking away the full experience is not an option. Breakfast could very well consist of a Styrofoam box bagel and cream cheese at a full-service Marriott (this really happened) however since they "reinstated benefits" they met the mark. I would travel from hotel to hotel, everyone being less consistent.
Various excuses were offered, upgrades were nonexistent, and customer service for the most serious offenses was met with apathy. In one instance, I was upgraded to a room, and then the upgraded room was not cleaned due to COVID. The hotel subsequently sold out of rooms, and I was told nothing was available. Normally, this would have been incumbent upon the hotel to rebook me and compensate me.
Reaching Out
As a Titanium Elite Member, reaching Ambassador status was always a goal of mine. In 2021, Marriott laid off the Ambassadors which were assigned to each Ambassador member a personal assistant for each stay. They assisted with room upgrades, special requests, reservations, you name it. 100 nights was never too difficult as a road warrior, but the $20,000 was. Of course, like anything with loyalty it was chase-able. It is safe to say that there is virtually zero incentive to eclipse past Titanium Elite now. A bizarre move by Marriott to remove the only true motivation to reach that top-tier status.
This is a real letter I wrote to the Marriott Bonvoy customer service department. Much like writing to the North Pole, I did not receive a response.
Some of my most wonderful experiences and memories have taken place at Marriott properties literally all over the world. I have earned and redeemed close to three million points in only five years with the brand. From watching a desert sunset in Dubai with champagne, staring at Niagara Falls out of my window, to riding out a hurricane in Hong Kong in the Ritz Carlton club lounge, and finally, experiencing true bliss and relaxation at an empty resort in Koh Samui… it's truly hard to recollect a great travel memory without thinking Marriott Bonvoy.
I hope that the future holds more of these great memories, but my experience this year has caused me to take pause and look elsewhere for the best deal in an accommodation, not one I necessarily get the best value from. While I am sympathetic to the pandemic, I don't believe it's a reason to outright de-incentivize your most loyal patrons. The apathy your customer service during this time was enough for me to take my business elsewhere.
There was no response.
This is another letter I wrote a few years back, and I given over 50,000 points as an apology. Writing letters like these used to make a big difference.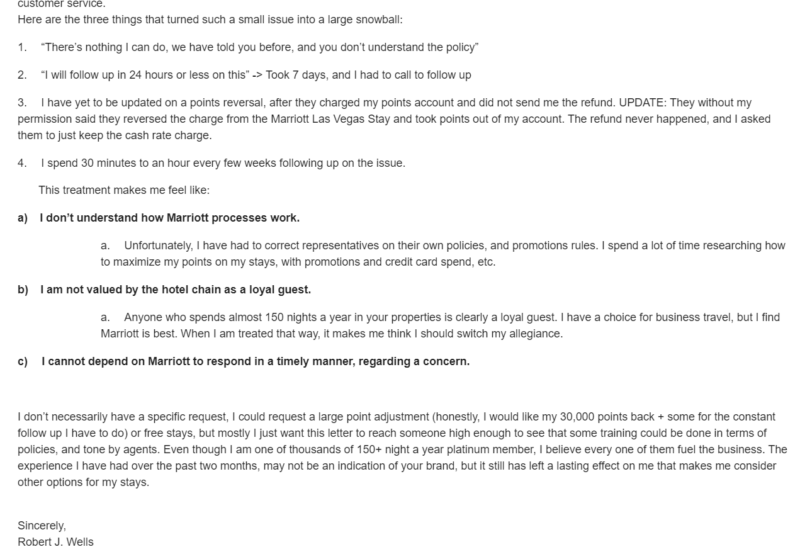 What Good Came Out of The Pandemic?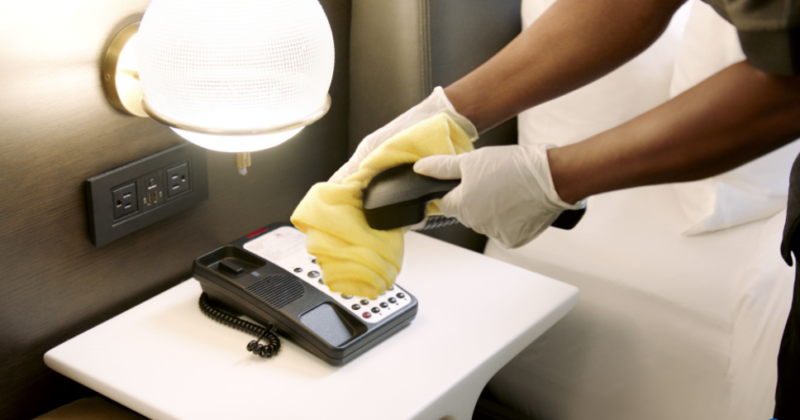 In retrospect, this respective cycle of hotel loyalty was good to break. The points and miles world is full of amazing redemption opportunities. Too much of one thing isn't a great strategy in this hobby and diversity is key. While having hotel loyalty is a great perk, it's often a double edged-sword.
Often, as life tends to work, something good always comes out of a challenge. Since the New Year, I have opened myself up to other choices when researching travel. Not surprisingly, I have found far better deals, when I've used mediums such as the Chase Travel Portal. Now, I find a safe, and cheap room, and just grab an espresso at a local coffee shop close by.
Marriott has also tried to re-incentivize travelers by shortcutting elite status via depositing half of the elite night credits earned into members' accounts this year. Time will tell if this strategy will actually work. This year, I woke up with essentially Platinum status on Jan 1, 2021 (28 Nights + 15 from holding a Marriott Personal Credit Card). I won't be chasing Titanium unless I just earn it organically.
Personally, I think this is a great opportunity for Marriott Bonvoy to use more technology to their advantage like fixing the very buggy mobile room key and moving towards the whole contact-less approach that our future undoubtedly holds. I think the lack of everyday room cleaning is something that can stay, as it's an environmental advantage anyway. Fortunately, I haven't found myself missing it, even on extended stays.
Basic Breakdown
I want to state very clearly I'm not an unsympathetic human being. I feel deeply for the employees, staff, and members of any hotel chain that experienced cost cutting measures as a result of COVID. Unfortunately, I cannot feel pain towards a major corporation for that trades on the NASDAQ Is has even steadily regained it's price and as of time of writing has actually surpassed it's pre-COVID stock price.
Tell us what you think, Basic Travelers! How has your hotel loyalty changed since COVID? Let us know in the comments below or in the 4,900+ Member Basic Travel Facebook Group!
More Basic Reading