Everyone knows I love to take advantage of the free stock promotions. Typically they require opening a new brokerage account and funding it with cash. The best part of these promotions is that they don't typically require investing the money, only depositing. This brings us to the new Tastyworks 100 Share Stock Promotion. Learn why I just opened it and you should too below in this basic breakdown!
Maximizing Free Stock Promotions
The free stock promotions are fantastic. I'm up to over $500 from trying all of the different options out there. With this new Tastyworks promotion, I should end up adding at least a few hundred dollars more to the grand total. Check out the other top free stock promotions via our ranked list.
Tastyworks free 100 stock promotion
In order to earn 100 free stocks from Tastyworks simply open a new account and fund it with $2,000. Yes, it's that simple!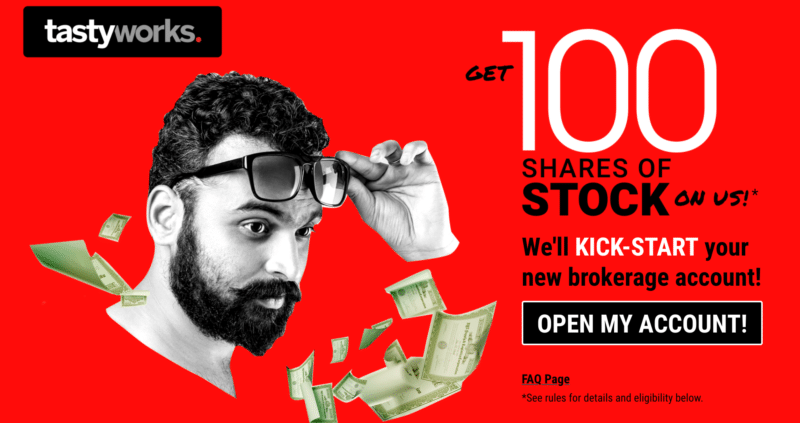 100 Free Stocks
The 100 free Tastyworks stocks will range from being worth $1-$6. Tastyworks indicates that the average total prize will be worth between $200 and $220. There is a 70% chance of receiving Stock priced under $2.00 per share, and a 30% chance of receiving Stock priced over $2.00 per share. I'll be reporting back once I receive my 100 free Tastyworks stocks.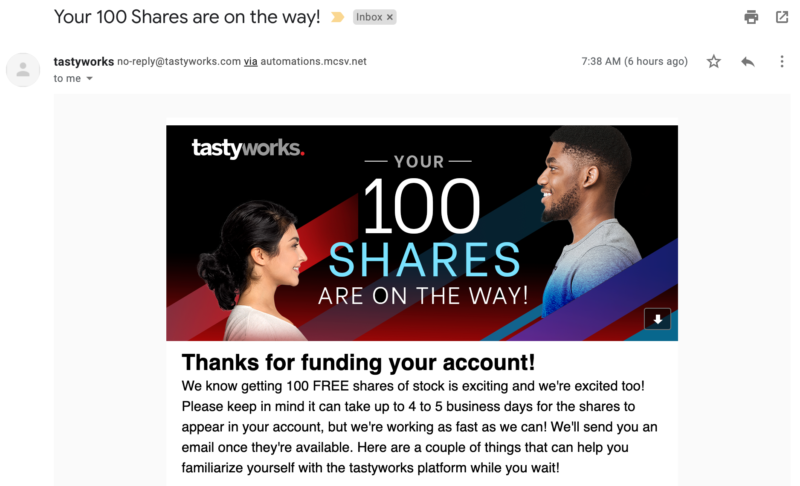 How long do I have to keep my account open?
The $2,000 deposit plus the free 100 stocks awarded must remain in the account for at least THREE MONTHS from the date the free stocks are awarded. If either the deposit or stocks are withdrawn early, Tastyworks will claw back the value of the 100 Stocks Awarded. Whenever there is a time constraint, I will note it in my free stock tracking sheet and set an alert in my google calendar for three months out.
Type of Account
Keep it simple and go for the individual and cash account.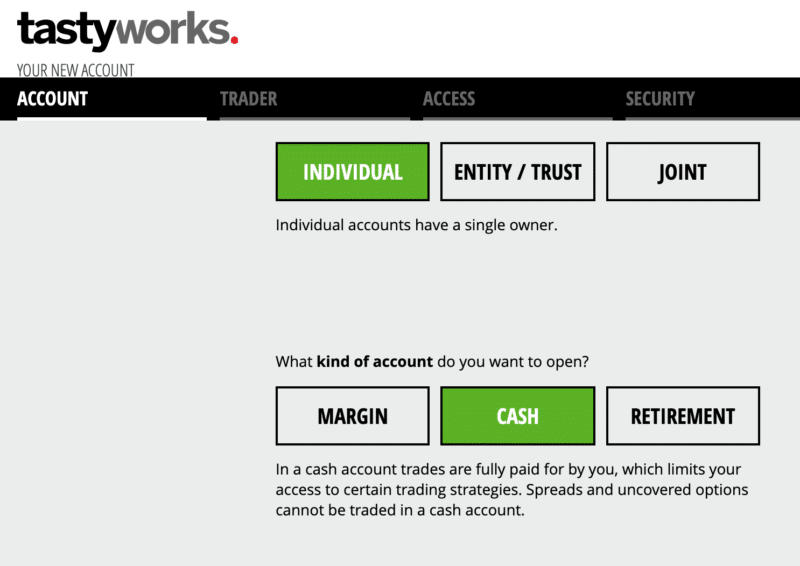 Basic Travel Referral Link
Click here for our Referral Link if you'd like to support my hopes and dreams of someday owning a Tesla! Seriously though, if you use my link, BUF airport pickups on me if I win!!

Either Message them or email to get opted into the 100 Free Stock Promotion
As you can see from my screenshot below, after opening and funding the new Tastyworks account with $2,000 you need to reach out to opt into the promotion. You can either click the chat box in the bottom right-hand corner or email Tastyworks at [email protected] and ask for the 100 stock award promotion to be added.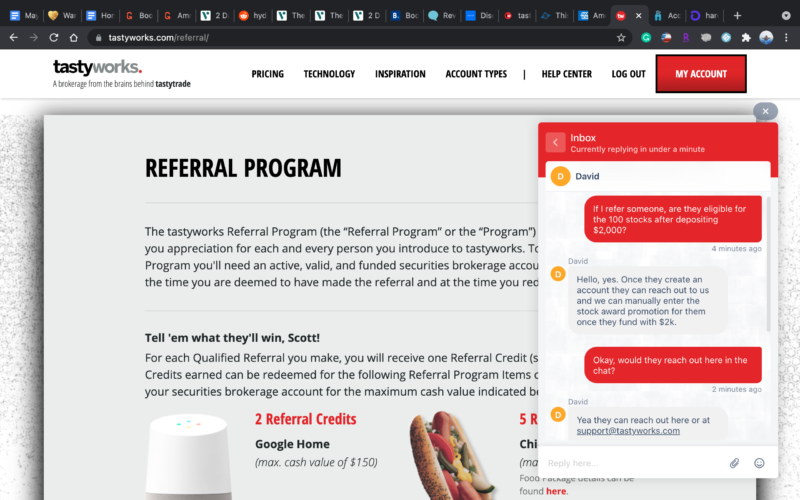 Click here to signup for a new Tastyworks Account!
Basic Breakdown
I'll be adding Tastyworks to the top options for earning free stocks list we have running. You can't beat earning $200+ for parking $2,000 in an account for three months. That's a huge return on your money. My fingers are crossed for lots of $6 stocks!
Let us know!
Have you opened a Tastyworks account? If so, how much did you win from the 100 Free Stock Promotion?! I'd love to hear from you down in the comments or over in the 5,000+ Member Basic Travel Facebook Group!
More Basic Reading