Mint Coin Deals are a fairly easy way to meet minimum spending on credit cards for points. Sometimes, they also happen to generate a decent amount of commission. If you are new here- be sure to check out our Top Credit Cards page if you are in the market for a new credit card. Lets break down how these deals work. Be sure to bookmark this page as I will update it for each coin drop.
Current Mint Coin Offer
Thursday, March 17th, 2022, there will be the release of multiple coins. Details being updated shortly. Payout will take 7-10 business days after coin is delivered.
How to purchase a Mint Coin:
If you've never bought a mint coin before, you'll want to prepare by making an account on their website with shipping, billing, and credit card info ready to go. Mint Coin deals are sometimes hard to get depending on demand, and you have to be ready right when they go on sale. Most deals only have 1 coin per household limit.
Steps to creating an account:
Go to usmint.gov
Click Register in the top right hand corner
Fill out all information and click create account
Log into your account and click your address book. Make sure to set a billing and shipping address.
Click payment methods and add a payment method for default for when you are checking out.
The Deal
10-15 minutes before release time (12:00 pm EST for this coin), log into the US Mint website, and be ready to hit refresh at 12 to add to cart and check out.
If you are successful in checking out, you will receive two email confirmations.
1st email acknowledgement
The first email confirmation is an order acknowledgment email. You will receive the confirmation email within 24 hours of this email.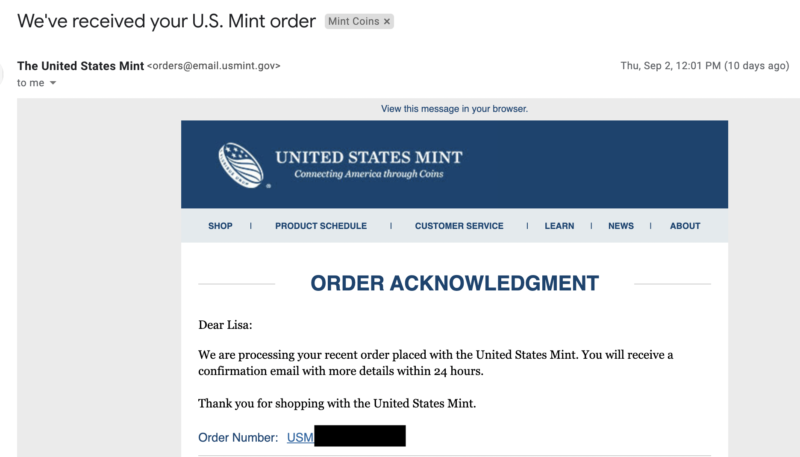 2nd email confirmation
The SECOND email confirmation is labeled "Your U.S. Mint order has been confirmed!" Once you get this, please fill out this google form and forward me the email to [email protected] to secure your spot. These need to be filled out by end of the day. If they are not, my buyer may or may not still accept so please reach out to me with any questions.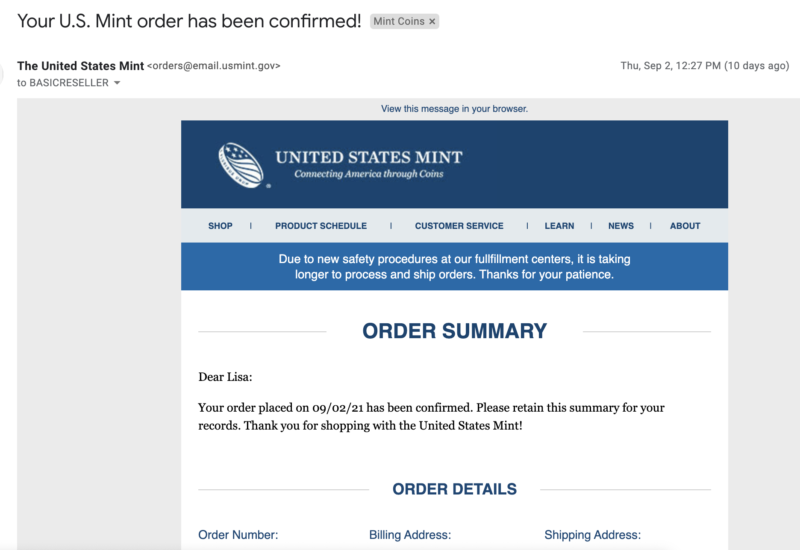 Shipping Label Request
The coin will be shipped to your house. Once you receive the coin, DO NOT OPEN THE BOX. Submit for a shipping label. You will then ship the coin with the pre-paid label. You MUST get a receipt with weight when you drop-off the package. I will need a copy of the drop-off receipt. DO NOT HAND THE COINS TO A DRIVER. Once coins are received, will process payouts.
Basic Review
Mint Coins range in price and we have been buying them the last few years. They are great for those minimum spends or just an easy way to make some extra cash. If you have any questions, let us know below!