A true queen of the sky, Lufthansa's first-class product leaves no stone unturned. Without a doubt, this aspirational award booking should be at the top of every points & miles enthusiast bucket list. I had the opportunity to cross this line off of my list from Frankfurt (FRA) Germany back to Chicago (ORD) on my honeymoon and loved every second. Learn more about my experience in this Lufthansa 747-8 review!
How I booked Lufthansa First Class with Points & Miles
I used 174,000 LifeMiles to book two first-class seats on Lufthansa and paid $372.26 in taxes & fees. The LifeMiles were transferred over from my American Express Membership Rewards portal at a 1:1 ratio. This is one of my favorite options for booking Lufthansa First given that both the points required and taxes & fees are low compared to other options. To learn more about booking Lufthansa first with LifeMiles, check out the guide here.

Lufthansa First 747-8 Overview
Aboard the 747-8, first-class passengers have the opportunity to sit in the nose of the jumbo jet. This is becoming rarer and rarer as these aircraft are quickly being retired. As of October 2020, there were only 35 queens left in the sky. The planes are being replaced with more fuel-efficient aircraft like the 777 and 787 which certainly don't compare to the 747 double-deckers. Thankfully, Lufthansa still plans on keeping the 747 around for a few more years but you should act fast if you want to experience it before it's gone. To give you an idea of the space up front, each first-class seat is 30 inches wide and 81 inches long when converted into a bed. Nothing compares to both the product and impeccable customer service aboard this aircraft!
after you spend $3,000 on purchases in your first 3 months from account opening.
after you spend $3,000 on purchases in your first 3 months from account opening.
Check-in process at FRA
I rode the complimentary airport shuttle from the Hyatt Place Frankfurt Airport to terminal one which took approximately ten minutes. It's important to note that at the time I traveled, the Frankfurt First Class Terminal was closed which is why check-in took place in terminal one. I headed to the right side of the terminal where I found a private First Class check-in counter. Since I was sitting up front, I decided to check my bulky carry-on through to Chicago in order to avoid not looking too out of place sitting up front! (Remember this is basic travel)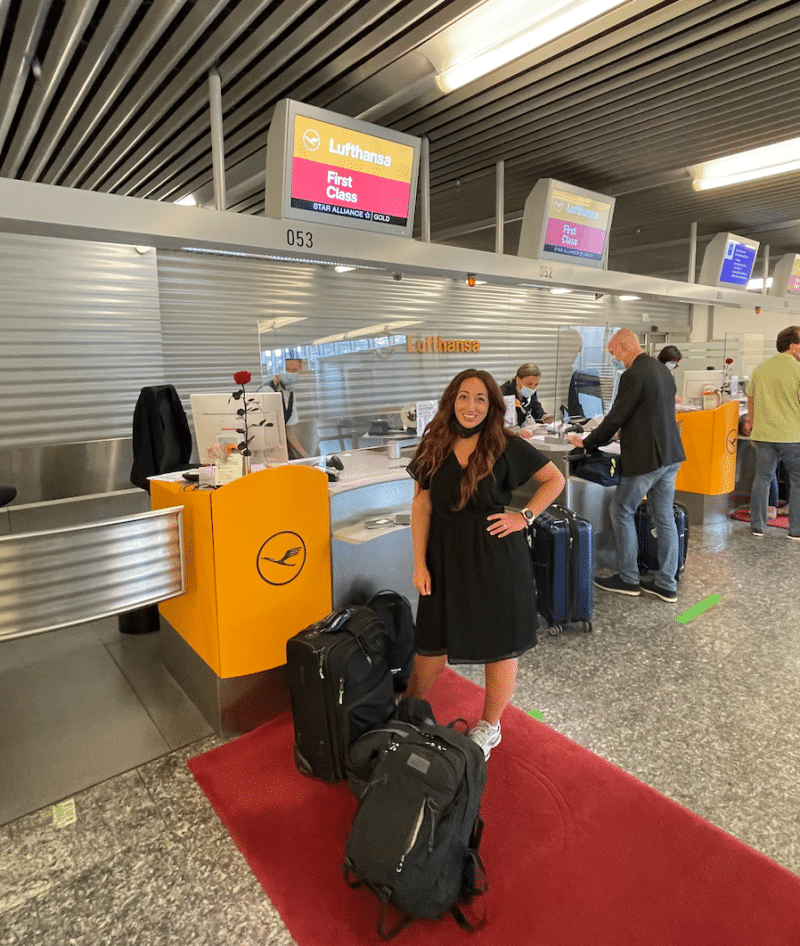 Lufthansa First Class Terminal (Prior to Covid)
Sadly, I was not able to visit this terminal due to the covid closure but it does look pretty fantastic. When it is open, you can expect to find a giant space – over 19,400 square feet. Jumping straight to the highlight, passengers are escorted directly from the terminal to their plane via a brand new Porsche. Aside from the luxury plane escort, the Lufthansa First Class Terminal includes a cigar bar, showers, sleep rooms, expansive dining, and a full bar. I'm looking forward to returning back to FRA in order to get the full experience soon once it reopens!
**Editors Note** the Frankfurt Lufthansa First Class Terminal has re-opened as of September 1, 2021.**
Lufthansa First Class Lounge (Terminal 1)
I arrived at the airport extra early in order to spend a few hours in the Lufthansa First Class Lounge. The lounge is located in Terminal A near gate 13. Entry into the lounge included two parts: scanning our boarding pass and an immigration check that included processing my covid test which is required to enter the USA. The pre-check-in in the lounge allowed me to skip the immigration line after leaving the lounge which was a nice perk. Lisa and I were then provided a tour of the lounge and decided to claim a few chairs in front of the runway.
The Space
The lounge was very large, including a handful of showers, sleeping rooms, business stations, a cigar lounge, a full bar, and sit-down dining. A few minutes after sitting down, our host came by with a pair of Lufthansa signature rubber ducks for Lisa and me. You've got to love how something so simple as a rubber duck brings the whole Lufthansa first experience to a different level. Our new friends accompanied us over to the dining area where I enjoyed some fresh coffee, fruit, and an omelet. The rest of my time in the lounge was spent enjoying an Irish coffee from a lounge chair. Overall I thought that this lounge was exceptional in terms of the customer service and space which was a pleasant surprise considering the first-class terminal was still closed!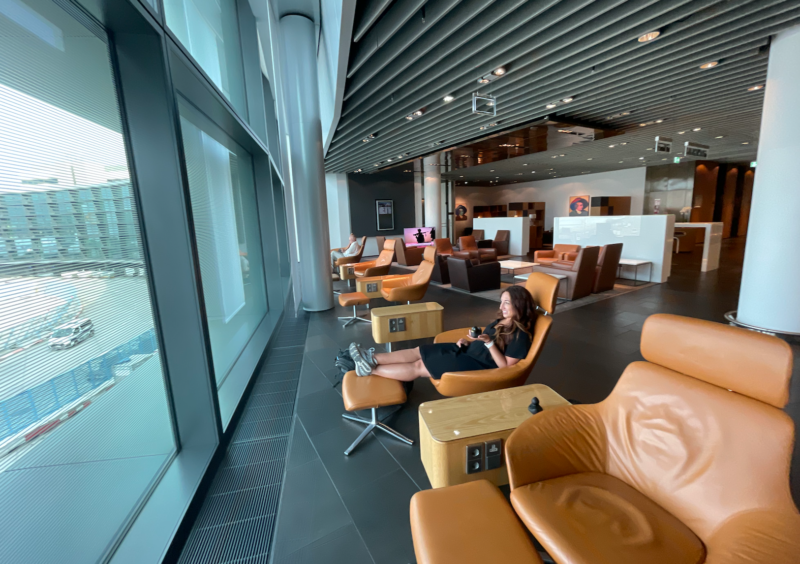 Boarding the 747-8
Now, this is where you'll find my only criticism of the whole Lufthansa First Class experience. Strangely, Lufthansa pre-boarded all customers with children prior to both Business and First class passengers. It felt quite chaotic at the gate and the families who pre-boarded included teenagers which really struck me as odd. I waited over 30 minutes for everyone to board which I much rather would have spent in the lounge. Given that there are only eight seats in First and XX in Business, I'm unsure of why the process is reversed on Lufthansa. Finally, I know this is a first-world problem here but considering this product costs on average $10,000, I'd expect better.
Welcome Champagne & Snack
Arriving into the Lufthansa first-class cabin was delightful. Lisa and I were greeted by the captain who introduced himself and talked about the Lufthansa 747-8 experience upfront. I settled into seat 1A and the flight attendant came by a moment later with a choice of welcome beverages. Since this is a honeymoon flight, Lisa and I celebrated with a champagne toast from across the aisle. A selection of nuts was also provided with the takeoff drink.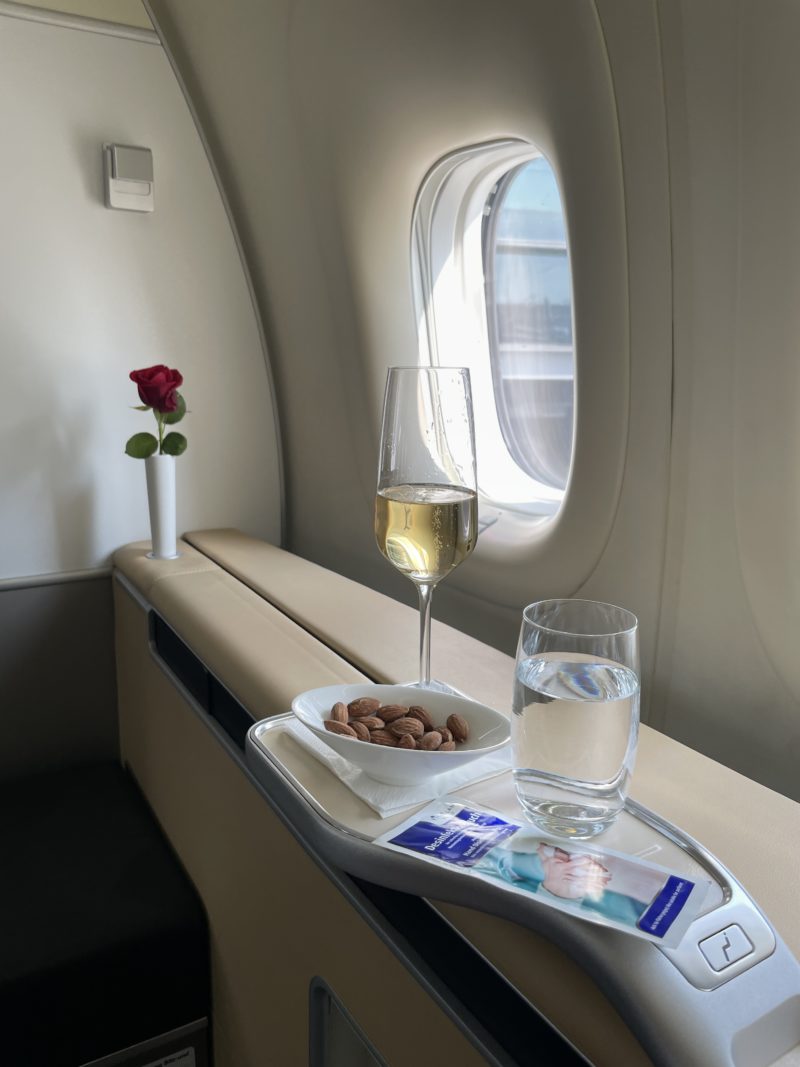 Lufthansa First 747-8 Seat 1A
A true thrown, seat 1A was everything I imagined and more. Within the huge space, I found a storage bin below the television screen where I placed my sneakers and backpack. To the left of the television, a freshly picked rose was delicately placed which is a trademark of the Lufthansa First Class experience. The right armrest opened to the seat controls while the left enclosed the entertainment remote control. Bose headphones are located in a storage compartment directly next to the remote. Finally, over my back left shoulder was a cup holder and another storage area that I used for my cell phone and wallet. I always feel like a kid again experimenting with all of the different buttons and opening each secret compartment!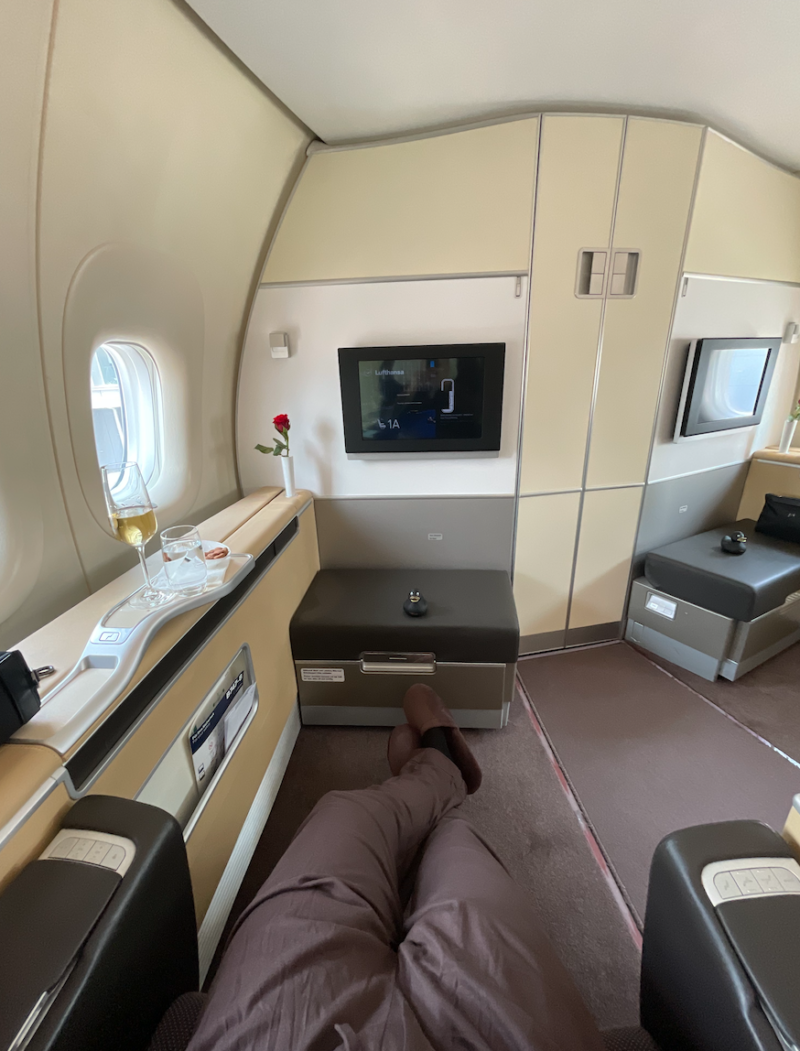 Amenity Kit & Pajamas
The amenity kit is designed by Porsche and yes, it was fancy. Found within the kit were a hairbrush, toothbrush and toothpaste, eye mask, socks, earplugs, a trio of different lotions, cologne, and a shoehorn. The pajamas were comfortable, especially the slippers which were designed by Cumuli. Without a doubt, these slippers are the most comfortable slippers I've ever received from any premium hotel or aviation experience to date.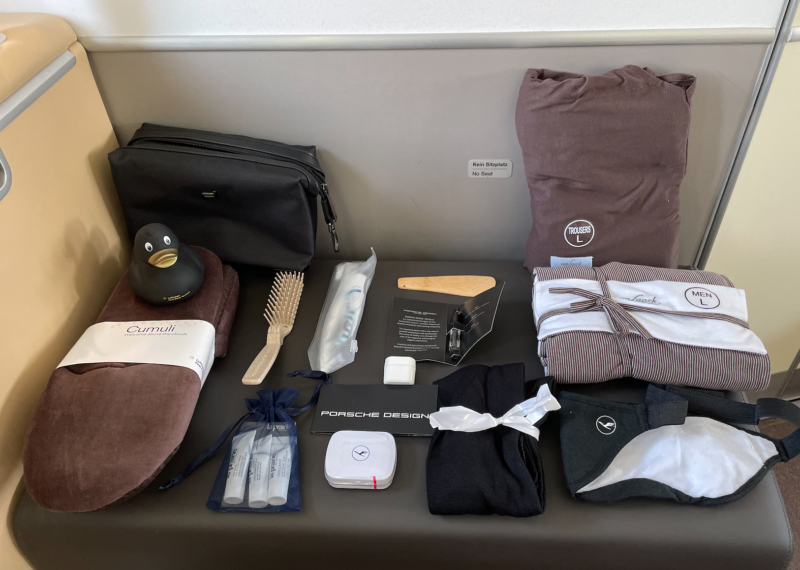 Lufthansa First 747-8 Meal
The food service began with a choice of appetizers that you could either choose one of or receive a sampler platter. I opted for the sampler which included caviar, beef pastrami, spiced salmon, coconut mousse, and a salad. Typically I'm not a fan of caviar but this time I thought it was exquisite. The cream of Asparagus soup was served next followed by a choice of entrees. There were four different options including veal schnitzel, turbot bouillabaisse, pollard with lemon thyme, and a traditional German ravioli dish that I went with. For dessert, I enjoyed delicious vanilla and sour ice cream topped with strawberries.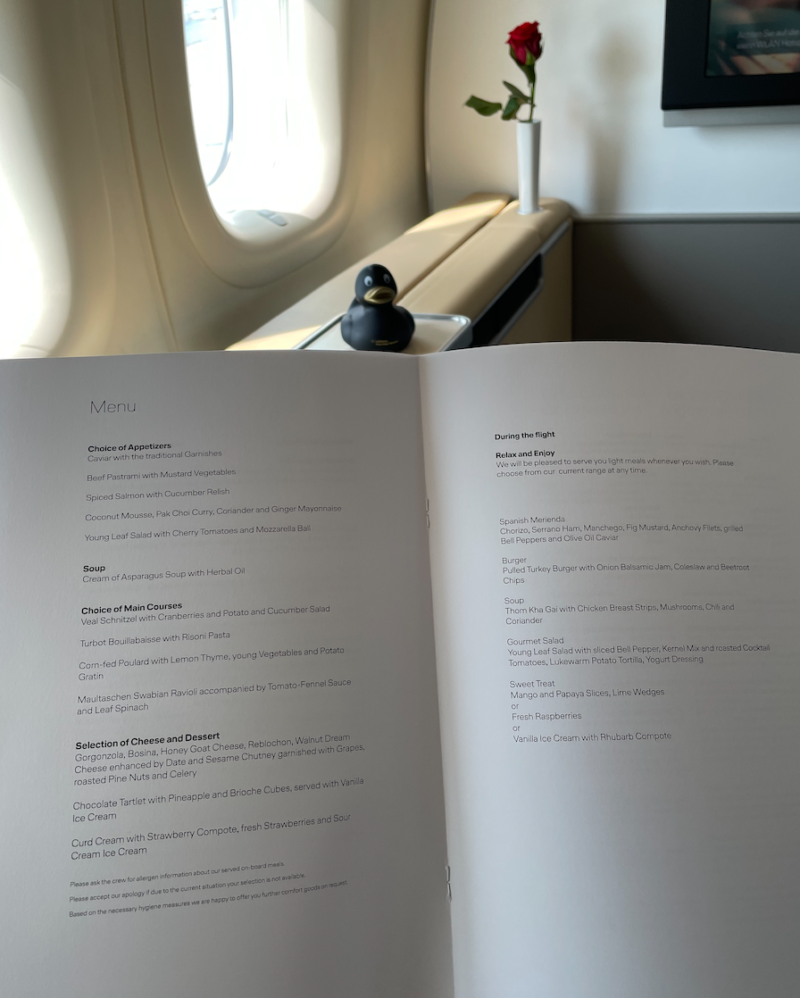 Entertainment
The entertainment system had a variety of options to choose from including new movies, television shows, and podcasts. I watched a Quiet Place 2 which was partly filmed in my hometown, Buffalo NY. The Bose headphones worked great during the flight with the noise cancellation technology they are known for.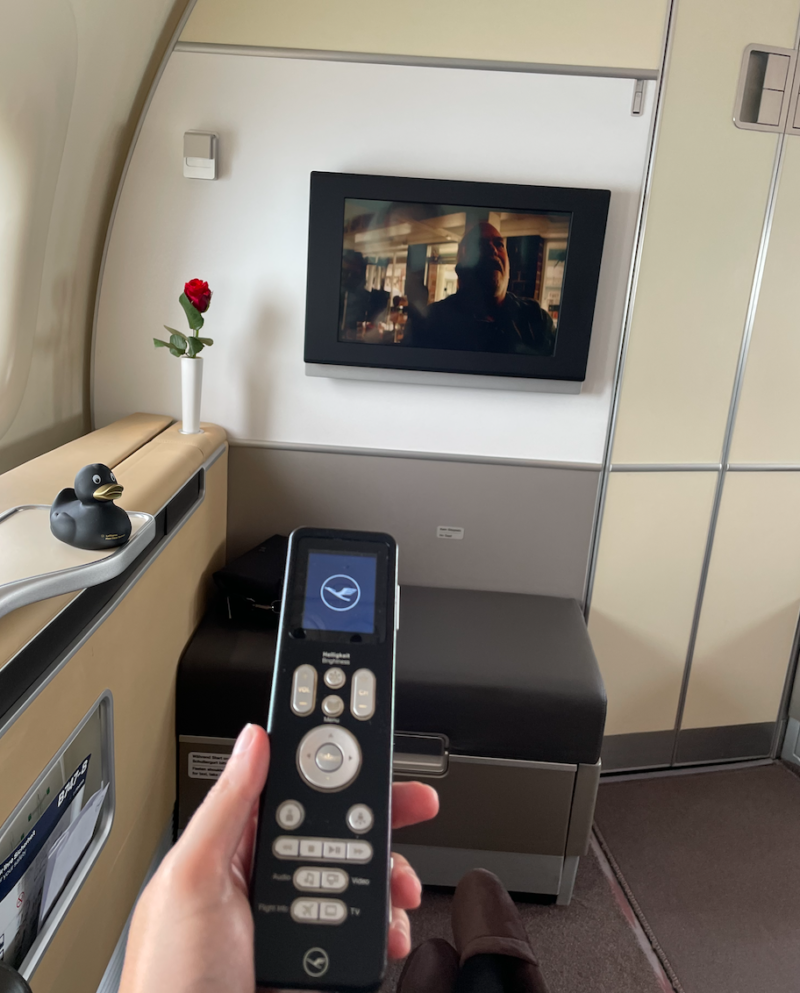 Turndown Service
Halfway into the flight, the flight attendant offered me a turndown service that I was happy to accept. Seat 1A was converted to a lay-flat bed with an additional mattress pad placed on top of the seat. I was also offered an additional pillow and blankets to complete the turn-down. The whole first-class cabin went pitch black after I tucked in which was awesome for my mid-flight nap!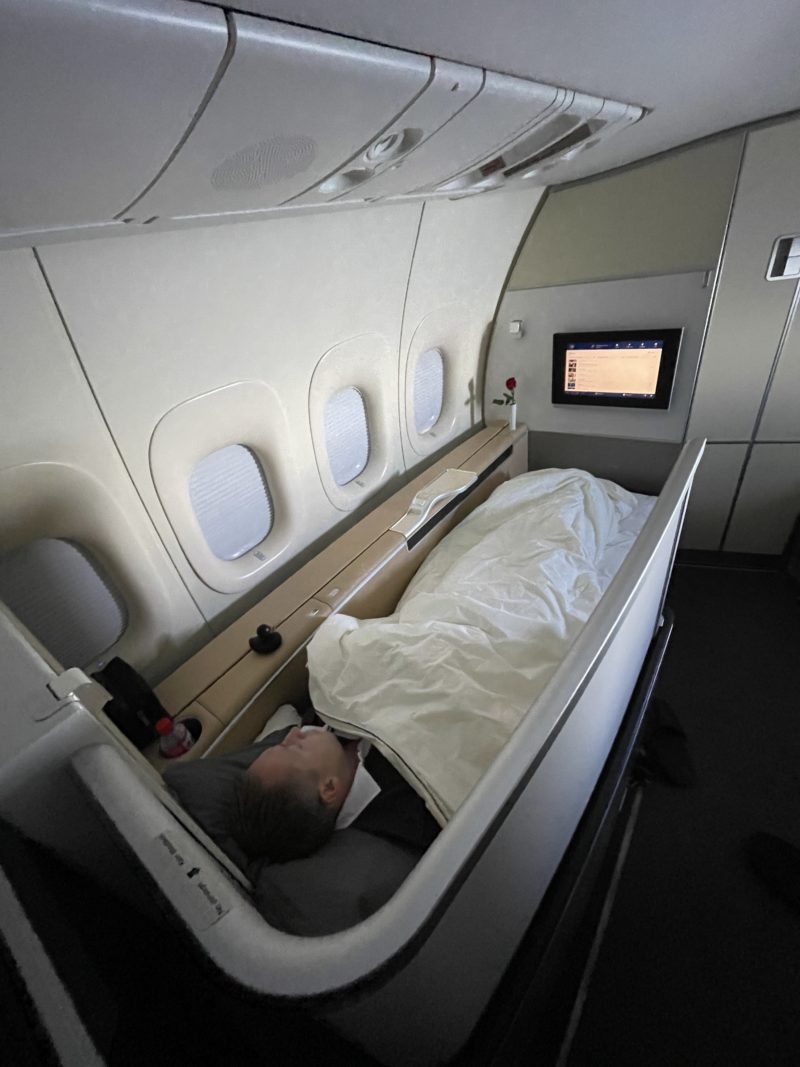 Lufthansa First 747-8 Meal #2
The flight attendants woke me up a few hours from Chicago to prepare for an optional second meal. I could have technically ordered anything I wanted from the a la carte page during the flight but most people opt to eat a second meal prior to landing when flying a long-haul first or business flight. For meal two, I went with a pulled turkey burger, thorn kha gai soup, salad, and ice cream. I especially loved the soup which had just the right amount of spice. Meal number two was washed down with a traditional German lager!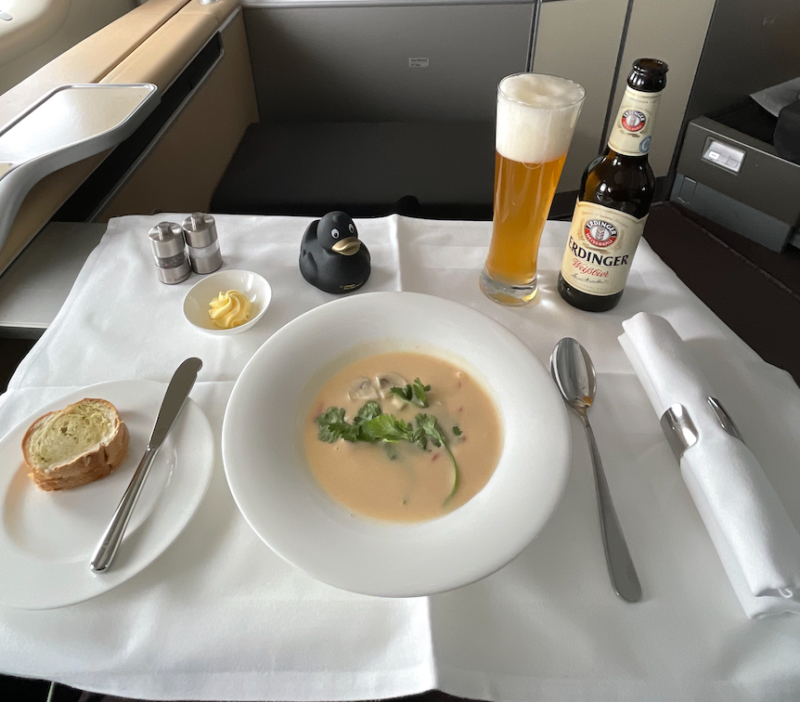 Arriving in Chicago
Setting down into Chicago was smooth as could be. First and Business class passengers were given first access to the Jetbridge. Going through Immigration we had a tough time explaining where we had been the last 6 weeks. Given we planned the whole honeymoon trip as we went, our dates and timelines were all over the place. Thankfully, after explaining the whole Points & Miles blogging factor we were allowed to pass.
Basic Breakdown
Flying first-class on the Lufthansa 747-8 is what aviation dreams are made of. I'm so thankful to have found and embraced the points and miles hobby. Without it, I certainly would never be able to afford to sit in seat 1A, short of winning the lottery. Hopefully, this Lufthansa First 747-8 review helps inspire you to open some new credit cards and put a points plan together to book this before it's gone!
Let us know
Have you flown Lufthansa's First Class Product on the 747-8?
More Basic Reading