The Hyatt Regency Grand Reserve located in Puerto Rico is sort of an enigma. Typically Hyatt Regencies are known for great service, modern accommodations, and full-service restaurant options. Despite Hyatt's reputation, the Grand Reserve does not get a lot of love from guests who leave reviews. I decided to head down to Puerto Rico and find out if there is any merit to the keyboard warriors' criticism.
Category Four
The Hyatt Regency Grand Reserve is a Category Four hotel. An award night currently runs for 15,000 Hyatt Points but will change when the new Hyatt Award Chart begins in March 2022. Starting in March, off-peak nights will cost 12,000 Hyatt Points, the standard will be 15,000 Hyatt Points, and Peak will require 18,000 Hyatt Points.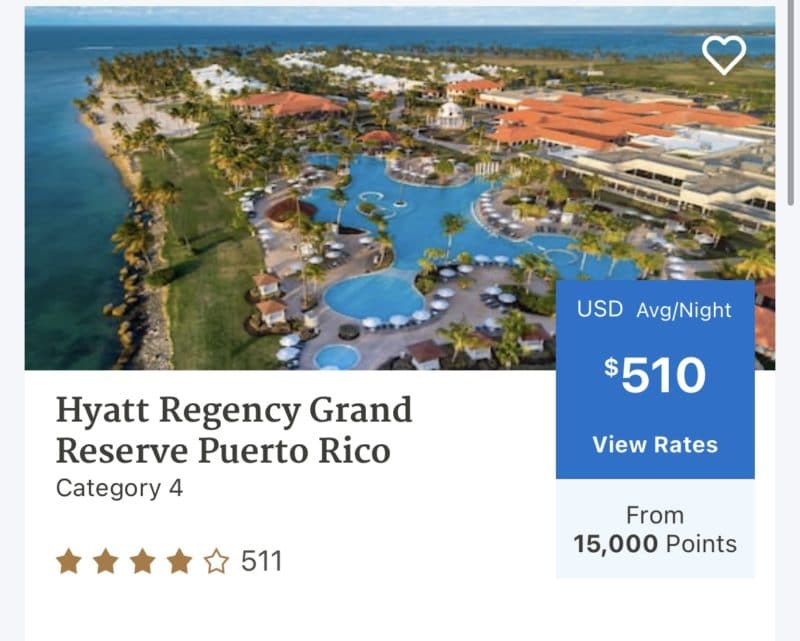 Cash Rate
The cash rate at the Hyatt Regency Grand Reserve per night shows an average rate of $408 on the Hyatt website. However, this rate does not include the resort fees and tax. For example, the four nights that I visited the Grand Reserve in December 2021 the rate was $693.39 all in.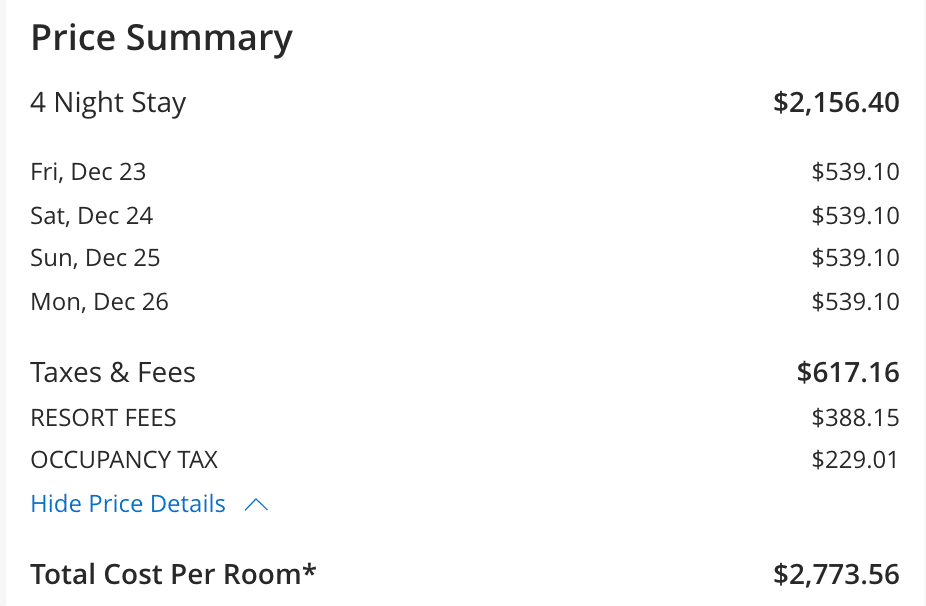 Globalist Perks at the Grand Reserve
I know this is a popular question that I receive and look for myself when researching hotels. At the Grand Reserve, Hyatt Globalist members are entitled to Complimentary Breakfast, 4:00 pm late checkout, suite upgrades, free parking on award stays, and club lounge access.
Complimentary Breakfast
The breakfast was fantastic. As a globalist member, we received access to the full breakfast buffet. There were plenty of options including an omelet station, pancakes & waffles, fruit & yogurt bar, potatoes, and sausage & bacon. The breakfast buffet for Lisa and I should have cost us $72 per day. That's $288 in savings thanks to Globalist!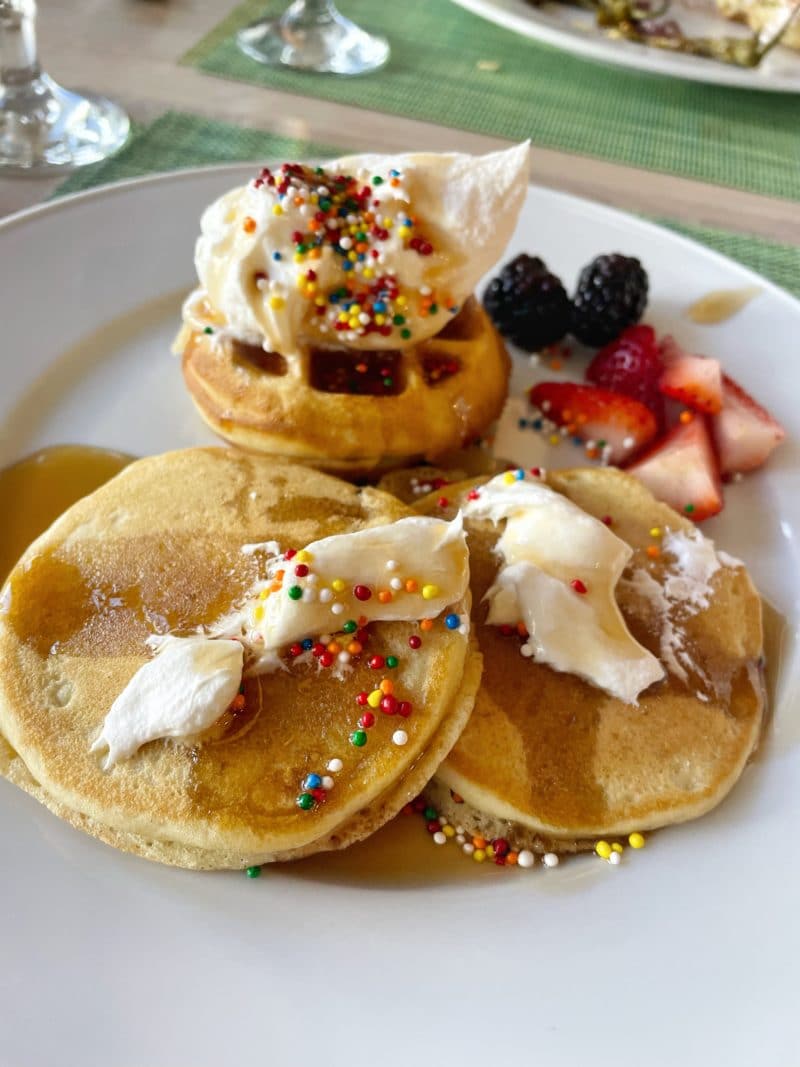 Breakfast criticism – One of the days during my stay I booked an early t-time and planned to grab a quick breakfast before heading to the golf course. Breakfast begins daily at 7:00 AM which gave me about 30 minutes to eat quickly and grab some coffee. Well upon arriving I was informed that despite breakfast beginning at 7:00 AM, Globalist could not access the complimentary buffet until 8:00 AM. I found it very strange that globalists are restricted from eating breakfast between 7 to 8. To top it all off (yes, that's a golf joke), I was one of maybe three guests in the whole restaurant at that time in the morning. They did not budge but I was able to grab a cup of coffee to go which I was thankful for!
4:00 PM Late Checkout
I always love the flexibility of having a late check-out. The Grand Reserve did honor this Globalist benefit without an issue.
Suite Upgrades
Given this was a last-minute award stay, I booked the standard room with the hope of receiving a globalist upgrade upon arrival. At check-in, Lisa and I were told that we did receive a suite upgrade.
Suite Upgrade Criticism – However, after getting to the room and looking at the website we were given the same standard room we booked. The room was great and I'll highlight it more below but it seems strange that the check-in agent would lie about that. Scott from The Points Guy had a similar experience but his Suite Upgrade was actually confirmed ahead of the stay!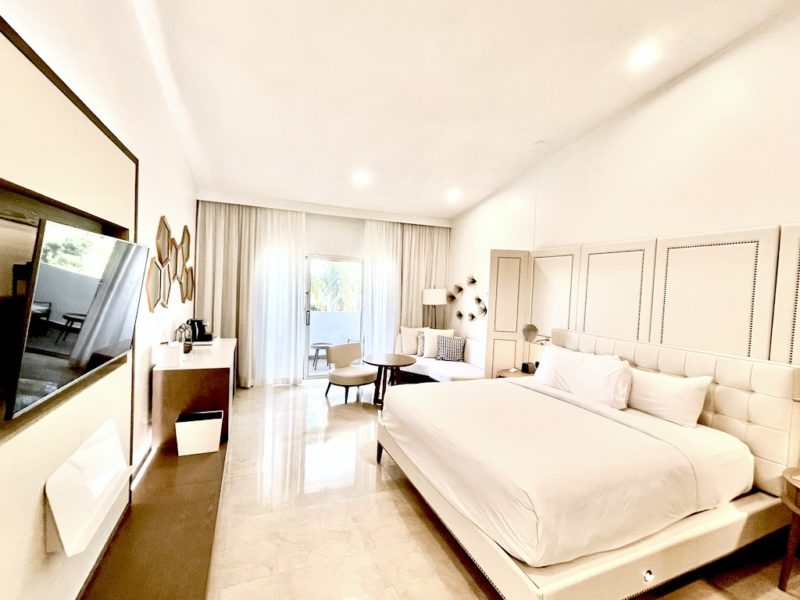 Free Parking on Award Stays
Self-parking is $15 per day but is complimentary for Globalist members on award stays. Based on the reviews I read before heading to Puerto Rico, I knew that renting a car would be necessary to stay at the Grand Reserve. I ended up saving $60 on this fee thanks to Globalist and appreciated how close the self-parking lot was to the resort.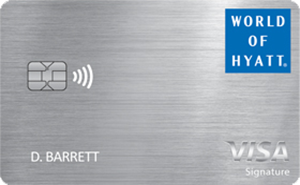 after you spend $3,000 on purchases in your first 3 months from account opening.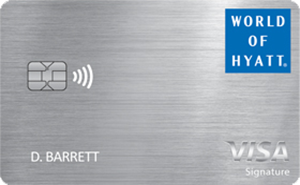 after you spend $3,000 on purchases in your first 3 months from account opening.
Club Lounge Access at the Grand Reserve
One aspect that Hyatt loyalists love about Regency properties is the club lounge access. I read that the Grand Reserve's lounge has been closed due to covid for quite some time and had recently reopened. During my stay, the lounge was open from 1:00 pm to 6:00 pm daily. From 4:00 pm until 6:00 pm there was a complimentary buffet offered that included both cold and hot food items. Sodas, water, tea, and coffee were complimentary the whole time and there was a reduced price cash honor bar that included beer & wine.
Check-in
The whole check-in process lasted maybe ten minutes and we were on our way. A staff member escorted us to a mini-shuttle cart that took us to our room. All of the staff members that assisted us were friendly and accommodating.
Room 2019
We spent four nights in room 2019 which is the standard award night at the Hyatt Regency Grand Reserve. The room was spacious and included a balcony overlooking a garden. My favorite aspect of the room is its proximity to the adult's pool and beach which was a short one-minute walk!
Dining at the Hyatt Regency Grand Reserve
There are five restaurants and three bars on-site at the Grand Reserve. This was probably the most disappointing aspect of the stay which is consistent with what I read prior to visiting. First, upon check-in, I was informed that three of the restaurants were all booked up for the duration of our stay. I see now on the website that there is an option to reserve ahead of time but I would have never thought that all reservations would be taken for four straight nights at a resort. The restaurants that you can reserve ahead of time are Nori Teppanyaki, Nori Asian, and Prime 787.
The lobby bar offers drinks, food, and live music at night so we started there. To start, I ordered a local Puerto Rican IPA and Lisa ordered a lager. 25 minutes later the server came back and said the lager ran out and Lisa needed to pick something else. After another 20 minutes, the two drinks finally arrived! We decided to take our cerveza's to-go over to the Water's Edge for some Pasta. They said there would be a wait for Pizza but Pasta would be quick. We ordered two simple pasta dishes that also took over 45 minutes to arrive. All in all, we waited 90 minutes for two beers and two plates of pasta which was certainly disappointing given the Hyatt Regency brand.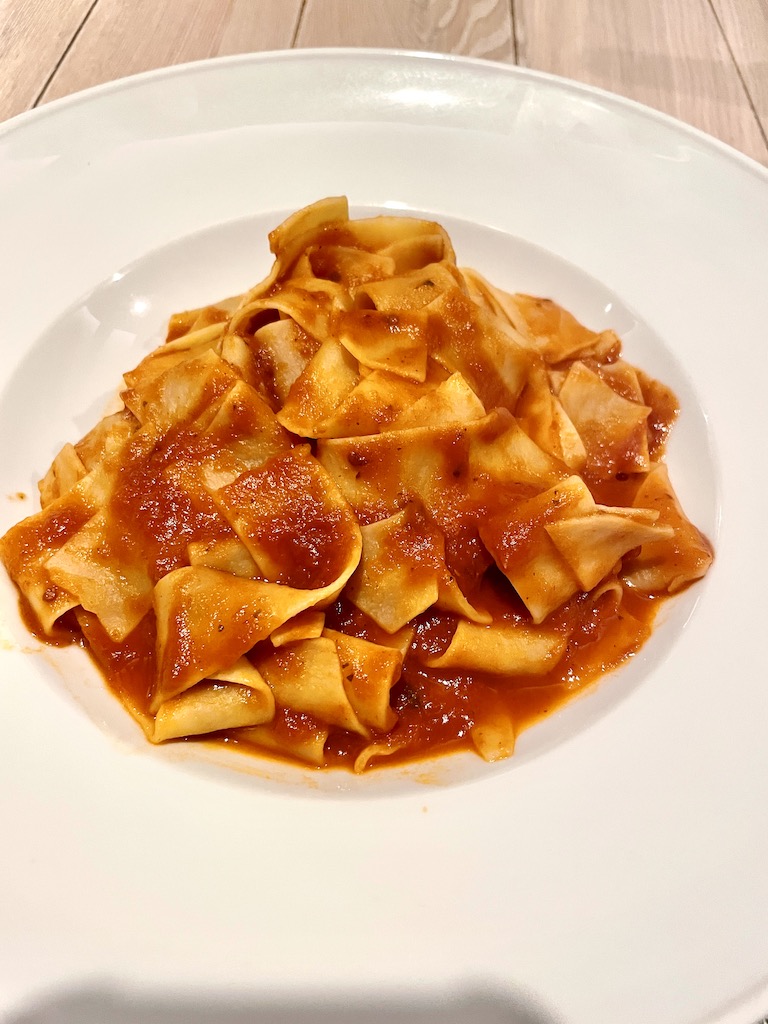 A friend told us he enjoyed a meal at the Puerto Rican-inspired restaurant Pasion. We didn't make it over there during our stay so I can't speak to the experience. After the first night, we decided to eat the rest of our meals outside the resort which was great. There are plenty of places within a 10 to 15-minute drive which is where the rental car came in handy!
Pools
There are two pools on-site at the Grand Reserve. The main pool is definitely the busier of the two, which includes activities for kids and a swim-up bar for adults. Mid-day it was a battle trying to find an open seat there so definitely claim one early. The other pool located near our room was smaller and much quieter. Mostly adults relaxing, reading, and taking siestas which was much more my speed. My only criticism here is that there are no pool towels located near the adult pool. On our first day we walked around in circles looking for pool towels only to find out that they are housed in a hut near the main pool. At some point during our stay, the staff instituted two towels per person rule which again was surprising given the brand.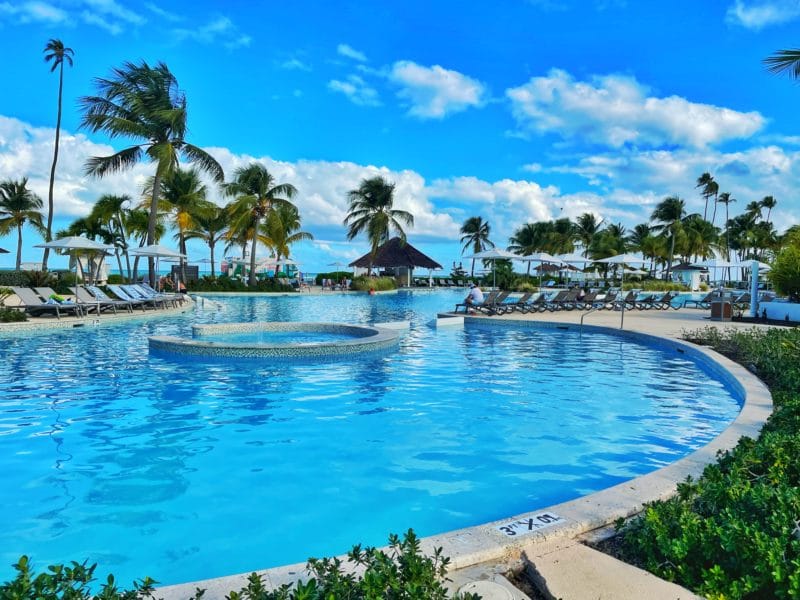 Activites
Bingo, tennis, ping pong, and put-put are just a few of the activities you can find at the Grand Reserve. There are Kayaks and Paddle Boards for rent, as well as a handful of paid activities that can be booked through the resort. From what I could tell, the family-friendly aspect of the hotel was a huge draw. All of the kids seemed to be having a blast with the activities.
Puerto Rico or "PR"
A friend of mine who relocated to Puerto Rico told me that the territory's initials are PR for a reason. He went on to explain that PR down on the island stands for Patience Required. I'm no stranger to island time and can appreciate a slower pace experience. However, be forewarned that you may need some PR for your stay at the Grand Reserve!
Rental Car
I booked a car through PayLess Car Rental for around $500 for 4 days which was pricey. When figuring the Uber rides from the airport to the Grand Reserve were averaging $75 each way and taking into consideration the hotel reviews I read the car was a no-brainer. The Hyatt Regency Grand Reserve is about a ten-minute drive to the El Yunque National Forest and many other great destinations in Rio Grande.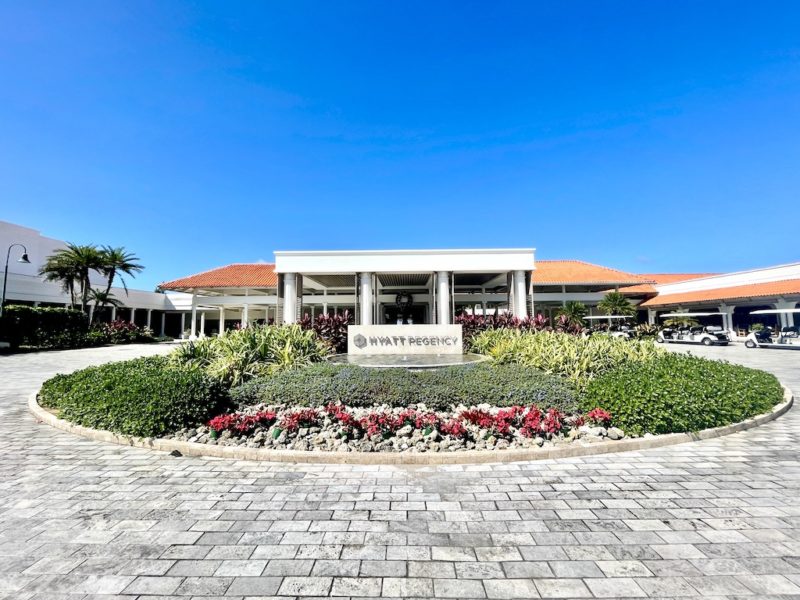 Basic Breakdown
I certainly had a mixed experience at the Grand Reserve. The pros include a great value at 15,000 Hyatt Points per night for a tropical getaway and solid Globalist perks. The ease of bookign with my World of Hyatt points that can be transferred from my Chase Sapphire Preferred made the stay even better. For the cons, the incredibly slow service and overall weird policies were definitely strange. Why can't globalist members eat breakfast from 7:00 – 8:00 AM?
Thankfully, we did book a rental car and were able to explore (and eat) locally in Rio Grande. Without the rental car, I think I would have had a much more unpleasant experience. Ultimately, I did accomplish my mission of catching some sun and escaping the northeast winter which was my only goal!
Have you visited the Hyatt Regency Grand Reserve?
More Basic Reading