Heading to the Hyatt Regency Clearwater Beach Resort and Spa for a girl's family trip was the perfect getaway. Conveniently located right on the beach, pool access, steps away from shopping, food, and entertainment. We couldn't have asked for anything more. Booking with the remaining World of Hyatt points in my account, and transferring over a few more from Chase Ultimate Rewards enabled us to stay for $0 out of our pocket. This provided for a great low-cost trip to keep more money in our pockets. Let's dive into the Basic Review of Hyatt Regency Clearwater Beach Resort & Spa.
Overview
Opening in December 2009, Hyatt Regency Clearwater Beach is now a category 6 property. This residence-style hotel includes 287 oversized rooms where you can relax, prepare meals, and enjoy the gulf balcony views. Rooms range anywhere from 450 sq ft to 1,600 sq ft, including kitchenettes, and full kitchens. Located steps away from the beach and easy access back to your hotel room, this is the perfect spot for a long getaway or just a weekend oasis.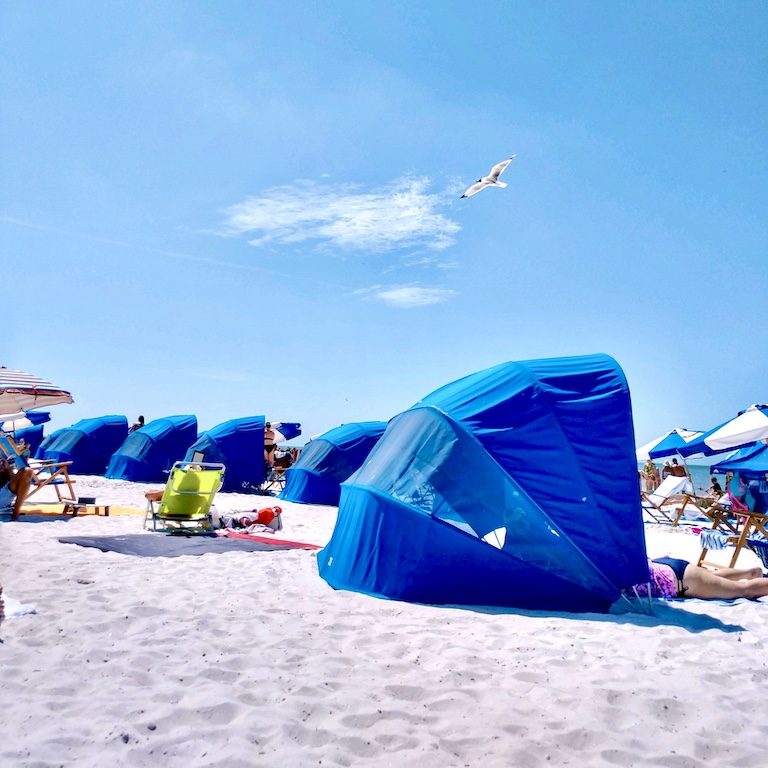 Location
Hyatt Regency Clearwater Beach is located in Clearwater Beach, Florida. It is about 45 minutes west of Tampa, or a little over 2 hours from Orlando. Clearwater beach is known for its soft, white-sand beaches, calm waters, gorgeous sunsets, and a long 2.5-mile winding promenade. The beach was voted the number one beach in North America in 2019! Hyatt Regency is conveniently located only steps away from the golf near pier 60, and incredibly accessible to shops, dining, and entertainment.
Booking with Hyatt points
The cheapest nightly rates I found were around $430 per night for the basic room. The most expensive room I saw was the deluxe 2 bedroom suite which was coming in at $1,949 per night. World of Hyatt standard award nights bookings rates are 25,000 points per night at the Hyatt Regency Clearwater. If you are staying off-peak, you can snag a room for 21,000 points per night. Peak rates will come in at 29,000 points.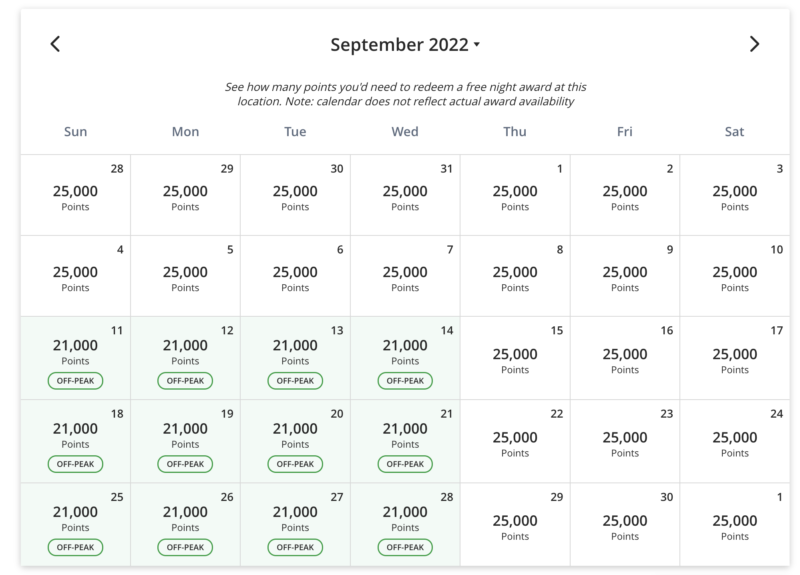 For our stay, we were on peak rate nights which for two nights turned into 58,000 World of Hyatt points. Booking was easily done online through hyatt.com. You can learn more about Redeeming World of Hyatt points here.
Earning World of Hyatt points
World of Hyatt points can easily be earned a few different ways. The main way is with the World of Hyatt Credit Card. With the current offer, you can earn 30,000 points after spending $3,000 on purchases in the first 3 months. You can earn up to an additional 30,000 World of Hyatt points with earning 2 points per dollar up to $15,000 within 6 months of account opening. This could net you 60,000 World of Hyatt points.
after you spend $3,000 on purchases in your first 3 months from account opening.
after you spend $3,000 on purchases in your first 3 months from account opening.
Small Business Cards
Secondly, there is also a World of Hyatt Business credit card that just recently launched. For business owners, whether big or small – you can take advantage of this incredible offer below.
after you spend $5,000 on purchases in your first 3 months from account opening.
after you spend $5,000 on purchases in your first 3 months from account opening.
Other options
Lastly, Chase Ultimate Rewards Points can be used to transfer to Hyatt. This is one of my favorite ways to top off my World of Hyatt account. You can find all the ways to earn World of Hyatt points here.
after you spend $4,000 on purchases in the first 3 months from account opening.
after you spend $4,000 on purchases in the first 3 months from account opening.
Check-In
Upon arrival at the hotel, we were promptly greeted by hotel staff. They allowed us to park out front to check-in and then directed us to the parking garage and explained how parking would be covered with globalist status.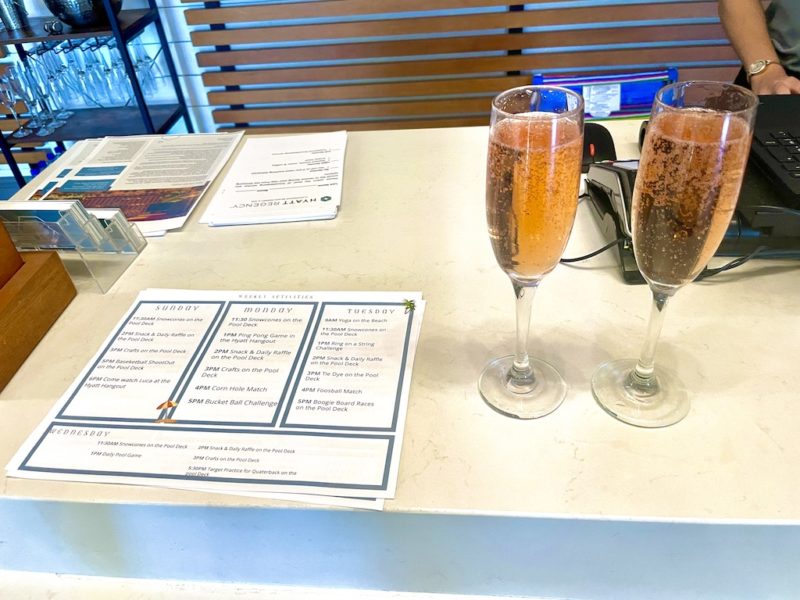 Walking into the entryway I was greeted by multiple friendly faces welcoming me to the hotel. We arrived around noon and our room was not quite ready yet. However, we were still given access to the pool, beach towels, and parking. Later on, when our room was ready, myself and my mom were given a glass of champagne welcoming us. We were then given wristbands that had room keys attached to them to make it convenient to carry the key with us.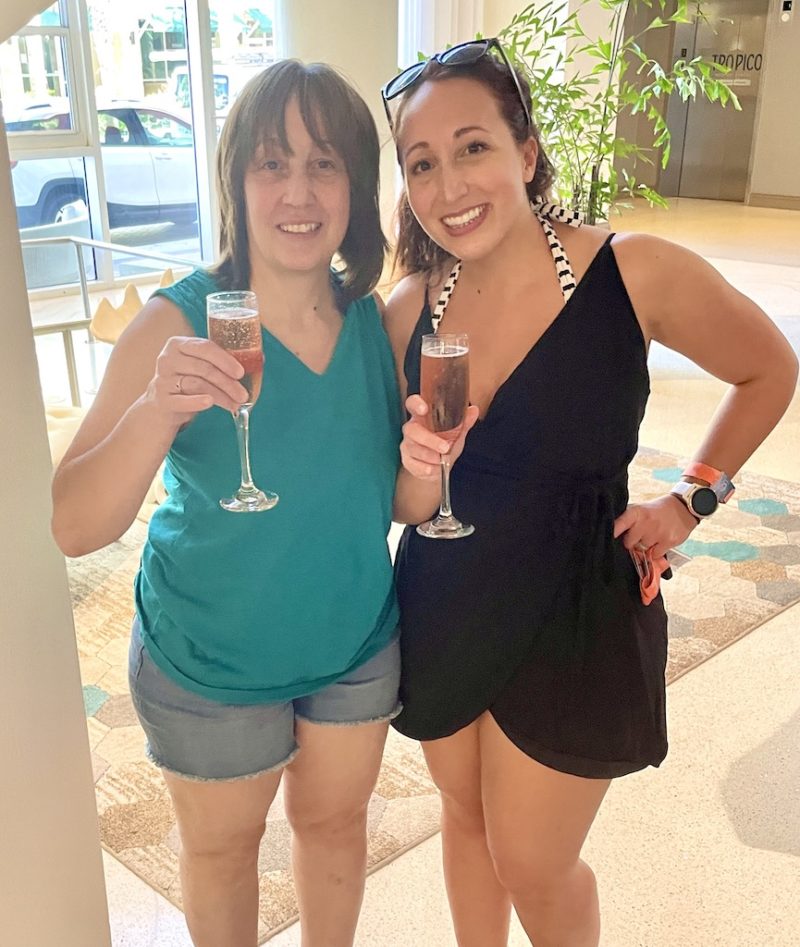 The Room
Since I was traveling with 4 other adults, I decided to utilize one of my free night upgrades earned last year on my quest to globalist status. We were given an upgrade to a 1-bedroom suite.
A few days before we checked in the hotel manager had contacted me thanking me for my loyalty with Globalist status. I had inquired if there were any 2 bedroom suites available and we were graciously upgraded to the two-bedroom terrace gulf view room on the 16th floor. After talking with the hotel staff, this was the only room of this type that had direct terrace access on the 16th floor. The other side has a one-bedroom with terrace access.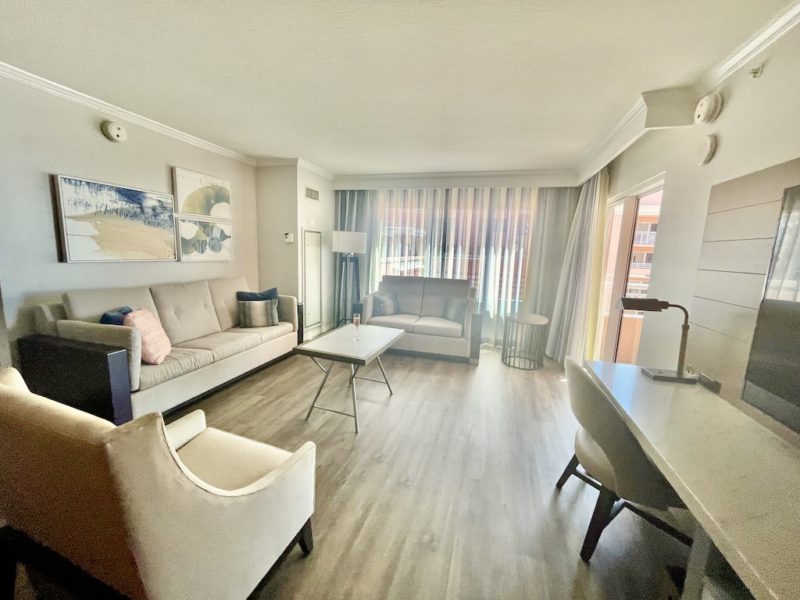 The 2-bedroom suite included 1 bedroom with a king-size bed, two closets, a makeup area, entry to the terrace, and a full bathroom. The second bedroom had two queen size beds, an outdoor balcony, and a full-size bathroom. In between the two bedrooms was a full-size kitchen, dining room, and living room.
Restaurant
SHOR
The main hotel restaurant, SHOR, we had only visited for breakfast. They offered a beautiful buffet spread which included a yogurt and oatmeal station, pastries, an omelet station, eggs, potatoes, vegetables, and even a cheese station. The buffet was $24.99 per person or you could order a la carte. We chose the buffet both days, and the second day even enjoyed a mimosa flight.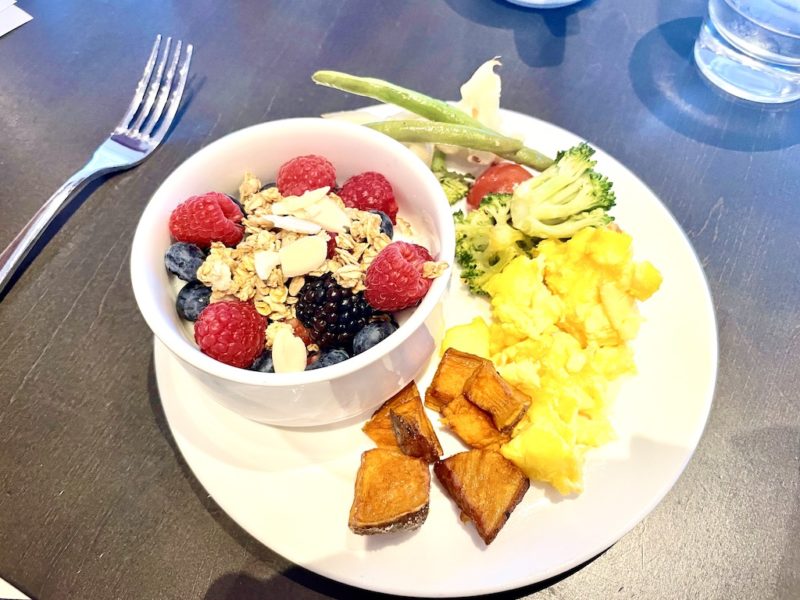 The Market
Across from SHOR, on the second floor was where The Market was located. This was right across from SHOR. Included in the Market were grab-and-go pre-made food items, plus included a coffee bar. You could also walk into the self-service area for any types of snacks and items that you may have forgotten to pack.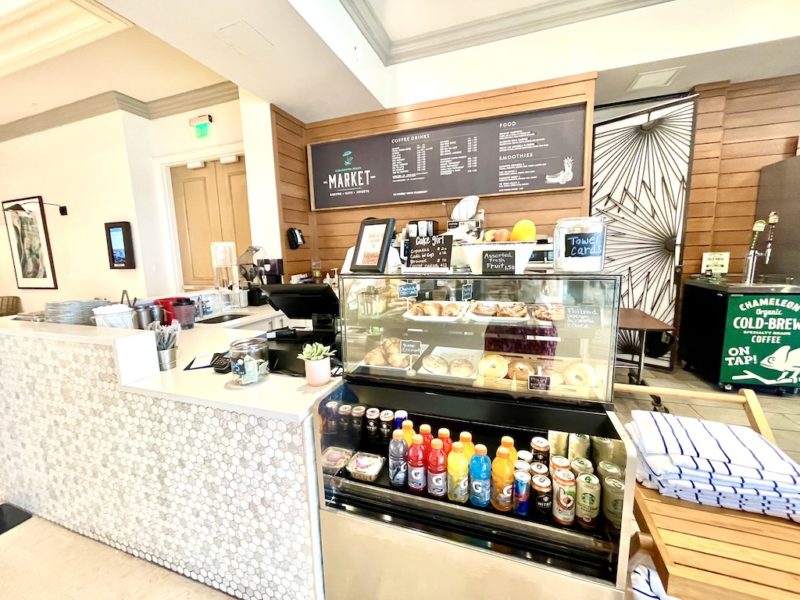 Hyatt Globalist Perks at Hyatt Regency Clearwater
Hyatt has been the one hotel brand that has stayed consistent in its offerings. We were offered many perks for booking on award nights, but also perks for being globalist. The perks from our stay included:
Parking
Daily parking for one vehicle is complementary with award night bookings for Hyatt globalist members on free night awards. You can self-park with in and out privileges, or you can choose valet which both would be covered. Normally self-parking is $25 per night, and valet is $29.
Daily Resort Fee
The current daily resort fee at Hyatt Regency Clearwater is $32.77. For Hyatt Globalist members this fee is waived on eligible rate bookings as well as on all award night bookings. At the Hyatt Regency Clearwater, the resort fee includes activities such as Beach Yoga, Poolside activities such as Snow-Cone making, craft stations, and games. They also include 2 bike rentals per room per stay, self-service laundry, beach towels, a fitness center, and more. You can check out the full list on Hyatt's website here.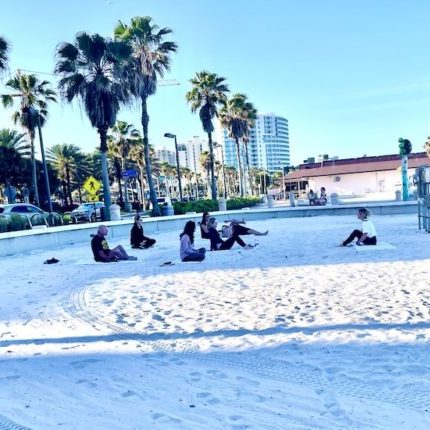 Breakfast
Complimentary breakfast is included for 2 adults and 2 children. There is no lounge at this location so the breakfast essentially includes buffet meals for 4 people since there is no separate cost for child breakfast. The fee is $24.99 per day. Essentially we were given a $100 credit each day towards breakfast. So if we ordered a la cart, we only paid the difference in the $100 over.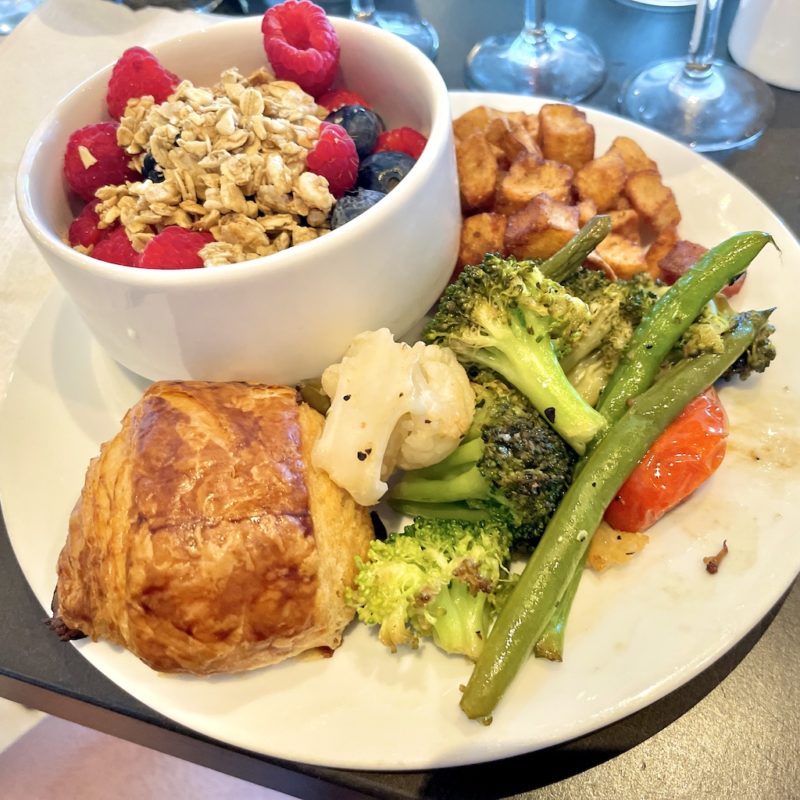 Pool
The pool was located on the 8th floor. It was also a convenient location of Tropico Rooftop Cantina which had a daily happy hour from 10-11 and 4-5 pm. They provided drinks, and Latin Influenced style dishes. There were plenty of chairs surrounding the pool area, however, I would still recommend getting there early to secure a spot.
Rooftop Terrace
The rooftop terrace had to be my favorite part about the hotel. Located on the 16th floor, I feel like it was a lesser-known spot. This area never had a ton of people around and had direct access to our room. They also have a hot tub on the terrace. It is typically open from 7 am-9 pm daily. The sunset from the terrace was also stunning and there were maybe 20 people up there at the time. I'm sure the pool deck on the 8th floor was crowded watching the sunset, so it was nice having our own secret oasis. I highly suggest visiting for the sunset during your stay.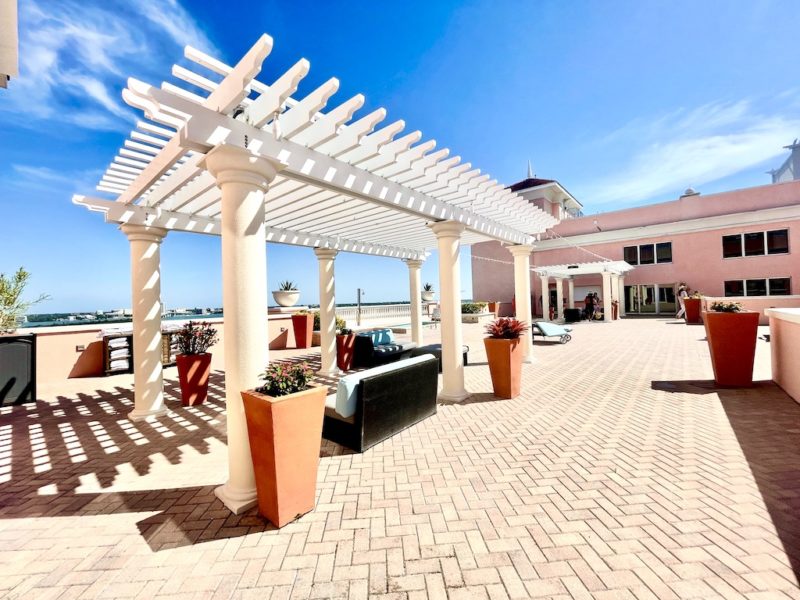 Fitness Center
A nice-sized fitness center was located on the 7th floor and had a little over 1,000 sq ft of space. It included plenty of treadmills, ellipticals, stationary bikes, and a rowing machine. They also had a few weight machines, tons of dumbbells, and even a cable machine. They even had a Peloton bike which I was able to test out for the first time. Tuesdays and Thursdays they offer yoga- one is on the beach and the other is poolside.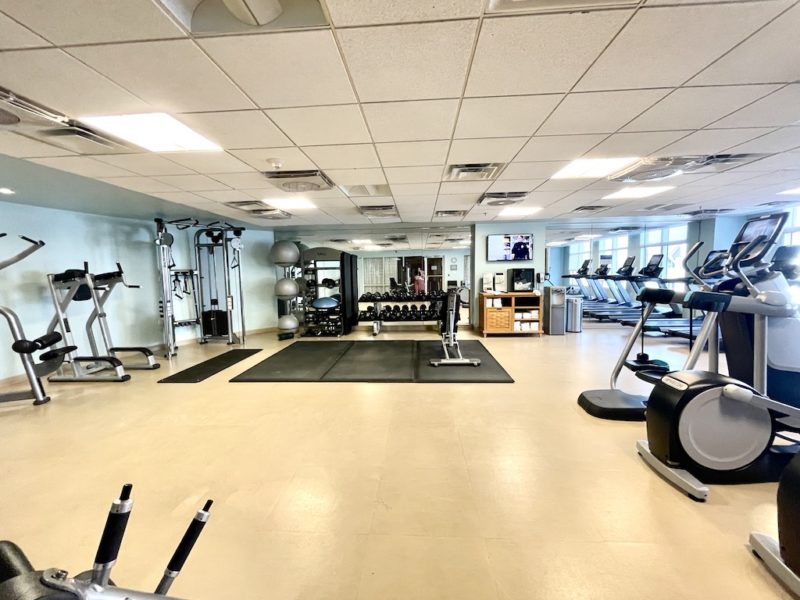 The overall cost of stay
Hyatt Regency Clearwater definitely checked all of the boxes on my list. For the two nights we stayed, we should have paid $3,898. Instead, we used 58,000 World of Hyatt points coming in at an extremely great value of 6.7 cents per point. Included in our stay were two $100 credits for breakfast, $25 per day for parking, as well as waived resort fees of $32 per night. Overall this total stay should have cost us over $4,162 (not including tax).
Basic Breakdown of Hyatt Regency Clearwater Beach Resort and Spa
I cannot wait to head back with Dave for another unforgettable experience. Not to mention, I ran into two people from up north – one who I went to college with (let's go Purple Eagles), and one who I worked with at events in Pittsburgh years ago. One fun thing to mention is that the staff's nametags include their hometown. Be sure to keep a lookout as you might find someone who is from where you are from as well!
I highly recommend the Hyatt Regency Clearwater. The location was perfect, the food was delicious, and the sun and beach were just what we needed for a few day getaways to refresh and rejuvenate our minds and souls.
Have you stayed at the Hyatt Regency Clearwater before or will you book a stay?