Seeing the Aurora Borealis from a Glass Igloo
I can't exactly recall when I first saw the famous Glass Igloo Houses in Finland, but I immediately knew I wanted to go. I honestly never thought about getting there, or any of the details, but I knew I would be there someday. Fast forward years and years, and my dreams have become a reality. It was no small feat getting there from the US. The first few days we spent in Finland were quite stormy. The locals said that the snow usually stops by now and its just a freak chance they were having a storm. Growing up in Buffalo, we knew about these random snowstorms all too well. The first 2 nights were extremely cloudy due to the storms, and we had a snowmobile tour booked for the one night to hunt for the Northern Lights. We didn't see anything in the sky, as way too cloudy but we definitely had a cool experience on the ride. The tour guide told us the next day was supposed to be bright & sunny, and that it would probably be a better night for the lights. We were super hopeful but knew it isn't always a possibility to see the lights.
Our guide ended up being correct, and it was a beautiful sunny day with NO clouds. It was so great to feel the sunshine on our faces after 2 days of blustery cold & snowy weather! We ate breakfast & headed to our Igloo resort in hopes of checking in early to soak up as much time in the igloo as possible. We only had about 18 hours to be in the resort as our flight was at 8:10 the next morning.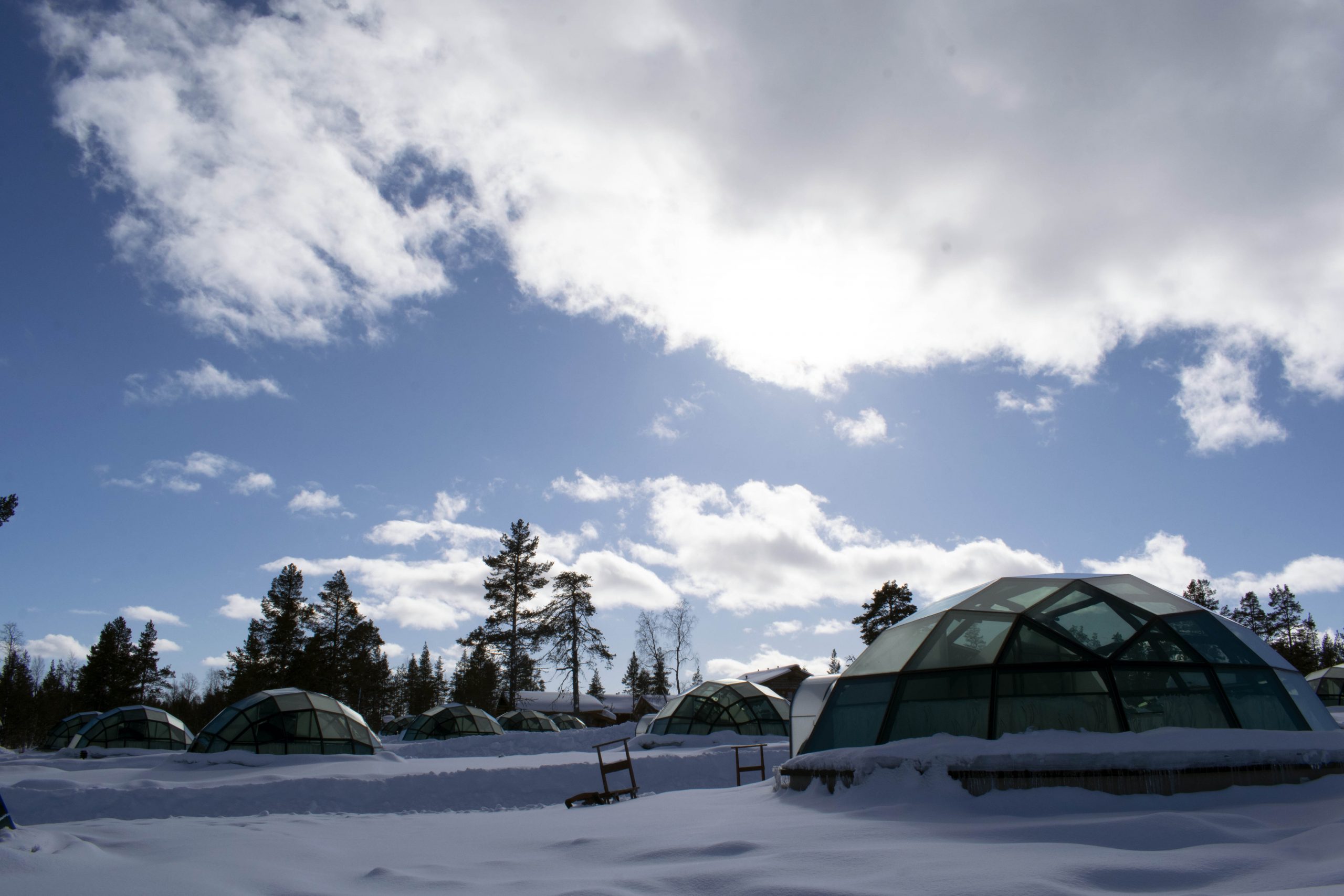 Kakslauttanen Arctic Resort has two villages, East & West. Since it was late in the season, the East Village was already closed, and they directed us to the West Village. It was quite far off the road but once we finally got in, we were able to check-in and made our reservation for dinner (which was included in our stay). We also advised them that we had an early morning flight out, so they said they would have a to-go breakfast waiting for us upon checkout.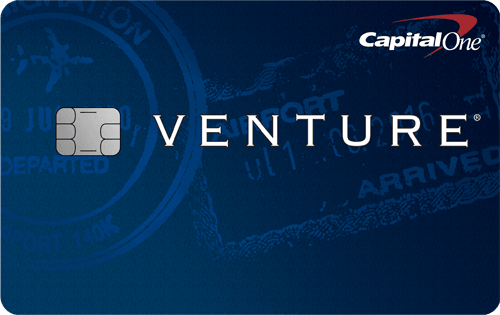 fter spending $4,000 within 3 months from account opening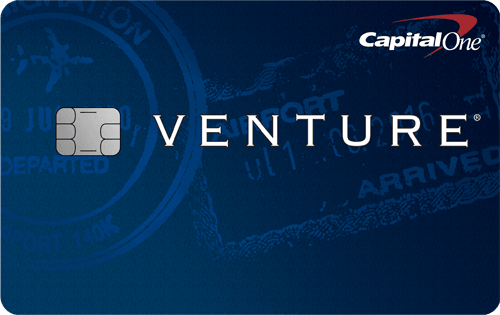 fter spending $4,000 within 3 months from account opening
We ventured down to find our igloo, which was in the very last row of igloos, closest to the woods. This was undeniably the best spot in the place as we had a perfect view of the sky! We were pretty excited to be in the Igloos. Since we booked a 'large' igloo, we had a toilet & shower in the room. I'm not sure if the small igloos had both, but I know they did not have a shower in the rooms. Our igloos also had beds for 4, whereas the smaller ones only fit 2 (Maybe 3, need to check that).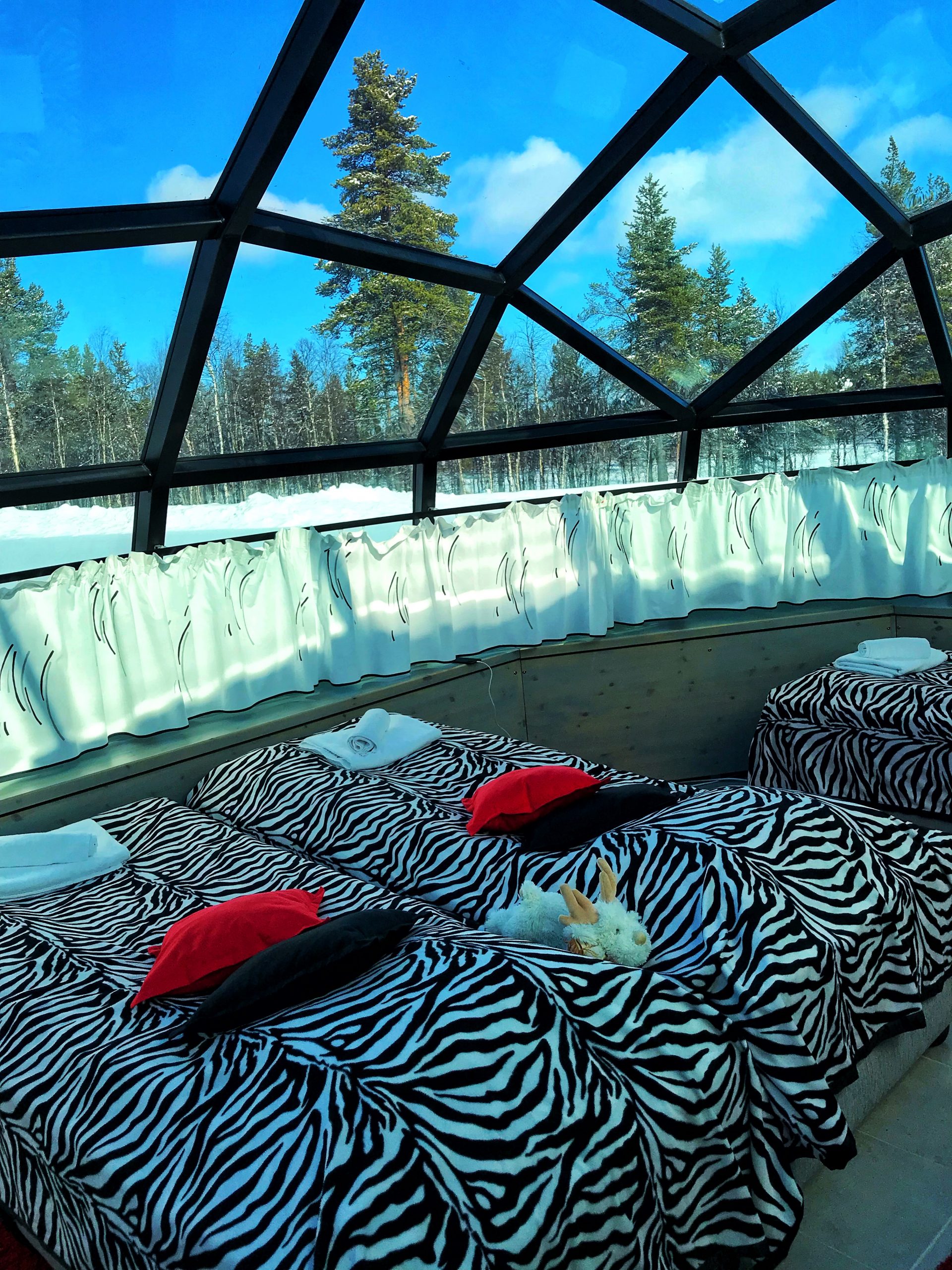 It was super hot in the igloo, so we decided to venture around the resort. We walked down to the Igloo Tower, which had beautiful views of the area. It was mostly tree covered with some cabins/buildings strewed about, but it was so beautiful and peaceful! Since the sun was shining bright, it was extremely HOT in the igloo, we enjoyed the views as long as we could, then headed back out. We found Santa's Village, which was closed at the time (They are only open Tuesdays & Fridays I think it was, and we were there on a Saturday). Next, we found another cool tower lighthouse and got some pretty cool photos.
We spent a few hours exploring, and then, it was time for dinner! The traditional meal was a Salmon Soup with Reindeer and Finnish dessert cheese. I asked for a fish/vegetarian meal instead and was given a white fish. The meal was delicious and Dave enjoyed the Reindeer. We chatted for a while, then hung out in the glass igloo bar near the restaurant. Eventually, we decided to head back to our igloo to prepare for the Northern Lights! Took a few Lonkerro's to go, and stuck them in the snow for our fridge.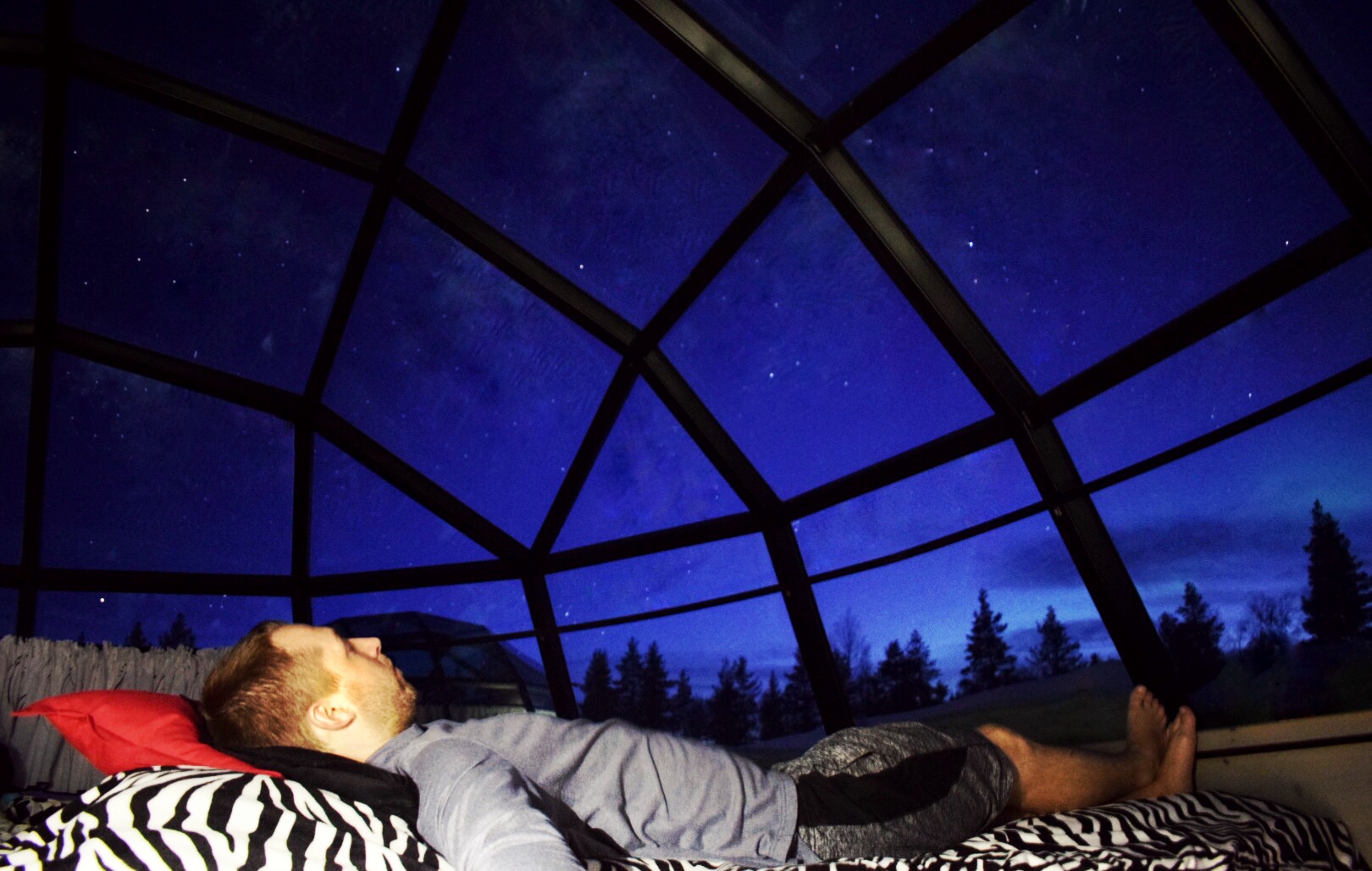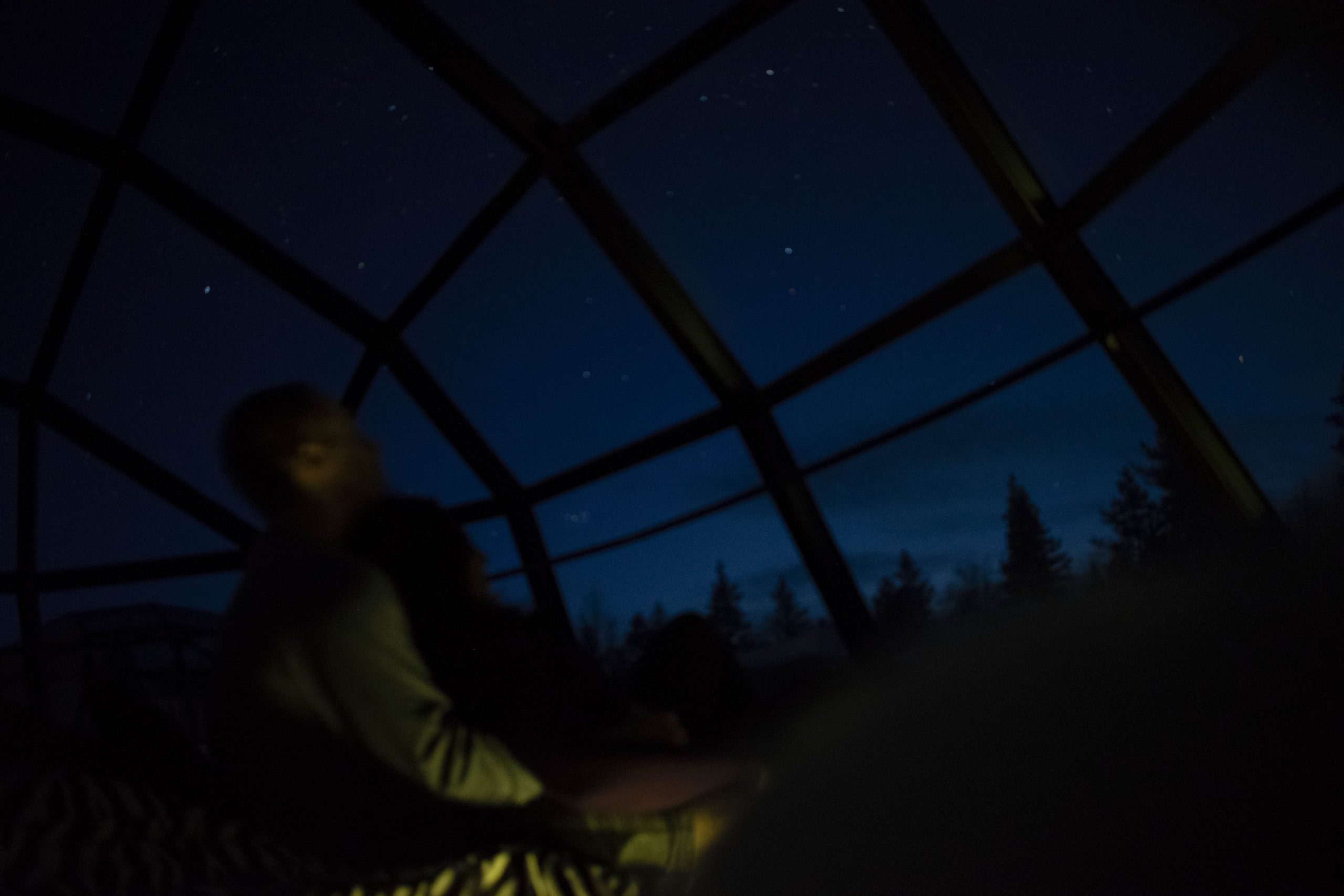 After a few hours of just staring at the stars and the sky looking for the lights, as well as taking photos to learn the settings, I suddenly heard Dave say "Look the lights are coming out!" They were pretty dim at first, then there were a bunch of streaks in the sky of the beautiful greenish colored lights! It was such a cool experience to be in an igloo just staring out at the sky and watching the lights dance above us. They lasted for probably about an hour and we took many photos. (Most of them being blurry as we are still learning our photography skills!) We did the best we could and had such a great time. It was the PERFECT night to end our trip to Iceland & Finland. I HIGHLY recommend staying in these Igloos. I know there are a few other places in the area, but I would definitely recommend Kakslauttanen Arctic Resort. We went on April 7th-8th, and it was pretty slow but peaceful & quiet at the same time.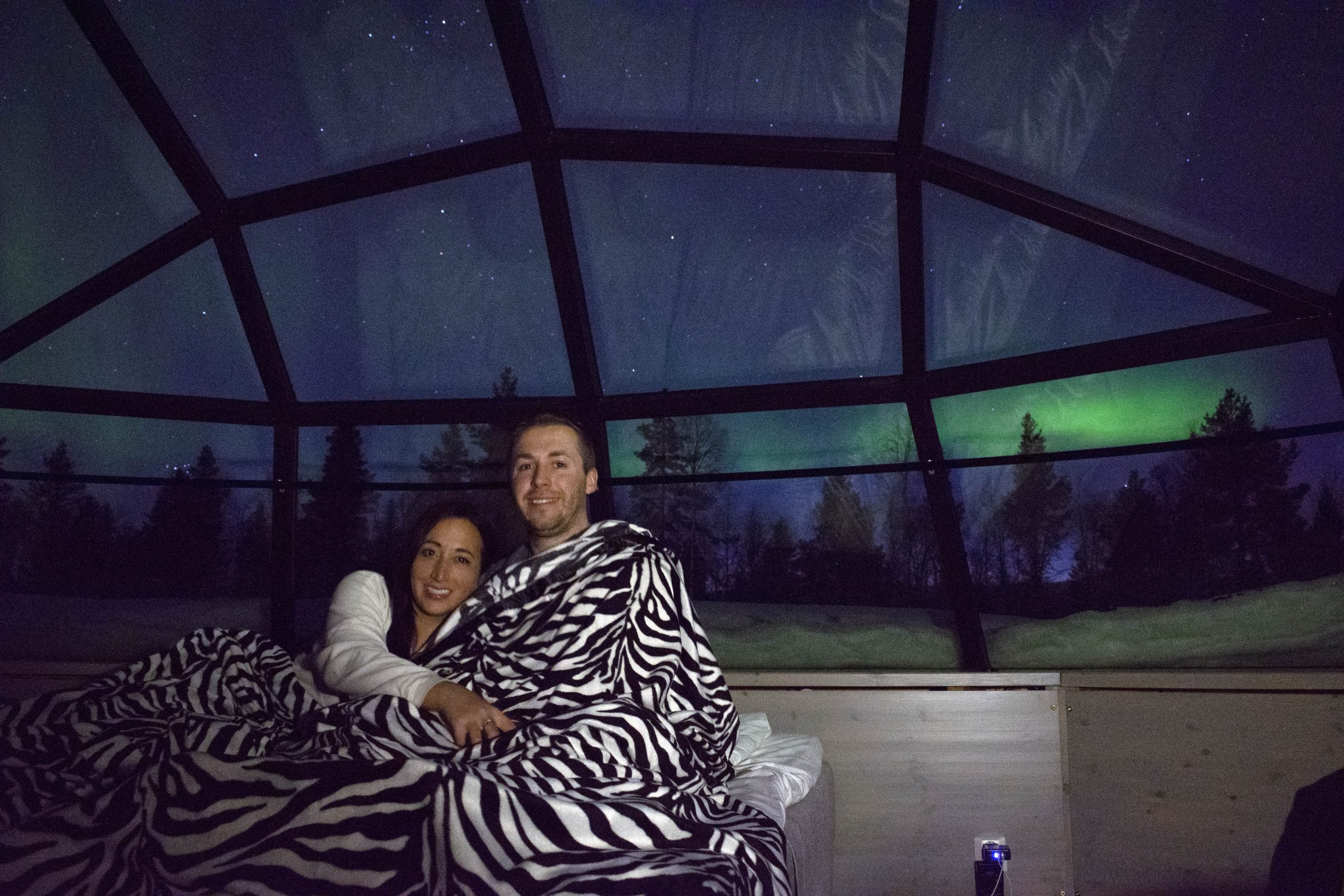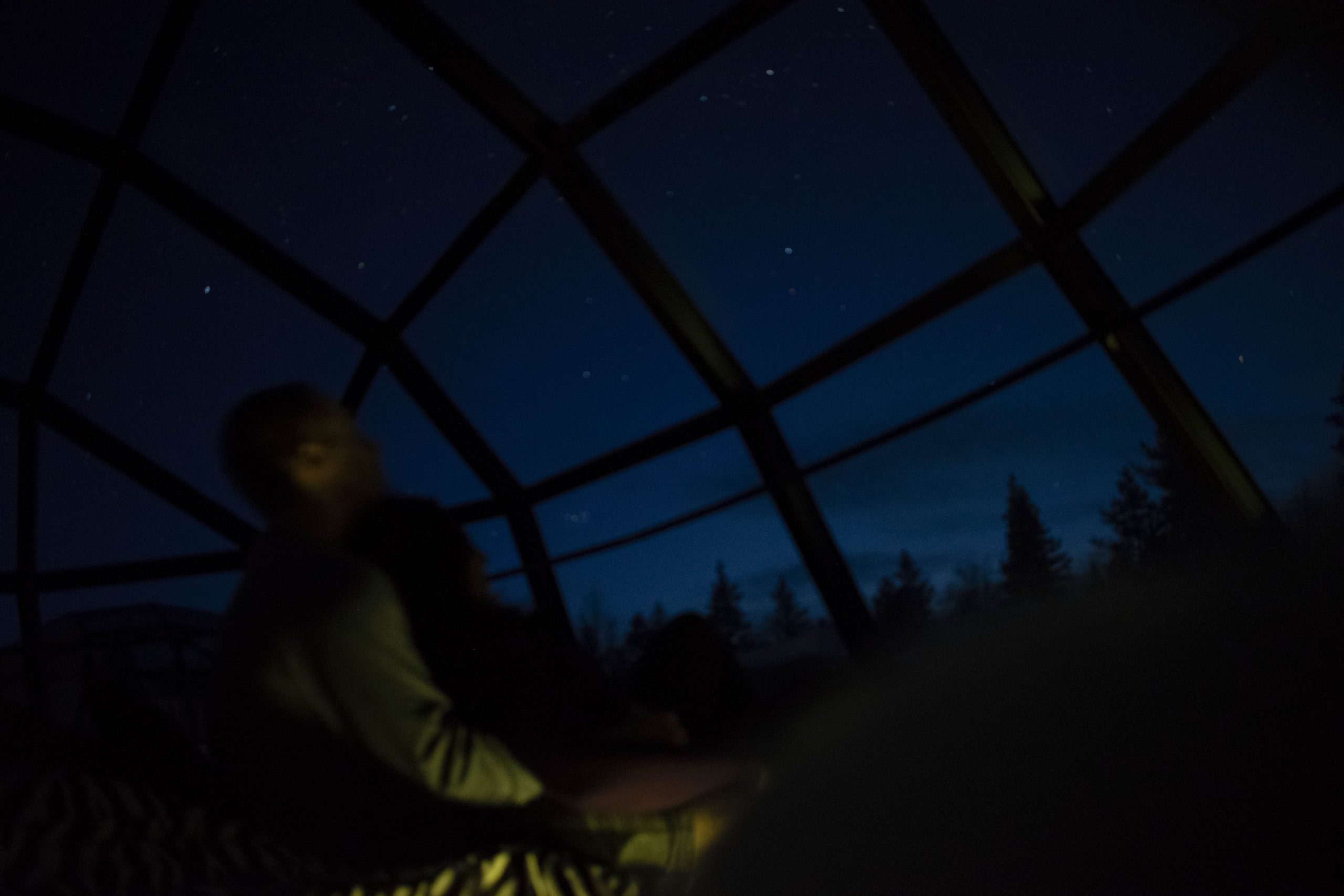 Eventually, after watching the stars for what seemed like hours, we fell asleep around 1 or 2 am, knowing we had to be up pretty early for our flight the next morning! Make sure you check back for our next post on how we got stuck in a snowbank and almost missed our flights!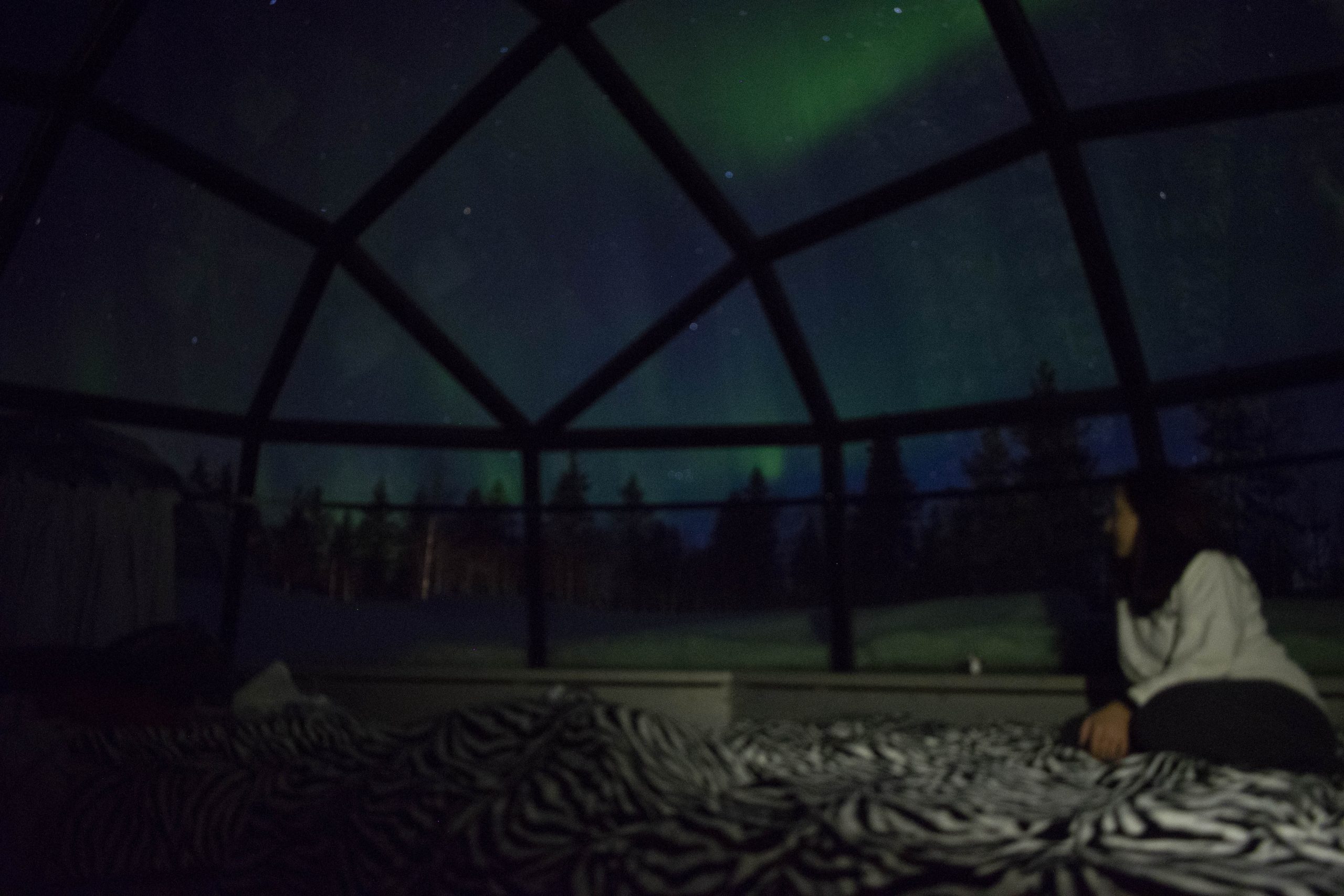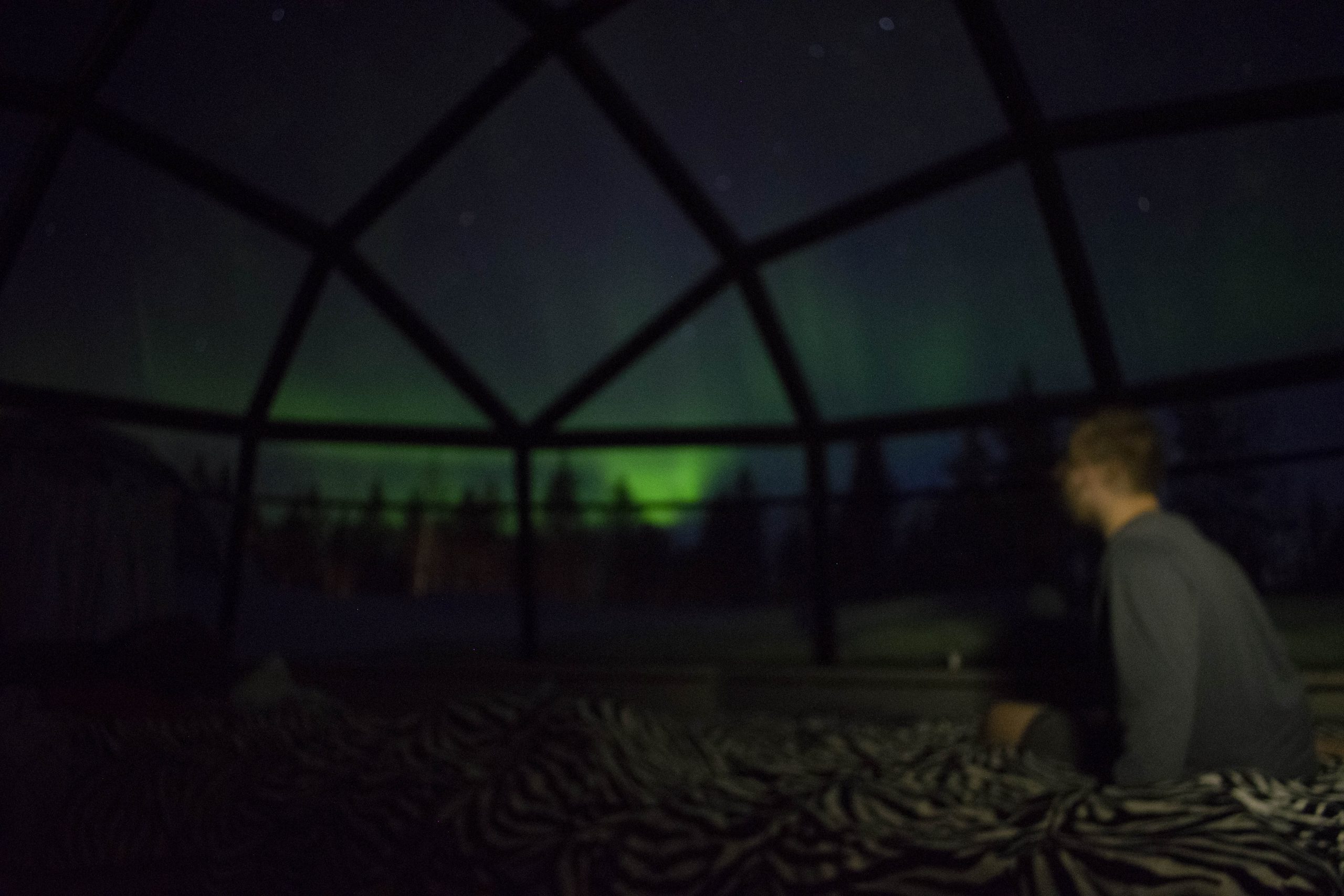 Also, if you want to hear HOW we were able to go on this incredible journey to Finland on miles & points, keep a watch for our article on Traveling cheap to the Glass Igloos!
New to Credit Card Rewards Points? Check out the BASICS Below!