A tour company that you booked through is longer in business. A Car Rental Company changed the policy for renting the vehicle and didn't notify you after booking. An online travel agency has declared bankruptcy and will not answer your plea for a refund. A concert or festival changed it's date and is not offering a refund. In all of these circumstances, the credit card you booked with should be able to get those funds back to you through a Credit Card Chargeback!

Join Our Basic Travel Facebook Group to Stay in the Loop on the Latest Travel & Finance News!
In this Basic Guide, you'll find:
What is a Credit Card Chargeback
Credit Card Versus Debit Card
Disputing Fraudulent Charges with a Debit Card
Scenarios that could warrant a Chargeback
How to Complete a Chargeback with Screenshots
What is a Credit Card Chargeback?

A Credit Card Chargeback or Credit Card Dispute is essentially the process of notifying the Credit Card issuer of a charge or charges that are believed to be invalid. After notifying the Credit Card Issuer, they will reverse the charge on the statement getting you the funds back. In addition, a full investigation will take place where the issuer will reach out to the vendor and attempt to reclaim the funds. This consumer protection is thanks to the 1974 Fair Credit Billing Act.

Credit Card Versus Debit Card (Or Cash)

People have chosen their side as the war between plastic wages on. In this circumstance, it is clear that Credit Cards are the Winner. First and most obvious, if I were to pre-pay something in cash only to find out later that what I purchased was not what I thought it was going to be I'm SOL. For this example, I'm envisioning tickets outside of an arena or a tour company. I'm sure there are dozens of other examples of people getting burned with cash purchases.

Now let's move on to the same scenario with a debit card. I'll start by saying that it is just more difficult to successfully complete a debit card chargeback. Unfortunately, since its the consumer's money at-risk, the credit card issuers often push debit card disputes off which could lead to more red tape and hoops to jump through. I can't imagine a scenario where my cash is tied up due to a dispute and I am short on a mortgage payment. Sadly this happens and I've heard from many readers over the years those horror stories. Another issue is that consumers have limited fraud protections with debit cards versus credit cards. For example, disputing fraudulent charges with a Debit Card can quickly cost you money if you're not on top of all purchases.

Disputing Fraudulent Charges with a Debit Card

With Debit Cards, depending on when the card is reported lost or stolen will result in how much money is lost.

For example, if the fraudulent charges take place
After the Card is Reported Lost or Stolen you have Zero Liability
Within Two Days is a $50 Liability Limit
Within Sixty Days is a $500 Liability Limit
And After Sixty Days there is no protection!
For Credit Cards, most will offer Zero Liability and will catch any fraudulent charges before you do! It doesn't happen often, but there have been a handful of times that I've received phone calls from credit card issuers indicating that there are suspicious charges on my account. After confirming the charges at 3:00 AM in Zimbabwe did not come from me they closed the card and sent me a new one with a new number. No additional questions asked and much appreciation offered for their ability to catch that activity so quickly!

Scenarios that might warrant a Chargeback

A company is going out of business and refusing to offer a refund for a good or service that was pre-purchased.
A vendor overcharges or charges an amount different from the amount that was pre-arranged.
Something purchased has been changed. For example, a concert date moved to a new date or new regulations impacting travelers visiting a country.
A new law going into effect that requires additional paperwork to rent a vehicle after already paying under the old law (This happened to us in Greece)
How to complete a Chargeback with Screenshots

For this example, I'm going to show you how to work through the steps of completing a chargeback using Chase Bank. Since the process is the same across credit-lenders, you can apply the same approach shown below to the other banks and lenders.

Step One – Reach out to the Company

It's important to start with the company that the service or goods were purchased initially. Reach out, explain what the problem is and request a refund. For some companies, especially those going out of business it may be difficult to get anyone on the phone. Make sure to record the number of attempts made, if you were able to get anyone on the phone, and what they said. This information will help the credit lender in their investigation!

Step Two – Login into your Online Banking Portal

After logging in, find the transaction and click on it. A new window will open up showing the option to dispute. Click "Dispute Transaction" near the bottom of the screen. For this example, I will pretend to use a JetBlue charge for a flight that I took a few months ago.

**Disclaimer – I love JetBlue and hope they are around for many years to come!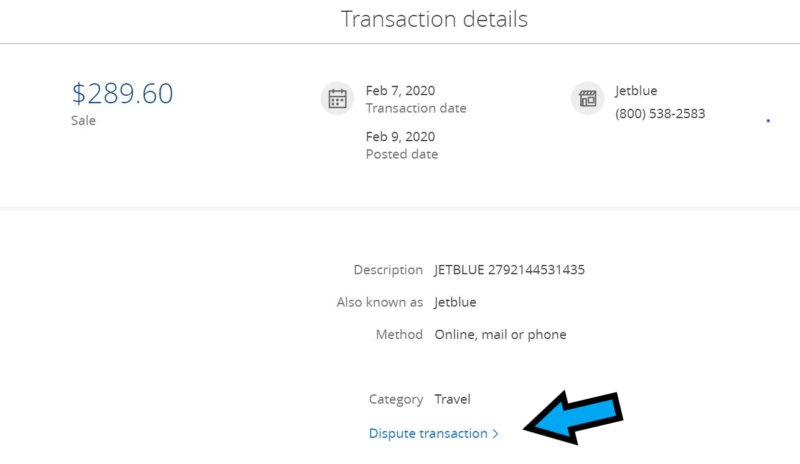 Step Three – Click through the Appropriate Screens

For this example, I am going to click on the "Services or Experiences" option since this is a flight that I am not able to take. The next option reads "Tell us what happened". For this screen, I will choose the option "The service was never provided".
Step Four – What Happened?

This is the step where you tell the Credit Lender exactly what happened. Use this space to provide a detailed account of phone calls and any written corrospondence that were made to the merchant.
Step Five – Click Submit

Take a look at all of the information included in the form before officially submitting the dispute. If it looks accurate, click submit to begin the investigation with the credit lender. Typically the lender will provide the credit back to your account shortly while they reach out to the merchant. For my past disputes, I've had the credit lender follow up for more information like receipts or email confirmations. The last big one that happened to me was in Greece when the laws had changed requiring an International Driving Permit after we had booked our car rental. The company never informed us that the policy had changed which impacted our ability to rent a car from them and refused to refund us. Thankfully Chase agreed with us and validated our chargeback dispute!
Basic Breakdown

I hope that this breakdown of Credit Card Chargebacks and disputes has been helpful. It's important for consumers to understand how they are protected and what their options are when "life happens". Let us know if you've had to dispute a charge and what the result was down in the comments below or in our 3,500+ Member Basic Travel Facebook Group.

More Basic Reading