As our beautiful summer has come to an end, so does the third quarter of the Chase Freedom 5% cashback promotion. To recap, the third quarter provided Chase Freedom customers with 5% (or 5X Chase Ultimate Rewards Points) on purchases at Whole Foods and Amazon. If you haven't maxed out quarter three, you still have a few weeks to do so. The Chase Freedom Quarter 4 Promotion will begin on October 1st, 2020!
Chase Freedom Quarterly Challenges
Every three months Chase releases a new quarterly challenge. Each quarter provides Chase Freedom Users the opportunity to earn bonus points on certain merchants and services. Each quarter is maxed out on purchases up to $1,500 total. This equates to a bonus of 7,500 points or $75 cashback.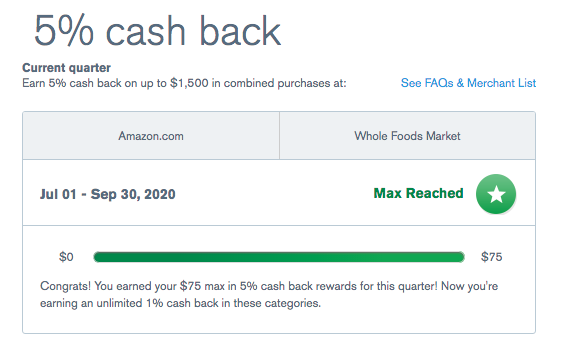 If you are a full-fledged basic traveler, you know that as a Chase Sapphire cardholder, you can transfer those points for even more value. Check out the Basic Guide to Chase Freedom Quarterly Challenges and the Chase Pay Yourself Back Guide for more information on adding additional value.
---
Don't quite need Airline or Hotel credit cards just yet? If you are looking for a Cash Back Credit Card, 0% intro APR or a Balance Transfer Card, we've got you covered with our Top Credit Card Offers.
---
Chase Freedom Quarter 4 Promotion
Starting on October 1st 2020, Chase Freedom and Chase Freedom Flex cardholders will be able to earn 5% cashback on up to $1,500 in combined spend at Walmart or via PayPal. It's important to note that cardholders MUST opt-in to qualify for this spending bonus. It's easy to opt-in by logging into online banking or via the one-click targeted emails.

Did you notice Freedom Flex qualifies too?
The brand spanking new Chase Freedom Flex Credit Card will also include the 5% Quarterly Category Promotion! Learn more about all of the other Chase Freedom Flex benefits in our Basic Guide to the Chase Freedom Flex.
Basic Recap
I think Walmart is a great option for maximizing the quarter 4 Chase Freedom promotion. With the variety of options Walmart carries, it shouldn't be a problem reaching the $1,500 maximum cap. Now I just need to grab me Freedom Flex so I can double down on the Quarter 4 promotion!
Let us know
What do you think of the new Chase Freedom Quarter 4 Promotion? Let me know down in the comments or over in our 4,000+ member Basic Travel Facebook Group!
More Basic Reading