Paying rent with absolutely no fees to the tenant or landlord seems like a pretty outrageous idea. Besides the typical cash or Venmo payments, you profit no points this way and it is most likely your highest monthly payment. Most other rent payment avenues have some type of hidden fees. Bilt rewards set out to change that. Launched in June of 2021 by mastermind Ankur Jain, who disliked the idea of paying high-end NYC rent with no rewards. It was a simple solution: provide a way to earn rewards for paying rent. Easy enough, right? Bilt Rewards, which has now partnered the Bilt Rewards Mastercard with Wells Fargo, is the first of its kind. Pay your rent, earn points, and redeem them for some of the most highly sought out rewards programs.
Basic Overview
Bilt Rewards is the first of its kind in the industry. The loyalty reward program co-exists with the Bilt Mastercard issued by Wells Fargo. Bilt Rewards can be earned without the Bilt Mastercard, however, you can maximize your points with the card. While the Bilt Mastercard does not have a fancy welcome offer, it comes with NO annual fees, NO fees for paying rent, and NO foreign currency conversion fees.
Who should get this card
Anyone who is paying rent should absolutely have this card. Even if you aren't paying rent, if you are over 5/24, this is a great card to keep in your wallet. I use my Bilt Rewards Card often when I am heading out to eat for 3x on dining. Having no annual fee makes this card a no-brainer.
With over 100+ airline and hotel transfer partners, this card is great for collecting points to top off your points for a dream vacation or even using it as cashback.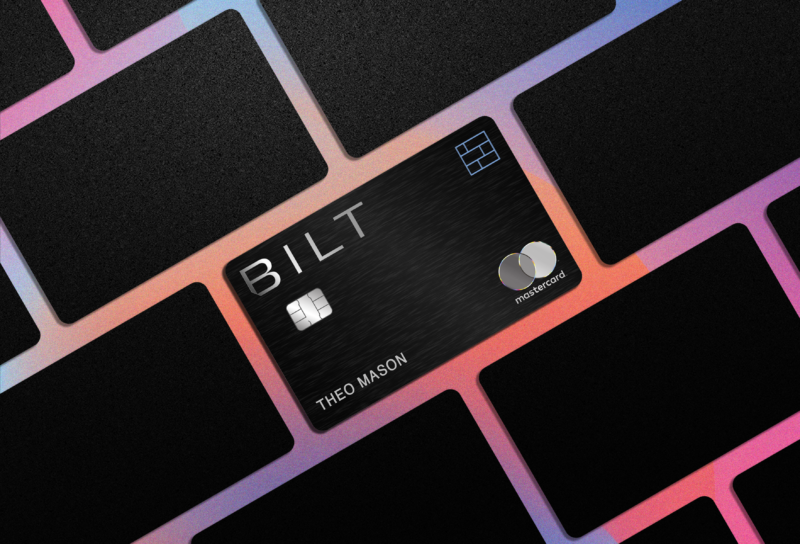 How to get the Bilt Mastercard
Prior to March 28th, 2022, there was a waitlist to become an exclusive member of the Bilt Mastercard. Now, with the new Wells Fargo strategic partnership, there is no more wait. You can learn more about applying by clicking my referral link here.
Bilt is also offering a new referral program. For every five friends, you refer to Bilt Mastercard, you can earn 25,000 Bilt Points, up to a maximum of 1 million points. If you are interested in applying you can click here to learn more information. 
Referral link for Bilt Mastercard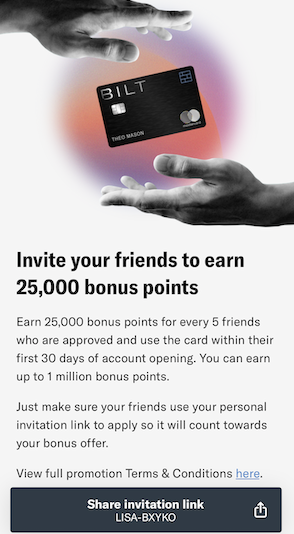 How to Earn points
First, you have to make 5 transactions per statement period per month to be eligible to earn points. Earning points with the Bilt Rewards Mastercard comes in 3 tiers:
1x on rent up to 50,000 per calendar year
2x on travel
3x on dining
1x on everything else
While there is no welcome offer on the card, this card has some of the best transfer partners and keeps adding more. If you are maxing out your monthly rent payments each calendar year, the 50,000 Bilt Rewards is like its own referral bonus annually. Lastly, those everyday purchases really add up and I keep Bilt in my back pocket for any other purchases without any spending categories.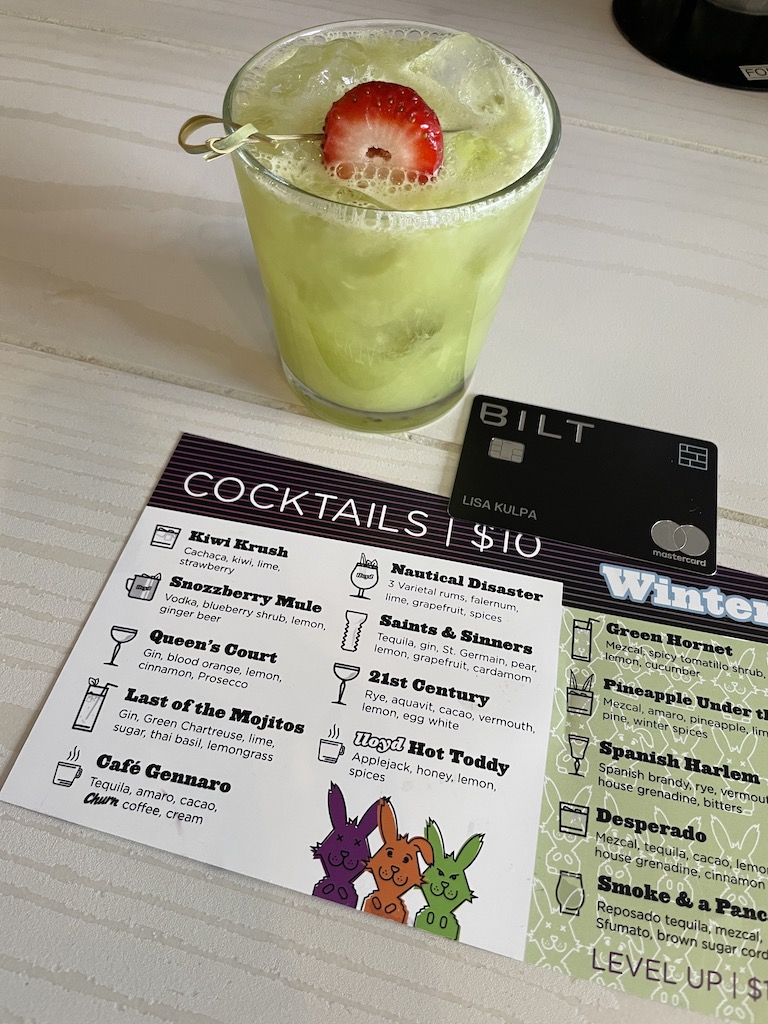 Redeeming Points
Bilt Rewards can be used to book travel with over 100 top airlines and hotels. They also have some of the best transfer partners out there with 1:1 point transfers. Points can even be redeemed towards your next month's rent payment, group fitness classes, or even in Bilt's exclusive art collection through the app. Bilt's transfer partners include:

Airlines:
American Airlines Aadvantage
Air Canada Aeroplan
United MileagePlus
Emirates Skywards
Flying Blue Partner
Hawaiian Airlines
Turkish Airlines Miles & Smiles
Virgin Atlantic Points
Asia Miles (coming soon)
Hotels:
IHG Rewards Club
World of Hyatt
Fitness Rewards
Rewards points can also be redeemed starting at 1,600 points for each class. Whether you like to spin, box, do yoga or get a full-body workout, Bilt has you covered. Fitness partners for Bilt include:
Soul Cycle
Rumble Boxing
Y7
[solidcore]
Benefits of Bilt Rewards
As a part of the Mastercard family, the Bilt Rewards Card also comes with plenty of excellent Mastercard benefits. Some of the everyday membership perks will keep you going with food and ride discounts. You can even get discounts for shipping with ShopRunner. Included in these everyday perks are:
3-month DashPass membership for DoorDash
$5 off your first 2 orders each month on DoorDash
$5 in Lyft credits every month once you take 3 Lyft rides
Free ShopRunner memberships
5% discounts on every HelloFresh order
$5 Fandango Rewards when you spend $20
Other Benefits for Bilt Rewards Mastercard
As for some premium benefits, you can count on a variety of trip insurances, purchase assurance protection, auto insurance, and more. Having a card in your back pocket to protect you for your travel, shopping, and cell phone purchases is important. Usually, these benefits come with high annual fees, but the Bilt Rewards card has you covered. These benefits include:
Cell Phone Insurance – Receive reimbursements up to $800 per claim if your cellphone is stolen or damaged
Mastercard ID Theft Protection- 24/7 protection helps to detect and resolve ID theft events
Purchase Assurance Plus – purchases are covered from theft or damage for 90 days
Trip Cancellation- Protection against forfeited, non-refundable, unused payments and deposits up to $1,500 per incident ($5,000 per 12 months). A trip must be purchased with your Bilt Mastercard to receive this benefit.
Trip Delay- Up to 6 hours or more due to a covered loss such as inclement weather or lost or stolen travel documents. Reimbursements up to $250 for covered expenses including meals and accommodations during the delay. The entire passenger fare must be charged to your Bilt Mastercard.
Auto Rental Collision Damage Waiver- Covers physical damage and theft for most rental cars when you pay with the Bilt Mastercard. The entire rental car must be paid for with the Bilt Mastercard.
Mastercard Zero Liability Protection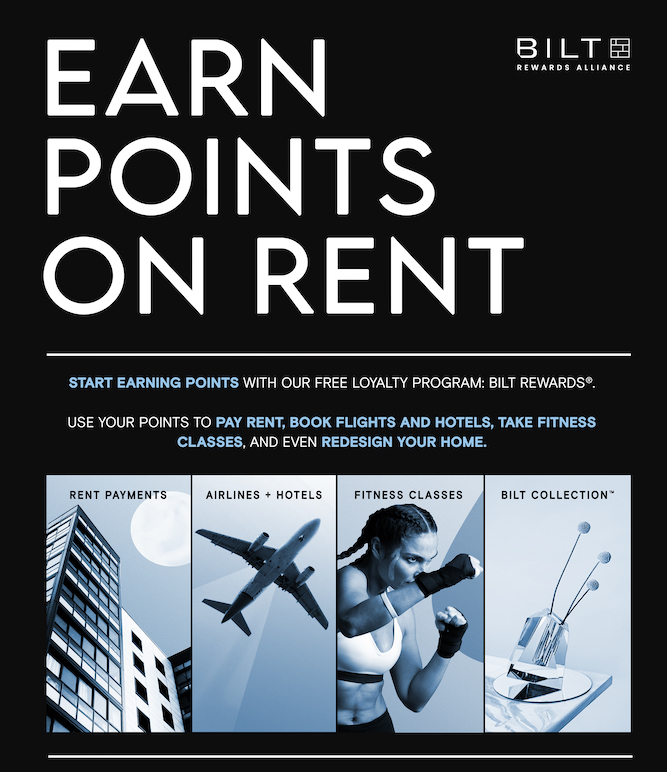 Earning Statuses with Bilt Rewards
Bilt has even come up with its own tier status tracker to earn extra benefits based on your spending. Based on the number of points you earn in a calendar year (up to 100,000 points to get to the highest tier), you can earn extra rewards. Once you earn the status, it is good through the end of the following year. The statuses are broken down as below.
Blue
Blue is the basic tier status which will give you:
1:1 point transfers with airline and hotels
Access to the Bilt collection
Build credit history by reporting rent payments on time to credit bureaus
Silver
Earned after 25,000 points in a calendar year. Silver status will give you everything blue status, along with:
10% bonus on lease incentive points from participating properties
Interest earned on points
Gold
Earned after 50,000 points in a calendar year. You will enjoy all the benefits of silver, plus,
25% bonus on lease incentive programs from participating properties
Homeownership concierge
Platinum
Earned after 100,000 points in a calendar year. This will include all benefits of the previous tiers, plus:
50% bonus on lease incentive points from participating properties
Free gift from the Bilt Collection
Interest earned on points
One interesting aspect of the Bilt Rewards program is once you reach Silver status (or above), you can earn interest on your points. This is also the first of its kind for the points and miles world. Interest will be earned based on the FDIC national savings rate on the average daily points balance in your account for each 30-day period.
Basic Breakdown of Bilt Rewards Mastercard
I'm excited about the Bilt Rewards Mastercard for two reasons. First, not only does the Bilt Mastercard tie into points and miles, but it also crosses over to anyone who is involved with real estate. One of my favorite features is that you can auto-schedule your monthly rent payments to be sent on time to your landlord. This is a win-win for landlords and tenants alike. As a real estate investor myself, I enjoy getting rent checks on time, and my tenants don't have to worry about forgetting to make their monthly rent payments. As for the points and miles world, the Bilt Mastercard has certainly been giving other rewards programs a run for their money. The two biggest partnerships transfers I am most excited about are World of Hyatt points, as well as American Airlines to travel on some more Q-Suites flights.
Do you have the Bilt Rewards Mastercard yet? Will you be getting it?
Happy Earning!