The when travel goes wrong series continues this week with a scary moment that took place in Dubai during our recent honeymoon trip. One of my favorite strategies for saving money while traveling is utilizing airport and hotel lounges. Complimentary food and beverages go a long way in subsidizing the overall cost of travel. Well sometimes you get more than a free meal and this particular one at the JW Marriott Marquis Hotel in Dubai was almost my last. Learn what happened to me in this week's series update!
When Travel Goes Wrong Series
To recap, I started a new series where I'll talk about all of the things that went wrong during our recent 6-week honeymoon. Don't get me wrong, it was a fantastic trip but there were some hiccups along the way. Last week, I talked about a Cruise that I booked in Paris that didn't exist. In the following weeks, I'll be breaking down a canceled flight due to baggage carriers going on strike, problems crossing the Montenegro/Bosnia border via car, taxi cab shenanigans in Rome, and more.
Hotel Lounge Access
One of my favorite ways to save money on travel, hotel lounges offer a ton of elite members. Especially for international travel, you'll often find complimentary breakfast, afternoon tea which is basically a light lunch, and an evening cocktail hour that includes complimentary appetizers and alcoholic beverages. Access is limited to guests who have elite status. The incident that I will discuss next took place at a JW property that is under the Marriott umbrella. In order to access an executive lounge at Marriotts, you'll need to have Platinum status or higher.

JW Marriott Marquis Hotel Dubai Executive Lounge
The JW Marquis Executive Lounge in Dubai is actually a very nice lounge which might surprise you given the context of this article. I really loved the modern space which offered a variety of options for sitting and dining. Located on the 37th floor, the JW Marquis Executive Lounge offered beautiful views of Dubai and the surrounding area. There are three options for visiting this lounge: Breakfast from 6 am – 11 am, Afternoon Tea from 2:30 pm – 4 pm, and Happy Hour from 630pm – 8:30 pm.
A little self disclosure
I have a pretty severe tree nut allergy. Traveling with allergies can be tough, especially when there is a language barrier. I've had a few other close calls over the years, especially when I was traveling through Asia. However, I have learned some tricks and strategies. Translating my allergy and screenshotting it has been my go-to approach. I also always pack a bottle of Benadryl and Antihistamines as a backup for those times a nut slips through into my food. I don't carry an epi-pen because thankfully, to date, my allergy doesn't impact my breathing.
Afternoon Tea in the JW Marquis Executive Lounge Dubai
I was very excited to try out the afternoon tea experience in the executive lounge following a delicious breakfast that same morning. Entering the lounge, I was provided a menu and a platter of food served on a tray. The first thing that caught my eye was the detailed overview of each item on the menu that broke down whether the items included a variety of allergens. I thought that was awesome and lowered my guard over the food being offered. Given that not a single item on the menu portrayed a "TN" I happily dug right in!
As you may have guessed
One of the items on my platter not only contained tree nuts, but they were the main ingredient! Lisa and I both were working on our laptops in the lounge enjoying the free food and drinks when she mentioned to me that the Apple Crumble Tart was delicious. I then picked up what I thought was the apple crumble tart and ate one of them. A hot flash struck me and I had the same uneasy feeling in the pit of my stomach that I've felt only a handful of times in my life before things got dicey. I learned that the apple tart was actually Baklava and felt my throat begin to swell.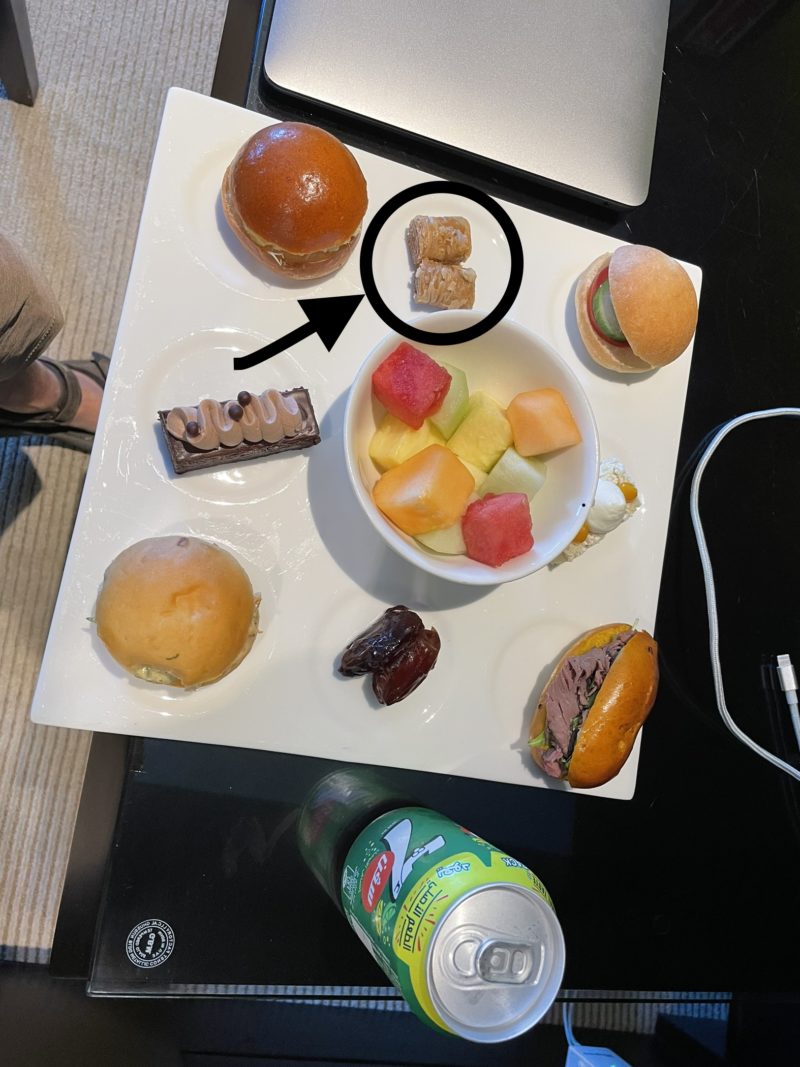 Literally running for my life
I've had to get hospitalized one time about ten years ago for an allergic reaction. Since then I'm more careful and always keep allergy meds close by. I knew this was not going to be an easy few hours ahead and ran out of the lounge to the elevators. Once I got to the room I knew that what went in was going to be coming back out. I prepared myself in the bathroom and my whole afternoon tea lunch platter ended up in the toilet.
A tough night ahead
I took two Benadryl tablets and another prescription antihistamine right away because my throat was swelling rapidly. My eyes were bloodshot, nose runny, stomach in knots, couldn't swallow, and anxiety at an all-time high. I got into the bed and tried to calm myself down via breathing exercises as the medications began to kick in. One thing that you might not know about Benadryl is that it causes extreme drowsiness. Given that I took two very quickly I ended up passing out under Lisa's watch for a few hours. When I woke up I felt like a train absolutely ran me over. We had dinner plans that night with some friends that we met in the Maldives and I really wanted to see them so I pushed through and got myself together to see them. By that time the only physical reaction I had was a burning sensation in my throat from the swelling that subsided which made it tough to eat or drink.
Reporting my experience to the JW
Clearly, this was a serious situation that needed to be addressed. I'm typically not one to complain but someone could have gotten seriously hurt from the mistake on the menu. I waited in the elite guest line and explained my situation. A manager came out and met with me privately. I explained the whole situation and showed my photos of the meal/menu. The manager offered to bring me to the hospital but at that time I was already in a better place from all of the medicine. He assured me that a full investigation would take place and I'd be receiving follow-up communication. It was a very professional exchange and I felt good about the conversation.
Checking out
The next morning I checked out and another manager came out and apologized for the situation. He even called us a taxi to get us to the airport and covered the charge which was a nice gesture. At this point, I was about 15 hours out from the allergic reaction which still left me feeling a bit loopy.
Follow up
I'm not sure what sort of compensation would be fair for a situation like this. My night was ruined and it could have been much worst if I didn't have that medicine in my room. It was tough to get in touch with the manager given the time zones and that we were still traveling for our honeymoon. I finally was able to connect about a week later over the phone when I was in Italy. He confirmed that the chef made a mistake with the menu and took full responsibility for the incident. For compensation, I was offered reimbursement for medical expenses and 40,000 Marriott Bonvoy Points.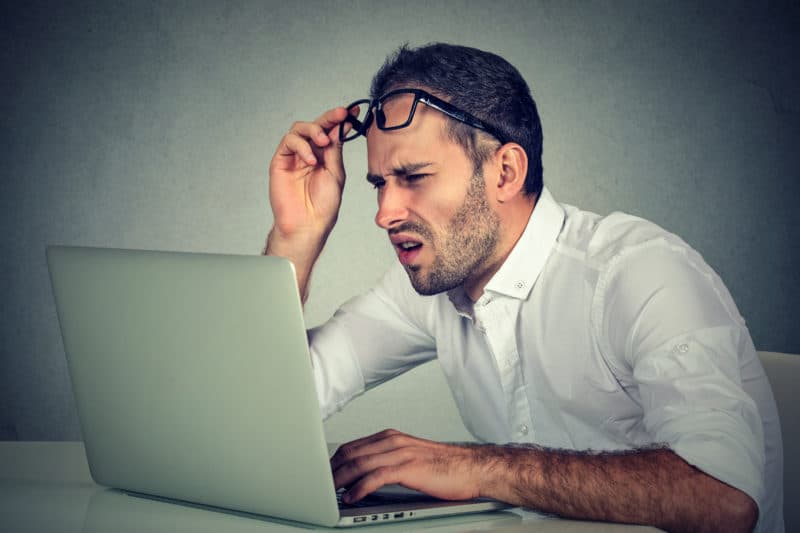 Only 40,000?
Perhaps I'm being unreasonable here but 40,000 Bonvoy points for a situation that impacted my health in which I could have died from seemed like a slap in the face. Is my life only worth 40K Bonovy points? I didn't write that back but I did say that I felt it should be higher. The manager said it was already the best offer but he could either offer 50,000 Bonvoy Points or two off-peak nights to return back to the JW Marquis in Dubai. I plead my case one more time on why I thought it should be higher but the offer remained the same. 50,000 Bonvoy Points it is.

Basic Breakdown
I don't think I'll ever be returning to the JW Marquis Executive Lounge in Dubai after this incident. Things just seem a little unorganized over there and I don't agree with the compensation offered. I did learn a new lesson that appearances can be deceiving. Despite the informative menu and organized front presented; surprises can happen. I need to do better diligence with food when traveling and always double-check so I don't end up in that situation again!
What do you think? Am I being unreasonable thinking that 50,000 Marriott Bonvoy Points is a low offer?
More Basic Reading