The Hilton Honors program sent out some emails today with a few new promotions that look pretty great. Quarter four has been hot lately with different spending offers, lucrative credit card signup bonuses, credits, and deals. Learn about the new Hilton promotions below!
Earn 10,000 Hilton Honors Points by completing one survey
This may have been the easiest 10,000 points I've ever earned! All you have to do is create a Guest Opinions Rewards account and complete one survey. I chose the shortest survey which took only a few minutes to complete. An email was sent right away indicating that I completed my first survey and 10,000 Hilton Honors points will be deposited within the next 4-6 weeks. Click here to create a Guest Opinions Rewards account and earn some points!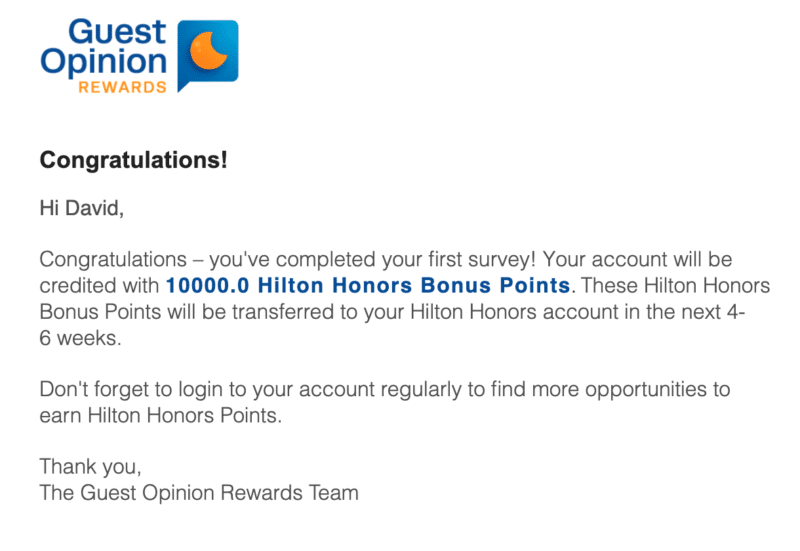 Basic Travel Tip – Do you want to earn more Hilton Honors Points? Learn all of the different strategies in our Ultimate Guide to earning Hilton Honors Points!
Enter for a chance to win a Hilton "Dreamcation"
The Hilton Honors Dreamcation promotion is offering one lucky winner and a guest will win a trip to anywhere in the world. This trip can be redeemed anytime through 2023 and is capped at $25,000. Fingers crossed for a big win! I know that I would certainly stretch that $25,000 out on a very extended holiday trip. Where would you go if you won? Click here to enter the Hilton Dreamcation contest!
Let us know!
What do you think of the new Hilton Honors promotions? I'd love to hear from you down in the comments or over in the 4,500+ Member Basic Travel Facebook Group!
More Basic Reading