In these uncertain times, it's nice to see companies that are promoting self-care. I just happened to stumble upon a promotion on the Hyatt Website offering a Free 30 Day Subscription to Headspace. In addition, there are exclusive mindfulness exercises located within the Hyatt Mobile App. Find out how to get your Free 30 Day Trial below!
500 Points Promotion Added 12/9/20
On December 9th, Hyatt is giving away 500 Points to each person who engages in a short meditation! In order to participate, follow the two easy steps below on December 9th, 2020. Note you'll need both a Free Hyatt Rewards account and the mobile app in order to participate in this promotion.
Open the World of Hyatt Mobile App
Complete one of the custom Headspace exercises — Unwind, Reflect or Sleep
Enjoy 500 Bonus Points just for nurturing your wellbeing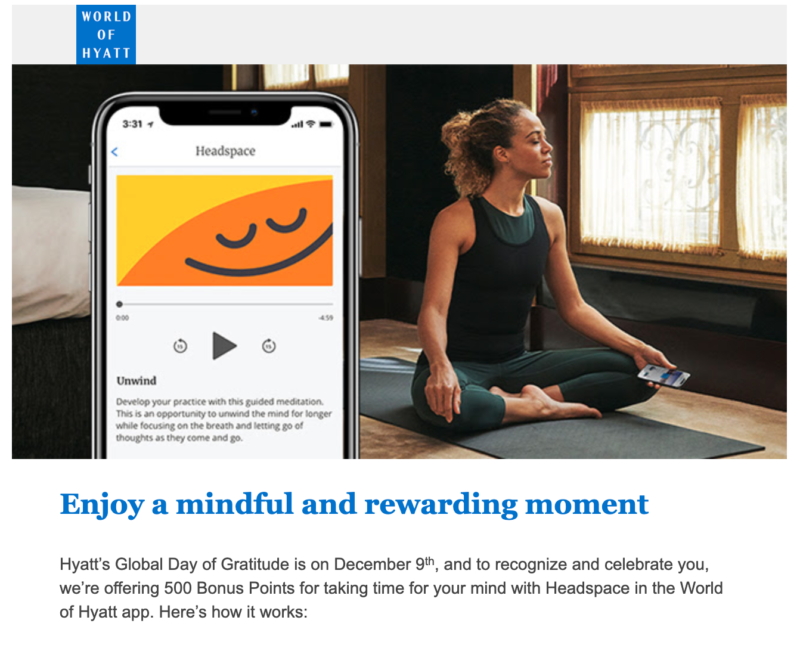 Headspace 30 Day Trial
Create a Headspace Account by clicking HERE and use the Promotional Code "Hyatt" for a Complimentary 30 Day Trial. After the first 30 days, the subscription will automatically renew at $12.99 per month. In order to not be automatically charged, be sure to cancel the trial subscription before the thirtieth day!
Bonus Self Care in Hyatt App
In addition to the Free Trial to Headspace, Hyatt is now offering Free Mindfulness and Sleep exercises within the Mobile App. This content is also provided by Headspace but does not require a subscription to access. Be sure to have the latest version of the Mobile App downloaded to find these exercises.
Within in the Hyatt App (No Subscription Necessary)
I found three different meditations; Unwind, Reflect, and Sleep!
Basic Breakdown
I love seeing companies showing an interest it's customers self-care! These meditations are great and I'll certainly be using them over the next few weeks. Have you had a chance to use either of the self-care options provided by Hyatt and Headspace? I'd love to hear about your experience down in the comments below or in the 3,500+ Member Basic Travel Facebook Group!
More Basic Reading