PDX airport is known for its great assortment of lounges and priority pass restaurants. Over the last year, there have been some scale backs in order to limit abuse. This morning, we decided to stop by the Capers Cafe Le Bar and too our surprise learn that there are no more free guests allowed. Despite the priority pass website stating in its terms that cardholders are allowed one guest.
Terms
It clearly states in the terms & conditions that the priority pass cardholder will receive a $28 credit and an additional $28 credit for one guest.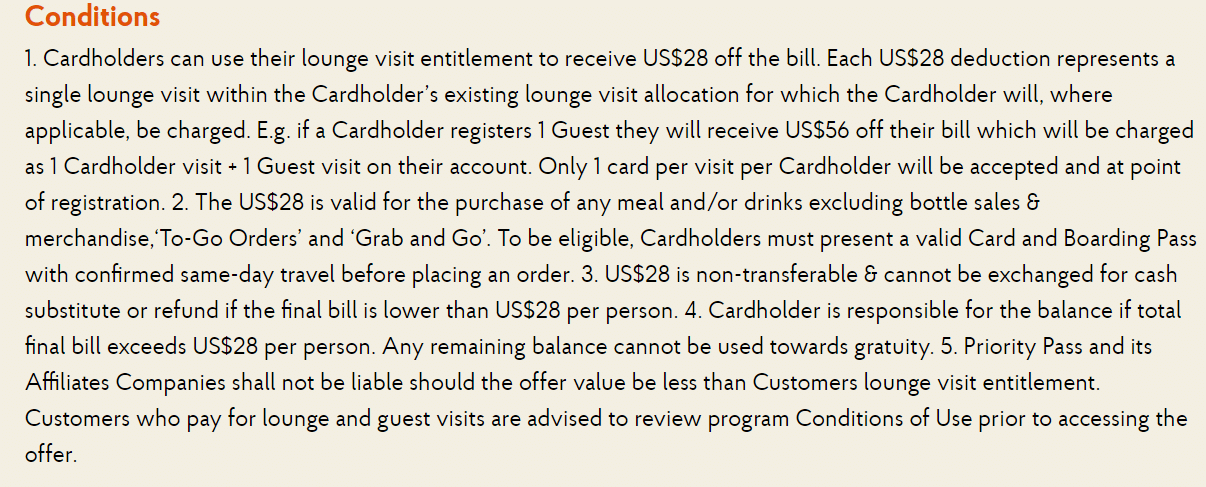 Phone Call to Partnership Manager
After speaking to the Capers Cafe staff they said the new policy came down from the restaurant overseer group. I was provided contact information for the manager and gave him a call. He told me that this is a recent change due to the shift in travel from the pandemic. Addiontaly, he explained that this is a temporary move and it should be reverted after travel picks up.
Outcome
We had already ordered food under the assumption written in the T & C on the priority pass website which I felt was unfair to charge us now for the guest without any warning. He offered me credit for Lisa's food and said the websites should be updated within 24-48 hours.
Basic Breakdown
I appreciate the manager's willingness to offer the credit for me but think that they should ensure the websites are correct before telling the staff. We spoke to our waitress who said she had been arguing with customers about this and is now being stiffed on gratuity after being laid off due to the virus. I cannot exclaim how both sad and infuriating that was to hear. Companies need to consider the workers on the front lines before making changes and ensure that the terms are correct. And travelers need to show some compassion for the workers who are not making the rules but only doing what is directed by the higher powers.
Have you had a similar experience at Capers Cafe Le Bar? Let's hear your thoughts about this situation down in the comments below or over in the 4,000 + member Basic Travel Facebook Group.
More Basic Reading