Last weekend I was going through my Credit Card Accounts, checking balances and ensuring that autopay is on when I caught something that didn't look right. A suspicious reoccurring charge under $5 on my Barclays Arrival + Account. After further investigation, I learned that I had been paying for some lucky strangers Amazon Prime Subscription since November 2019!
Join Our Basic Travel Facebook Group to Stay in the Loop on the Latest Travel & Finance News!
The Charges
All under $5, there were a total of Five of them that all were posted on the 25th of each month. Now this is definitely not the first time that I noticed these random charges. The last time I saw one I figured Lisa had purchased something on Amazon and accidently used this card. Since the account was set to auto-pay and the charges were so low I never realized that they had been reoccurring. At first, Lisa and I thought that maybe we had signed up for some random subscription that we forgot about. We decided to give Amazon a call to find out!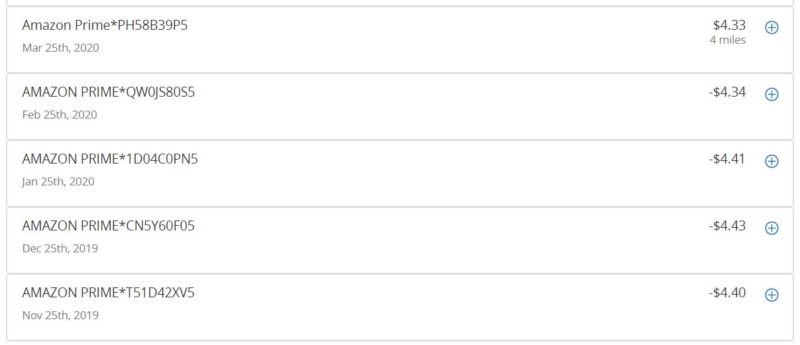 Calling Amazon
I reached out to the friendliest Amazon Customer Service Representative Ever who helped me through this investigation. Ironically, this particular Credit Card wasn't even set up on my personal Amazon Account. I typically use Lisa's account for all of my purchases because she pays for the yearly prime subscription. The Representative instructed me to add the card to my personal account so that he could cross reference it against all amazon accounts. I clicked through and he informed me that my credit card was being used on FIFTEEN DIFFERENT ACCOUNTS!
Calling Barclays
Armed with the information from the Amazing Amazon Associate, I called the number on the back of my credit card to initiate a Dispute. My conversation with the Barclays Customer Service Representative was fairly quick. I explained that I noticed the charges and reached out to Amazon who confirmed that they are fraudulent. The representative proceeded to inactivate that card, refund me in statement credit, and request for a new card to be mailed to me. The whole conversation took less then Ten Minutes.
Basic Breakdown
It's easy to be a victim of fraud these days but it's also helpful to know that the liability is low when your primary method of payment is a credit card. If this were a debit card, I may have had more hoops to jump through to get refunded. In this case, auto-pay may have both saved the day and let this charge slide by. If I didn't have auto-pay on, I may have ended up with a missed payment which could have created a whole other issue with the credit bureaus. On that note, I would have certainly caught this charge sooner then the 5 months that it did take. Nevertheless, the rule of thumb here is to check all of your accounts monthly. It doesn't take long and you may find that you're paying a random subscription!
Has something like this happened to you? I'd love to hear your story down in the comments below or over in the 4,000 + Member Basic Travel Facebook Group!
More Basic Reading