I write about all sorts of Basic Travel Strategies to Earn Free Flights and Hotels but this one might take the Cake! Every year on February 14th Couples across the globe celebrate their relationship together which typically involves a meal, roses, and quality time together. Often times, that quality time includes a hotel room for a staycation or a trip somewhere fun. This year couples will have an opportunity to lock in a FREE HOTEL ROOM for the Next 18 Years on Valentines' Day!
Sounds too good to be true! What's the Catch Dave?
The Basic Offer
Hotel Zed, a Canadian based hotel chain is offering a special promotion this year. If anyone books a "Nooner" Package on Valentines Day and then welcomes a baby into the world 9 months later the couple will receive a FREE stay at any of their hotels for the next 18 years!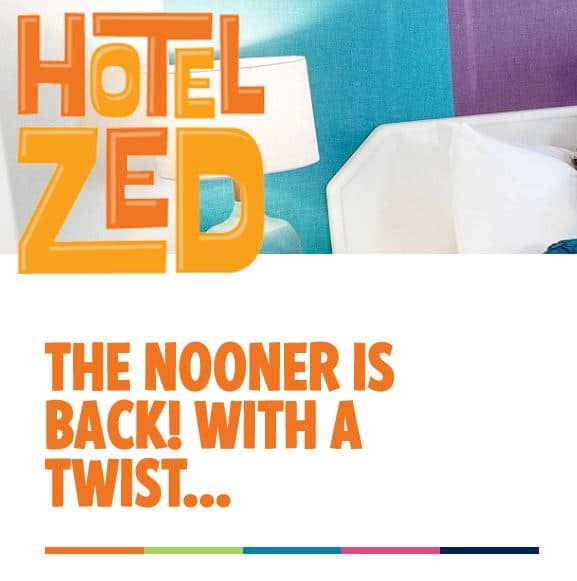 What's a Nooner Package?
A Nooner Package at the Hotel Zed is a 4 Hour mid-day stay at either of their Hotel Locations. The Stay begins at 10:00 AM and goes until 2:00 PM. This Special Rate will cost $59 and can be redeemed using the promotional code "NOONER" at checkout.
Free Hotel Stay until 2038
In order to claim the FREE Hotel Room for the next 18 years, Guests will need to provide documentation. This paperwork will indicate that a newborn was welcomed into the world 9 months from the "Nooner Stay". I supposed you could just bring the baby straight from the hospital and it should count right?
Click HERE to Book Your Very Own Nooner Stay and Earn a FREE Hotel for the Next 18 YEARS!
Basic Breakdown
If you want to make this year's Valentine's Day Extra Memorable, here's your chance! I think that this promotion is genius and Hotel Zed could be responsible for MANY new Basic Travelers welcomed into the world 9 months from now. If you prefer the old fashioned way to earn a FREE Hotel; there's plenty of Travel Strategies out there that don't involve diapers and baby shark!
Click Here to Earn $500 Off your Next Hotel Stay
More Basic Reading