This is a popular promotion that comes and goes pretty often. You basically get a cash discount or percentage off when using points to pay for the item. These offers are fantastic and I've take advantage of similar ones across all of the award currencies including MR and UR. Follow the steps below to get $15 off of Amazon when using ThankYou Points!
Join Our Basic Travel Facebook Group to Stay in the Loop on the Latest Travel & Finance News!
Basic Offer
Take $15 off of an amazon purchase of $50 or more when using Citi ThankYou Points.

Step 1 – Connect a Citi ThankYou Account
You can skip this step if you already have a Citi ThankYou Credit Card connected to your Amazon Account. If you need to connect, click the link below to enroll.
Click Here to Connect Your Citi ThankYou Account to Amazon
Step 2 – Add the Promotion
It's important to note that it's not guaranteed that you will be targeted for this promotion. Many people in the Basic Travel Facebook Group have been and I have been able to enroll in the same offer a few times over the years. To opt into the offer, click the link below!
Click Here to Add the $15 Off Promotion to Your Amazon Account
Basic Pro Tip – If you just connected your Citi ThankYou account and the promotion is not working, wait a few days and try again!
Step 3 – Add $50 or more!
Find something you'd like to purchase on Amazon for $50 or more!
Basic Pro Tip – You cannot purchase Amazon Gift cards but Store Specific Gift Cards work. I like Chipotle, Whole Foods, Starbucks, and Panera as great options!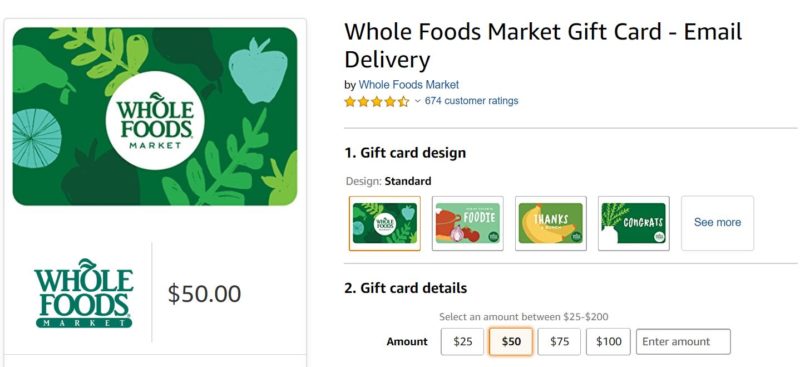 Step 4 – Add ThankYou Points
You technically can use as many as you'd like towards the purchase. However, I chose to just use one point in order to receive the $15 discount.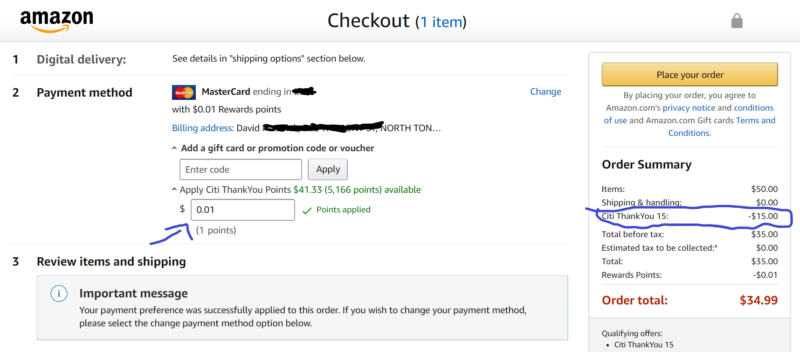 Click Here to Start Shopping With Amazon

Basic Breakdown
I love these offers and consider them free money in my pocket. Especially when I can leverage the promotion for things I'm already purchasing like Groceries at Whole Foods. Have you taken advantage of one of these Amazon Promotions? I'd love to hear if you found a unique way to get additional value down below in the comments or over in the 4,000 + Basic Travel Facebook Group!
More Basic Reading