Earlier this year we posted in our private Basic Travel 101 Facebook group that you could enter to win ONE MILLION IHG Travel Points as well as $5,000 in cash. They are giving away 6 grand prize winners! I'm not sure about you but winning one million-miles to IHG branded hotels and $5,000 cash sounds good to me.
How to Enter
It is actually REALLY simple. Just click here and go to their website and enter your email. That is literally it. But keep reading as there are some additional entries and information! There are 6 grand prizes given throughout the year.
Now let me be sure to say that this is put on by Holiday Inn Vacations Club. What that means to YOU is that this is probably going to sign you up for those timeshare presentations. Personally, Dave & I love attending them. We have gotten pretty good at saying no and get some freebies out of it for attending!
If you don't have thick skin and can say no, this might not be for you. In fact, one time at a timeshare presentation in Mexico, I almost said yes when Dave left me alone for a minute to run off to the bathroom. (This was after 5 margaritas, but I'll save that story for another day).

THE CATCH
There are actually SIX entry periods! This tricky little table was hidden in the sweepstakes entry official rules. I ALWAYS read these rules. Especially when it is a contest about winning my favorite things- points and cash.

So let me break it down for you.
You have to enter EACH rewards period.
So entry period number 1 is already over. We have entered entry period number TWO which ends on April 30th.
Entry Period 3 will start on May 5th.
And so on and so forth.
I set a reminder in my calendar for every other month to go off so that I can go on and enter again for the new sweepstakes.
But here's a nice TWIST for you.
You can actually enter once PER DAY via the website.
There are actually 4 websites you can visit to enter, but you may only enter ONCE per day on any of the websites. It doesn't matter which one you enter from, but you can only choose one.
OneInAMillionSweeps.com/HCV
OneInAMillionSweeps.com/HCVOwner
OneInAMillionSweeps.com/IHG
OneInAMillionSweeps.com/YankeesFan
Starting March 1, you are eligible to enter with ONE additional entry per day. There are 3 separate methods you can enter.
Text Message
Mail-in
"On-Site Tour"
Additional Entry Details
You may only enter by ONE additional entry per day. So I am most likely going to do the text message as my additional entry, and enter online website once per day as it is the easiest.
Entering by text message:
Text the number 87654 with the words "VACATION" or "HOMERUN". They will text you back with what details you need to enter. Simply follow those directions until you get the confirmation that your entry was complete! (I blocked out my ZIP & DOB & name for privacy). *Note, Message & Data rate may apply, please see official rules for more information.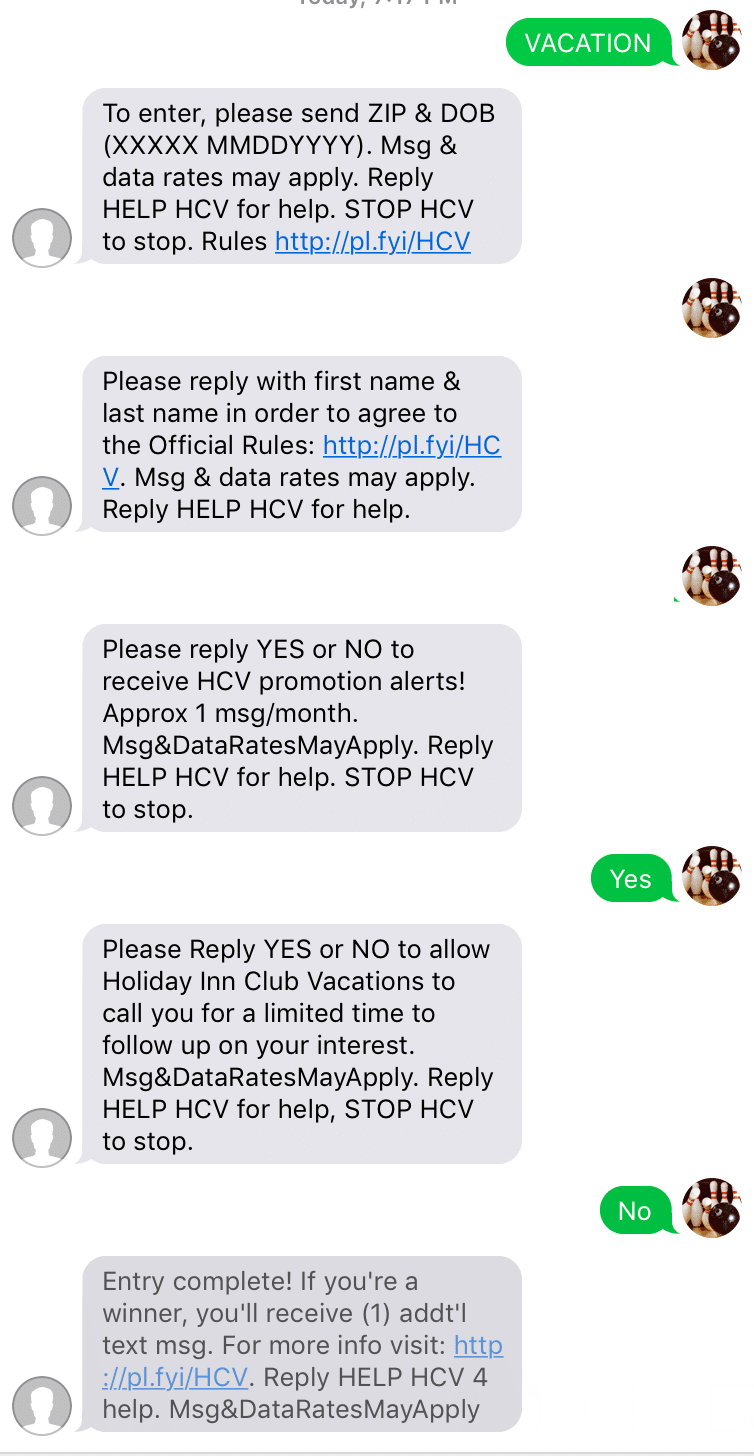 Mail-In Entry
If you so choose to, you can handwrite your complete name, valid e-mail, street address, phone number, and DOB on an index card and mail with a postage stamp to:
Holiday Inn Club Vacations One in a Million Sweepstakes, P.O. Box 251328, West Bloomfield, MI 48325.
Entries must be received on or before dates listed in the chart in order to be eligible for the entry period.
On-Site Tour Method of Entry
Attend a two-hour timeshare sales presentation. You can read more details on their official rules, but honestly, I don't know why anyone would enter this way and not just send the text message, but to each their own.
Conclusion
It is pretty easy to enter this, you can literally just text the number daily and go on the website daily. It barely takes any time at all to do this. I know I'll be checking daily!
Let me know if any of you win! I expect a share on some of the points if you do. ha! 😉