Editor Update to the original article as of 4/8/2020:
American Express reached out to us to clarify the reason for the random statement credit we received. It turns out, it only affected a small population of cardmembers, and Dave & I happened to be two of them. AMEX made the following statement on why we received them.
"There were limited instances where a small population of Card Members received a manual $250 Resort credit, as a prior credit they received was applied to the incorrect anniversary year.


These credits and subsequent corrections are not tied to a broader COVID 19-related relief effort, and Card Members will be receiving communications explaining the reasoning for the credit shortly if they have not already."
We apologize for our error in thinking this may have been COVID-19 related due to us not being able to use them. I am almost certain that I had already received this credit though, over the summer, I did ask to clarify what year the credit is to be associated with. Let us know if you received one.
Original Article:
Times are crazy! It seems like there are changes taking place left and right every day which have been quite overwhelming. Today has been one of those days. I already wrote about the Big Moves by Delta this morning and now I logged onto my American Express Credit Card Portal today as part of my regular Sunday Financial Review. As I'm clicking through each of my Credit Cards to review my balance and when payments are due I came across something huge – a $250 Surprise Credit Back from Amex!
Hilton Honors Bonus Points
Earn 150,000 Hilton Honors Bonus Points once you spend $4,000 on purchases within the first 3 months from account opening.
Earn 150,000 Hilton Honors Bonus Points once you spend $4,000 on purchases within the first 3 months from account opening.
Hilton Honors American Express Aspire Card
I clicked on my Hilton Honors American Express Aspire Card and to my surprise found a $250 Statement Credit on my account! Lisa then checked her account and also found the same $250 Hilton Resort Credit Refund.

Getting a Check
I then used the Amex Chat feature to message an agent about the credit. Anytime you receive a credit on a Credit Card, the option to receive a Cash Check in the mail is open to the cardholder. Sometimes this happens when someone overpays on a bill that's due or an annual fee refund. I asked the Amex Chat Agent to provide me with a check for the amount of the credit. After verifying my identity, the Customer Service Agent confirmed that a check will be mailed to my house!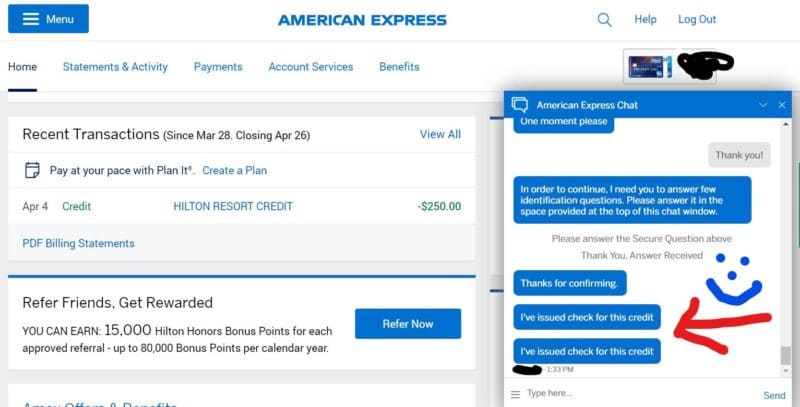 Basic Breakdown
I haven't seen any news of Amex refunding Credit Card Annual fees anywhere else online or from any members of the Basic Travel Community. I'm wondering if I happened to stumble on a move that Amex is announcing soon for it's customers or some sort of system wide glitch. Check out your account and let us know down in the comments or over in the 3,500+ Member Facebook Group if you received a $250 Credit!
More Basic Reading