This ages me. We no longer have Johnny Carson's Carnac the Magnificent to magically share what we want from a hotel stay. Knock on the door of the hotel, before arrival, and tell them what you want. They do not have Carnac's abilities; do not make the hotel guess.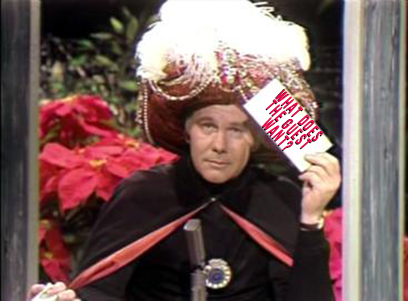 Personalizing the experience
A Marriott Bonvoy® member shared that contacting the hotel in advance represented entitlement. He insisted guests should not bother the hotel before arrival; in doing so the hotel is inundated with personal requests. Isn't a stay supposed to be personal? Are you a number, or a valued guest? The hotels want you to contact them, when applicable, to personalize your experience – so the property and brand can be valued as more than a number themselves.
I maintain the hotel appreciates knowing your wishes before you arrive. The hotel invites Marriott Bonvoy® members to contact them, and the wall (and the desk) between staff and guests can be eliminated through open communication and kindness in both directions.


Do the hotels really want to hear from guests before arrival?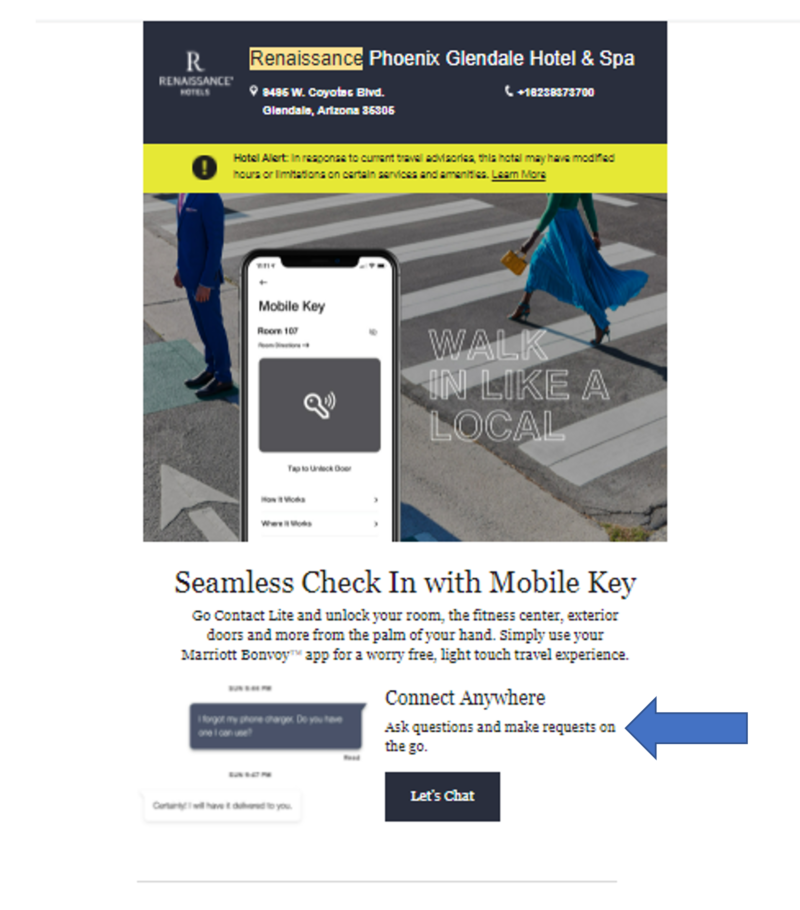 "Ask questions and make requests on the go. Let's Chat." This is not communication from the hotel solely for me. This is standard, pre-arrival verbiage emailed to all Bonvoy® members. The Bonvoy® app represents a platform for many elements of a Marriott stay, including pre-arrival communication. The hotel asked you to contact them. Take them up on the offer.

The Ritz-Carlton properties deliver an even more direct message to guests before check-in.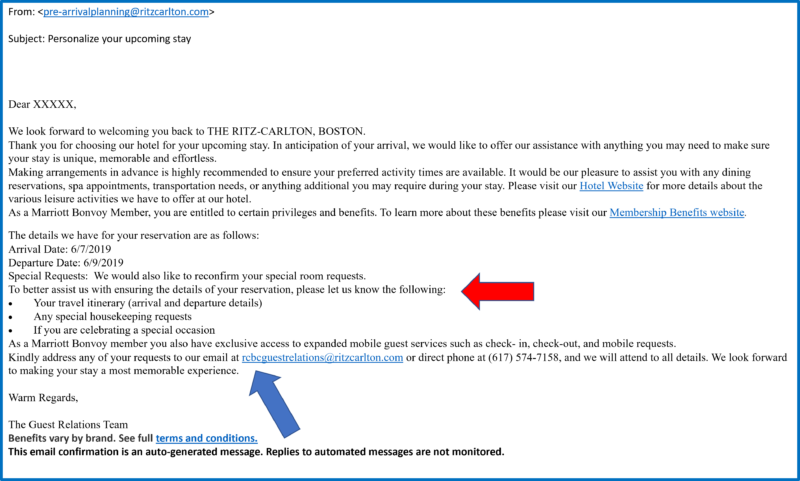 The Ritz-Carlton in Boston emailed, "Thank you for choosing our hotel for your upcoming stay. In anticipation of your arrival, we would like to offer our assistance with anything you may need to make sure your stay is unique, memorable and effortless." The email further stated, "To better assist us with ensuring the details of your reservation, please let us know the following (if you are celebrating a special occasion)."
What does the hotel gain from your pre-arrival communication?
What do you gain from contacting the hotel?
I contacted the Marriott Paris Opera Ambassador Hotel months prior to arrival in September 2021. I corresponded with Xavier Le Ru, Directeur Général of the iconic hotel on Boulevard Haussman. We emailed back in forth, in our respective broken French and English, and we developed a friendship, sharing family moments, anniversaries, and more. Is that enough? Yes, I gained a friend in the City of Lights. I also experienced the highlight of our stay at his hotel; over two hours of laughs and smiles with Le Ru and his wife, Nathalie, over drinks at the Ambassador's bar.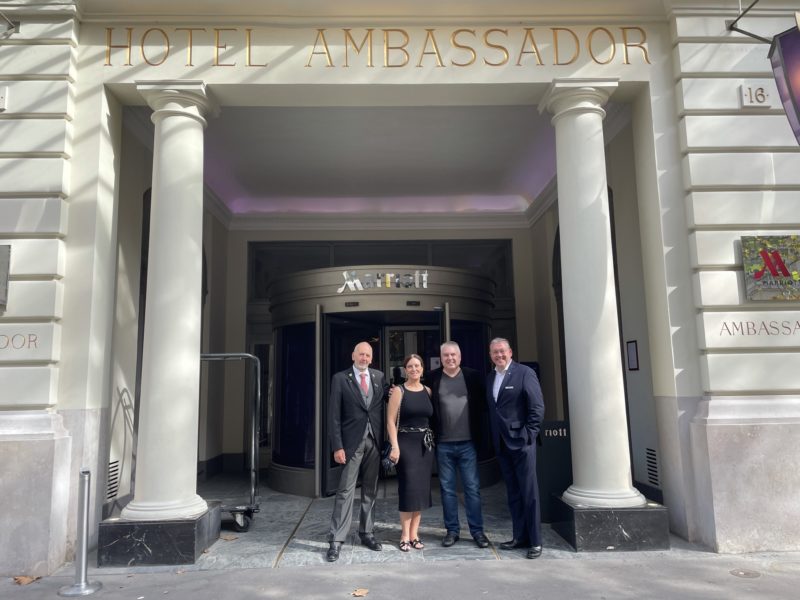 Extending introductions at Marriott Paris Ambassador

Laurie Rainer, a Bonvoy® friend from the Facebook travel forums, accepted my recommendation to stay at the Marriott Paris Ambassador. I introduced Rainer to Xavier, and I explained to the Ambassador's gentleman manager – privately, in pre-arrival correspondence – Laurie's best friend passed days before her scheduled check-in. I asked Le Ru if he would do anything special for Rainer to help her enjoy her visit during a difficult time. The wonderfully kind and caring general manager arranged for Rainer and her guest to access the Ambassador Club Lounge during the entirety of their stay. The amazing epicurean delights – offered twice daily – brought a smile to Rainer. Xavier welcomed Rainer, a Bonvoy® Gold member to the gorgeous lounge with Eiffel Tower views (traditionally reserved for Bonvoy® Platinum members, Bonvoy® Titanium members, and Bonvoy® Ambassador members).
Closer to home, Tom Xavier, chief operating officer for the ownership group of the Courtyard Manhattan Midtown-West in Hudson Yards, invited guest pre-arrival communication.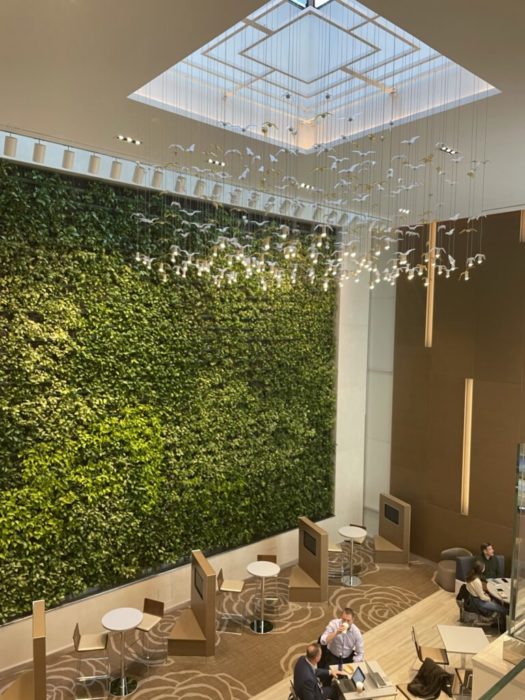 While some communication may center around recommendations for dinner, a feather pillow, or even assistance for a special occasion, contacting the hotel presented the best opportunity for the hotel to succeed in framing a personalized visit.
Create your own roadmap for guest communication with the hotel for a more customized experience. One that benefits the guest and the hotel. It never hurts to ask.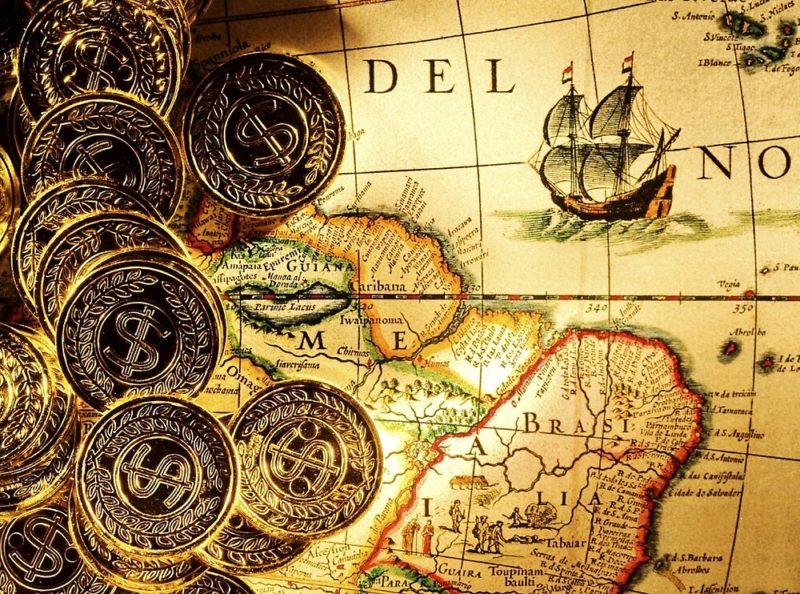 How do you contact the hotel to personalize your stay?
Previously, Marriott often highlighted key contacts (and their phone numbers and email addresses) on the hotel web page fact sheet. This method of discovering contact information disappeared (temporarily or permanently) in 2022, following a redesign of Marriott's hotel landing pages.
It also never hurts to make a friendly connection at the hotel, evidenced by connecting with the Ambassador's Le Ru, as well as the Hudson Yards' Courtyard exec, Tom Xavier. The latter, Xavier, met me and my wife for drinks in Vegas, and we are planning more evenings together this summer.
Marriott Bonvoy® Bonus Points
after you spend $1,000 on purchases in the first 3 months from account opening.
Marriott Bonvoy® Bonus Points
after you spend $1,000 on purchases in the first 3 months from account opening.
Kindness Counts (and Rewards)
Scott Margalit, a Bonvoy® Titanium member, booked the Ritz-Carlton Tahoe for a January 2022 stay. He asked me about the idea of contacting the hotel about an upgrade. The Ritz-Carlton brand reviews upgrade requests for Bonvoy® Titanium members and Bonvoy® Ambassador members. I asked Margalit to reframe his communication to focus the correspondence on his excitement about his upcoming stay, and I even asked him to research commonalities between his own background and the general manager's background.

"I like the idea of speaking with hotel staff (front desk supervisor, concierge, etc.) and tend to contact the hotel in advance to get a little more information. Including on the local area, updated hours for the hotel (pool, gym, restaurants, lounge, etc.)," Margalit explained. "These days, yes, it's important to get an update on restrictions and amenities available as the website or direct sites (including links on the app) are not always accurate. Updates and changes are constant and I like to understand the impact prior to arriving at the hotel to plan out my own personal schedule beforehand."
Creating a Connection
Margalit connected with the hotel's general manager and created a personal connection. The resulting benefit presented a surprise. He asked for no special treatment or upgrades – instead, he asked for the opportunity to get to know the property and staff, prior to arrival, through correspondence.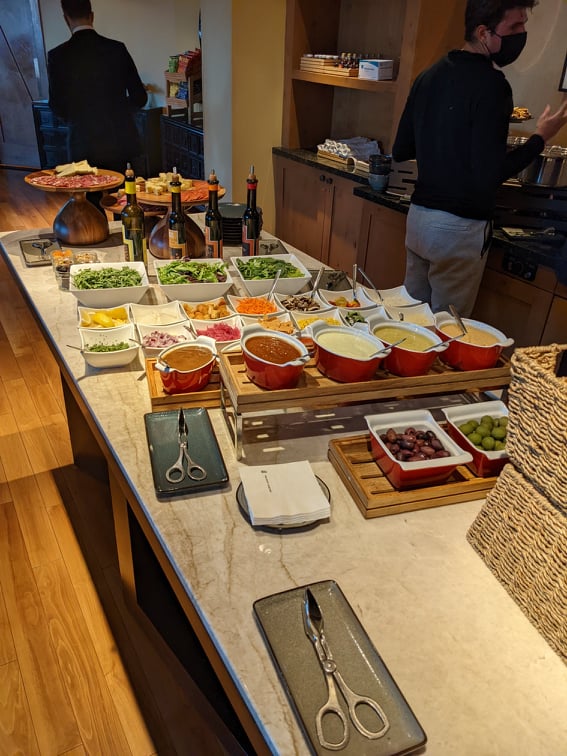 "I received follow-ups from the Executive Asst to the GM during my stay, received a welcome gift (personalized letter from the GM), and – on our first night — turn-down service with a dessert box of Dark Chocolate Covered Strawberries," he elaborated. Margalit also was upgraded to the Club Floor, with Club Access – a benefit normally reserved by paying $600 nightly. A sweet upgrade.
Margalit also was upgraded to the Club Floor, with Club Access – a benefit normally reserved by paying $600 nightly.  A sweet upgrade.
Basic Thoughts
Contact the hotel. The hotel invites you to do so in many different outreaches. The benefit may be a tangible reward. The intangible benefit of breaking down the staff/guest wall may personalize your hotel experience and your hotel relationship. What has been your favorite hotel outreach?