I logged into my American Airlines Account today and noticed an alert under the offers dropdown. To my surprise, I found an offer to upgrade my American Airline's Status to Platinum!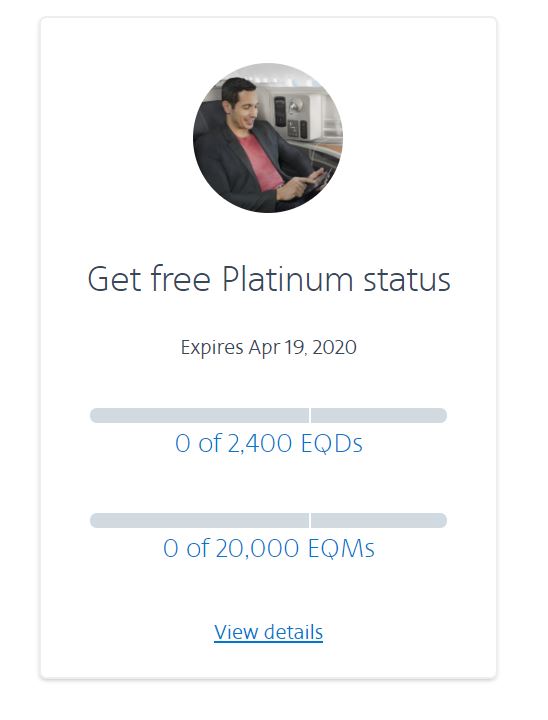 The Offer

I found a one-click opt into American Airlines Platinum Status under my Offers. The Elevated Status is good through April 20th, 2020. In addition, I received 20 500-Mile Upgrades by opting to accept the offer prior to January 31st, 2020.

Option to Extend American Airlines Platinum Status

I could extend my Platinum Status through January 31st, 2021 by earning $1,500 in Elite Qualifying Dollars (EQD's) and 12,500 Elite Qualifying Miles (EQM's).

Option to Elevate to Platinum Pro through January 31st, 2021 by earning $2,400 in Elite Qualifying Dollars (EQD's) and 20,000 Elite Qualifying Miles (EQM's).

Fine Print
To extend your status, earn qualifying EQDs and EQMs when flying on eligible tickets for flights operated by American Airlines or marketed by American, American Eagle®, British Airways, Finnair, Iberia, Japan Airlines and Qantas between the date you register and April 19, 2020.

Benefits of American Airlines Platinum Status
Complimentary upgrades on flights 500 miles or less within North America (confirmed as early as 48 hours before departure)
Priority check-in, security, and boarding
8 award miles per U.S. dollar (60% bonus)
Complimentary access to Main Cabin Extra and Preferred seats
2 free checked bags
oneworld® Sapphire℠ status on partner airlines
If I reach Platinum Pro status, I'll get free domestic upgrades too!
Basic Breakdown

I Love these offers and appreciate the opportunity to have a taste of the elite perks that come with elevated status. Given that I am now an American Airlines Platinum Member, I've got to look for an excuse to hop on one of their flights and try out my new status! The last time I flew American I got SUPER lucky leaving Dallas a few months ago and the time before that I believe was our First Class Flights back from the Galapagos Islands. Be sure to check out your American Airlines Account and see if you were targeted for this offer!
More Basic Reading