When it comes to honeymoon destinations, it doesn't get any better than the Maldives. Soft sand and turquoise water represent this oasis tucked away down in the Indian Ocean. With over 160 resorts spread across 1190 distinct islands, it can be tough to choose where to stay. One resort rises above the rest for folks celebrating their wedding. Learn more about the honeymoon perks at the Conrad Maldives in this Basic Review!
Conrad Maldives
The Conrad Maldives was built in 1992 on Rangali Island. In researching this property, I don't believe there is an award yet to be won from Best Water Villas to Leading Culinary Resort to Best Spa Resort- it's got everything covered. There are a variety of beach and overwater villas to choose from when picking accommodations. For dining, there are 12 different restaurants including the Ithaa Undersea Restaurant. Another unique aspect of the Conrad Maldives is that it is home to a wine cellar located two meters underground that houses over 15,000 bottles.
Learn more about the Conrad Maldives in the Basic Guide!
Honeymoon Perks at the Conrad Maldives
If you haven't heard, the Maldives is expensive! Everything is transported to the islands which raises the overall costs. Given we are all about saving money, the added benefit of special honeymoon incentives helped confirm our decision to visit the Conrad Maldives. It's important to note that in order to receive the honeymoon perks, you need to provide a copy of your marriage certificate that was issued in the past 12 months.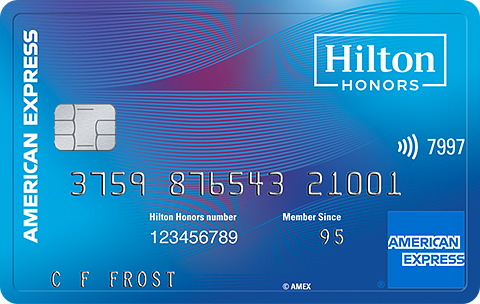 Hilton Honors Bonus Points
After you spend $2,000 in purchases on the Card in the first 6 months of Card Membership. Offer ends 4/5/2023.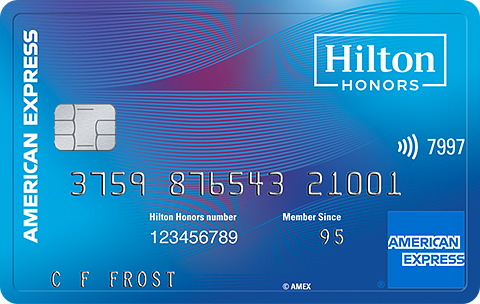 Hilton Honors Bonus Points
After you spend $2,000 in purchases on the Card in the first 6 months of Card Membership. Offer ends 4/5/2023.
What does the Conrad Maldives offer Honeymooners?
Not only is the Conrad Maldives absolutely incredible, but if you come on your honeymoon, you can even enjoy some great extra perks! If you don't know already, be sure to check out how to book an amazing Overwater Villa at the Conrad Maldives here for cheap, then you can enjoy your honeymoon for even less! The Honeymoon Perks include:
Three-course dinner
Large fruit basket
Chocolates
Bottle of champagne in the villa upon arrival
Afternoon tea that includes sandwiches and dessert
Romantic bedroom decoration.
In addition, there is a $100 spa credit when staying 6 or more nights.
Review of the Conrad Maldives Honeymoon Perks
Three-Course Congratulations Dinner
The Conrad Maldives three-course honeymoon dinner was an amazing start to our trip. It took place at the Mandhoo Spa Restaurant and we were seated outside with a spectacular view of the water. Candles were lit to set the mood and we were presented with the menu. The food was incredible and we really enjoyed the complimentary experience.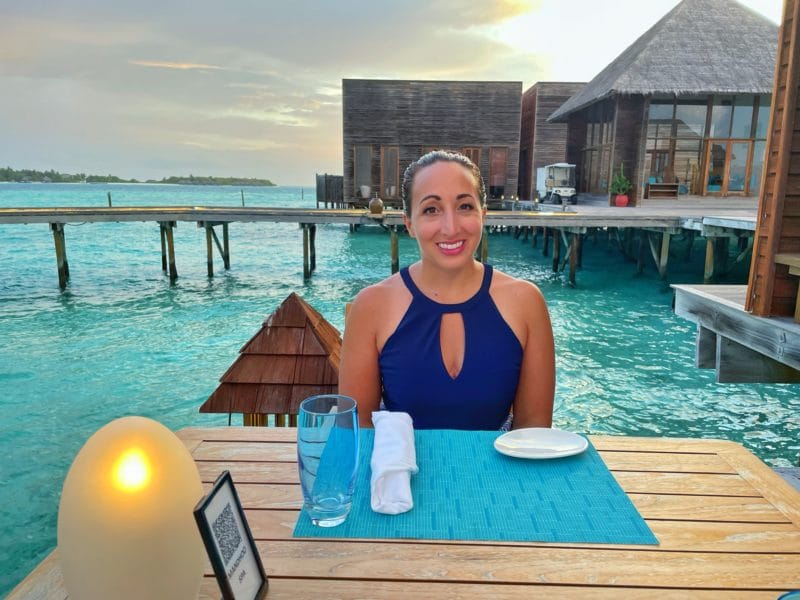 There are two options to select from for the Conrad Honeymoon Dinner. Option A includes Warmed Chured Char, Seared Lamb Loin, and Egg custard flan with banana and dates. Option B includes Handpicked Crab Meat, Grilled Jobfish, and Organic Cheesecake. We both went with option B because we LOVE fresh seafood! Also, we were told there is a vegetarian menu option as well for folks who are interested.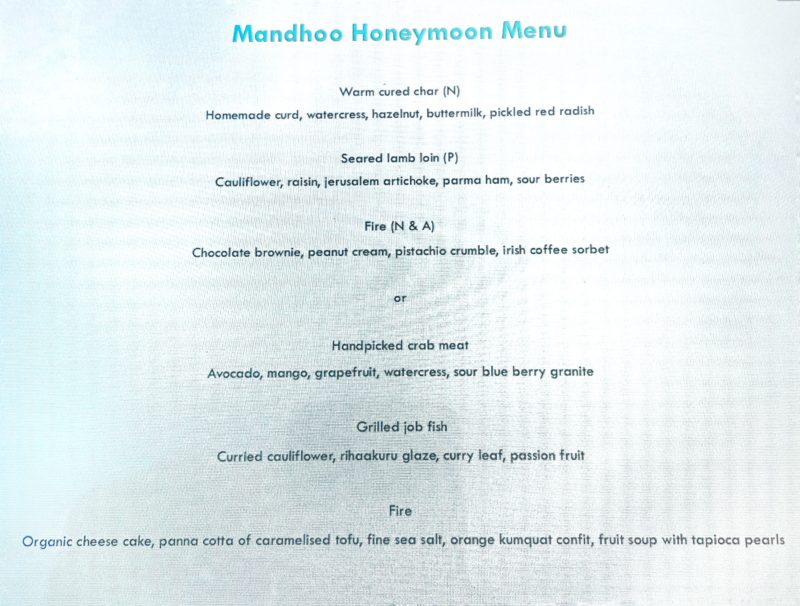 All I can say is amazing! Bread and a pallet cleanse (some sort of fishball I think) were provided to start. Next, the first course was served. The handpicked crab meat was delicious with the fruit sauce it was served with.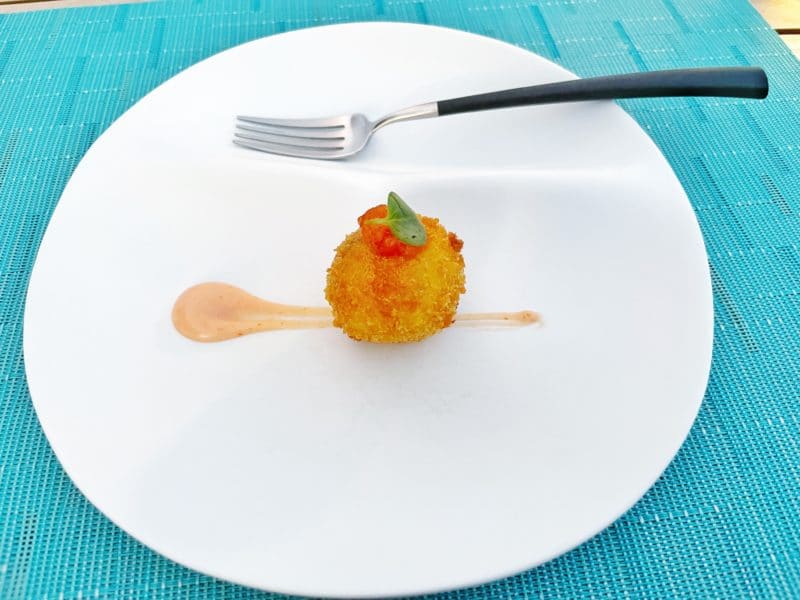 Our second course came out cooked to perfection. A delectable filet that melted through the fork. Similar to the crab, there was a passion fruit sauce that really added another dimension to the dish.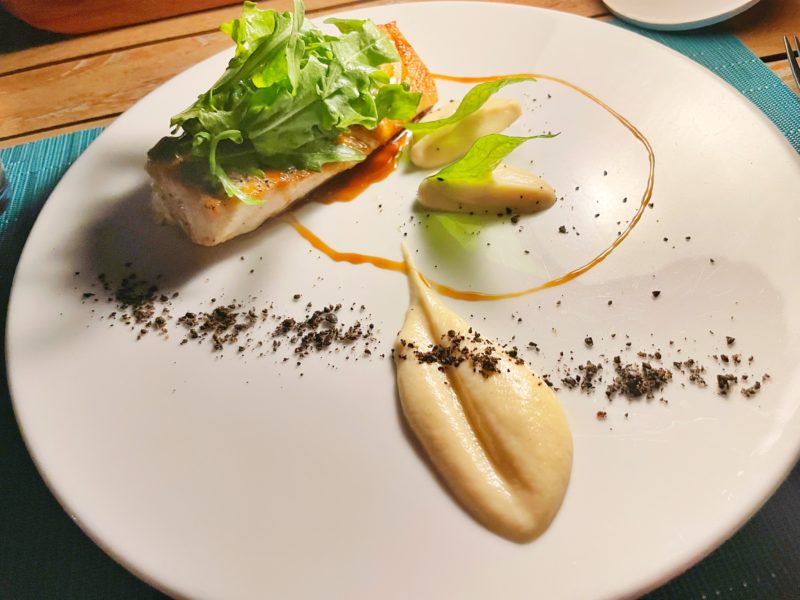 Last, the desert was a creative masterpiece. The cheesecake was complemented with panna cotta, orange kumquat confit, and a fruit soup that I was instructed to pour over the entire dish. Talk about a flavor explosion!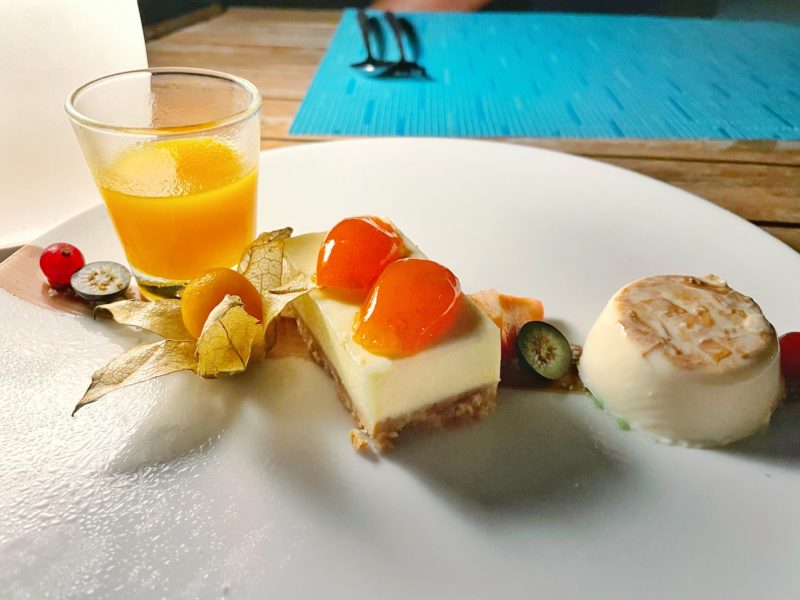 Fruit Basket, Chocolate, and Champagne
It was awesome arriving in our deluxe beach villa and being surprised by the delicious assortment of goodies. We found a giant dragon fruit, apple, salaks, and grapefruit. Accompanying the fruit was a bottle of Brut champagne and a box of unique chocolate. We enjoyed dining this on the patio behind our deluxe beach villa!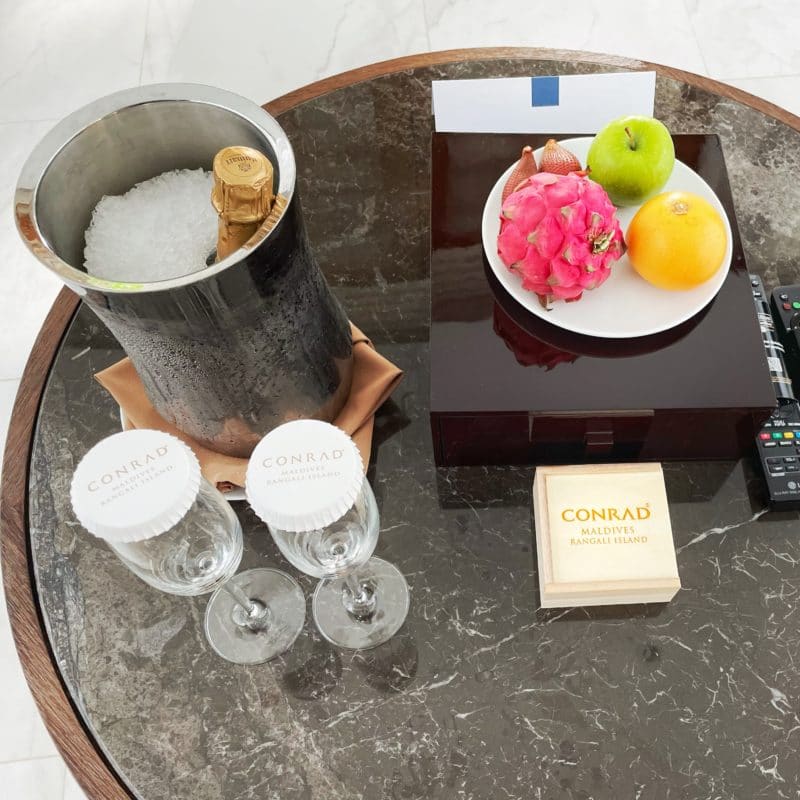 Romantic Bed Decoration
Come on! This is fantastic. The letters spelling happy honeymoon appeared to be individually hand cut out. Love the attention to detail. We didn't want to ruin it so we carefully moved it to the floor when we were ready for bed!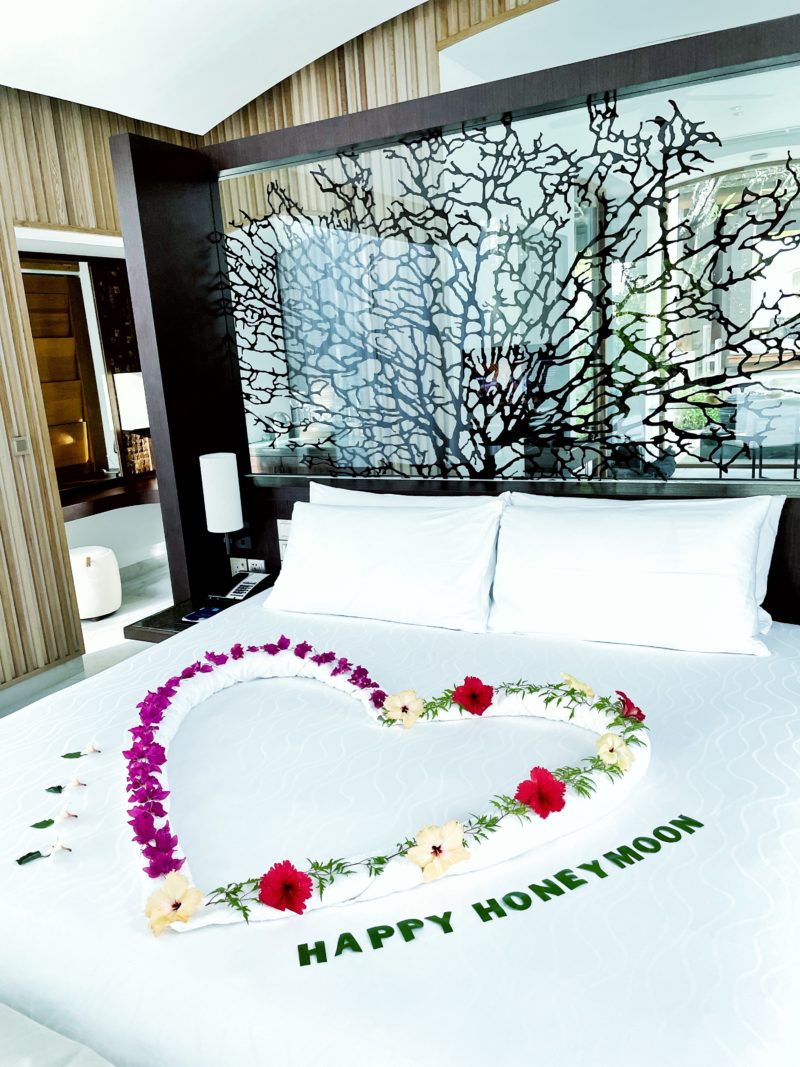 Afternoon Tea
I imagined that afternoon tea would encompass sipping on tea by the water. When the staff member presented us with a huge assortment of mini sandwiches, cakes, and cookies I was blown away. Additionally, we could choose from a variety of tea flavors served hot or on ice. I went with an iced vanilla tea and Lisa chose the passion iced tea. The whole assortment was a delightful surprise!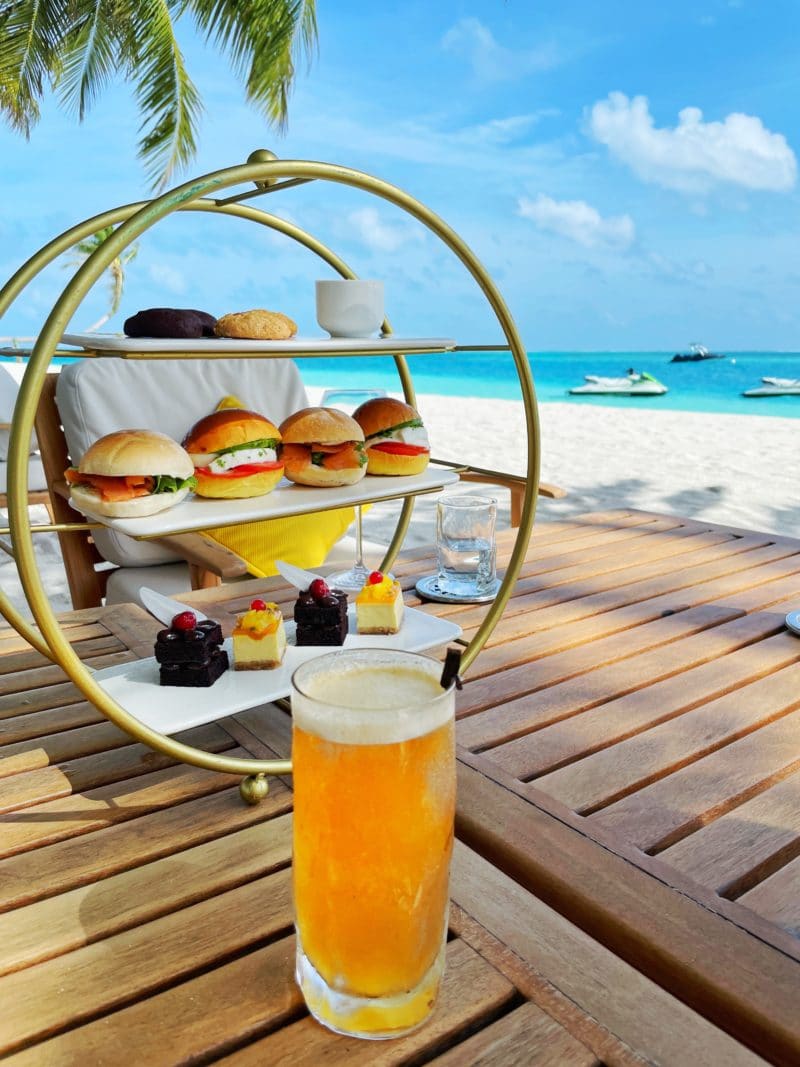 Spa Credit
Sadly we did not stay enough nights to take advantage of the $100 spa credit but we were able to book a 90-minutes couples massage using Hilton Honors Points. I can't recommend the Conrad Maldives Spa enough. Aside from the wonderful massage, the small details made took the experience to a different level. There's both an outdoor shower and toilet which I've never seen in any spa in my travels around the world. The whole spa is actually built overwater too that makes for some incredible views while using the shower or toilet. A 90-minutes couples massage experience costs 100,000 Hilton Points total for both of us.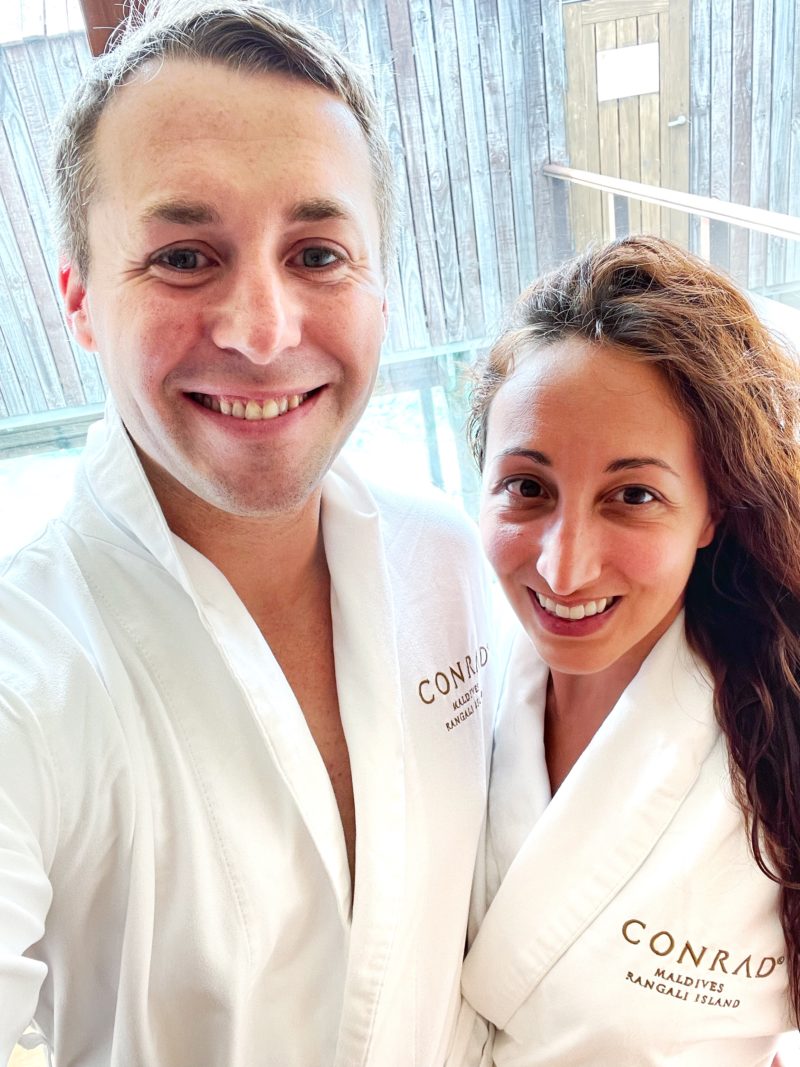 Basic Breakdown
Overall the Honeymoon Experience at the Hilton Conrad was greater than I could have imagined. We had such a fantastic five nights there and wish we would have spent more. The staff went above and beyond to provide us well wishes and congratulations wherever we went. I can't recommend choosing the Hilton Conrad as a honeymoon destination more.
Let us know!
Have you celebrated your honeymoon at the Conrad Maldives?
Conrad Maldives Video Tours
More Basic Reading