Updated 1/17/22: New Wheel and Rewards Structure
The Fold Debit card is the newest edition to my rewards earning portfolio. I am especially excited about Fold due to it being my very first cryptocurrency-earning debit card. This novel debit card carries a variety of unique features I haven't seen anywhere else. For example, a prize wheel that can be spun after every purchase offering users a chance to earn more crypto back on purchases. Learn more in the Basic Guide to the Fold Debit Card!
What is the Fold Debit Card?
Fold is a debit card that earns cryptocurrency in the form of "Sats". A Sat is short for Satoshi which is equivalent to 0.00000001 BTC. What's unique about Fold is that the rewards earned are not static. If Bitcoin rises, your Sats earned rise. It Bitcoin decreases, the Sats decreases as well. Like any other investment, there's a risk/reward ratio to consider.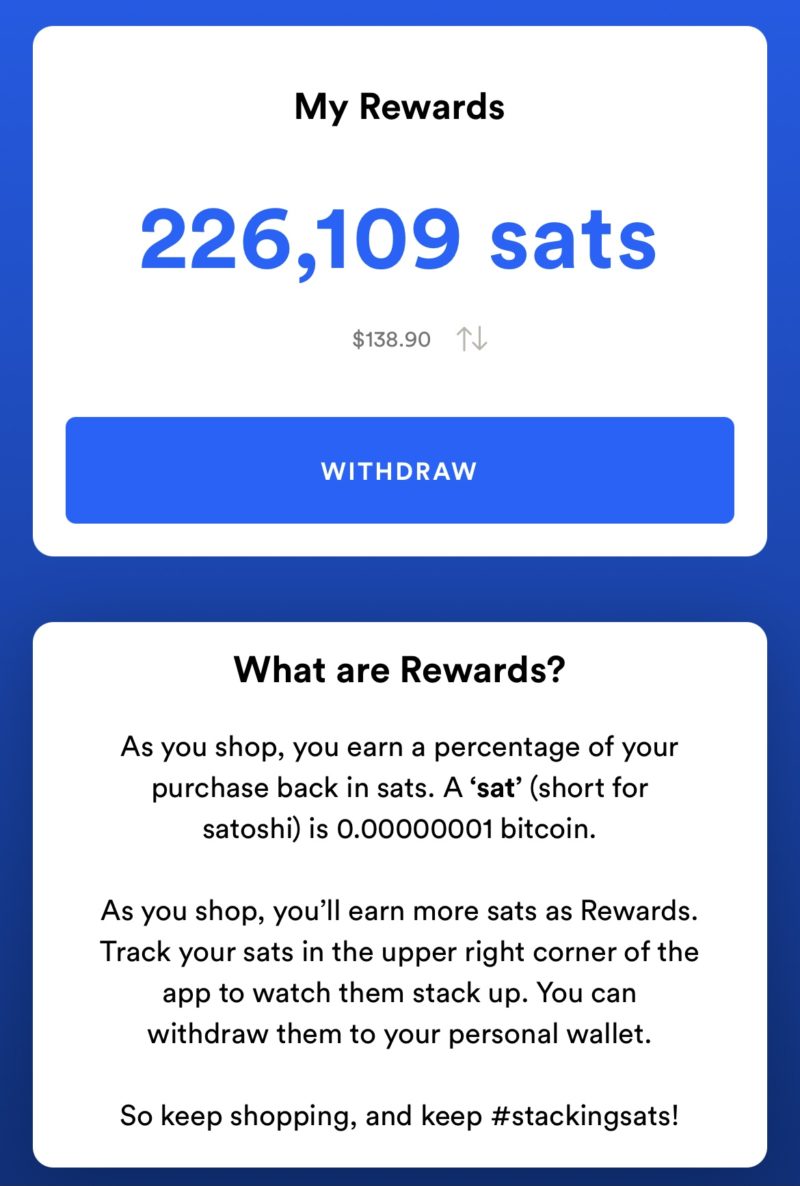 Fold Debit Card Options
There are two different Fold debit card options to choose from: Spin and Spin+
Fold Spin ~ The no annual fee option
The Fold Spin debit card is a great option for folks who are interested in dabbling in cryptocurrency rewards. There is no annual fee but it does come with a one-time $21 activation fee. It earns up to 1% back on each purchase in Sats or more by spinning the wheel.
Fold Spin+ ~ $150 Annual Fee
The Fold Spin+ debit card is an upgraded version of the no-annual-fee spin card. It comes with up 1.5% back on each purchase in Sats or more by spinning the wheel.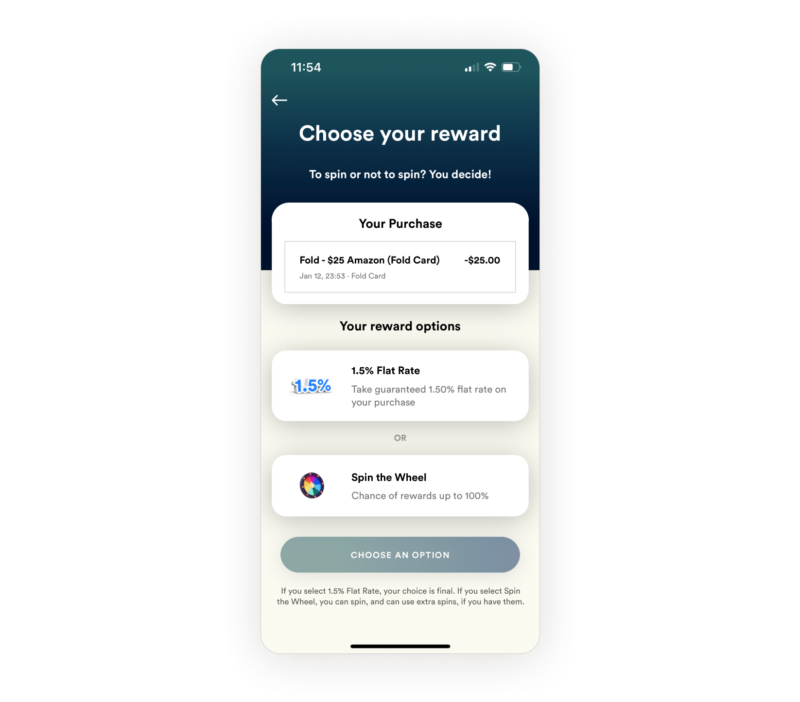 Earning with the Fold Debit Card
Fold Spinwheel
After making a purchase, it's possible to spin a prize wheel which is my favorite aspect of the Fold debit card. The Fold Spinwheel includes rewards like a bonus % back in Sats or $500 in Bitcoin. On average, the Fold Spinwheel is changed monthly to include new and different prizes. The most updated Fold Spinwheel can be found here.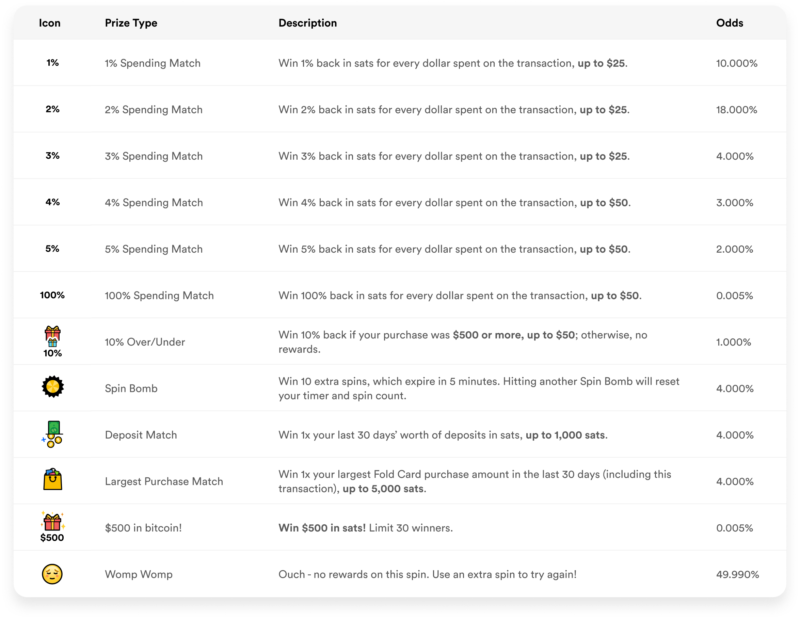 Extra Spins
If the spin results in a prize you don't like, you can spin again using extra spins that are accrued. Extra spins are deposited into your account every Friday just for adding funds to the account at least once. In addition, if the account carries a $1,000 balance, 1 extra spin will be added each day. For accounts with a $10,000 balance, two extra spins will be added each day. Finally, for every purchase of $250, an extra spin will be earned. It's important to note that extra spins expire after 7 days.
1 Extra Spin per day for having $1,000 in the Fold Debit Account
2 Extra Spins per day for having $10,000 in the Fold Debit Account
1 Extra Spin for every $250 purchase
Extra Spins earned on Friday for having a deposit in the Account
Win Extra Spins in the Fold Spinwheel
Earn up to three extra spins by playing the metaverese game in the Fold Mobile App
Spin Timer
Depending on whether you're using a Fold Spin or Spin+ card will impact the amount of time you have to spin the wheel after making a purchase. Fold Spin cardholders only have an hour after making a purchase to spin the wheel or use extra spins. On the other hand, Fold Spin+ cardholders have 24 hours to utilize spins on each purchase.
One hour to use the Spinwheel on each purchase when using the Fold Spin Debit Card
24 hours to use the Spinwheel on each purchase when using the Fold Spin+ Debit Card
Daily Spin
The daily spin wheel allows cardholders to win prizes every day, even if they aren't making any purchases that day. Simply spin the wheel in the top left-hand corner to win. If you can remember to spin seven days in a row will win 1,000 free Sats!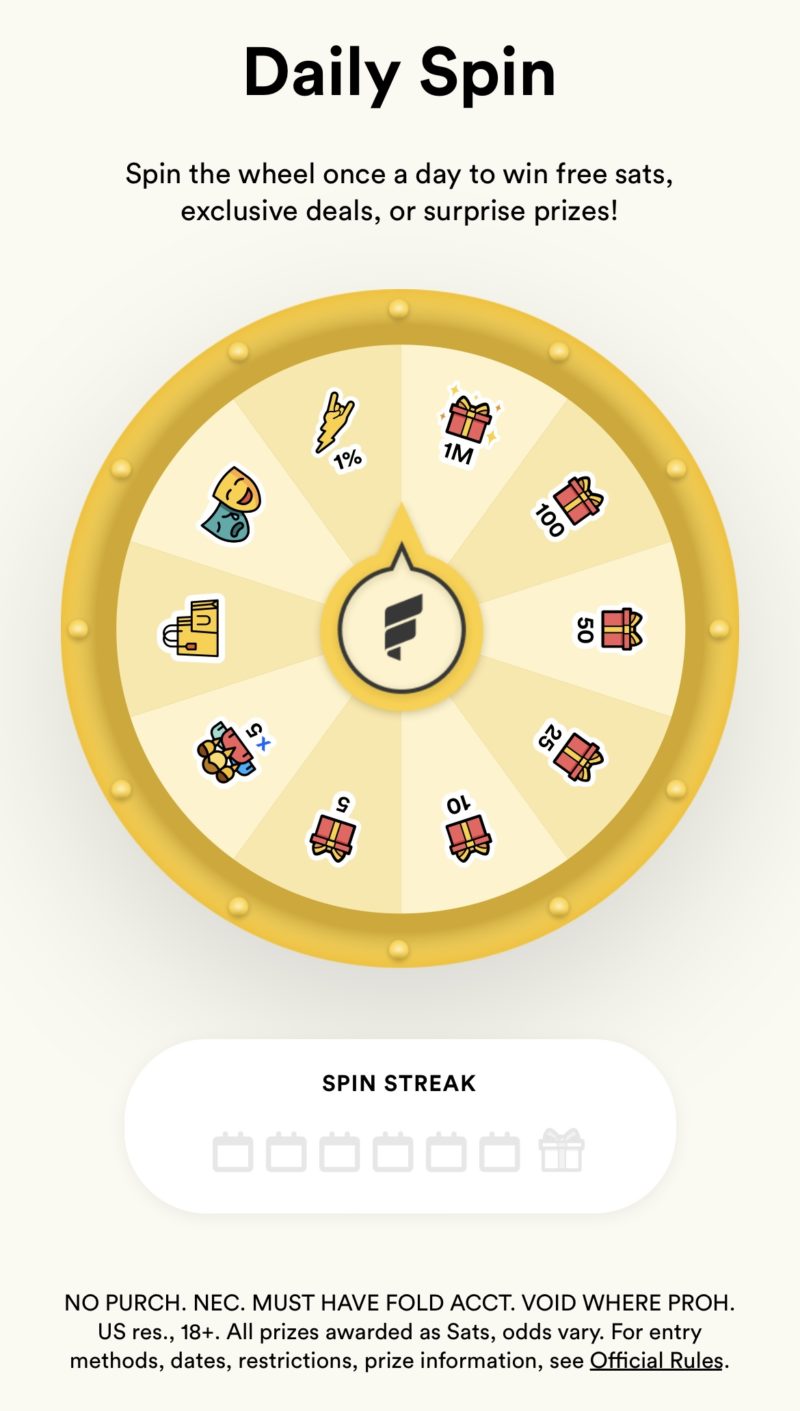 Giftcards
There are a variety of gift cards that can be purchased via the Fold App that earn a bonus % back in Sats. One gift card that is unique is Amazon. Spin cardholders can earn 5% back on up to $250 in Amazon per month while Spin+ holders can earn 5% up to $500 per month. What makes this even better is that it's possible to stack the 5% with spins + the cards base rate. I earned 8% back on a $500 Amazon Giftcard this month (1% base rate for Spin+ cardholder + 5% Amazon bonus + 2% Spinwheel Prize).
Spin Cardholder can earn 5% back on a $250 Amazon Giftcard per month
Spin+ Cardholder can earn 5% back on a $500 Amazon Giftcard per month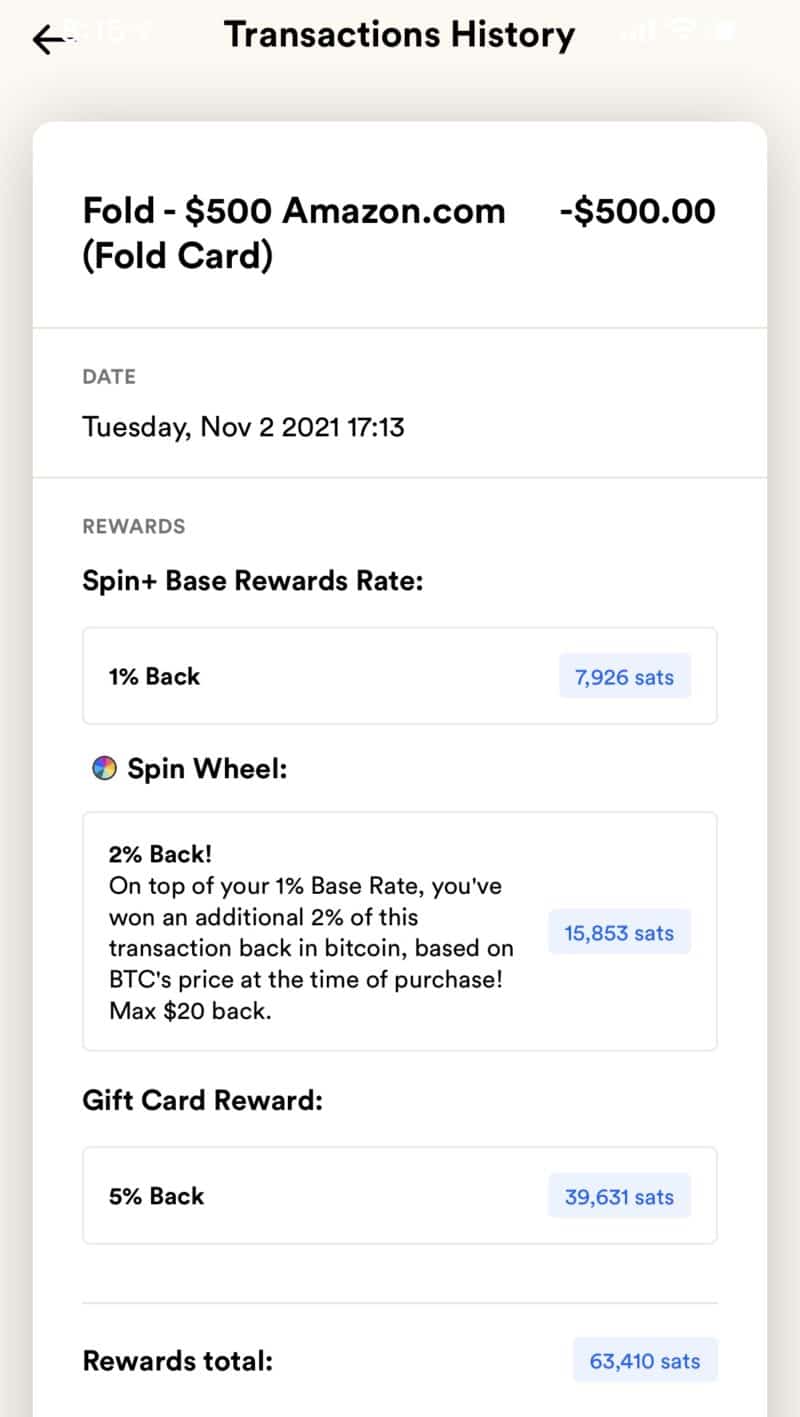 Cashing out Sats
It's easy to cash out the Sats! Simply link a crypto wallet via email and cash out using the feature in the top right-hand corner of the mobile app.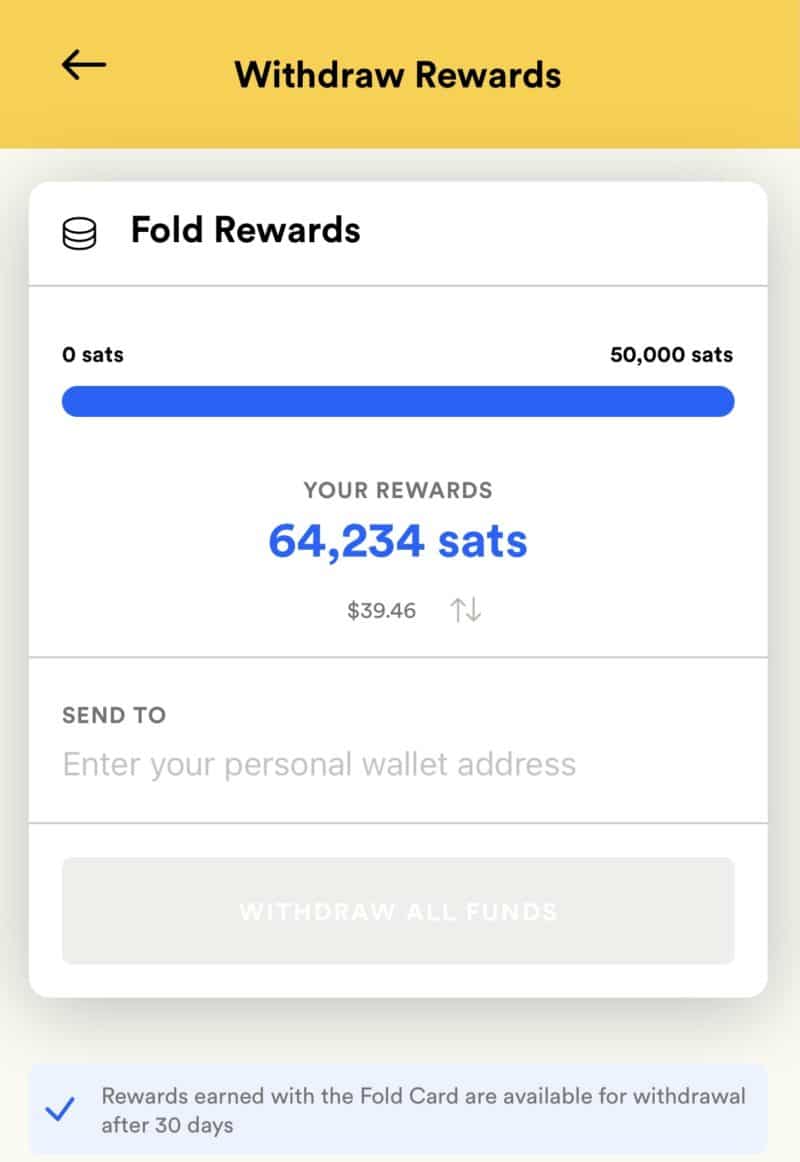 Basic Breakdown
I'm definitely a fan of my new Fold Spin+ debit card for a handful of reasons. First, I love that this is a debit card and not a credit card. I did not have to use a hard pull on my credit or impact my 5/24 in any way by opening this card. Second, earning Sats via the Fold Spinwheel is both fun and addicting. It's like a Vegas slot machine in my pocket. My strategy is to save up a bunch of extra spins and utilize them all at once on my larger purchases. Fingers crossed for the Spinwheel to land on a whole Bitcoin!
Click here to earn 5,000 Sats for opening the Fold Debit Card
What do you think of the Fold Debit Card? Are you going to open it or have you already tested it out?
More Basic Reading