I get it, we are home all day long and the snack cupboard is SO easily accessible. I've fallen victim to grabbing cookies, chocolate, and candy for more times than I could count. I definitely have a sweet tooth, and being cooped up indoors all day hasn't helped.
I finally decided that it was time for something I've been wanting to do for a long long long long longgggg time.
Seriously.
Its been years.
I've talked about doing it, but never really could muster up the courage.
There was always something holding me back.
A Happy Hour coming up.
Maybe it was a friends' birthday.
Perhaps a trip somewhere new?
Or maybe it was just excuse after excuse.
I finally knew that this was the perfect time.
I was going to do it.
A 3-day juice cleanse.
Whew. That wasn't so bad, was it? I mean, in all reality, I am going to be cooped up with absolutely nowhere to go. No outside forces telling me not to do it, so I had nothing but time on my hands and even a perfect excuse of being quarantined!! After almost no effort at all, I also convinced Dave to join me on a 3 day cleanse.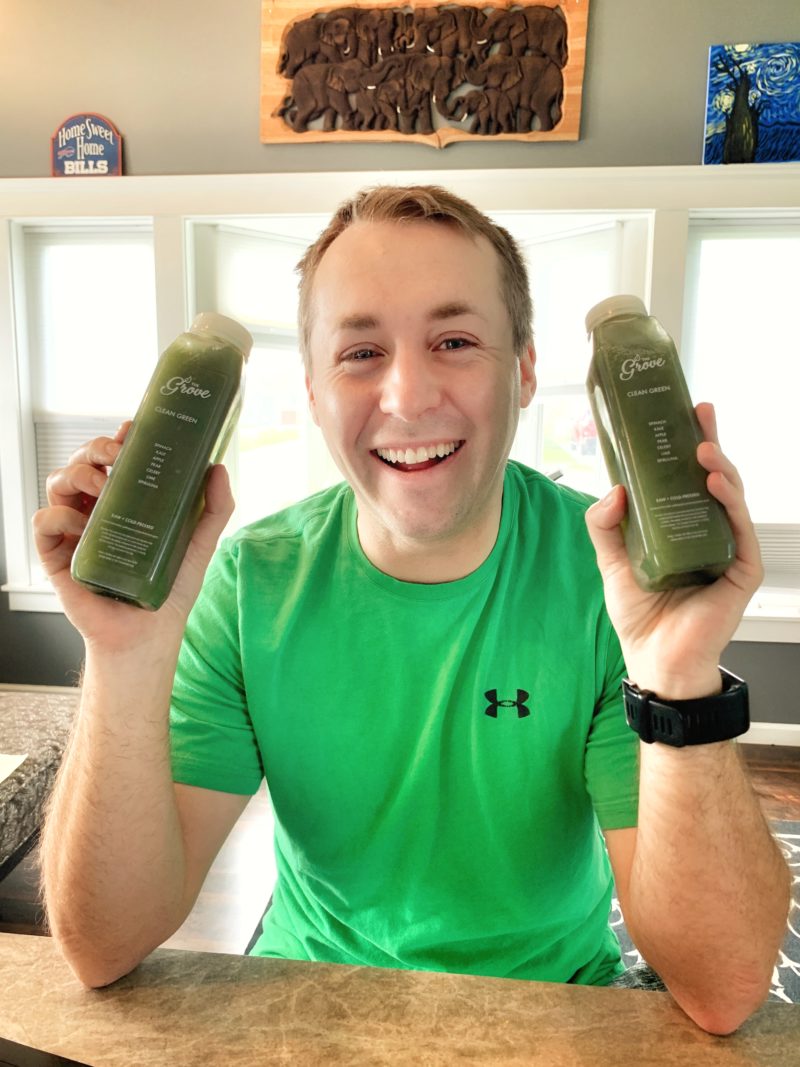 Why do a Juice Cleanse?
*Disclaimer- before I get into this, I want to state that I am not a doctor or medical professional. If you have any health conditions or questions, it is best to speak with your doctor. I am just stating my experience and reasons for doing this cleanse.
Over the years, our bodies build up toxins from the processed foods that we consume, outside pollution, and even unhealthy additives in the food we eat unknowingly. I had been feeling pretty unfocused for months now and I also was eating more and more sweets and junk food. I knew my body was out of whack and I wanted to give it a hard reset.
Juice cleanses also help gives your body a break from digesting solid foods which can help repair the body with the nutrients it is getting in these cleanses.
Where to start?
Normally I would just google a location to order from, but this was a bit tricky since some restaurants are closed due to COVID-19. So I decided to ask for recommendations from our Instagram followers. There were a bunch of great suggestions, but I am glad they brought me to The Grove. The Grove is a local Buffalo, NY establishment. Founded in 2016, they provide nutritional beverages to replenish and heal the human body. Their items include cold-pressed juices, as well as smoothie kits, bone broth, wellness shots, and mineralized water.
Just to note- Grove is local only to our Buffalo, NY friends. They do not deliver out of state.
Once I narrowed down where I was going to get the juice cleanse from, it was time to select my juice!
Grove made it extremely easy to order.
First, you select what type of cleanse you want to do. We opted for the combo cleanse which included Bone Broth once a day. I had heard of many healing properties of bone broth, so I thought I would give it a try. Some of the benefits according to Grove are that it contains collagen, glutamine, glycine, and proline so it is good for your gut health as well.
Next, you can pick how many days you want to do the cleanse for. The days range from 1 day up to 6 days.
After you select the number of days, you can pick how many bottles you want a day and if you want to select your own bottles or just use The Grove's Craft Selection of the plan.
We opted for 5 bottles, and just picked their pre-packaged plan.
There were 5 delicious drinks included. I enjoyed every one of them, especially the Protein Builder at night. They were all seriously so good though so I really can't complain.
How did you feel after
Every day I stayed pretty full on my 5 juices and 1 Mineral Bone Broth. I was drinking a ton of water in between each juice as well. Drinking water was definitely vital to helping me feel full and flush the toxins out of my body. I probably should have tracked it better, but I would say I was drinking at least 100 ounces or more of water every day.
The only day that I did get a headache was on day 3 when I went out to grocery shop to prepare healthy foods for breaking my 3 day cleanse. I was usually drinking my juices every 2 hours, starting at 10 am and ending at 8 pm. Since my shopping went a little longer than expected, I was over an hour past my one juice. Once I drank it though after about 20 minutes my headache went away.
Dave, on the other hand, decided to commit fully to the juice cleanse and also eliminated coffee. If any of you know Dave, you also know he is OBSESSED with coffee, and drinks like a pot or two a day. It is a small coffee pot, but still. He drinks a lot of it. So he was definitely having some caffeine withdrawal. We were told he could have one cup a day.
Anyway, during the cleanse we felt really good every day. We slept extra to help our bodies repair and then would drink our juice and water and repeat. It was honestly way easier than I thought it would be and I would have gone a few more days if I had ordered more juice.
Some of the biggest differences I've noticed since the 3 days juice cleanse has ended:
More alert and refreshed. (No more groggy mornings.)
Better Mental Focus
No real cravings for sugar/candy
Food tastes better to me and I want to eat healthier foods
More Energy
Weight loss (not a ton but a couple of pounds)
I think our skin even looks more refreshed and lively. You can see our before and afters below.
Final Thoughts
I really feel so much better than I thought I would before taking the cleanse. I honestly have never had such a mental focus that I have and I am really blown away by it. Probably the last year or two have been rough for my mental focus and I could never get anything done. So I am super grateful for this to have helped. I really wasn't even expecting it either.
Completing the juice cleanse was something I've heard had so many benefits but I just thought it was crazy and I would basically starve. But that isn't farther than the truth. Since we all have some extra time on our hands right now, a juice cleanse might be just what you need to give your body a reset. It could also help give your mind a mental break from cooking and cleaning!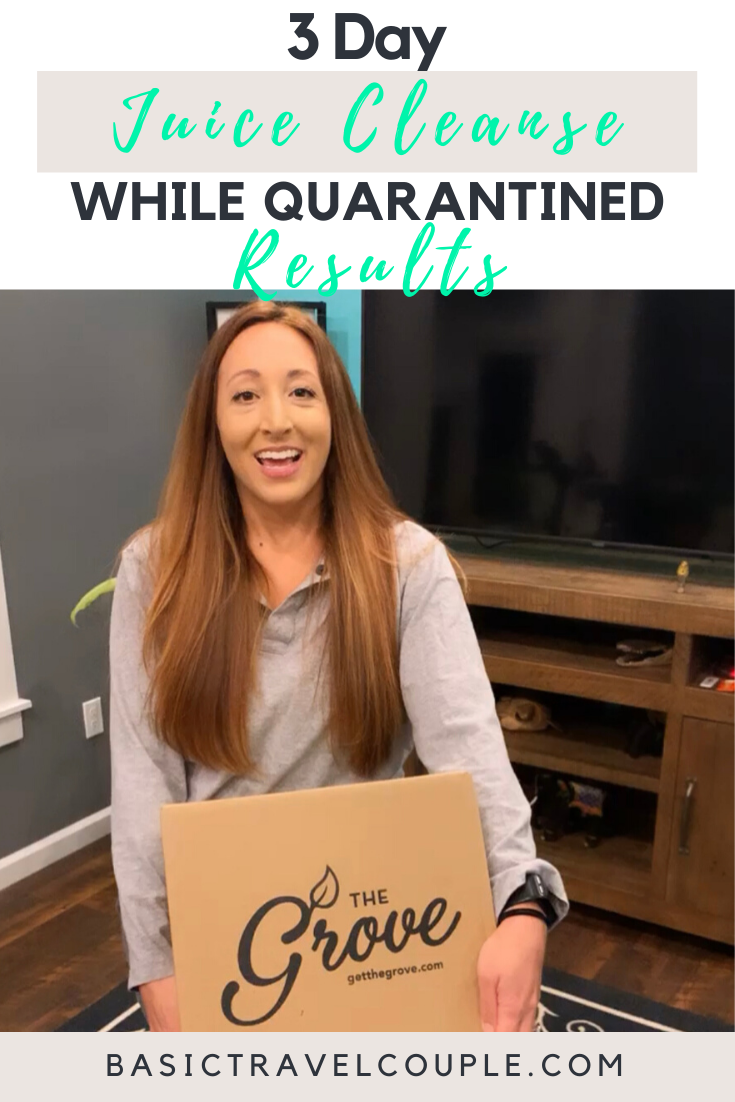 Have you ever tried a juice cleanse before? What are your thoughts on them?