Chase Bank offers a wide variety of Small Business Credit Cards through its Airline, Hotel, and In-House Portfolio. We LOVE using these Cards to earn more Points, Miles, & Cashback for our Basic Travel Business Expenses. The Chase Small Business Credit Cards also help separate business expenses and provide a line of credit to use for building our brand. Even though we are big fans of the Southwest and United Chase Business Cards, there is ONE Card that we Prefer even more!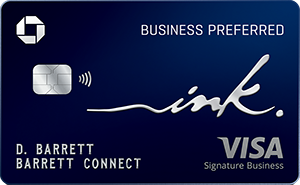 after you spend $15,000 on purchases in the first 3 months from account opening.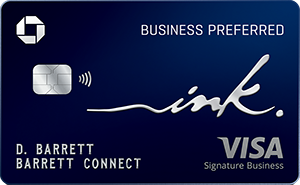 after you spend $15,000 on purchases in the first 3 months from account opening.
The Chase Ink Business Preferred Credit Card is our go-to option when it comes to Earning Potential and Overall Value! Follow along below to learn all 10 reasons why we LOVE the Chase Ink Business Preferred Credit Card.
10 – No Foreign Transaction Fees

We hate paying fees! It's crazy to imagine how much money people lose each year through various fees, especially given how many different cards offer this perk. The Chase Sapphire Preferred is a great Personal Credit Card option that offers this perk. Since we hate fees, I'm compelled to mention that if you're planning to travel internationally, be sure to open a SoFi Debit Account to be Covered from ATM Fees!

9 – Purchase Protection

This perk is great when #LifeHappens! New Purchases are covered from Theft and Damage for 120 days up to $10,000 per claim and $50,000 per account. Imagine a Wedding Photographer's equipment is damaged at a reception within the 120-day window. This perk has the potential to save that person major money in that scenario!

8 – Cell Phone Protection

Get up to $600 per claim in cell phone protection against covered theft or damage for you and your employees listed on your monthly cell phone bill when you pay it with your Chase Ink Business Preferred credit card. This is a great perk that has benefited many of our Basic Travel Readers!

7 – Auto Rental Collision Damage Waiver

Decline the rental company's collision insurance and charge the entire rental cost to your card. Coverage is primary when renting for business purposes and provides reimbursement up to the actual cash value of the vehicle for theft and collision damage for most cars in the U.S. and abroad. We have saved a ton of money utilizing this perk over the years. I can specifically remember our last visit to Costa Rica and Iceland resulting in over $500 in savings!
6 – Trip Delay & Trip Cancelation Coverage
If your trip is canceled or cut short by sickness, severe weather and other covered situations, you can be reimbursed up to $5,000 per trip for your pre-paid, non-refundable travel expenses, including passenger fares, tours, and hotels. This benefit is great when #lifehappens. We typically use this benefit 2-3 times per year when flights get canceled due to weather which happens quite a bit when flying to and from Buffalo NY!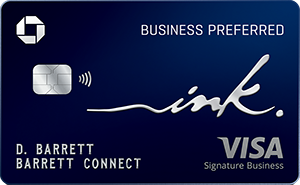 after you spend $15,000 on purchases in the first 3 months from account opening.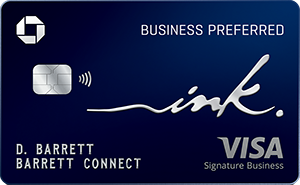 after you spend $15,000 on purchases in the first 3 months from account opening.
5 – 3X Bonus Point Categories

Earn 3 points per $1 on the first $150,000 spent in combined purchases on travel, shipping purchases, Internet, cable and phone services, and on advertising purchases made with social media sites and search engines each account anniversary year. These bonus categories encompass a large amount of the spending that we do each year and we will gladly take the 3X points!

4 – Multiple Options for Redeeming Points

There are a ton of options within the Chase Ultimate Rewards Portal that can be purchased with points. You can easily use Ultimate Rewards Points to pay for Amazon Purchases, Apple Products, and Over 200 Brands of Giftcards. If none of these options sound appealing, you could even convert the Ultimate Rewards Points to Cashback and transfer the funds to your debit account!

3 – 25% Bonus When Booking Travel

Chase Ultimate Rewards Points are worth 25% more when used to book travel through the online portal! You can book Flights, Hotels, Rental Cars, Experiences, Vacation Rentals, and even Cruises through the Ultimate Rewards Portal. The Travel Portal is powered by Expedia Travel and is just as user-friendly!
2 – Travel Partners

We love the Chase Ultimate Rewards Transfer Partner Options! You can transfer to 10 different Airline Programs and 3 different Hotel Programs. Some of our favorites include Southwest, United, JetBlue, Hyatt, and Mariott! All Chase Ultimate Rewards Programs transfer at a rate of 1:1 into all of the programs. Often times, it's possible to get more value from your points by transferring. Chase even runs regular promotions which typically offer a 25% bonus when transferring into different programs. We actually capitalized on one of those promotions when we flew First Class to Japan and Business Class back for only $317 each!
1 – Ultimate Reward Points Welcome Offer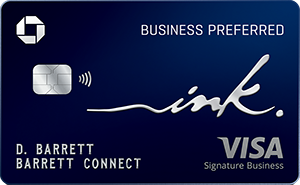 after you spend $15,000 on purchases in the first 3 months from account opening.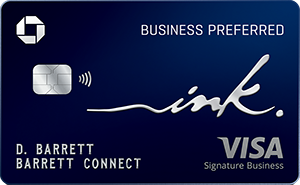 after you spend $15,000 on purchases in the first 3 months from account opening.
Typical offers on the Chase Ink Business Preferred Credit Card can range from 75,000- 100,000 Ultimate Rewards points. The 100,000 Chase Ultimate rewards are worth $1,250 in the Travel Portal with the 25% Bonus! When using for Apple Products, Giftcards, Amazon, or Cashback they are worth 1 cent per point. For example, 100,000 points would equal $1,000. Don't forget about travel partners! A round-trip flight from Buffalo to Japan through United Airlines in economy goes for 70,000 United Miles. Essentially, the signup bonus here is large enough to get you a free trip to somewhere far or possibly many domestic flights via Southwest or Jetblue!
Basic Recap
As you can see from the 10 reasons above, the Chase Ink Business Preferred is a fantastic option in the Small Business Credit Card World!
More Basic Knowledge