Another day and another credit! It seems like every few weeks there's a new credit card benefit being added or swapped for an existing benefit. Now Instacart is getting in on the action with its new credit found on a variety of Chase Credit Cards. Learn more about this new benefit and how we redeemed it for $85 in groceries below.
Chase's new Instacart Benefit
This new benefit includes both a statement credit and a complimentary Instacart+ membership which varies depending on the Chase card used.
What is Instacart+?
Instacart+ is a premium service that includes free delivery on orders over $35, lower service fees, and 5% credit back on eligible pickup orders. The price for this membership is either $9.99/month or $99 for an annual subscription.

Which Chase Cards Qualify for the Instacart Benefit?
Both the Sapphire and the Freedom family of cards include a variation of the Instacart benefit. Below all of the options are broken down:
J.P. Morgan Reserve Card (No longer available for new applicants)

12 free months of Instacart+
$15 monthly statement credit
Chase Freedom (No longer available for new applicants)

3 free months of Instacart+

$10 quarterly statement credit
Chase Slate

3 free months of Instacart+

$10 quarterly statement credit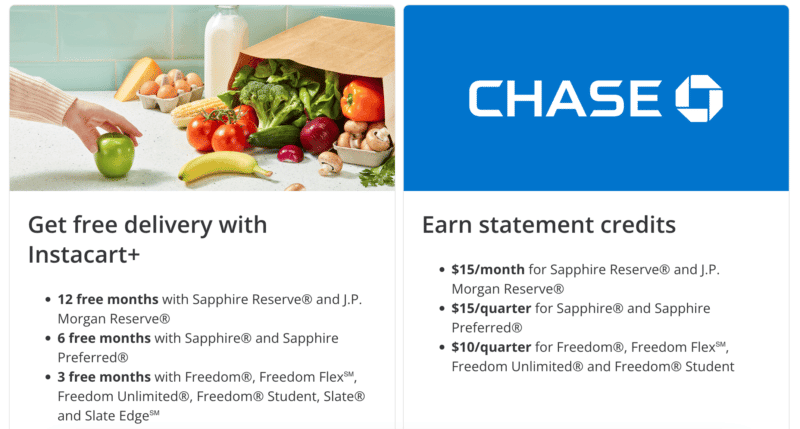 How often does the Chase Instacart quarterly credit reset?
The dates of the Chase quarters are:
January through March (Quarter 1)
April through June (Quarter 2)
July through September (Quarter 3)
October through December (Quarter 4)
When does the Chase Instacart benefit expire?
The Chase Instacart benefits are slated to expire in July 2024.
How to activate the Chase Instacart benefit
Click this link to be taken to the Chase Instacart landing page. You will need to create an Instacart account and add the eligible Chase card to activate the benefit.
---
Earn 60,000 bonus points once you spend $4,000 on purchases within the first 3 months from account opening. The Chase Sapphire Preferred Card is one of our favorite Travel cards in our wallet.
Earn a $50 hotel credit annually when you book a stay through the Chase Travel Portal

Earn 5x UR when booking travel through the Chase Portal

3x on dining, select streaming services and online grocery purchases (excluding Target, Walmart, and Wholesale clubs). Also excludes in-store grocery purchases
Learn more about Travel Credit Cards here.
---
My experience using the new Chase Instacart benefit
Between Lisa and I, we have seven eligible Chase cards that include the Instacart benefit. In situations like this, I like to create a spreadsheet to track redeeming credits to not lose out on any. I added all seven which resulted in $85 towards groceries on Instacart. One important pitfall I learned is that there is no way to add multiple cards to one single Instacart account and ended up creating a new one for each Chase card. Remember to add that login information to your spreadsheet. Seven Instacart accounts later and we earned a nice little bounty pictured below!
Basic Travel Tip ~ Don't forget to set a reminder to cancel the Insatcart+ membership prior to being charged the full price! I added the date to my spreadsheet and set an alert on my calendar for each card.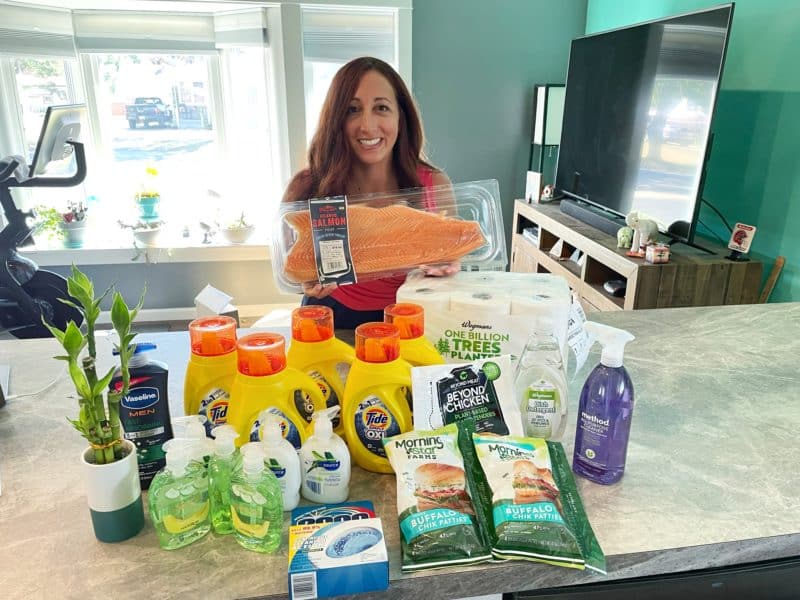 Basic Breakdown
The new Chase Instacart benefit turned out to be a nice win for us. With our seven cards through July 2024, we will end up with a total of $975 worth of credits to use towards groceries on Instacart. It's always great when the cards I currently hold provide even more value. What do you think of the new Chase benefit?
More Basic Reading