Let me preface this post by saying gambling comes with some inherent risks and please make informed decisions if you choose to participate. With that said, Sportsbooks are now legal in New York State! Similar to other rewards programs, there are some very lucrative welcome offers that come with new sportsbook accounts. I'll break down my experience diving into this new way to pad my travel fund below!
Arbitrage Betting
An arbitrage in sports betting is when a bettor makes multiple bets on the same event to guarantee a profit no matter the result. You can read more about arbitrage betting here if you're interested.
How do you earn money from Arbitrage betting?
All of the new sportsbooks offer a Signup or Welcome offer for new bettors. Essentially arbitrage betting offers you the opportunity to cash out a portion of the offers while securing your original deposits.
Current offers
In New York, there are Eight (4/1/2022) sportsbooks that have been legalized. The offers have been significantly reduced since I wrote this article in January. Despite the reduction, there is still plenty of good offers below!
Referral Link will earn you Five Profit Boosts
Bet $5 and Receive $150 in Free Bets (Rotating Sports)
20% deposit match up to $1,000 in Site Credit (Maximum of $5,000 Deposit)
Referral link will earn you an extra $50 in site credit
Bet $5 and Receive $200 in Free Bets
Full disclosure – CZR is the most frustrating sportsbook to utilize. The website needs an update, no customer service, and it can be very difficult to fund. PayPal worked for me when nothing else would.
$250 site credit deposit match
There is a referral offer but it disqualifies you from the promos below so I don't have it linked above.
$50 Free Bet
$1,000 Risk-free bet
Extra $500? – In addition, there are data points suggesting that if you open an account and don't fund right away, you'll receive targeted deposit bonuses via email or in the promotions section of your account. *Update – Lisa did this and it worked! It's very important to note that you cannot stack the $500 match with the $1,000 risk-free bet. The workaround is to wait until you get the email (or find it in your promotions tab) and then deposit the $1,000 without the bonus code. Place the Risk-Free Bet and then fund another $500 using the code to double down immediately after placing the $1,000 risk-free bet.
There is a referral offer but it disqualifies you from the promos below so I don't have it linked above. This referral link will earn you a $50 Free Bet. If you don't plan to do the offers below I appreciate the referral.
$500 Risk-Free Bet on the 1st Fixed Odds Bet
Up to a $1,500 Refund (in Free Bets) if your first PointsBetting Wager loses (Warning this is confusing and I did not make this bet)
Bet $50 to win $200 in Free Bets
ResortWorld (RW) – Link to Signup for ResortWorld
My Experience
I began by funding all of the accounts to the maximum amount required in order to earn each bonus. This required $9,250 across the first four sportsbooks. I haven't gotten to MGM yet but plan to do it later this week. After fully funding, I began to work my way through all of the various bets. To date, I've bet $15,915, won $5,170, and lost $6,145. I have four outstanding bets that are all equally hedged which will earn me another $3,500 bringing my overall profits up to $6,291. I'll update this after I've completely worked through all of the promotions for a final tally.
*I did have to add an additional $2,050 to hedge my Caesars bet against my $5,000 DraftKings Risk-Free Bet (Pictured below)

Strategy
The arbitrage strategy I used was sent to me by a friend and in the spirit of not recreating the wheel, I'll share it below. Given that DraftKings requires the largest deposit and playthrough requirement, I hedged all of my bets against DK. To figure out the specific bets to make, there are a handful of calculators out there to use. I subscribed to this one and followed the three phases which made it simple for me. The photo below portrays some options I currently have for hedging my Draftkings $5,000 bet. On the right-hand side, the bets are shown with how much each one profits.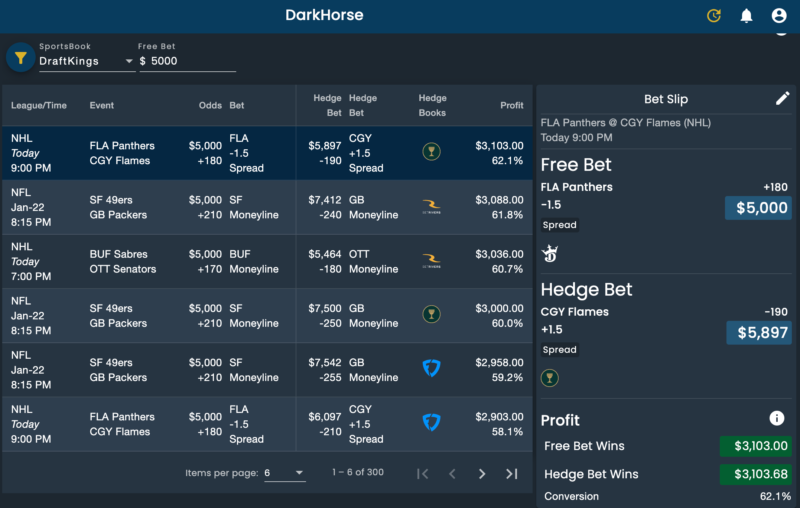 Things to keep in mind
Is sportsbook arbitrage betting legal?
Legality? There are no laws against sportsbook arbitrage or matched betting. However, casinos certainly frown upon it (think counting cards and blackjack). If the casino or sportsbook believes you are hedging bets they will ban or limit you eventually.
Spouse or Partner?
Lisa followed along and made her own bets which is how we are earning over $12,000 in profits together. If you decide to double down on these offers, follow these tips to not create any red flags:
Don't hedge bets from one person to another in the same home
Use different bets altogether. Not identical across both people in the same house.
Seperate bank accounts for funding.
Don't do this
When hedging bets, DO NOT use exact numbers, instead, round up or down to the closest even number. For example, $150 versus $147. In addition, DO NOT hedge a bet for the same game on the same sportsbook.
Read the Terms and Conditions of each promotion
Each sportsbook offers different promotions that may require specific odds wagered or playthrough requirements to cash out. Read each one and double-check before making a bet.
Double-check the odds
A few times when I was hedging bets between two different sportsbooks they changed before I could place them. I'd suggest triple-checking across both sportsbooks you're betting to ensure that the odds are correct before officially making the bet. DraftKings does allow a cashout of the bet if you make a mistake and act quickly. Either way, don't put yourself in a situation where you need to troubleshoot refunds.
Taxes?
At the end of the year, the taxman will certainly come to take his share of my profits. Ultimately, I see this as additional income earned that I did not have before similar to checking account bonuses. I still go to work every day, despite paying taxes on that income and this is no different. The only difference here is that I'm technically winning on both sides so I'll need to keep good record-keeping to show the losses on the other side of the bets. I'm not a tax expert and this information is for entertainment purposes only. Here is a tool that I found to be helpful.
Terms Used
Free Bet – Winning returned but not the initial stake
Site Credit – Winnings returned but need to be playedthrough and not immeditaly withdrawn
Risk Free Bet – Cash wagered is returned in the form of a Free Bet or Site Credit
What if I get shut down?
I'm not much of a gambler and don't plan to be one. This whole thing came out of the blue when New York legalized it this past week or else this would have never been on my radar. I'll be happy to walk away with the $12 to $13 grand if my account gets shut down. For the time being, I'll let it ride as they say in Vegas.
After the Initial Signup Offers
I've heard that offers keep coming and folks can earn some decent side money via arbitrage betting. The Darkhorse calculator indicates some folks earn $1k or more each month. I'm taking this day-by-day but do like the calculator and service. I'll report back here with updates down the road.
Basic Breakdown
At one point Lisa and I had $23,000 in bets placed all at once! Despite the stressful clicking during some of the heavier bets I did, I'd say the three days I put into this are worth the $12,000 in profit. Sportsbook arbitrage is not for everyone but if you have the funds, it can be quite lucrative. Even without fully funding the sportsbooks, it's still profitable. Good luck if you decided to pull the trigger.
Have you participated in sportsbook arbitrage betting?
More Basic Reading