Hilton Conrad Maldives Rangali Island has been on our bucket list for many years. We knew it came with a high price tag but had dreamed of staying in the elusive overwater villa. When it came time to plan our honeymoon, Conrad Maldives was #1 on our list. So we researched to find ways to make it more affordable, and now you can too! We splurged on a few dinners/activities, but still ended up only paying about 11% of what we should have for an epic Overwater Villa Maldives Honeymoon. So, let's dive into the details of how we got there, and how we got this amazing hotel stay for cheap.
Quick Tip
If you are new here, be sure to check out my first article on how you can strategize your wedding spending for a free honeymoon. You can also sign up for our 5 Basic Travel Strategies we use for cheap travel. Lastly, if you want to dive right in- be sure to check out our new course to learn The Essentials for traveling on points to book your DREAM trip!
Backstory
In our early Basic Travel years, we wanted to really stretch our points & miles so we typically flew economy. Over the years, we learned there are ways to fly in amazing lay-flat seats for 13+ hour flights, and it doesn't have to be expensive. This has forever changed the way we traveled. We knew for our honeymoon we had to fly in style and started researching ways. The best perk in the Basic Travel world for flying to the Maldives is taking advantage of Q-Suites. Q-Suites are incredible lay-flat seats that you can also turn into a double bed if you score two middle seats D & F. So let's get into how we booked them and how much they cost.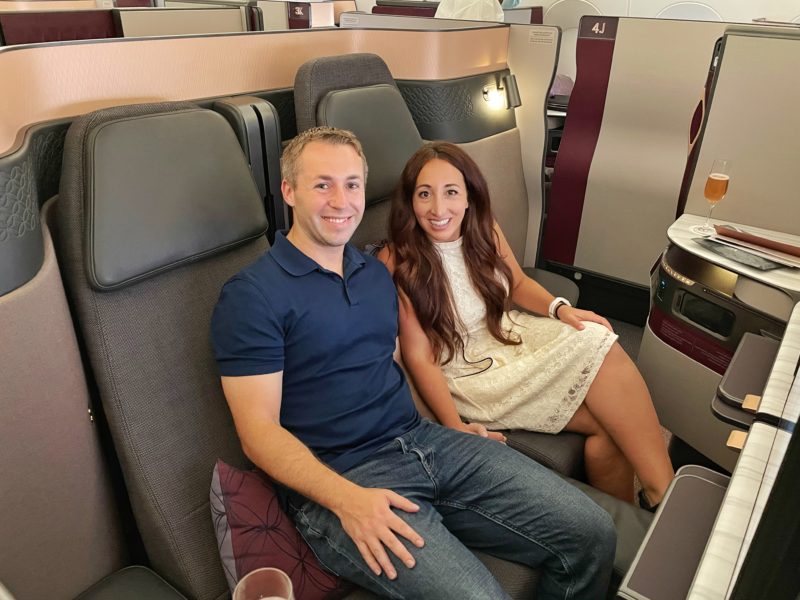 Flights to Maldives
Q-Suites can be booked with One World partners, and there is a secret sweet spot. Similar to the ANA sweet spot booking for flying to Japan in First Class on ANA with Virgin Atlantic Miles, Q-Suites can be booked utilizing American Airlines Miles. The best part? These flights only cost 70,000 points and $15.70 each way per person. Originally I booked from Chicago (ORD) to Doha (DOH), not realizing that I could have flown right into Male (MLE), the main airport of Maldives for the SAME points price. (The taxes were about $7 for ORD-DOH, so our overall cost went up $7 or so per person).

Finding Availability
To find availability, I looked on American Airlines' website for flights. (More on booking with Q-Suites soon). I was also able to book on the website. When I realized my mistake, I simply made a call to AA. The agent happily added the additional DOH-MLE segment for no change in points and just charged the extra $15 in fees. I do want to note that Q-Suites is not on all the aircraft so I did have to do some additional research and digging to find the right flights.
---
Earn 60,000 bonus points once you spend $4,000 on purchases within the first 3 months from account opening. The Chase Sapphire Preferred Card is one of our favorite Travel cards in our wallet.
Earn a $50 hotel credit annually when you book a stay through the Chase Travel Portal

Earn 5x UR when booking travel through the Chase Portal

3x on dining, select streaming services and online grocery purchases (excluding Target, Walmart, and Wholesale clubs). Also excludes in-store grocery purchases
Learn more about Travel Credit Cards here.
---
Flight Cost
For 140,000 American Advantage Miles and $31.40, we were booked for 2 tickets from Chicago to the Maldives. Tickets for Q-Suites typically range from $4,500-$11,500. For the day of our flights, they were $5,706. I will note this is the price I saw for ORD-DOH, and I'm not sure what the segment was for DOH-MLE, so it was probably higher than what I am estimating.
Next, I had to do two things. First, get us repositioning tickets to Chicago from Buffalo. Second, we still needed to get from Male to the Hilton Conrad.
Buffalo- Chicago
Southwest Companion Pass has always been our favorite travel hack and we've had it for the last 4 or 5 years. If you don't know what it is, check out How to get BOGO flights for you and a companion here. If you DON'T have SWCP, then an easy option would be to utilize the Chase Sapphire Preferred Card to book repositioning flights. Flights on Southwest were 11,472 Southwest Rapid Rewards Points one way. By using Companion Pass, we paid $5.60 each and 11,472 points total. Southwest flies into Midway airport and got a hotel the night before our Q-Suites Flight. Side note- we have a secret love for Deep Dish Pizza and it gave us an excuse to spend the night in Chicago.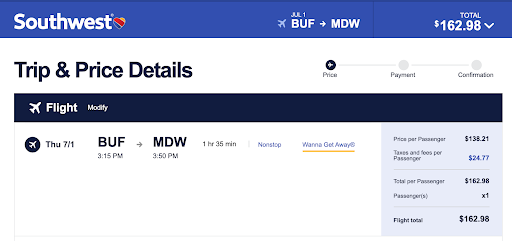 Seaplane to the Hilton Conrad
Hilton Conrad is located on a remote island in the Indian Ocean, therefore there are no large aircraft to fly you there on points and miles. You have to take a 30-minute seaplane to get there. The Hilton Conrad provides this service for $589.99 per person roundtrip (after taxes/fees). I'll talk about options shortly to lower this cost.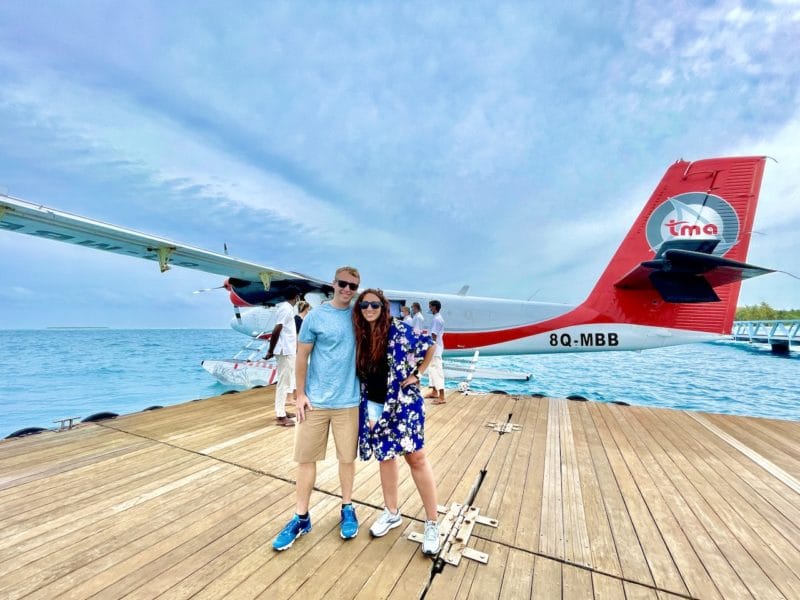 MLE-BUF
Flying back home we would have done the same route- 70,000 AA miles each. In full disclosure, we didn't book these flights as we took an extended 6-week Honeymoon that should have cost us over $70,000 but we paid less than $3,000. I did look up prices and they were similar to the flights to the Maldives. I will just use the same numbers from before. So 140,000 AA points and $31.40, plus repositioning flight of 11,472 SW points and $11.20.
Total Flights:
| | | | |
| --- | --- | --- | --- |
| | Should have cost | Points Cost | Total Paid Price |
| BUF-MDW | $325.96 | 11,472 SW | $11.20 |
| ORD-MLE | $11,412 | 140,000 AA | $31.40 |
| Seaplane to Conrad | $1,179.98 | | $1,179.98 |
| MLE-BUF | $11,737.96 | 151,472 | $31.40 |
| Totals: | $24,655.90 | 302,944 | $1,265.08 |
Summary
$5,706 each person one way – only booked the way there so $11,412
Flights home should have been about the same price, for $11,374 in Q-Suites
$15.70 and 70,000 AA miles each
Chicago- 162.98 each
Sea Plane- $1,179.98
**Note, these were the actual flights I booked. Originally we were planning to spend time in Dubai before going to the Maldives but then realized we could just add DOH-MLE in for no extra miles and the price went from $7.65 to $15.70 each.
Maldives Honeymoon Hotel
Booking the hotel was probably the easiest part of our planning. You can check out a detailed breakdown of How to Book an Overwater Bungalow at the Conrad Maldives for Cheap. For our honeymoon, we knew we could travel sometime in July and were able to find availability in a Standard Beach Villa. Typically you can book an Overwater Villa directly with the standard rate, but the Overwater Villas was under construction until October/November of 2021. Still wanting to go, we booked the Standard Beach Villa and figured we could pay for an upgrade if need be.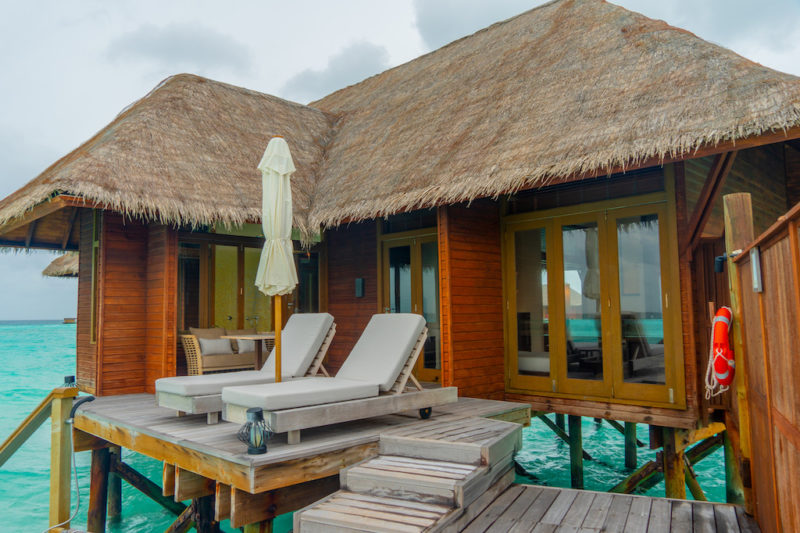 Book 4 Get one Free perk
Hilton Honors Program offers one of our favorite perks with booking hotel points- if you book 4 paid points nights, you can get the 5th night free! Each night at the Hilton Conrad at a standard rate was 95,000 points. Therefore for 4 nights, we utilized 380,000 points and paid $0 out of pocket.
---
Earn a 150,000 Welcome Bonus once you spend $4,000 on purchases within the first 3 months from account opening. Hilton Aspire Card includes Complimentary Diamond Status, Annual Free Weekend Night Award, $250 Resort Credit, and a $250 Airline Incidentals Credit. $450 annual fee. (Rates & Fees). Terms Apply. Learn More Here.
All information about Hilton Honors American Express Aspire Card has been collected independently by basictravelcouple.com
---
Hotel Credit Cards Used
Earning points rapidly was easy thanks to the various Hilton Honors American Express Credit Card offers available. Hilton offers 3 personal cards and 1 business card. You are able to hold each card. If you have two people traveling, you can each open 1-2 cards to earn the welcome offers depending on your monthly spending. We used the Hilton Honors American Express Aspire Card, Hilton Honors American Express Surpass, and the Hilton Honors American Express Business Card. These each gave us a welcome offer that ranged from 80,000-180,000 points upon signing up. The Hilton Honors American Express Aspire Card also gave a few additional perks, like Diamond Status, as well as a free hotel night certificate after the first anniversary year. You can check out all of the Aspire Benefits here.

Upgrades and Diamond Perks
Arriving at Hilton Conrad, we were upgraded to a Deluxe Beach Villa. Typically for the Conrad Maldives, you are not guaranteed complimentary upgrades with your status. I'm not sure if we were given it from being diamond members, or if it was for our honeymoon. The room was really incredible. It came with two outdoor spaces- one with a lounge bed, swinging chair, and an outdoor shower. The other side had the plunge pool, outdoor table, lounge chairs as well as beach access.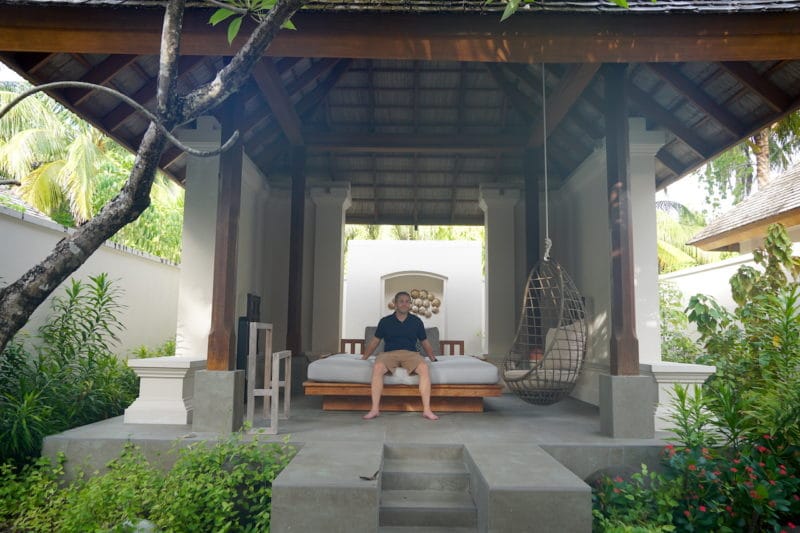 Grand Water Villa With Pool
After two beautiful days in the Deluxe Beach Villa, our host reached out to us to let us know that they had available to upgrade us to the infamous Grand Water Villas. Overall we got to spend 2 nights in the Deluxe Beach Villas and then 3 nights in the Grand Water Villa.
The Grand Water Villa also had an amazing outdoor area with table and chairs, lounge chairs, a hot tub, and direct access to the ocean. Located near the Mandhoo Spa Restaurant, the Grand Water Villas are definitely a treat. I will note they are a bit farther away than the Deluxe Beach Villas to the main town. You can either walk or call for a buggy to pick you up. They were definitely worth it though!
Both rooms were unique experiences and I really didn't want to leave either. You really can't go wrong with any of the room choices.
Hotel Costs:
Hilton Conrad Rangali Island
| | | | |
| --- | --- | --- | --- |
| | Should have cost | Points Cost | Total Paid Price |
| Deluxe Beach Villa | $2,400.00 | 190,000 | $0.00 |
| Grand Water Villa | $5,100.00 | 190,000 | $0.00 |
| Total | $7,500.00 | 380,000 | $0.00 |
Summary
Deluxe Beach Villa estimates $1,200 per night
Grand Overwater Villa estimates around $1,700 per night
$7,500 for 5 nights, paid $0 with 380,000 points
Activities
There were various activities on the island that we enjoyed. Some of the activities were included as a special perk for our Honeymoon. We also were able to utilize some of our Hilton Honors points for Hilton Experiences. One of the perks was a 90-minute couple massage for 100,000 points. The views were over water and it was quite a relaxing experirence. The second perk was an Underwater Cocktail hour at Ithaa Restaurant. This was a really cool experience where we got to have drinks underwater while seeing fish and sharks swim above us!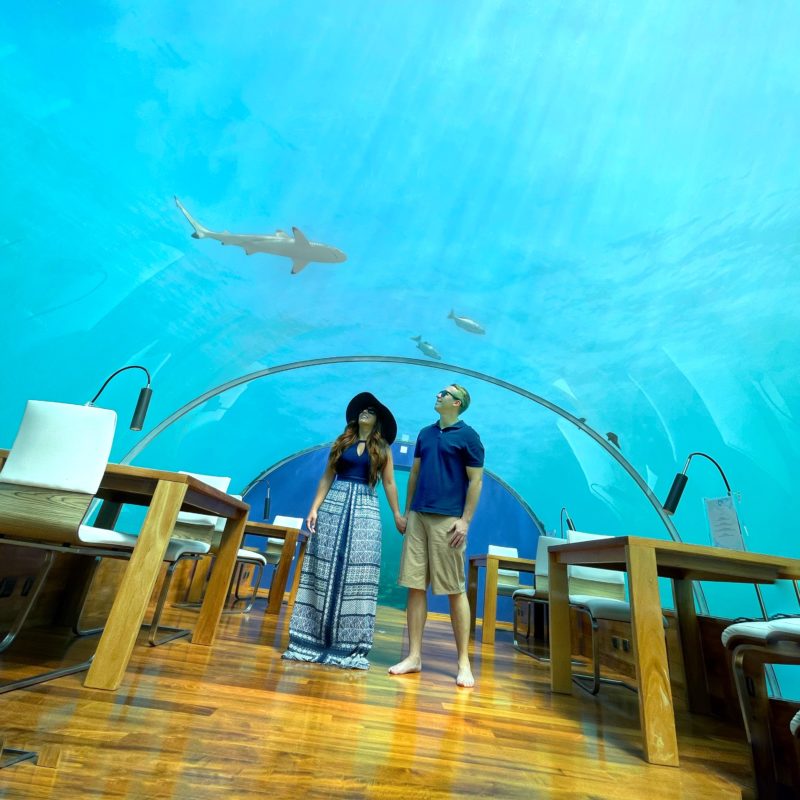 We are both Padi Open Water certified, so we made sure to add in a day of Scuba Diving. Lastly, we ventured out to try to see the Whale Sharks. Unfortunately for us, the weather was not cooperative and we did not see the whale sharks.
Food
Gold or Diamond members get a complimentary breakfast during their stay. Breakfast included buffet-style pastries, fruit, and yogurts, as well as a menu to order hot food items from. We would typically fill up on breakfast and skip lunch.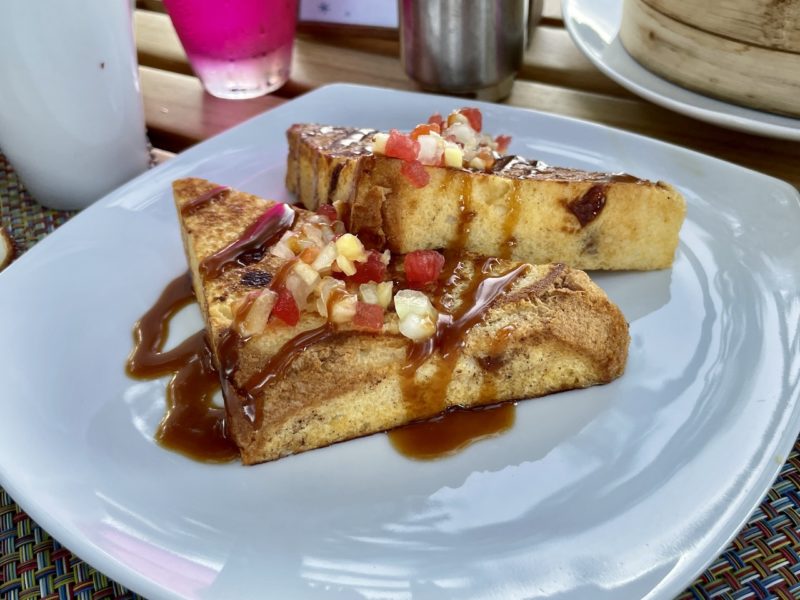 As for dinner, each night, Hilton Conrad Maldives offers a special set menu dinner for a set price. One of my favorite dinners that I would highly recommend was the six-course wine cellar paired menu. The wine cellar is the first in the Maldives featuring an underground cellar two meters and holds 15,000 bottles. Each course was explained by the chef as well as the wine pairing and why it was picked. It is set in a small intimate setting of 8 guests. Each course was delicious and paired with a different wine.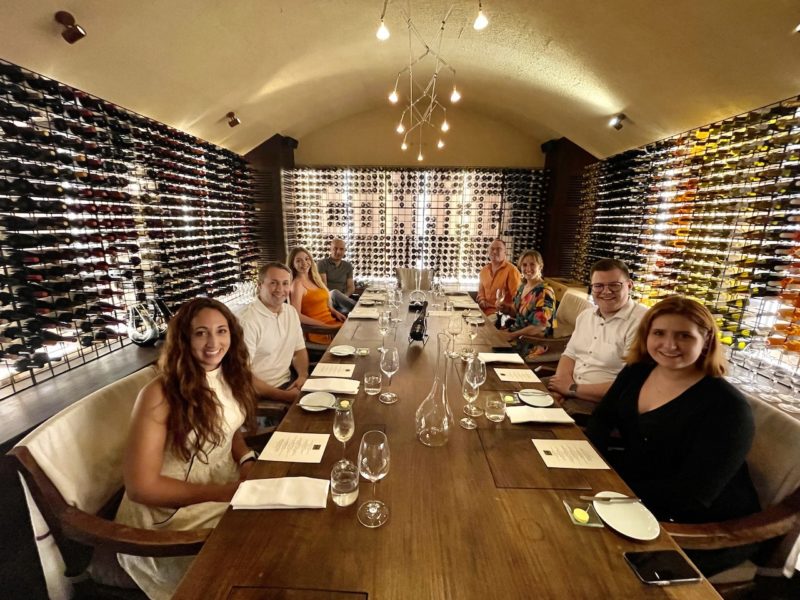 Testing
Our next destination required us to have negative tests before we left, and luckily they have testing right on-site for convenience. We scheduled an appointment a day before our departure and easily had the tests done. They cost $150 per person.
Activities & Food Costs
| | | | |
| --- | --- | --- | --- |
| | Should have cost | Points Cost | Total Paid Price |
| Food | $1,597.40 | | $1,597.40 |
| Ithaa Undersea Restaurant | $210.00 | 50,000 | $0.00 |
| Massage | $458.00 | 100,000 | $0.00 |
| Scuba Diving | $616.00 | | $616.00 |
| Whale Shark Snorkel | $266.40 | | $266.40 |
| Covid Tests | $300.00 | | $300.00 |
| Totals | $3,447.80 | 150,000 | $2,779.80 |
Basic Travel Couple Big Breakdown of our Maldives Honeymoon:
Being able to stay at one of our DREAM destinations for the first segment of our honeymoon was an amazing experience. Saving thousands of dollars by utilizing points and miles enabled us to splurge a little bit more than we typically would. I do wish that we spent a few more days on the islands. It seemed to go by pretty quick, especially for how long it takes to get there.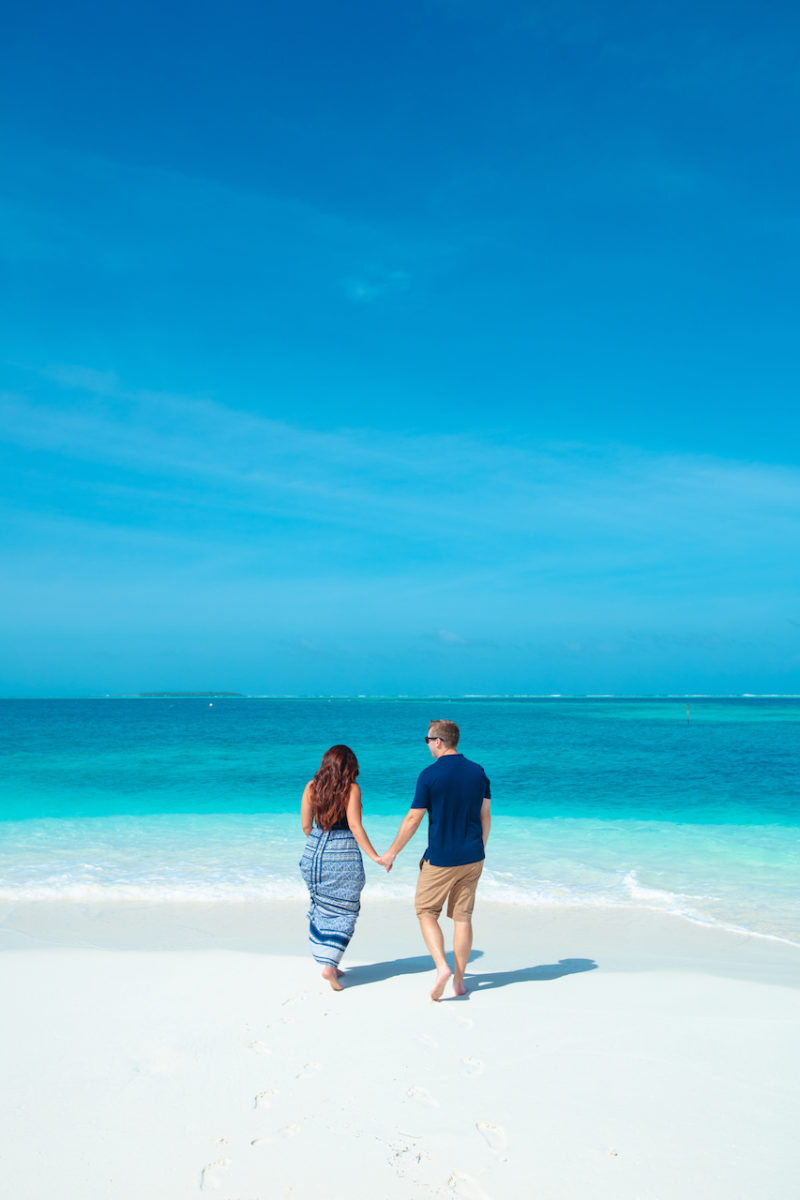 Have you been to the Hilton Conrad Maldives or would you go?
Other Related Articles