I cannot believe five years have already gone by since I signed up for the TSA PreCheck benefit. Time flys right? Corny jokes aside, thankfully I received an email indicating that my TSA PreCheck benefit was set to expire. Learn more about avoiding long airport security lines in this basic guide to renew the TSA PreCheck benefit!
What is TSA PreCheck
To recap, TSA PreCheck is a membership that provides expedited airport screening across the United States when traveling domestically. Passengers who enroll can utilize an express lane and are not required to remove items from luggage or take their shoes off.

When can you renew TSA PreCheck
The TSA PreCheck renewal process opens up six months prior to the expiration date. This leaves members plenty of time to complete the short online renewal application and if needed; find a credit card to waive the fee.
Can you keep the same TSA PreCheck Number
I was glad to learn from the Universal Enroll website that I will be able to keep the same TSA PreCheck number. One less thing to worry about is a win in my book!
Four Steps to Renew TSA PreCheck
Step 1 – Applicant Information (Identity)
This is step is straightforward. Click here to start the renewal process. Then verify your contact information and update your passport if it expired since the initial TSA PreCheck enrollment.

Step 2 – Security Questions
The TSA PreCheck renewal may need to be done in person if the person applying has been charged with a felony or answers yes to any of the criminal record questions.
Step 3 – Survey Question
The third step is a short survey where the TSA PreCheck folks want to know how much you love the service!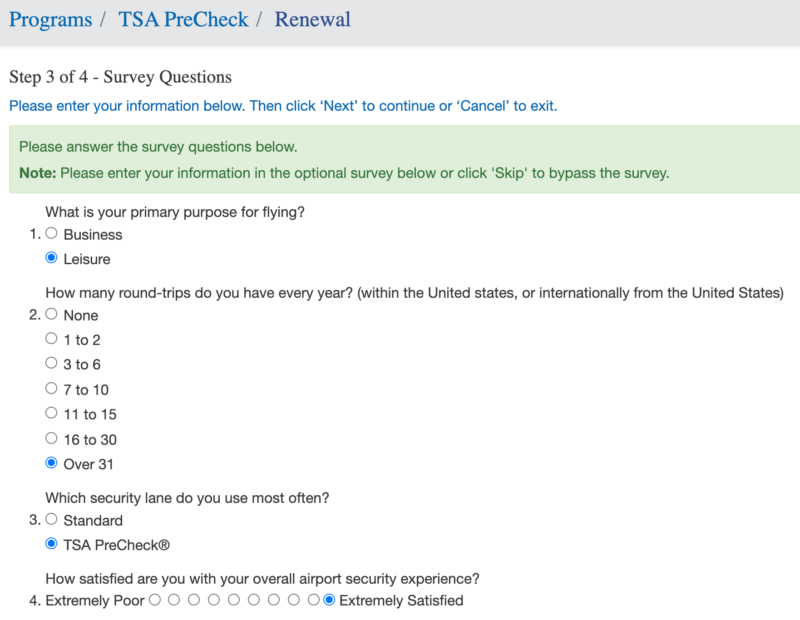 Step 4 – Pay the $85 Renewal Fee
This is the easy step since I technically don't have to pay a dime. My Chase Sapphire Reserve Card comes with a $100 credit towards either TSA PreCheck or Global Entry. The $100 credit renews every four years so I logged in to double-check the terms of the benefit. It's nice that the Chase Sapphire Reserve benefits portal indicates when the benefit was last used. Mine was 11/6/2016 as shown in the photo below. As I said earlier, time flies!

Why not Global Entry
When I first signed up for TSA PreCheck I completely missed the Global Entry benefit and was kicking myself. Global Entry provides expedited entrance into the United States and includes TSA PreCheck. Essentially a two-for-one. Interestingly, it hasn't actually made any difference for me entering the country since I use the free Mobile Passport App. How do I know? Well, Lisa has Global Entry and we have a fun game we play when the plane lands where we race each other through customs with our expedited options. I'm pretty sure I'm undefeated!
(Editors Note: He's not undefeated.)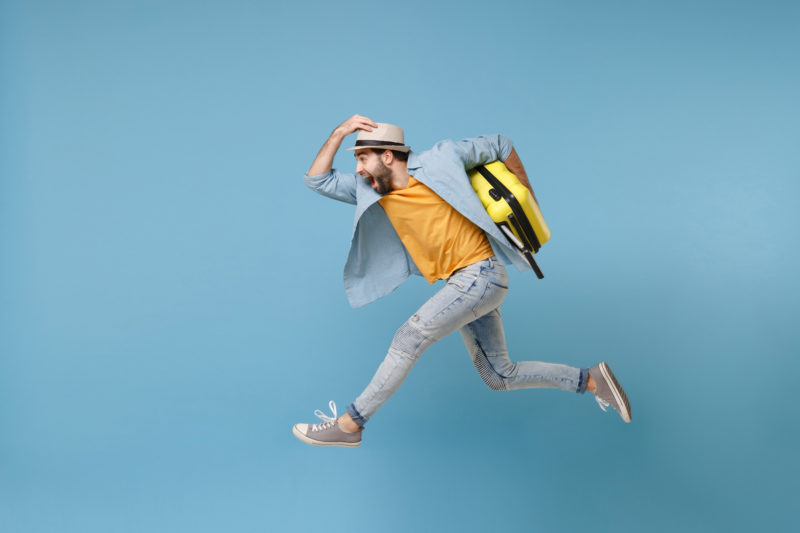 Credit Cards that offer the TSA PreCheck Benefit
There are a handful of credit cards that offer the TSA PreCheck benefit. Over the last five years, expedited airport security line access has become the status quo which will most likely leave basic travelers with plenty of choices. If you end up with more than one credit, perhaps gift it to a basic traveler in need?
Top Credit Cards that offer the TSA PreCheck Benefit
Chart showing Credit Cards that offer the TSA PreCheck Benefit
---
Earn 100,000 membership rewards once you spend $6,000 on purchases within the first 6 months of Card Membership. Terms Apply.
$200 Hotel Credit: Each year you can get $200 back in statement credits on prepaid Fine Hotels + Resorts® or The Hotel Collection bookings with American Express Travel when you pay with your Platinum Card®
$240 Digital Entertainment Credit: Get up to $20 in statement credits each month when you pay for eligible purchases with the Platinum Card® at your choice of one or more of the following providers: Peacock, Audible, SiriusXM and The New York Times. Enrollment Required.
$200 Airline Fee Credit: Get up to $200 in statement credits per calendar year in baggage fees and more at one qualifying airline
$200 Uber Cash: Enjoy up to $200 in Uber savings on rides or eats orders in the US annually. Uber Cash available to Basic Card Member Only
Enjoy complimentary access to the Global Lounge Collection, including our Centurion Lounge access
$695 Annual Fee. (Rates & Fees)
Terms Apply.
Learn More Here.
---
Are You ready to renew your TSA PreCheck? Click this link to start the process!
Basic Breakdown
The whole TSA PreCheck renewal process took me maybe five minutes to complete. Straightforward and simple is what I like which is typically not what we see with these sorts of government programs. I love being able to utilize the expedited TSA lines and it has literally made a difference in me making a flight on more than one occasion. And it's FREE thanks to my Chase Sapphire Reserve!
Let us know!
Are you team TSA PreCheck or Global Entry?
More Basic Reading