Recently I heard about this new "Brex Cash" account that was made for businesses as more of a business management account. What really struck me is that for a limited time, they are offering a 110,000 point bonus for meeting certain qualifications. This offer is only good through this link. I will note that it is not a public offer. You have to apply using our partner affiliate link or you will not get this offer. What's even better is that this is a no-fee account, and there are no credit pulls. I thought I might have been dreaming when I read it, but, I wasn't. If you are a business owner, you need to get a Brex Cash Account now. This offer will go to the top of our Bank Account Bonuses list for business owners who qualify.
Let's quickly jump into what it is, who qualifies, and how it works.
What is a Brex Cash Account?
So what exactly is Brex Cash? I was a little confused at first, but digging into it this is how it works:
Brex is not a bank account, nor is it a credit card. It is known as a Cash Management Account, which is really unlike anything in the market now. Brex Cash accounts are completely fee-free, with NO credit pulls. So your 5/24 status wouldn't be affected.
You simply link your business bank account to your Brex Cash account, transfer your funds then can manage your funds in multiple ways. This includes utilizing ACH deposits, wire transfers, creating virtual account numbers to protect yourself on online purchases, and bill payments. I'm pretty impressed with the ease of using this cash management account as I have never used one before.
Who can qualify
Brex Cash accounts are currently only available for businesses that have a C-corp, S-corp, LLC, or LLP. If you are a Sole Proprietor, you will not qualify. Your company must also be organized and registered in the United States with a valid EIN. Lastly, your company must not be in an industry where there are additional federal imposed financial regulations, such as gambling, marijuana, guns/ammunition, prostitution, etc.
I will also note if you have multiple businesses you can apply for each business. I applied using our business, Basic Travel Couple, and our real estate business. BTC was approved immediately and I used our business email address to apply. The real estate business I do not have a website or email address- and used a "realestate"@gmail.com email address. That application is still pending. I applied on January 28th, 2021. I will update once it is approved. They are both LLC's though and set up the same exact way.
How does the bonus work
The Brex Cash 110,000 bonus is split up into three different sections. They are all fairly easy to earn, and with $3,000 spend (for simply paying your bills), I think this bonus is probably the easiest 'bank' account bonus or credit card bonus. The bonuses come in 3 tiers:
80,000 points after spending $1,000 with your Brex Debit card.
10,000 points after spending $3,000 with your Brex Debit Card
20,000 points after link payroll to Brex- mine already posted once I linked my Business PayPall account and I did one ACH transfer. I'm actually not sure which one triggered it, but I think it was just linking PayPal.
Overall if you complete the $3,000 spending and link paypall, you will earn 110,000 points.
What can you use the points for?
There are currently 4 options for redeeming points with Brex Cash. You can log into your account and click "rewards" then redeem points for:
Cashback at 1 cent per point:
Gift cards at 1 cent per point
Transfer to one of 8 travel partners for miles at 1 cent per point
Utilize their travel portal to book flights or hotels at 1 cent per point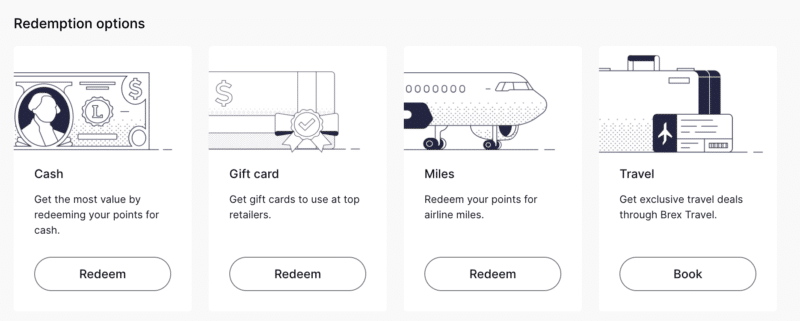 Airline partners include:
Aeromexico Club Premier
Air France-KLM Flying Blue
Avianca LifeMiles
Cathay Pacific Asia Miles
Emirates Skywards
JetBlue TrueBlue
Qantas Frequent Flyer
Singapore KrisFlyer
How to Apply
It is super easy to apply. Simply click through this link here, then click Apply Now and walk through the steps. You can also check out this breakdown here on how to apply. It should only take a few minutes, and you will be on your way to an $1,100 bonus!
Basic Breakdown of Brex Cash
If you are a business owner, you need to check out the Brex Cash Management account. Getting a $1,100 bonus without a credit pull or a 'direct deposit' seems like an amazing mix of credit card sign up offers, as well as bank account bonuses- but easier. I'm also not sure how long this deal will last. I suggest applying now to check it out. Currently, you can only get the 110,000 bonus by utilizing our direct affiliate link through our partners. We appreciate it if you use our sub-affiliate link. I will note that we do get compensated for approvals. Let me us know if you have any questions on it!
New to Credit Card Rewards Points? Check out the BASICS Below!