Las Vegas is one of my favorite places in the United States, and let's be honest it's a total adult playground. Typically, I visit Vegas about twice a year, however, this was my first time visiting as a new Caesars Diamond member. You might think you need to do a lot of staying or a lot of gambling in order to make this status, but you would be wrong. Check out our basic article on the Wyndham to Caesars Status Match to make this happen!
My brother and I planned a total "guys" trip to Vegas packed with golf, gambling, and food. He was very excited to learn about all the benefits we could take advantage of.
Make sure you check out Dave & Lisa's Basic Date Night in Vegas for more ideas on how to use your benefits.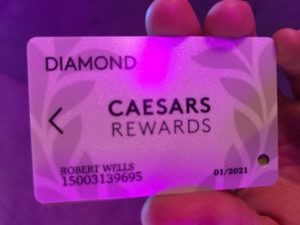 Benefits with Caesars Diamond
Caesar's Diamond comes with a lot of great benefits. One of the favorites is the free nights in Atlantis Bahamas. You can check out the Basic Guide to Caesars Atlantis Trip Here. As a reminder you receive the following benefits when you are Diamond Status:
Annual $100 Dinner Voucher
2 Free Show Tickets each Month
No Resort Fees
Free Valet Parking
2 Free Nights at Caesars Dubai
4 Free Nights at Atlantis Bahamas
Comped Rooms at Caesars Rewards Properties based on Availability
We all know times have changed, since March 2020. I wanted to write a review of my experience using these benefits in the heat of COVID.
---
Earn a 150,000 Welcome Bonus once you spend $4,000 on purchases within the first 3 months from account opening. Hilton Aspire Card includes Complimentary Diamond Status, Annual Free Weekend Night Award, $250 Resort Credit, and a $250 Airline Incidentals Credit. $450 annual fee. (Rates & Fees). Terms Apply. Learn More Here.
All information about Hilton Honors American Express Aspire Card has been collected independently by basictravelcouple.com
---
Booking a Room
While I did not see an opportunity for a comped room, we did use the Caesars reward app to book an incredibly inexpensive 3 nights in a Standard King Suite room at The LINQ Hotel and Experience.
Upon arrival, we were upgraded to a larger King Suite, with two queen beds. This was surprising to me because your Diamond Status does not typically apply to upgrades. The biggest benefits of the Diamond Benefits in my mind were already apparent before even putting my first $20 on a game of Blackjack, in the way of free parking and no resort fees.
On this particular stay, I saved over $30 a night. These savings I could put towards gambling or something else. Additionally, you get free valet parking which saves another $30 per night. Due to COVID, the Valet stand was closed unfortunately but the garage was open and free. Overall savings: $60 per night for a total of $180 in savings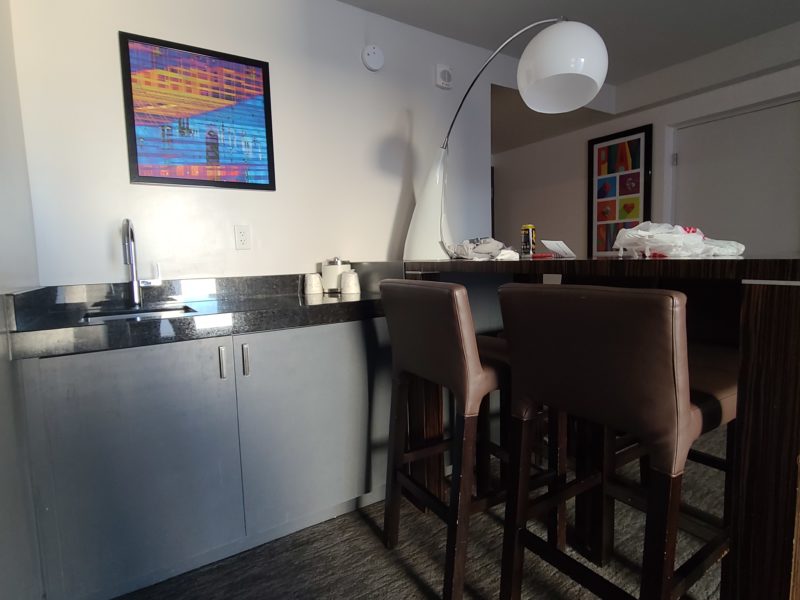 $100 Celebration Dinner
One of my favorite perks is Caesar's Diamond status is the annual $100 celebration dinner credit. This can be used at any of Caesar's owned restaurants. You are also able to combine the Diamond Celebration Dinner Credits if you are with other people. For the 2019 year, Dave & Lisa visited Nobu and were able to utilize $200 of free food in Vegas. The year prior, Ruth Chris's was the dinner of choice with SIX people utilizing their $100 rewards dinners.
You can download the full list of Caesar's restaurants that participate in the program by clicking here.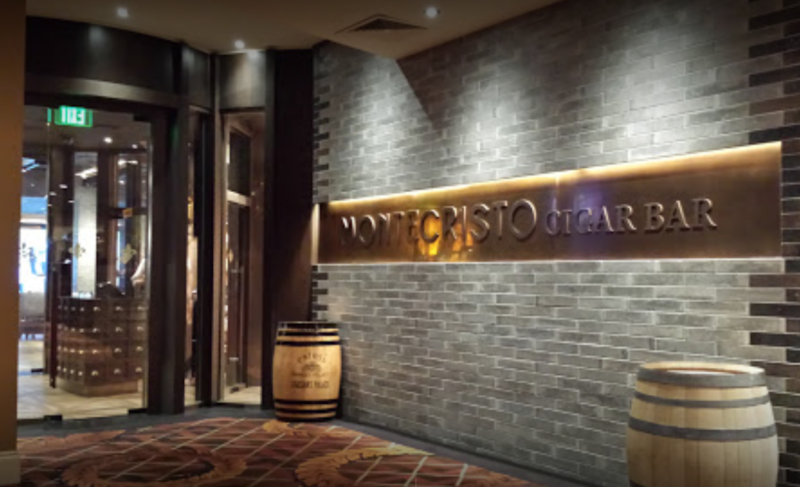 Montecristo Cigar Bar
Since it was just my brother and me, we chose to go the more "guys" route, and use it at Montecristo Cigar Bar. Located inside of Caesars Palace, Montecristo Cigar Bar combined forces with and Old Homestead Steakhouse to create a truly unique experience on the Las Vegas Strip. This is the only restaurant located on the strip that you can enjoy a nice scotch and cigar with your meal. This is also a premier spot for any sporting events as they have an impressive 208-inch video wall made up of twelve 55-inch TV screens.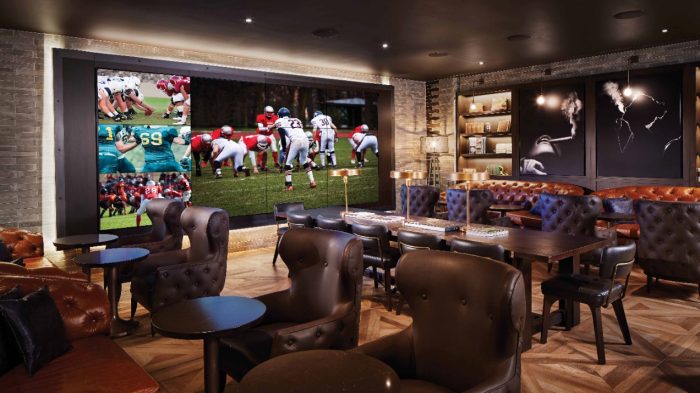 My brother didn't jump on the status match merry-go-round to get on the Diamond status, so we only got to utilize one celebration dinner. Our bill far exceeded the $100, in fact, it came in at $212. However, we basically got one free cocktail and meal each. That's more you can ask for in one of Las Vegas's hotspots. I think next year we will be sure to hop on the trend early by reading Part 1 and Part 2 to earn ourselves Diamond status to fully utilize these deals.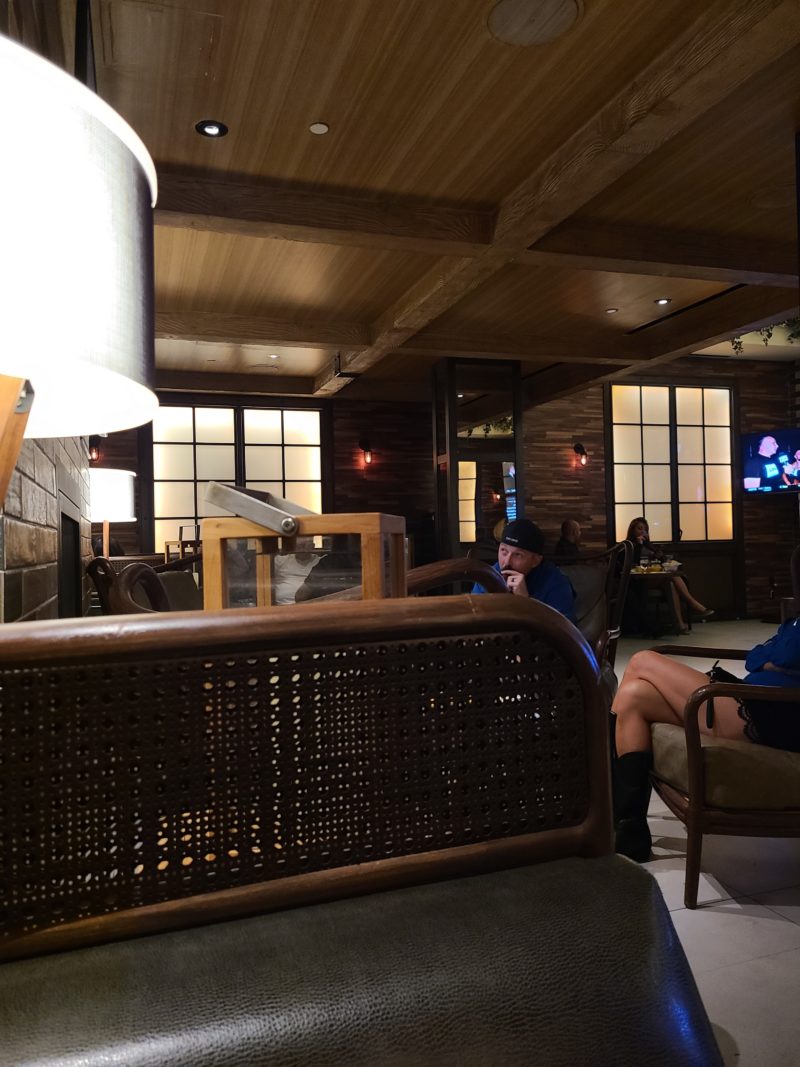 Free Show Tickets
As a Diamond member, you are entitled to two free show tickets PER MONTH! Unfortunately, due to COVID, this was also a non-utilized benefit. While the Las Vegas Strip has been slowly re-opening, attending shows have taken a little longer. October 28th, Absinthe was set to re-open with new protocols. This included table style seating instead of rows, as well as new venue capacities of 250 people, or 50% or less capacity, whichever is less.
Instead of a show, we did receive two free tickets to the High Roller Ferris wheel ($50 value). However, due to our rigorous golf schedule we had planned, we were unable to take advantage of this experience.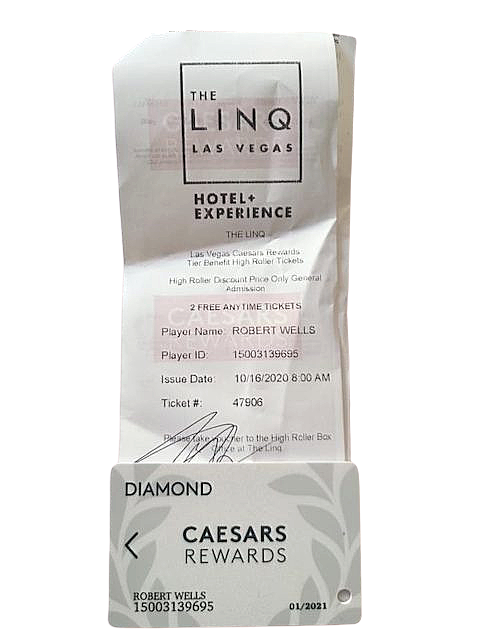 How is Las Vegas Handling COVID?
Las Vegas certainly looks different from when we last visited. There are so many new security measures that have been put in place to keep everyone safe. Masks are required wherever you go. You can not walk into a casino and even think about pulling down or taking off your mask. Unlike restaurants, you could not keep your mask off if you were eating or drinking, rather you had to take sips and put it back on.
Casinos and hotels were taking extra precautions by utilizing elevator passenger management. On the ground floor, they were strictly enforcing only 4 or whatever was in a party to a specific elevator. It easily added more than 20 minutes each time we needed to visit the room. Temperature monitoring to enter the doors of select casinos has also been an added measure.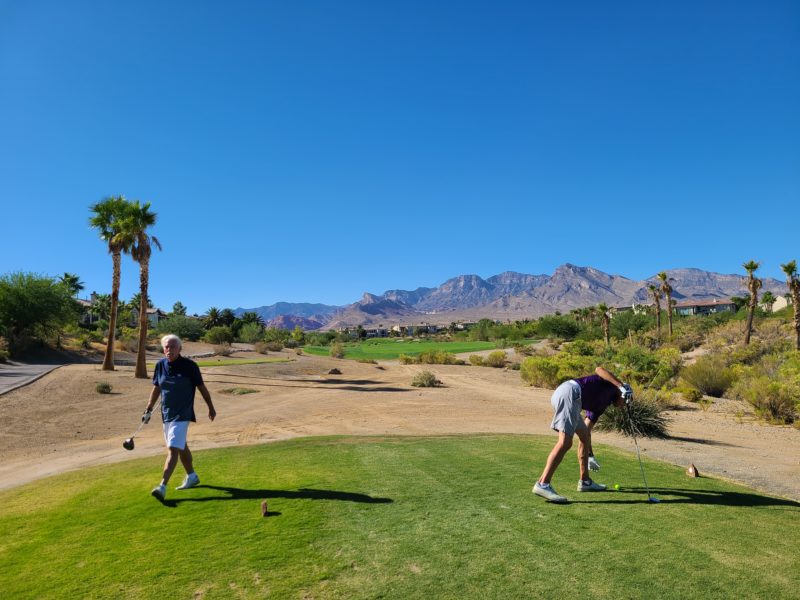 Crowd control in a large city such as Las Vegas is sometimes unmanageable. There were times such as on Fremont Street where you did see large gatherings. The pools can also get a bit crowded at times, even with social distancing measures in place. Since we opted to golf most of the time, it allowed for great social distancing activities.
Basic Breakdown
Times are changing and we have to adapt to be able to continue to travel. Las Vegas is normally a pretty expensive trip, but there are so many ways to make it more wallet-friendly. The Caesars Diamond Status has been one of our favorite hacks to utilize while planning a trip. If you don't have it yet, the easiest way is typically by status matching with one of our favorite cards- the Hilton Honors Aspire Card. You can then read how to status match with our Part 1 and Part 2 documents. The good news is if you status match for the remainder of 2020, it will be extended through January 31, 2022.
For your conveinence, we have compiled a list of our top Las Vegas and Travel Hacking Articles below.
What are your favorite basic Vegas hacks? Let us know in the comments below or in our 4,000+ member Facebook group!
More Basic Reading