A layover that includes a dip in an infinity pool – yes, please! TransWorld Airline, also known as TWA is a unique experience if you are ever at JFK airport. They set the bar high for Airport Hotels. An aviation lovers paradise, the TWA hotel provides guests with runway views from various locations. From the main foyer which has a split-flap arrival and departure board to the rooftop observation deck, the TWA is perfect. Continue reading for my basic TWA Hotel Review. If you don't like to read, skip to the bottom for a YouTube video of our review!
In this Basic Review
TWA Hotel Overview
COVID Safety Standards
Check-in
Room
Ambiance
Pool/Observation Deck
Fitness Center
Food and drink options
TWA Easter Eggs
Basic Breakdown
TWA Hotel
The TWA Hotel is conveniently located within JFK Airport and is accessible directly from Terminal 5 (JetBlue's Terminal). It is the only hotel within 4 miles of JFK airport and offers park & fly ($25 per day – 3 Day Minimum) for folks who are driving. TWA hotel was once home to the 1962 TWA Flight Center. Starting in 2016, it was restored into a First Class hotel and opened in May 2019. There are now 512 guest rooms that overlook jetBlue's runway which includes some fantastic views. Room rates are on average $250 but are going for about 50% less due to the travel restrictions.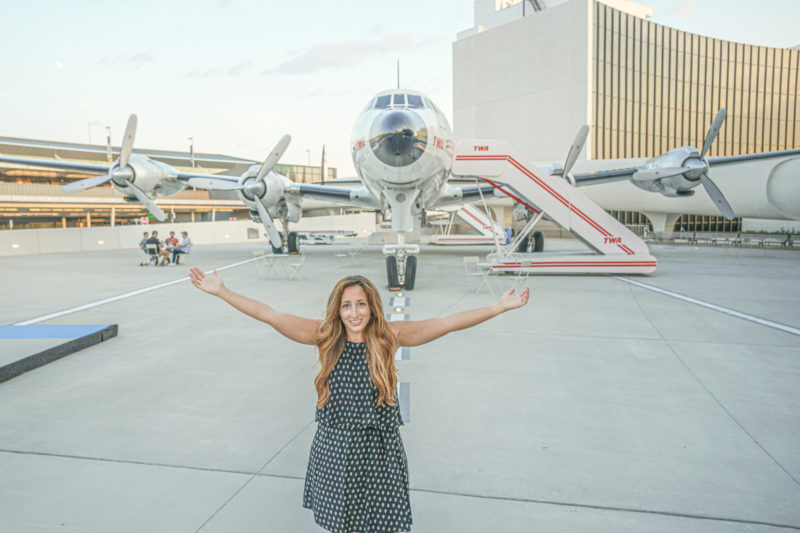 COVID Safety Standards
COVID has changed our 'normal' lives as we know it. Almost everywhere now is requiring masks. Therefore, masks are required in public areas of the TWA hotel by both guests and team members. Based on our experience, everyone appeared to be complying with this new rule. The cleaning measures were very apparent throughout the TWA hotel. Hand sanitizer stations are readily available in the TWA hotel as well and staff is visibly cleaning regularly.
To ensure social distancing, a few changes have taken place. First, there is reduced capacity in the pool and observation deck. Second, the elevator also has a two-person limit on the elevator. Lastly, you will also notice protective plastic covering during check-in.
Guest rooms cleaning has been updated with deep cleaning with EPA certified disinfectant.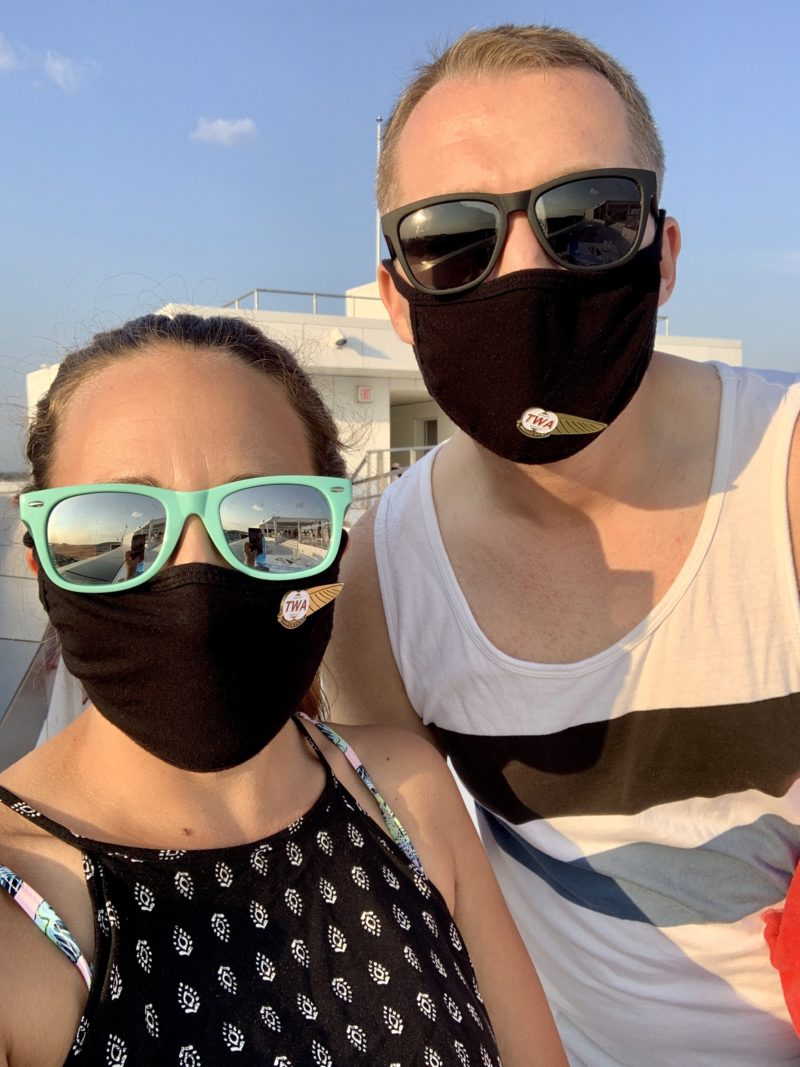 Check-in
It was quick and easy to check-in to the TWA Hotel. Our reservation was confirmed, ID check and credit card swiped for incidentals. Of course, we use a Travel Credit Card to maximize bonus points on hotel stays.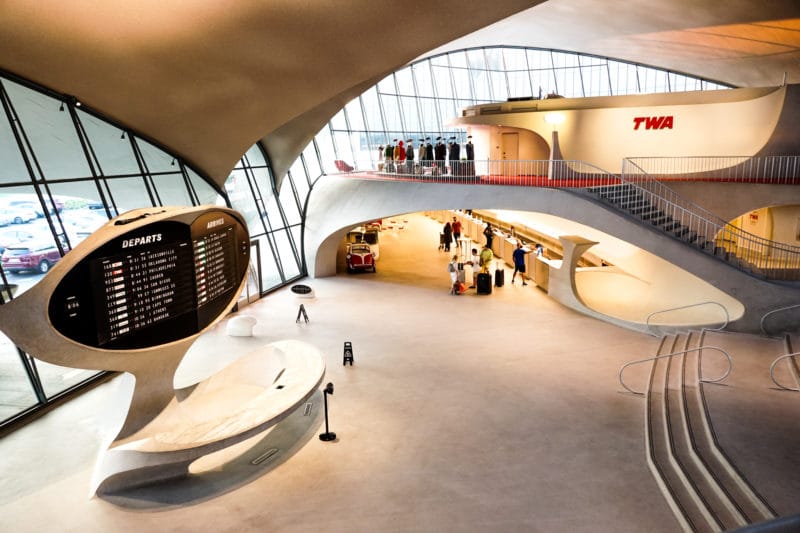 Room
Our Executive King Suite with Runway Views room was located on the 8th floor. I have always been a huge fan of airplanes, so having a direct view of airplanes taking off and landing was worth it. Inside the TWA Hotel Room, I was surprised at how large the Executive King Suite room was. The room included a mini bar to make your own cocktails, a huge bathroom with a standup shower, a desk seated in front of the window, and finally a lounge seating area.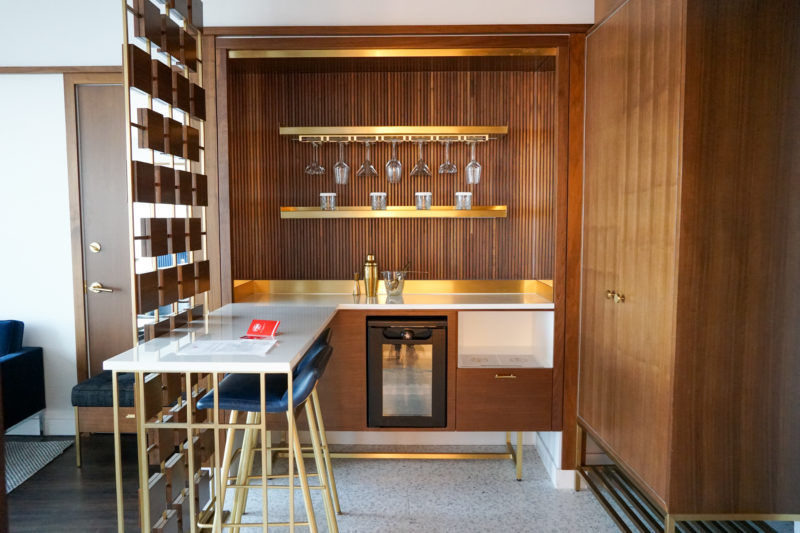 Ambiance
Scattered around the TWA Hotel at JFK airport were many throwback 1960's authentic artifacts and interactive displays. These included the 'museum' type areas that showcase TWA's history. Howard Hughes' and Saarinen's offices are replicated and interactive where you can actually sit behind it. There are also various rooms such as a full-size twister room, a photography room, and even all 37 uniforms from TWA's time period. It was so fun to walk around and explore all of the different hidden gems inside the TWA Hotel.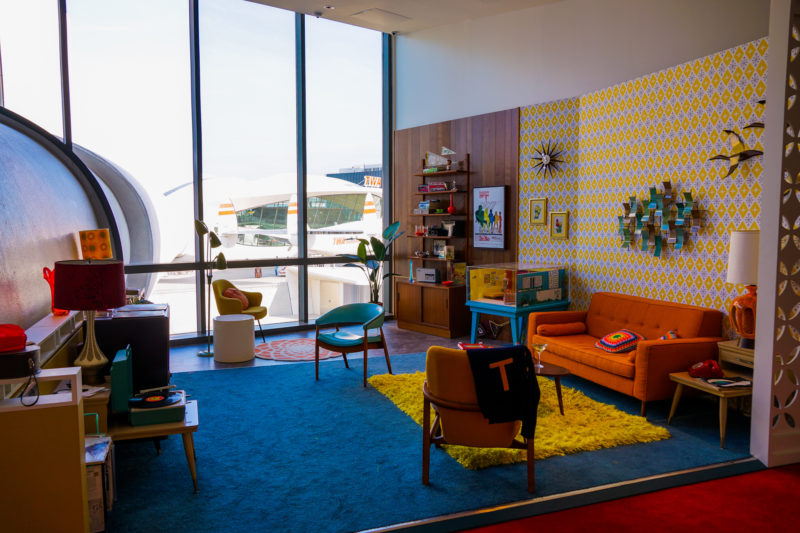 Pool/Observation Deck
Pool
Heading to the top floor with a skip in our step for the excitement of the pool. Walking through the doors you can immediately see the cascading pool to your left, with a great view of JetBlue's terminal and the runway. It was quite relaxing being able to watch airplanes take off/ land while relaxing in the pool. To access the pool or observation deck, you typically need to make a reservation in advance to get a spot.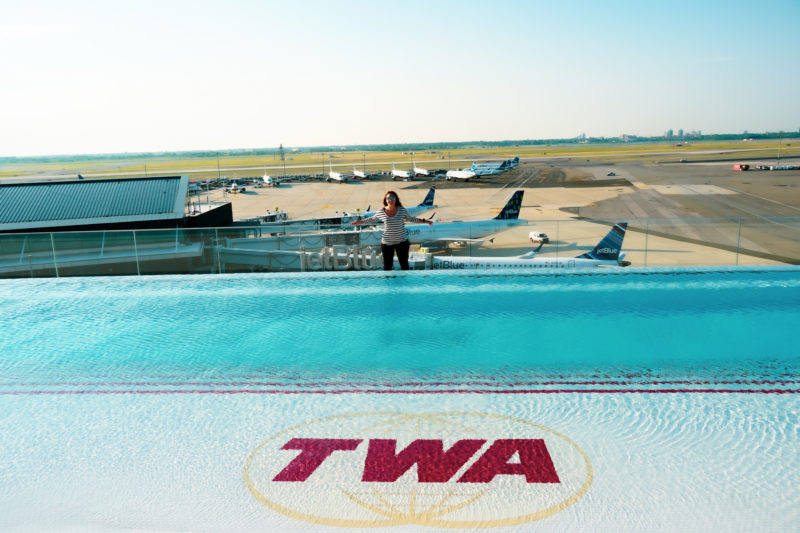 Reservation Rates:
Monday through Friday
Adult (age 13 and up): $25
Child (age 2-12): $12.50
Child Under age 2: Free
Friday through Sunday
Adult (age 13 and up): $50
Child (age 2-12): $25
Child Under age 2: Free
Observation Deck
If you just want to check out the rooftop and see the runway without the pool, you can grab an observation deck ticket. An observation deck ticket gives you standing room only admission at the TWA Rooftop Pool Area. An observation deck ticket is available from 11 AM-11 PM for 1-hour 45-minute increments. Tickets will cost $15 Sunday through Saturday. Note that this ticket does not include access to the pool or sit-down dining experience to eat.
Government regulations and restrictions only allow registered TWA guests (whether it is a day guest or overnight) to utilize the pool, observation deck, and eat at the pool bar. Current hotel guests typically must have a reservation to enjoy the pool and observation deck. To reserve a ticket, if you booked on twahotel.com, you can book your pool or observation deck tickets when booking your room or later on by modifying the reservation. If you booked through a third party, you can email them at [email protected]
Fitness Center
The fitness center at the TWA hotel is open 24/7 and available to not only guests of the hotel, but they also offer day and month memberships. The 10,000 square foot gym is the largest hotel gym in the world. It includes an astonishing 14 peloton bikes, 12 treadmills, 10 ellipticals, a full yoga studio, group classes, and even personal training. Due to state regulations during coronavirus, we could not utilize the TWA Fitness center facilities.
Food and drink options
The TWA has plenty of options they are serving up within the hotel. Whether you are in a hurry to fly out the door or looking for a sit-down style meal, the TWA has you covered.
Food Hall
The Food Hall is great for grab-and-go style food. These included the TWA Store, which has items such as yogurt parfaits, fresh fruit & bagels for breakfast. Lunch and dinner items include sandwiches, salads, chips, granola bars, and hummus. There are also soft drinks available. Other spots include Fly-By Bagels, Vinny's Pannini, Feltman's of Coney Island, Mister Softie, and Crepes your way. There are tables and chairs nearby if you would like to sit and eat.
Intelligentsia Coffee
Intelligentsia Coffee is the exclusive coffee provider of the TWA Hotel. The main coffee bar is located near check-in at the front entrance, however, they also take orders via a mobile coffee cart. Operating hours are from 5:30 am-6:00 pm. If you find yourself looking for an after-hours fix, can still get a cup of joe from the Sunken Lounge. Intelligentsia Coffee buyers travel the world to harvest the best coffee beans. This provides the freshest coffee flavors that are offered at the TWA Hotel at JFK.
An interesting fact about Intelligentsia Coffe is that each barista goes through intense training of 116 hours to become a barista. Intelligentsia Coffee also offers cold coffee, espresso drinks, and "Sudden Coffee," which is a high-quality instant coffee for when you have to catch a flight.
Intelligentsia Coffee is closed until further notice.
Connie Cocktail Lounge
Nestled outside with a stunning backdrop view from the main hotel area was Connie. Who is Connie, you might ask? Connie is the Lockheed Constellation that broke the era's transcontinental speed record on a flight from Burbank, California to New York in 1946. In the 1950s Connie served as Air Force One for President Dwight D Eisenhower. Connie continues on quite the journey, which you can check out on TWA's website for the full story. She eventually turned into a Cocktail Lounge. The Cocktail Lounge inside Connie was not in operation at the time of our visit. I 100% plan to visit back though and take a sip a delicious beverage inside the Cocktail Lounge.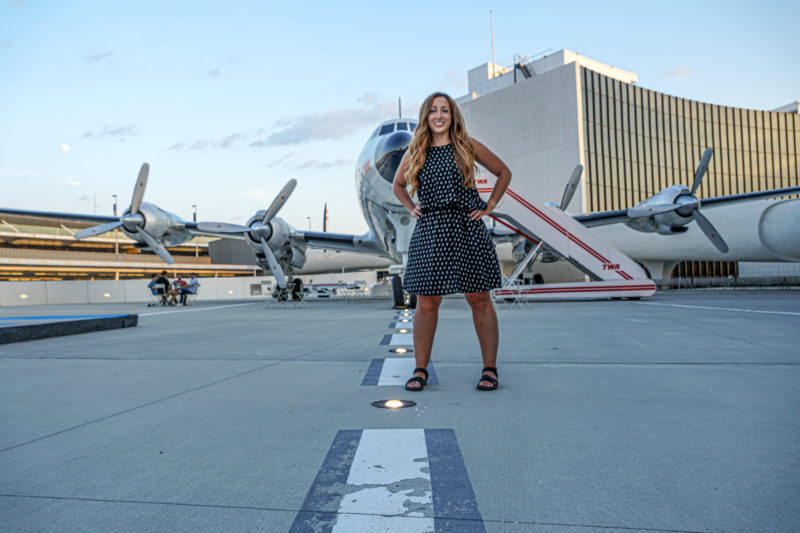 Paris Cafe by Jean-Georges
Paris Cafe inside the TWA Hotel at JFK Airport includes the Paris Cafe Restaurant that is open for Breakfast, Lunch, and Dinner. It also includes the Lisbon Lounge, which is a bar and lounge area inside the Paris Cafe. The Lisbon Lounge also serves Breakfast, Lunch, and Dinner. World-renowned chef Jean-Georges Vongerichte is currently running the Paris Cafe and Lisbon Lounge. TWA Hotel highly recommends reservations to eat at the Paris Cafe. Walk-ins are accepted upon availability. The Lisbon Lounge, however, does not take reservations and seating is available on a first-come, first-serve basis.
The Sunken Lounge
The sunken lounge was closed due to indoor restaurant restrictions. However, we could still see the beautiful floor to ceiling windows that give an amazing view of the 1958 "Connie" airplane. The Sunken Lounge menu includes 1960 themed cocktail favorites.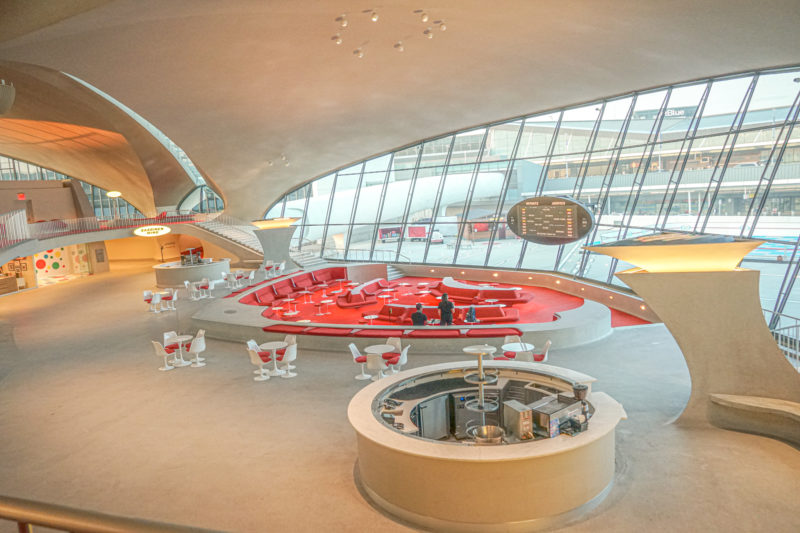 The Rooftop Pool
The rooftop bar is only accessible if you have reservations to the pool or the observation deck. You can also order for takeout and eat in your room or somewhere in the hotel.
TWA Easter Eggs
The TWA Hotel in NYC has plenty of other surprises incorporated into the 1960s themed hotel. The lobby is a massive 200,000 sqft that includes lounge areas, museum exhibits, vintage cars, and other era-themed throwbacks. One of my favorites had to be the huge 'twister' themed room. Walking through the different 'wings' we also encountered Henry Hubert's 'office' and a living room.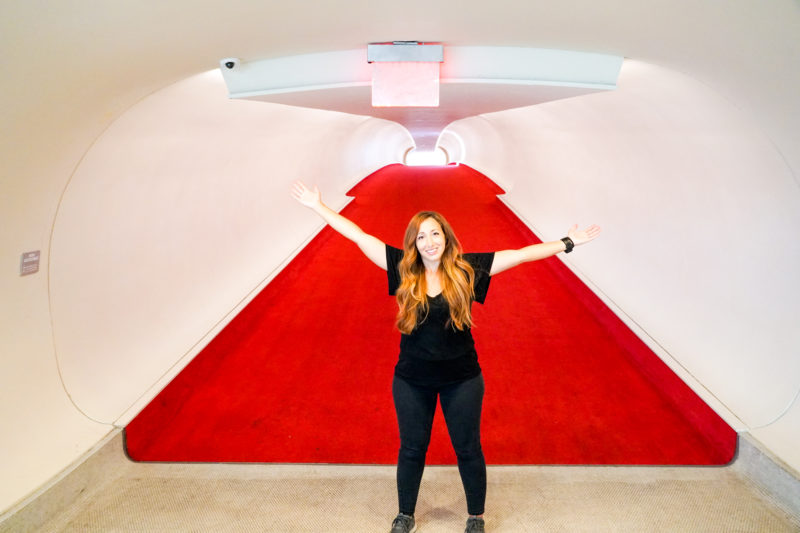 Basic Breakdown
The TWA Hotel is a must-visit, especially if you need a quick overnight stay at JFK. It certainly beats lounge hopping and sleeping at the JFK airport. One time Dave & I had about 8 hours between our flights. Getting in around 11 pm and the flight the next morning was 6:30 am. We decided to rent a room for the night. Waiting for the shuttle, and then having to get back to the airport wasted almost 2 hours of our night. I think we slept maybe for 4 hours. Next time, I will be sure to book a room at the TWA as it is super conveniently located attached to the airport. The check-in was super smooth and there were plenty of food options on-site. Have you stayed at the TWA Hotel before? What are your thoughts?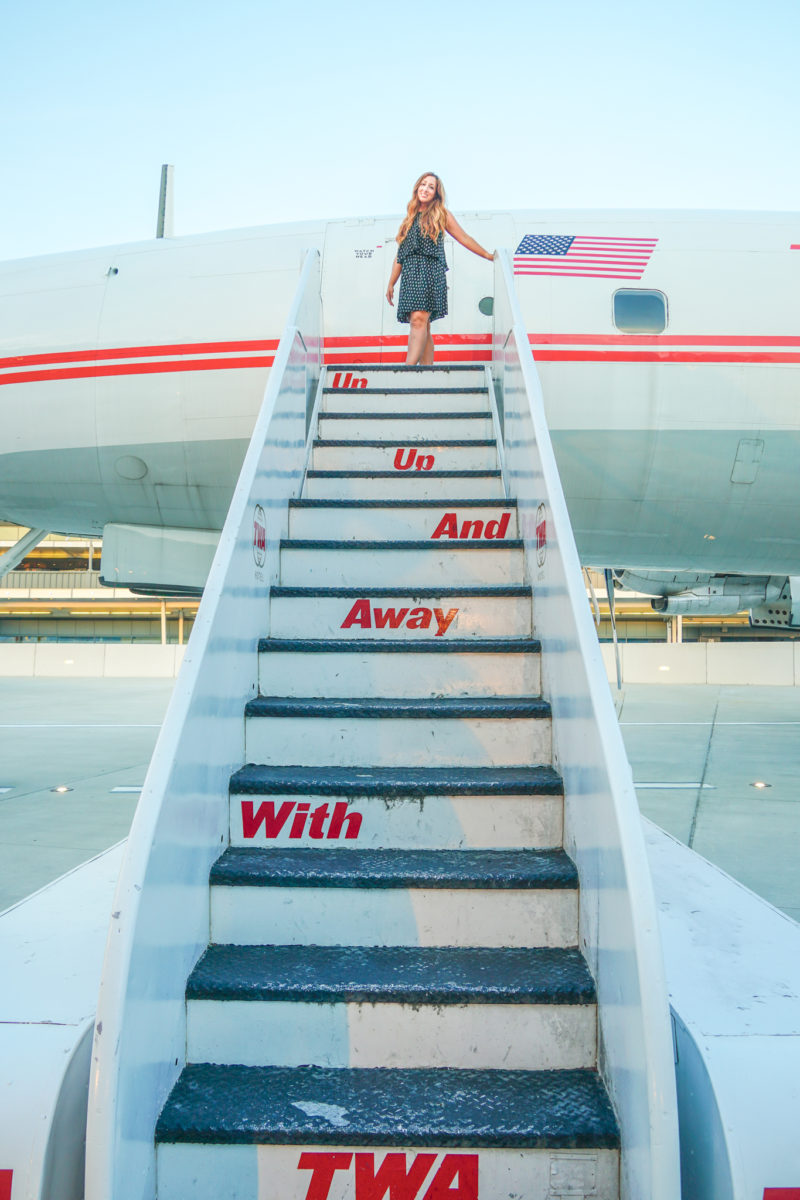 New to Credit Card Rewards Points? Check out the BASICS Below!
Prefer to watch videos? Check out our TWA Hotel Tour on Youtube!