My wife Amelia and I look forward to returning to the Bay Area once a year to revisit our favorite spots from when we lived in San Francisco, and also to enjoy some wine tasting in Napa Valley. The Bay Area, and Napa Valley in general are very expensive to visit, but thanks to points we stayed and dined in luxury without breaking the bank.
Flight to San Francisco

When we think about redeeming a reward flight with AAdvantage miles, we typically think larger, international redemptions. However, with a frequent opportunity to earn miles with Citi American Airlines Business cards, I always know it's relatively easy to replenish them. There was also a nice opportunity to get this trip at a way better deal than usual!

Reduced Mileage Awards
Typically, two one way domestic round trips should cost 25,000 miles with an American Airlines redemption. They publish monthly deals called "Reduced Mileage Awards" for Citi cardholders. These are select domestic destinations that let you redeem miles for a lower miles price than usual.
Lucky for us, San Francisco was one of the choices for February! The deal was up to 7,500 miles off of a round trip, per person if the mileage is over 500 miles for the trip. One last added perk came in the form of a 10% mileage return on redemptions (Up to 10,000 per year) with the Barclays Aviator Red MasterCard.
This brought it all the way down to only 15,500 for both of us, getting almost .04 per mile in value! Remember, a mileage valuation is arbitrary to your individual situation and you shouldn't consider this alone. If you are having a difficult time deciding on whether to pay the cash or fork over the miles, try seeing what you are getting against the valuation of a specific mile.
American Airlines Status
If you are Gold status or above with American Airlines, you get the opportunity to book Main Cabin Extra seats complimentary with extra legroom and free drinks for the duration of the flight. It is typically not a great deal to buy these with cash, and even on a 3.5-hour flight at $75 a seat, I would have not paid extra. This is just an added perk of elite status to consider when choosing an airline for your travels.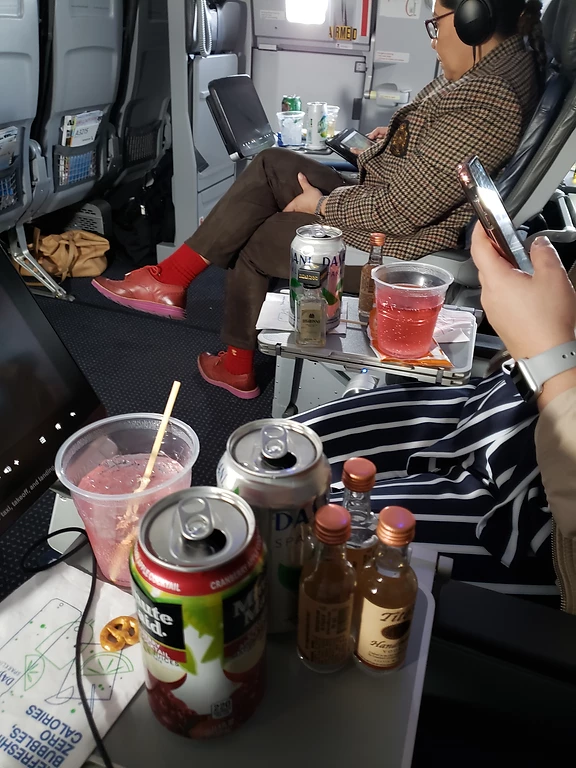 Basic Recap
Points Used: 15,500 AAdvantage Miles
Source of Points: Citi AAdvantage Platinum Select
Cost Out of Pocket: $11.20 (Taxes)
Cost Without Points: $600.68
Two One-Way Flights from DFW to SFO for $11.20 (Taxes)
Flight back to Dallas

I happened to remember I had some Alaska Airlines Companion Pass fare certifications that I had been holding onto. This certificate is a single-use only, and I typically reserve for international trips. However, Napa can be rather expensive. When I saw that I could grab two cash tickets for a 4+ hour flight on Alaska Airlines for only $132 while utilizing the companion fare certificate… I went ahead and pulled the trigger!
The only frustrating part of this trip was having to return our rental car to San Francisco, and then take an Uber to SJC Airport. We were unable to get a car at San Jose with points, and unless you want to pay hundreds, you are a bit of a slave to where the points take you.
Basic Breakdown
Points Used: None
Source: Alaska Airlines Companion pass
Cost Out of Pocket: $132.60 Fare + Companion Pass
Cost Without Points: $370.35
Two One-Way Flights from SJC to DAL for $132.60
Airport Lounges
Centurion Lounge (DFW)

A quick stop at the Centurion Lounge inside Terminal D in DFW gave Amy the opportunity to get a manicure, and a (few) mimosas. We also got a chance to try the new lunch spread, since the new club opened. Can't beat the experience of free lunch, drinks, and spa services, any day. Over $100 could have easily been spent on all of this separately.
Card used for access: The Business Platinum® Card from American Express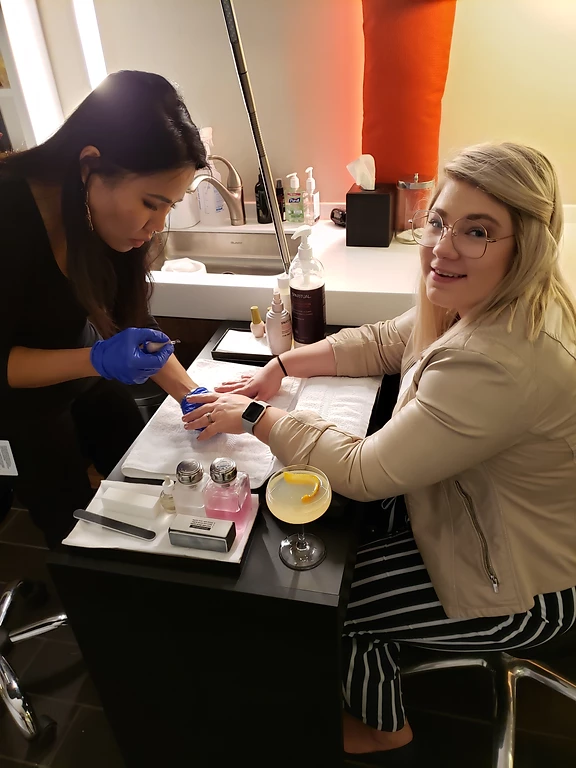 The Club at SJC (SJC)

We didn't expect to use this lounge, but thanks to a flight delay we gave it a look. It's primarily used for international flights departing out of the A terminal, with many people going to Europe and Asia. As a Priority Pass holder, we were able to check this club out. No hot food other than soups for dinner spread, but they had a nice selection of sandwiches, fruit, and salad. A welcomed feature was a full bar with a cocktail menu, complimentary. As many of you who frequent domestic lounges know, this is not always a feature you find. All in all, I would not get here super early to use the lounge as with a Centurion, but it's a nice place to hang out during a delay or connection.
Card used for access: Chase Sapphire Reserve Card
---
Earn 60,000 Ultimate Rewards Points after you spend $4,000 on purchases in the first 3 months from account opening.
$300 Annual Travel Credit as reimbursement for travel purchases each account anniversary year
Priority Pass Airport Lounge Access
$100 application fee credit for Global Entry/TSA Pre Check
3x points on travel & dining after earning $300 in travel credits; 1x everything else
Earn 5x on airfare and 10x total points on hotel and car rentals booked through the Chase Travel Portal immediately after the first $300 is spent on travel purchases annually.
Basic Travel Tips: This is one of our favorite travel cards as it has some of the best travel protection, as well as priority pass lounge access, rental car reimbursement, and more. Learn more here.
---
Hotels
One Night at the Courtyard Marriott, Downtown San Francisco
We are always excited to return to our home for a short year in San Francisco. Unfortunately, what we don't miss and never will is the pricing that is carried by the Downtown hotels. Back then, we weren't in the points and miles game, and we certainly could not afford the prices required to stay downtown, so we were typically relegated to properties outside the city or very inexpensive Airbnb's.
---
Earn 150,0000 Marriott Bonvoy points once you spend $5,000 on purchases within the first 3 months from account opening. This card is great for maximizing your value on Marriott Bonvoy properties. Some of our favorite features include:
Earn 6 points per dollar at participating Marriott Hotels, 3 points per dollar at restaurants worldwide and flights booked directly with airlines, and 2x points per dollar on all other purchases.
Each Card renewal year, get up to $300 in statement credits per calendar year (up to $25 per month) for eligible purchases at restaurants worldwide.
$650 Annual Fee (Rates & Fees)
Terms Apply.
Learn More Here.
---
Now, we still choose not to pay cash and had a handy Marriott free night certificate at our disposal. We were due to arrive into the city late, so dropping 50,000 points for a property we would spend little time at was not ideal. These certificates are exactly what I save for these occasions! It could not have come at a better time, as it was almost $1000 for a basic Courtyard Marriott.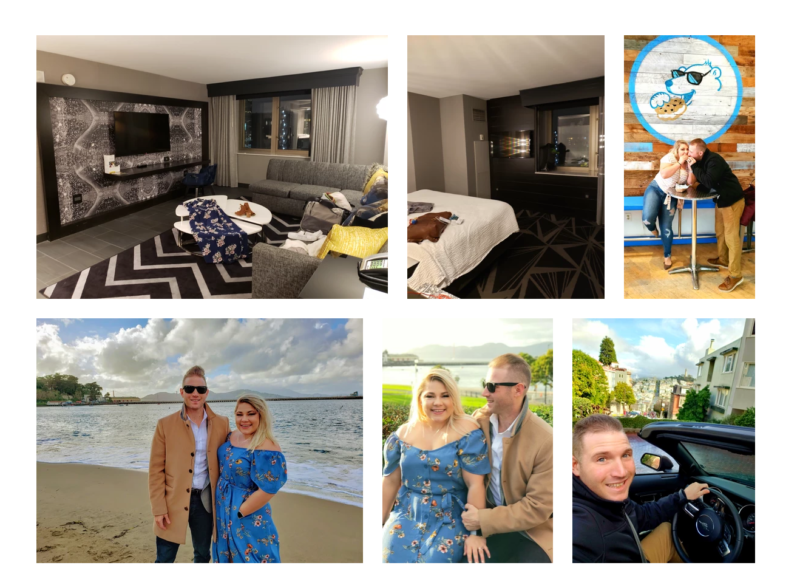 To our surprise, the property had a very nice renovated look to it, with very nice spacious rooms, and a great staff. I have to come to expect very little from Courtyard properties, outside of basic business amenities, but they even had a concierge that helped me get a shirt dry cleaned for dinner on them. We were also happy to receive a Titanium upgrade to a two-bedroom suite. Safe to say that this is the best night of sleep we have EVER had in San Francisco proper.

Points Used: 1 Free Night Certificate (Up to 35k points or Category 5)
Source of Points: American Express Starwood Preferred Guest Card (Note: this card is no longer available)
Cost Without Points: $967.00
One Night at the Courtyard San Francisco – $0 (Free Night Certificate)
Las Alcobas, Luxury Collection, Napa Valley

We have been to the Napa Valley region 5 or 6 times before, and the two things you would find most helpful are the convenience of a close hotel to great vineyards, and a comforting retreat you can enjoy a bottle (or two!) when you get back.
The last thing you want to do is have a lot of driving to do when you go wine tasting all day. The more you go, the more practice you get to make the weekend as effortless and stress-free as possible. We really enjoy the small town of St. Helena, located about 30 minutes north of the Napa city center. In this town, there are a dozen great vineyards within 10 minutes or less drive, and the property is situated right off of the main town square.
This property meets all of these criteria and so much more. It is in our top three worldwide properties that we cannot wait to frequent! As a Category 8, it is one of the Marriott portfolio's most expensive properties with both points and cash, so it is one we save up for throughout the year. The view from your room, is very unique, overlooking the Behringer Estate, next door.

Property Details
We cannot say enough about this property! Days consisted of waking up, enjoying a sunrise with a french press coffee with grounds they supply you while sitting by your private fire pit. After waking up, we would head over to their award-winning restaurant and enjoying a very well valued Titanium amenity, in the Acacia House breakfast. (see receipt below) Finally, you are off for a day of wine tasting, and upon your return, there is a bottle of champagne waiting for you to enjoy in the room or in our case, on the balcony.
The property has a spa, Atrio, and we did not take advantage of these services, but they have one of the best co-ed steam rooms and relaxation areas around. As Titanium guests, we were entitled to visit the spa area as much as we wanted. After wine tastings, we would try to detox a bit from the drinking with steam room, followed by tea and water.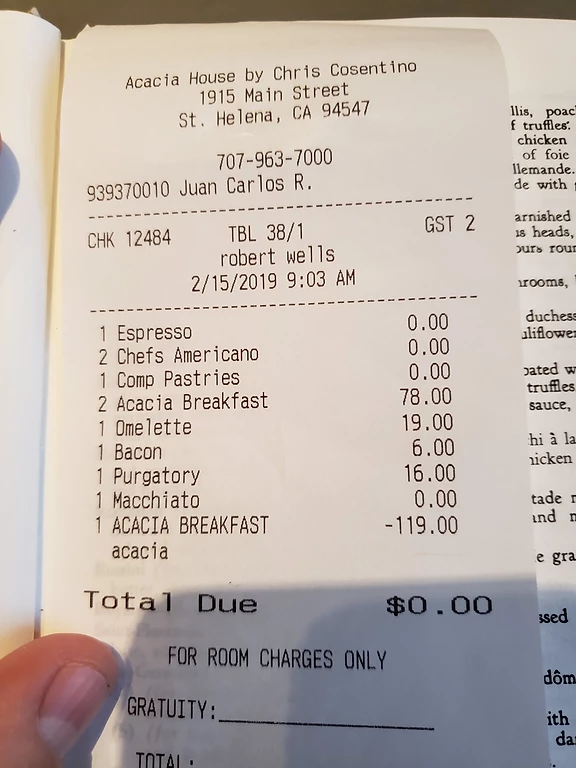 Points Used: 120,000 Marriott Points (Now would be 170,000 with the category 8 change)
Source of Points: Chase Marriott Business Plus + $200 Statement Credit (Card no longer available)
Cost Out of Pocket: $475- $200 = $275.00 (1 Night)
Cost Without Points: $3334.97 ($334 at breakfast FREE with platinum status)
Three Nights at Las Alcobas – $275.00 (2 Nights on points + Cash / Statement Credit)
---
Limited Time Offer: Earn 125,000 Marriott Bonvoy bonus points once you spend $5,000 on eligible purchases within the first 3 months from account opening. Offer expires 8/31/22. This card is great for earning on your business travel hotel stays.
6x points at participating Marriott Bonvoy hotels
4x points at restaurants worldwide, at U.S. gas stations, on wireless telephone services purchased directly from U.S. service providers, and on U.S. purchases for shipping.
2x points on all other eligible purchases
Earn 1 free night award each card year on your cardmember anniversary.
Receive complimentary Marriott Bonvoy Gold Elite Status
$125 annual fee. (Rates & Fees)
Terms Apply. Learn More Here.
---
Activities on our trip

Wine Tasting in St. Helena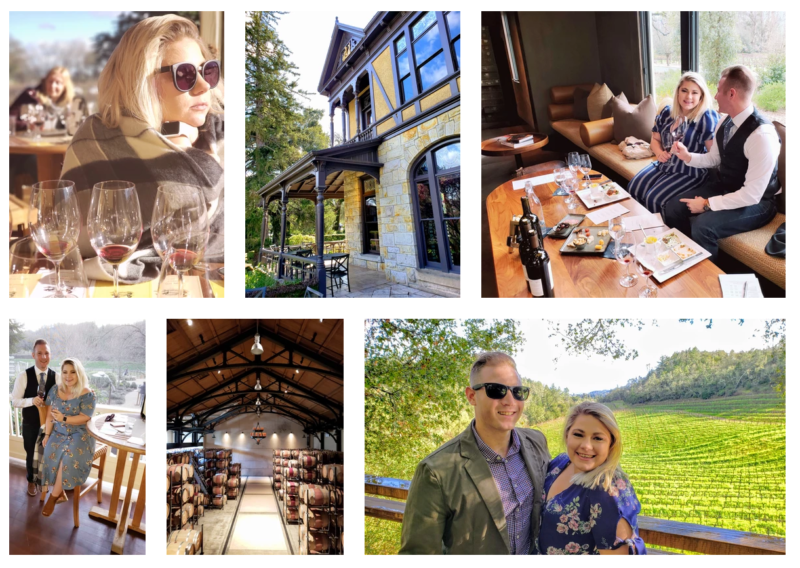 When in Napa, you drink! We lined up several wine tastings spread out over 2.5 days. One thing we have learned from lots of practice is that trying cramming more than 3 vineyards into one day is stressful, a waste of money, and not very much fun. Plenty of time for lunch breaks and relaxing evenings were planned in, and at around 2 or more glasses per tasting, we had PLENTY.

Below is the list of vineyards we were able to visit:
Fantesca Estate & Winery
The Prisoner Wine Company
Trinchero Napa Valley
Paraduxx
Mumm Napa
Duckhorn Vineyards
Behringer Brothers
We estimated we could have spent over $700 on the wine tastings and food pairings. High-end tastings are no joke here! In the end we only spent a little over $150 from deals from the hotel and nice people at the vineyard. We did join a few of the wine clubs, and these came with some amazing tasting perks.
San Francisco
Landing in SF on Wednesday night instead of Thursday morning gave us the opportunity to spend a whole day in the city. We got to revisit all of our favorite spots in North Beach, which is in our opinion the most eclectic neighborhood with the best food. Carefully, between rainstorms, we were able to ride with the top down around the city, including down Lombard street. Amy would have liked to kill me while I was pretending to be Steve McQueen in Bullitt flying up and down the streets. Here are a few of our favorite spots!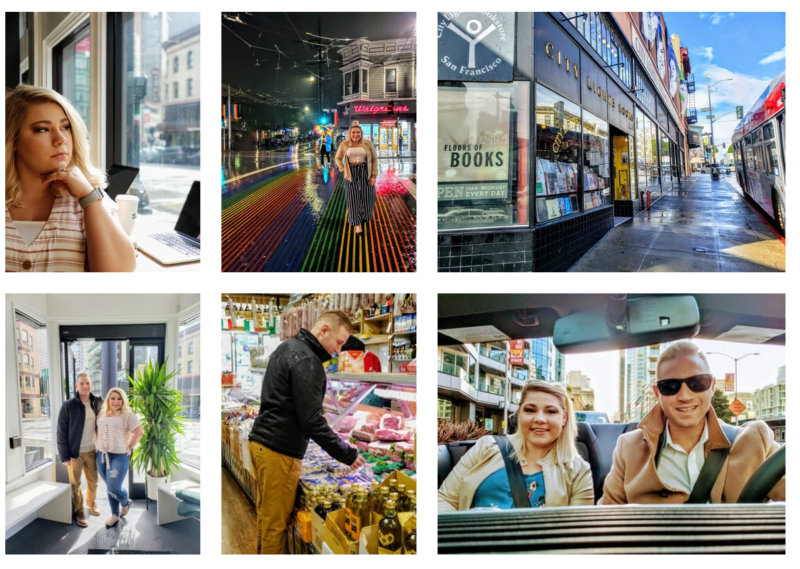 Reveille Coffee Co
A great local coffee shop with tons of natural light pouring in. They have a few locations throughout SF, but we find this one to be our favorite.

Molinari Delicatessen
One of the last places you can get an authentic Italian experience. The no-fuss restaurant asks you to take a number, select your favorite loaf of bread out of a big bucket, and then they will customize and freshly cut you a sandwich.
Basic Recap
It's always rewarding when you can take what most people perceive to be a very expensive trip and turn it into the same cost as a basic weekend getaway.
Summary of points used:
1 Companion Pass Certificate, Alaska Airlines BoA Visa perk (2 one way flights)
15,500 AAdvantage Miles (2 one way flights)
120,000 Marriott Bonvoy Points (3 nights)
1 Marriott Bonvoy Free Night Certificate (1 night)
Cash Spent Out of Pocket: $418
Total Cash Value of Trip: $5,500+
Have you used Points and Miles to visit Napa Valley? I'd love to hear about how you did below in the comments or in our 4,000 + Member Basic Travel Facebook Group!
More Basic Reading