One of our Favorite aspects of visiting Grand Cayman was our time spent exploring Camana Bay! This place is huge and has a ton to offer travelers who are looking to explore, shop, dine, and relax. No matter your age group, whether you're traveling with children or older family members there is something for everyone at Camana Bay. Since we did find so much to do we decided to put together a basic guide on how to spend a day at Camana Bay Grand on Grand Cayman!

What is Camana Bay?

Camana Bay is a waterfront town that is located on the west side of the island only a short walk from Seven Mile Beach. The Towne Centre of Camana Bay was designed with traditional Caymanian architecture and is filled with unique plants from the island. With the harbor waterfront and even an island filled with hammocks, Camana Bay is a great place to shoot some really beautiful Instagram photos!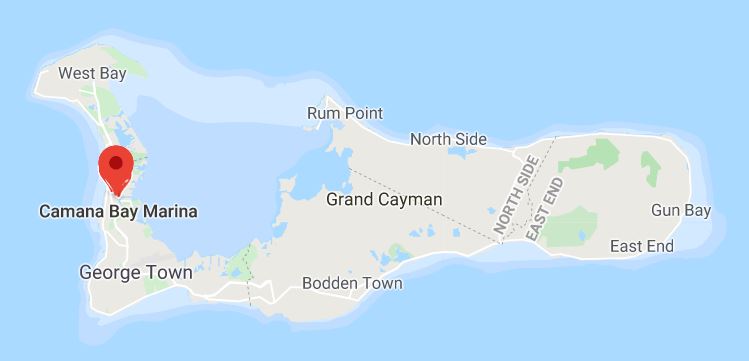 What is there to do in Camana Bay?

You won't be asking this question once you arrive at Camana Bay! There are over 40 locally-owned shops and boutiques to explore, 15 restaurants & cafes to choose from, the island's only cinema, and a beautiful 75-Foot Observation Tower. In addition, there is almost always something fun going on at Camana Bay with hundreds of annual events taking place there every year. One of the most popular events is the Taste of Cayman Food Festival which takes place every April and brings together the best cuisine from around the island for people to experience!
It's clear that it would take multiple days to fully experience all that Camana Bay has to offer! The following Day in Camana Bay is our overview of the favorite things that we found while visiting there.

How to Spend a Day at Camana Bay Grand Cayman Island

Breakfast at Camana Bay

If you're like us, we enjoy eating a hearty breakfast to get our day started! The best option we found in Camana Bay to Carpe Diem is The Waterfront Urban Diner. Literally, everyone we asked about where to grab breakfast pointed us in the direction of The Waterfront Urban Diner. They have a full breakfast menu with top options including Cinnamon Bun French Toast, Fruit & Berry Bowl, Mango Pancakes, and my favorite – Avocado Toast!
Be sure to reserve a seat outside in order to soak in those beautiful views of the nearby island and harbor. You'll find the full menu here and the option to book a reservation by clicking HERE!
---
Capital One Venture Credit Card
Earn 75,000 welcome miles once you spend $4,000 on purchases within the first 3 months from account opening. This is equal to $750 in travel.
Basic Thoughts: We love these Venture Miles as they are incredibly easy to use and redeem. You also always earn an unlimited 2x miles on every purchase, every day.
Learn More Here.
---
Nap on the Island + Make a new Friend

After the large breakfast, we opted to take the short walk over to the Island and relax on the hammocks which are available free of charge! It's the perfect shady spot to shut your eyes and let the food coma sink in. Don't forget to say hi to our favorite local friend, Poof the Blue Dragon! You'll find Poof sungazing on the far-right hand side of the Island.

See the Views from Camana Bay's Observation Tower

Now that you're full of energy from the well-needed nap, it's time to climb! Head over to the Camana Bay Observation Tower to see the beautiful view from the top. I was most impressed with the seascape mosaic mural which is plastered onto the walls. There are said to be 3 million hand-cut glass tiles that were intricately placed in order to portray different underwater scenes. Be sure to take your time walking up and down the stairs to see all of the different murals.

Grab a coffee at Starbucks

It's my guilty pleasure and don't judge me! I really like the vibes found at Starbucks Cayman in Camana Bay. You'll find some VERY comfortable chairs to relax and take in some very much needed caffeine. My drink of choice is always a Red-Eye!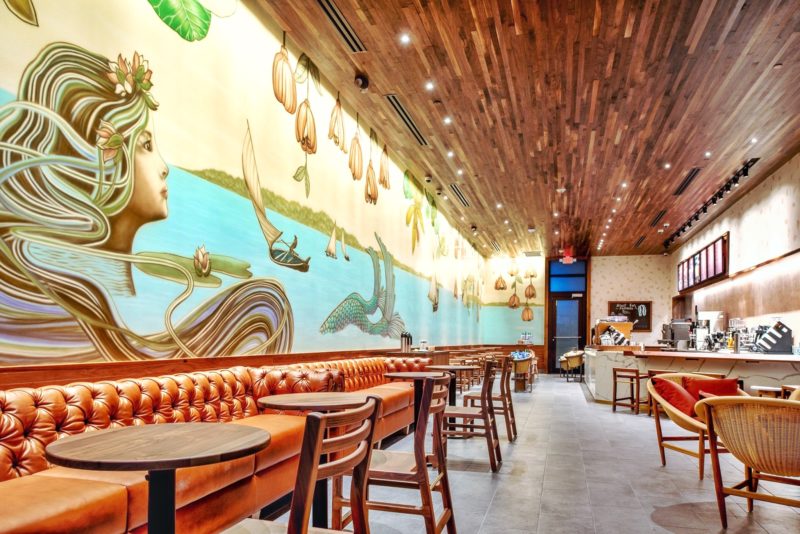 Take the Cayman Ferries over to Rum and Starfish Point

We decided to hop on Cayman Ferries to explore Rum and Starfish Point. They depart from Camana Bay's Harbor throughout the day Tuesdays through Sundays. It's a quick 20 minute Ferry Ride which provides the opportunity to cross off two popular Grand Cayman Destinations while visiting Camana Bay! (The other option is to drive, which takes 45 minutes).

Fish Tacos at Abacus for Lunch

Take Cayman Ferries back to Camana Bay and head straight for Abacus! This popular foodie spot is known for its all-day tapas menu which includes many farm-to-table options. We can both certainly say that the food was both fresh and delicious here. When in the Caribbean, we are both suckers for Fish Tacos and Abacus did not disappoint. You'll find the full menu HERE and the option to make a reservation!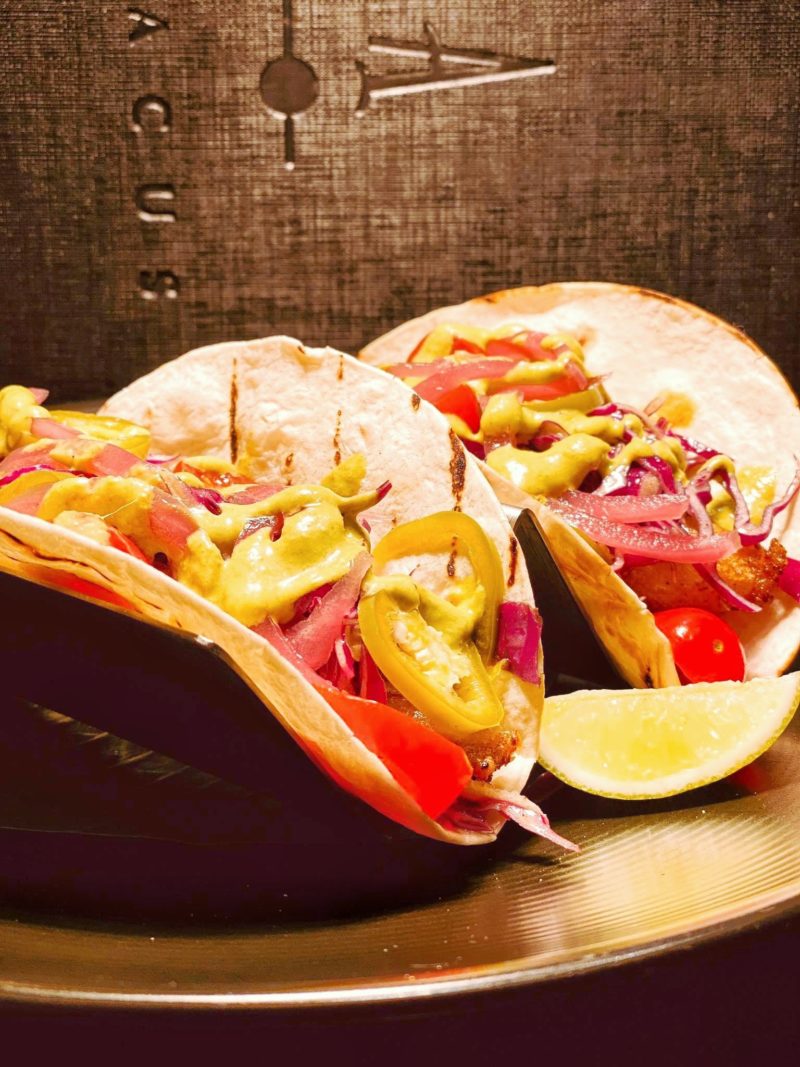 Time to Shop at Camana Bay! #RetailTherapy

We happened to get lucky on the day that we visited Camana Bay there was a local Farmers & Artisans Market taking place the same day! Every Wednesday from 10 a.m. to 3 p.m. local Caymanians come to Camana Bay with Fresh Produce and Hand Crafts to sell. We really enjoyed walking around and looking at all of the unique food and souvenirs. Since sometimes Lisa needs some retail therapy in her life, she enjoyed browsing through Gucci, Prada, and Michael Kors. It was surprisingly convenient to find all of the big-name brands mixed in locally owned stores! Since there are over 40 different stores selling pretty much anything you could possibly be looking for we barely made it through 25% of them. You'll find the full list of the stores and shops HERE!

Wine before Dinner – The answer is ALWAYS yes!

This may have been the best decision we made this whole trip! The West Indies Wine Company is not basic at all (and that's a good thing). We were very impressed with not only the selection of wine but the fun way to taste them. West Indies Wine Company has 80 different Wines on tap that are housed in these unique Napa Technology Wine Stations. After checking in, you receive a card that you can use to swipe in each machine. You then choose a wine, determine the amount to be poured, and enjoy.

If you need help, there is an in-house sommelier who knows her stuff! She happily showed us around and helped us pick the best wines. If we didn't have a dinner reservation at Agua we could have easily spent all night here!

Dinner at Agua in Camana Bay!

We hustled from West Indies Wine Company straight to Agua with determination in each step. After the long day exploring Camana Bay, we were very excited to sit down and enjoy this delicious dinner. Agua was highly recommended to us by a handful of friends and it did not disappoint!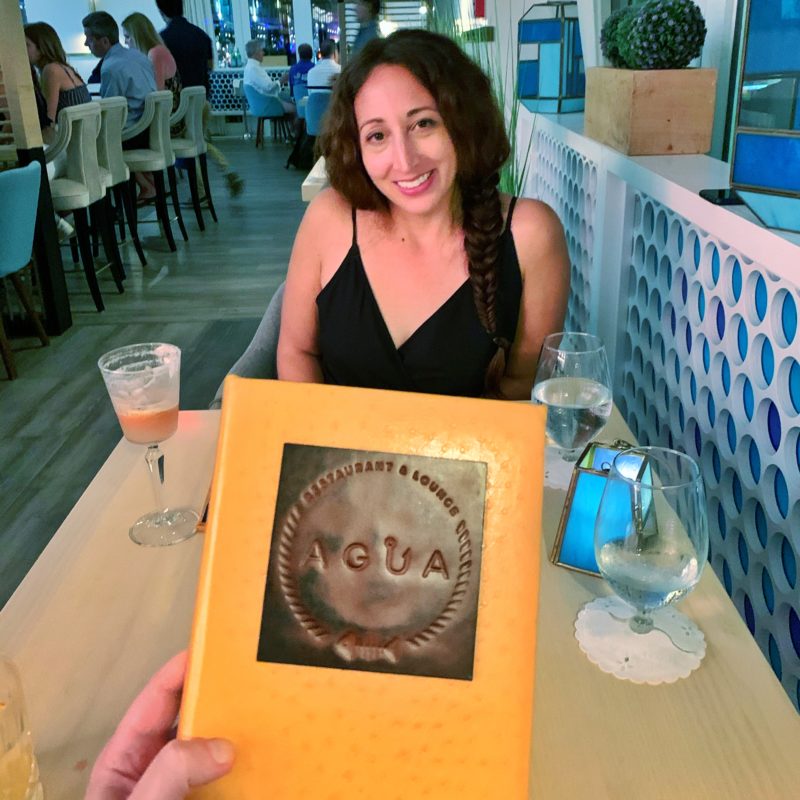 Upon arrival; the ambiance of both the outdoor and indoor seating was both romantic and modern. We had a standout service from the moment we were greeted to our last bite when the owner stopped by our table to check in on us. It was apparent that he valued his customer's experience as he made his way from table to table.

The food was perfect! Agua is an Italian & Seafood restaurant that includes a Peruvian-inspired menu. Everyone raves about the Ceviche and they are not wrong. Agua prepares Six different Ceviche Styles daily that are all different. A basic food hack is to ask for the sampler and pick your top 3! From there we moved on to Yellowfin Tuna Tartare, Agua Tuna and Sicilian Mahi which were all exquisite. Both the presentation and flavor hit all of our taste-bud buttons. We ended this foodie marathon with the famous Tiramisu! 

I'd be remiss if I didn't highlight the extensive signature cocktail selection. Not only were Agua's cocktails full of flavor, each one was prepared with precision. Even if you're not a certified food judge, these drinks were clearly prepared in a skillful way that enhanced our whole dinner experience.

I can't recommend enough how fantastic Agua is! Be sure to make a reservation next time you're in Grand Cayman and let us know what you think. You'll find the Full Menu and the option to book a reservation by clicking HERE.
AND If you saved room for Dessert (we didn't) lol

We popped into Petit Paris after dinner but literally could not eat another bite. Petit Paris serves various baked goods which include cookies, pastries, macaroons, and decadent cakes. The next time we visit Camana Bay, Petit Paris will be an early stop in the day because everything there looks delicious!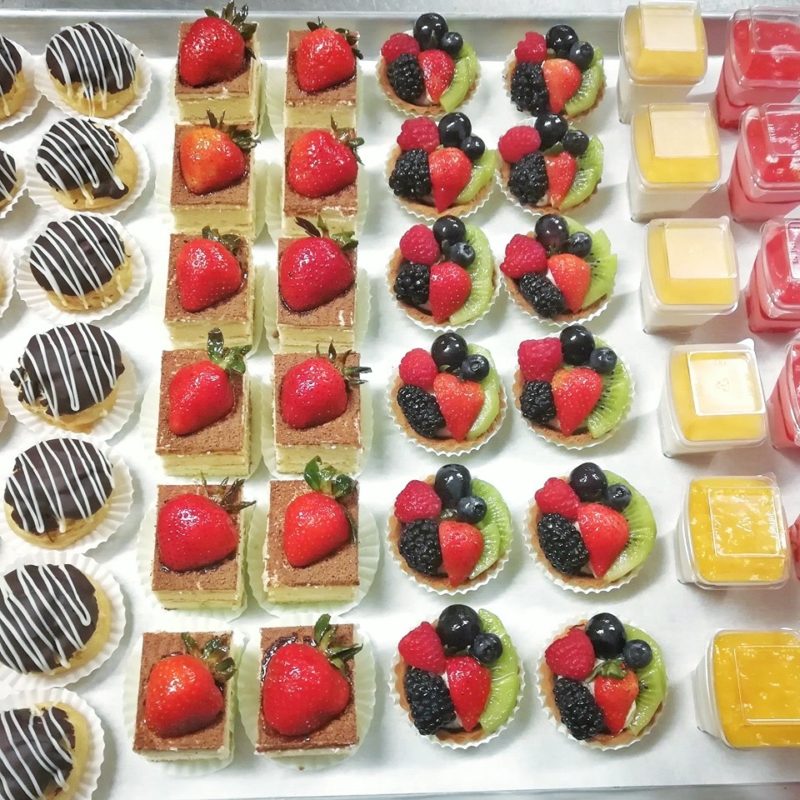 Basic Recap

As you can see a full day at Camana Bay can make for a fun day! We didn't even have a chance to check out the only Movie Cinema on the island which is also found in Camana Bay. Despite missing the movies, we had a great time exploring and EATING our way around this beautiful Towne Centre. After reading how we spend a whole day here, it's no wonder that Camana Bay made our list of Top Things to in Grand Cayman Island. I cannot wait to return back and spend another day at Camana Bay!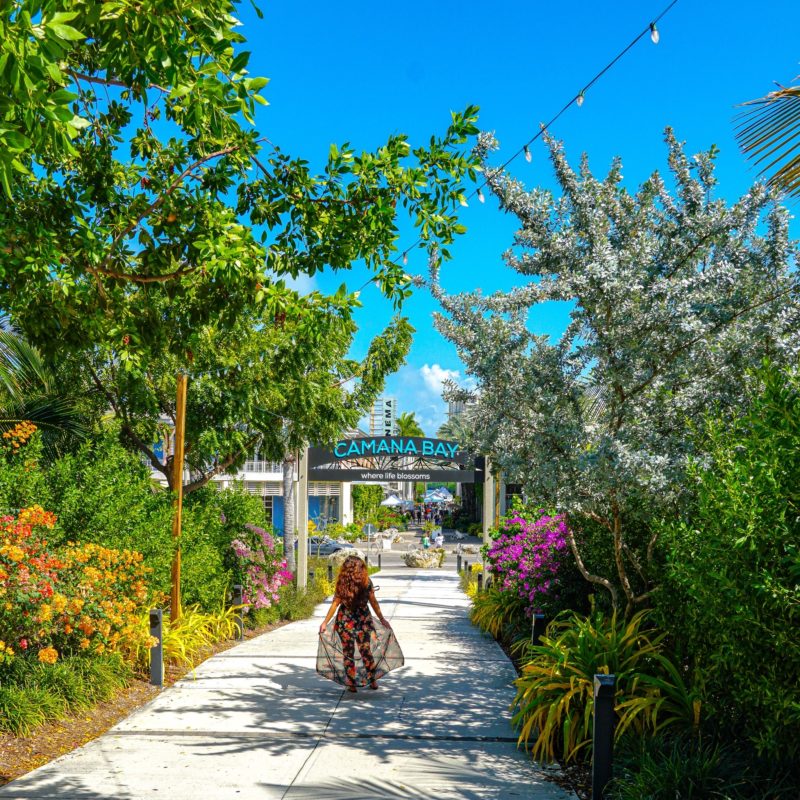 Have you been to Camana Bay?
More Basic Reading